HiQ Smartcast №19 | WOO Giveaway, CraftInk Lore Chapter 2, Terracore, PeakD Chat, XV Token a.m.m.m.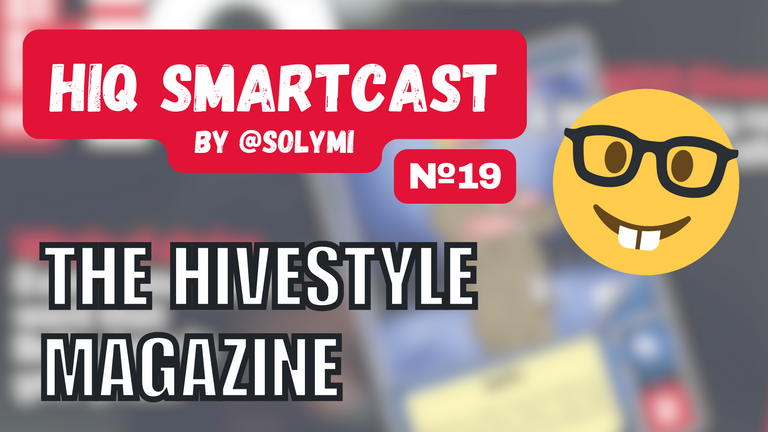 ---
Welcome to the 19th episode of HiQ Smartcast! This is HiQ №29 in audible form brought to you by @solymi. HIVESTYYYYLE

TABLE OF CONTENTS
00:00 - Intro
00:24 - Editorial
04:19 - HiQs MVP - @balte
05:34 - The Column - Hive turns 3
07:56 - CraftInk Lore - "The Beninging - Chapter 2"
16:55 - WOOnderful WOO Giveaway (White Paper & Land guide)
21:38 - Terracore - Next Space Wars (@terracore. White Paper & much more planned for the game)
24:45 - Discord Killer? - PeakD Chat (PeakD post & Peakd Chat)
26:45 - XV Token - A different token pot (XV, XV post from Tengo & XV Token Update)
30:10 - Noobpert tests Ecency Mobile
32:47 - HIQS Staking Top 10
34:10 - Gossip (Hive's Red Carpet, @tanbay & don't click me)
36:30 - Hivestyle for Hivians (Author of the Week initiative, engagement token, Language Scanner, STELLARUM:PIMP, @astralrevelation, Splinterlands, Peak Vault, RL Meetup in Hamburg, Meetup Bodensee, Swiss Hive Meetup, Berlin Meetup, TEAMPH:SPS, Crypto Shots & Muterra)
44:18 - Readers' letters
47:36 - Disclaimer
49:00 - Outro

If you want to be informed about our latest issue, @craftink, the Commentary Discount Sale, or the other stuff then you should definitely subscribe to us and even get the coveted HiQ SUB Badge. Write quickly
+SUB
into the comments, follow us on PeakD or any other dApp you trust: For the german issue follow @hiq and for the english version @hiq.magazine.


Besides @solymi, we also have to thank the musical artists. Therefore we are dropping HIVESTYYYYLE credits to @ravenmus1c & Panda Beats Music for the track Red Hills.
Thank you for listening and until next time...
Team HiQ


Anyone who is stylish and smart has subscribed to us: @adedayoolumide @adncabrera @adoore-eu @akida @alex2alex @allonyx.ngs @alucian @alz190 @andy-plays @andy-vibes @andy4475 @animaya @atra-aranea @balte @bananofarmer @barmbo @bechibenner @beeber @bitandi @blue.rabbit @btcsam @carolinmatthie @chaosmagic23 @chappertron @chrislybear @cliffagreen @cloudlynx @coldbeetrootsoup @coquicoin @cultus-forex @dafusa @danielhuhservice @dauerossi @dieradikalemitte @ditsch @dragon-ti @dynamicgreentk @dynamicrypto @ervin-lemark @failingforwards @flamo @florian-glechner @fredfettmeister @fun.farms @ganjafarmer @hannes-stoffel @hatoto @hiq @hiq.magazine @hiq.redaktion @hive-loto @hivecurious @ifarmgirl-leo @industriousliv @ironshield @ischmieregal @itsme9001 @jeenger @jfuji @joseph23 @kadna @kaeptn-iglo @kenechukwu97 @kheldar1982 @kirstin @klausklaus @konstice @kryptodenno @ksam @kvinna @lammbock @lauchmelder @leosoph @levi-miron @libertycrypto27 @louis88 @madame-cyntaia @mario89 @markus.light @mary-be @mary-me @melinda010100 @miketr @mima2606 @misan @monsterbuster @mrdalle @mryoung1979 @music-beatcz @mwfiae @mypathtofire @neoxvoter @nessos @nkemakonam89 @noctury @oceanbee @oesterreich @oscarps @photomoto @platuro @points-fr @powerpaul @prinzvalium @pundito @queker-bee @quekery @quelled @querdenker @r0nny @rachaeldwatson @ravenmus1c @reiseamateur @remotehorst23 @saffisara @saggi07 @sandymeyer @satren @schmidi @sebescen81 @shakkei @simsibee @smooms @smoomslive @sodom @solarwarrior @solymi @stickupboys @stresskiller @surrealworld @syalla @tengolotodo @thatcryptodave @thatgermandude @themyscira @thetimetravelerz @thoth442 @tibfox @trading-tokens @tribemieregal @twicejoy @twinner @twistytango @umuk @untzuntzuntz @utopia-hope @vasupi @vugel @willendorfia @yeckingo1 @ynwa.andree @yoshi-and-family @zockerpeine
hiq hivestyle podcast spt proofofbrain tribes cent fun pimp pob ctp craftink
---
▶️ 3Speak
---
---