Brawl Report #22 Still working through Novice CL only, at least Positive Wins?!?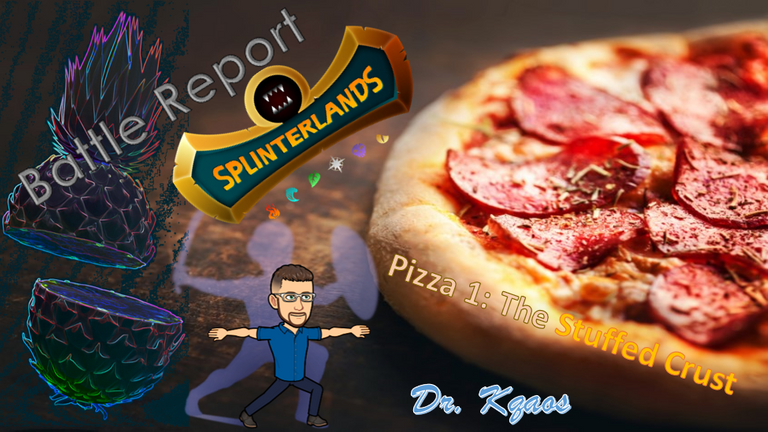 Having the Hive Power building is always a great thing! So we are still rocking out with Pizza, you should come join us, we did add another guild to Pizza Fam, Pizza 420: The Calzone, come join us! Also, I found this awesome sight, SplinterLabs, the link is below, so many great things with it! Another addition is a gladius pack!
As I post this SPS is currently trending at $0.103, it has been dropping for the past 4 or 5 days at this point. I still think it is a good time to buy, speaking of that, there are 666,756 packs to go until the next airdrop, a summoner of some sort, another legendary summoner will make things interesting in the brawls!
The guild filled 11 out of 13 spots this time around, we did have a member leave, to help with the new Guild, so that kind of opened it up. I'm still running in the Novice Chaos Legion only, hopefully it will treat me well!
---
Battle #1 (Link)
We start leaving the home arena, this new place looks a little intimidating, but maybe it is just the Giant skulls we walk through to get into the arena. Looking at Spreading Fury, everyone has enrage, along with no melee attack, only being able to use Death and Earth, with 19 mana. I went earth for the little boost to magic, hopefully it will help. It looks like my gamble paid off on this one!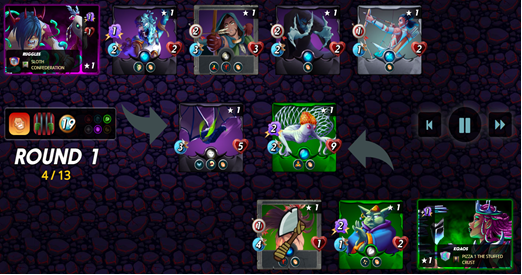 ---
Battle #2 (Link)
Staying in the enemy arena this time, interesting enough, they have unicorns decorating this one! 24 mana, divine shield, and enrage again, interesting. I'm going to go fire on this one, hopefully Chimney will come through for me and do some damage. Nope, they went water and just tore through me, I should have chosen to have more attacks on this one instead of the power hitters.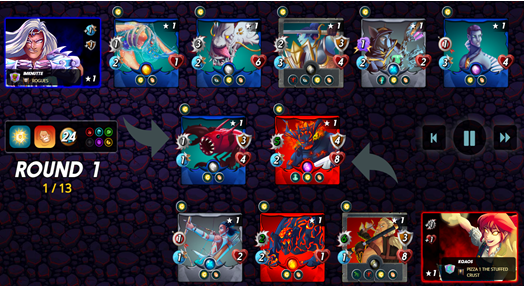 ---
Battle #3(Link)
Finally, back at the home arena, we have the good hot tubs. Weak magic, and no healing, with only water, earth and dragon available, along with 34 mana. I'm going water on this one, hopefully the double opportunity attack will pay off for me. They went with earth, that extra magic can be on the painful side, but weak magic does a lot to mitigate that damage. That double opportunity tore into the enemy on this one!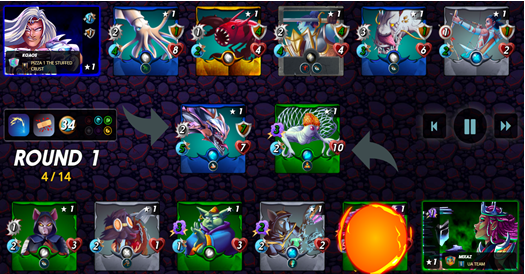 ---
Battle #4 (Link)
Another one in the home arena, I think I smell some of that new pizza variant, they call it a Calzone, seems to have a lot of herbs in it. Opportunity from everyone, along with poison, however, 99 mana, only fire, water, and light. I'm going fire on this one. Mostly for the cleanse, but also the Forgotten One has immunity to poison, so putting him farther in the back can help me out. They went light on this one, lots of health on that side of the board. The Forgotten One won me this match.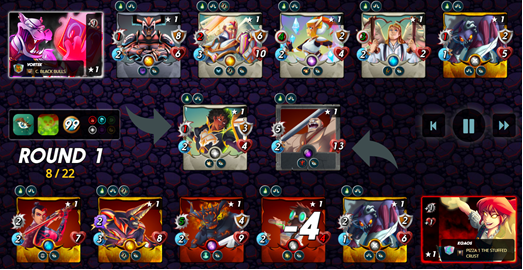 ---
Battle #5 (Link)
We are leaving the comforts of home again, man am I going to miss that apple pie. Stampede of the Odd Ones Out, along with 44 mana, things will be interesting. So I decided to go water on this one, I have the opportunity attack still but some strong magic, healing, and good damage. They went the death route, which will make things interesting. This one came well for me on the win, opportunity took them out early, along with the bloodlust. I decided to go with an action shot on this one!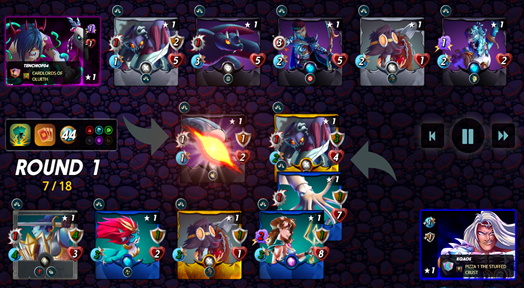 ---
Battle #6 (Link)
The homecoming match, the last one at home, which is fun, the peaches are in season, so that peach cobbler is amazing! We enter this one with 30 mana and stampede. I decided to go Fire on this one, hopefully Chimney will help me out. They went water, This might not work out the best for me with the shields. Chimney let me down with too many misses!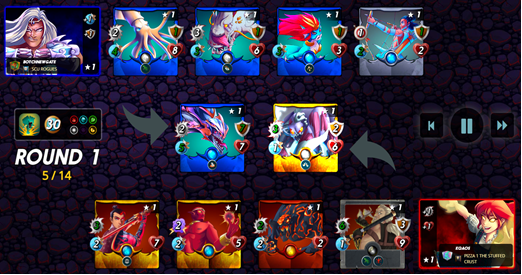 ---
Battle #7 (Link)
Leaving home again, Chimney is pulling the bus at this point due to the poor performance. Melee can attack from any position, with 34 mana. I'm back with fire, only with Gorth up there instead of Chimney, hopefully the melee damage will help out. They decided to go fire as well on this one, it looks like it could be nasty for me. Grum became too big of a force for me to deal with.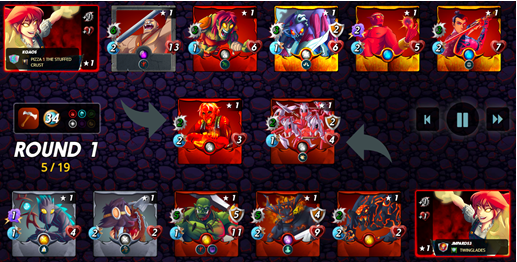 ---
So, with 20 in a half hours to go, I am sitting on, a 3 and 2 situation, not bad. The guild is currently sitting in 2nd place, with a 15 and 5 record, lots to go on this one still.
I ended up 4 and , not a great showing, but at least a winning record! The guild as a whole ended in 2nd place, 2 wins behind first and 9 wins above 2nd, a solid standing.
Other than that, the pizza family is doing all kinds of things over on Discord, come join us!
---
The Gladius pack opening, much luck hold steady on the packs… one rare, four commons, kind of getting sick of pulling these: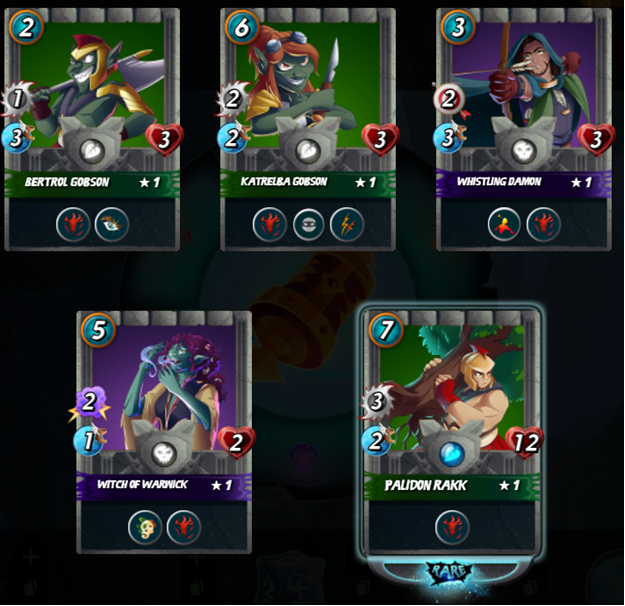 ---
Check out other Pizza Guild Brawls:
@relf87: Guild Brawls With Pizza 2 - No Bloodlust Activated and Opening of 3rd Gladius Case!
@shauner Shauner's 25th Splinterlands Brawl Report - PIZZA 2 The Deep Dish Guild - May 6, 2022
@blitzzzz Splinterlands & PIZZA Brawl Report : My 22nd Brawl Report with 🍕PIZZA 2 The Deep Dish Guild🍕 ⚔️🛡⚔️🛡⚔️🛡
@koodies Metafrens X Guild Brawl - My 1st Brawl Report with 🍕PIZZA 2 The Deep Dish Guild🍕
---
Thank you for reading this far, additionally, I do want to thank the people in Pizza, a great place to hang out! I have learned a lot from it and there are great people and a very positive community.
You can find them here: Awesome Pizza Discord
I'm starting to track the Pizza token a little bit more as well, it is currently sitting at
At some point I will be doing some other posts about my experiences in Crypto, but here are some links if you are interested in some other NFT Games or other games as well!
---
Splinterlands
If you use my referral link I will send you 100 DEC to get started!
Splinterlabs.io
A Great community for Splinterlands, with games and a faucet to help players as well.
Rising Star
Great music NFT and a way to support up and coming musicians!
Sorare
Still learning this one, but it is a football (American Soccer), easy to set up and go!
Star Citizen Referral code: STAR-LRKQ-D6NK
Space game, still in alpha development, playable, very immersive, sign up with the referral code it will give you money in the game along with both of us receiving a free ship!
Unmineable
A great way to get into Crypto mining, easy to set up, code gets you a 0.25% fee discount, uses the graphics card while you are not using your computer, or you can mine with just your CPU.
---
Let me know if there are any questions, you can find me in the messages here or in the Pizza Discord.
Lastly, thank you again, remember you are awesome and have a wonderful weekend!
Dr. Kqaos
---
Photos come from PowerPoints stock image, Bitmoji with Splinterlands logo on top of it, or my own screen shots of Splinterlands
Disclaimer: This is my opinion, not financial advice.
---
---