Brawl Report #67 Grab a Slice of Pizza, Share the Splinterlands Social Media Challenge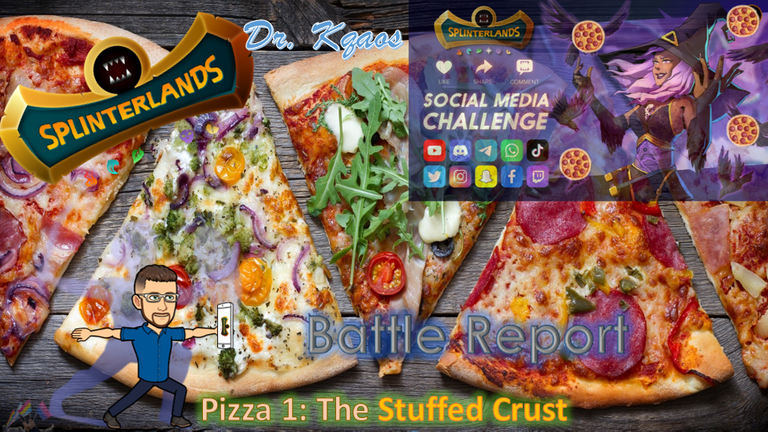 Not much on this report, just the run of the mill brawl report, but comment below and you will get a slice of hive pizza, tasty, electronically at least!
Additionally, let's get awareness of the game out there, follow me on twitter and retweet! @DrKqaos Let's bring attention to it like a guy who is throwing pizza to a crowd! Hopefully not as mess as that might be… If you are not playing Splinterlands yet, click on any of the battles or the link towards the bottom, would love to have you!
---
So, let's start by looking at SPS which is currently trending at $0.028, it has been holding steady, which is better than dropping! Speaking of buying things, 91,157 packs for the next legendary summoner in Chaos Legion, the Astral Entity, Death Summoner, grab quick it will be gone in a few days!
---
Since I was talking about the Astral Entity, here is the summoner!


The Lore behind the Astral Entity by Splinterlands:
From the shadows and the ether comes an eldritch entity known only as the Astral Entity. It is a celestial being that drifts through rifts in reality, searching for new planes and realms. There are almost no recordings of the Astral Entity in the athenaeums of the Splinterlands, but if one was to search through forgotten scrolls in the cobwebbed corners of ancient libraries, they would find the briefest mentions of this being. Snippets from across the centuries mention a humanoid shape made of cosmic energy. No one knows where it came from or what it wants, but it has only been recorded doing one thing: observing.
In spite of this, death always seems to follow the Astral Entity's arrival. Clans and nations go to war. Crops wither, livestock become ill or infertile, and famine ravages the land. Droughts, plagues of locusts, and violent storms bring empires to their knees. And when it's over, the Astral Entity vanishes without a trace.
When the Chaos Legion invaded the Splinterlands, the rift they opened echoed across realities. This drew the attention of the Astral Entity. It was able to slip through the rift undetected and explore this new world.
It witnessed a world rich in mana, with diverse people and dramatic landscapes. It also witnessed a world crushed by the grip of the powerful Chaos Legion and their leader, Silus of the Rift. The Astral Entity observed the battles, the people suffering, and all the death, but it did nothing to intervene. What it did do was learn. It learned the strengths and weaknesses of not only the Splinterlands, but of the Chaos Legion, as well.
The time may come when the Astral Entity chooses a side. Whatever choice it makes will be purely for its own gain and based on all it has learned from its eons of passing through the rifts.
---
On to the battle, the guild as a whole filled 12 out of 16 frays for this one, need to get those last couple filled. This time around I am back in the Bronze Chaos Legion/Riftwatchers fight with 7 fights that have my name on them!
---
Battle #1 (Link)
Starting at home, hopefully speaking to @theacks this time will help me out! Looking at 17 mana, and that is all. I'm going earth this time with some Quora love to see how it pans out for me. They went fire, the ants and then the double sneak attack might hurt, a lot. The healing and the bloodlust came through quite well for me. I even got Quora sending off the first strike!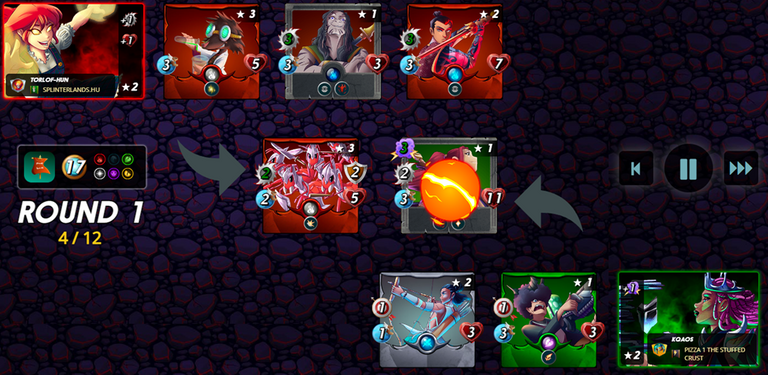 ---
Battle #2 (Link)
We stay in the home arena for the second fight, only this time we have no sneak no snipe, only melee, and everyone has opportunity strike. I really don't know how this is going to pan out, but I am sticking with earth, Quora and Grund for double strikes. They went fire, that extra melee might hurt. Quora and Grund came through for me, that kill of their gladiator early really helped out!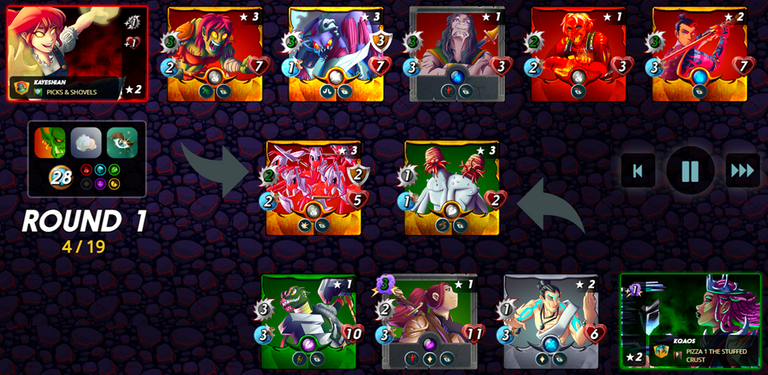 ---
Battle #3 (Link)
The first time leaving the home arena this time, looking at 15 mana, knockout, and snipe. Okay, this might be bad, but I am going Earth and quora again. They went earth as well, only a level 1, but it looks like it will be Quora on Quora action! This difference on this one is my acid thrower, that 1 little bit of damage made a huge difference in the fight!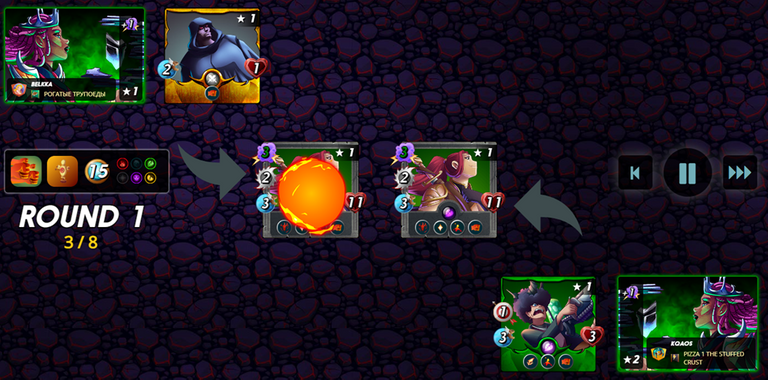 ---
Battle #4 (Link)
This is the halfway fight, still on the road with 28 mana, slow, no healing, and extra armor. So I went Light with Grandmaster Rathe, looking to counter that earth magic with extra shields and void armor. They went earth on this one. However, Captain Katie went off on this one as well, slayed it!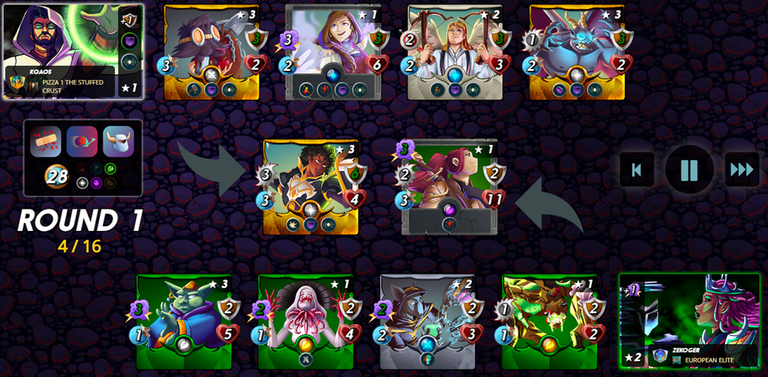 ---
Battle #5 (Link)
The downhill slope now, back at home for this fight that has 14 mana of cheesy goodness, along with odds only with melee only. I'm going for it with light, Marisol and Grandmaster Rathe again. They went light as well, with sloan, and hugo up front. They got me on this one, that shield helped them a lot.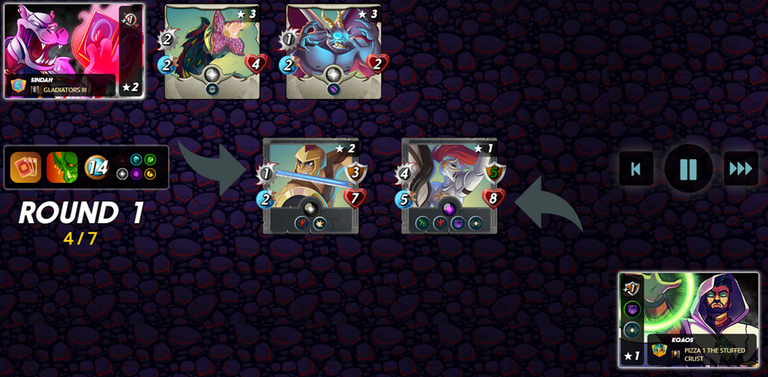 ---
Battle #6 (Link)
Back on the road again for this fight, picked up some pizza pockets for the trip, luckily we have some fire mana with us to heat it up! 24 mana, no melee and enrage. I decided to go death, with Djinn Muirat in the front to hopefully take in any magic damage than use the Witch of Warwick and the life sapper to gain health. They went water on this one, that speed could cause problems, but also the whale up front can be a problem as well. Well, that was a long fight… and I lost, the fatigue was just not enough when they had the advantage in the draw.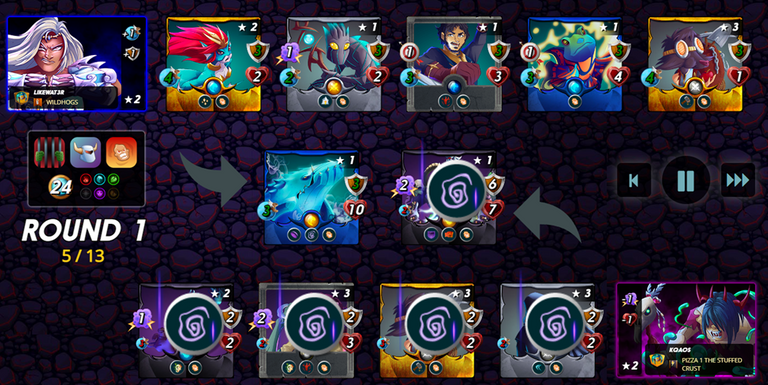 ---
Battle #7 (Link)
I started off well with the 3 wins, I got to the top, which is still in the middle, but then downward has been down for me, let's see if I can sneak out a win with this one! 36 mana, odds only, opportunity, and slow. I'm not even sure what this looks like besides a rag tag group of light people going out for a fight. I used Rathe, and so did my opponent, what that is going to look like, who knows. I got lucky with Captain Katie going off and taking them out!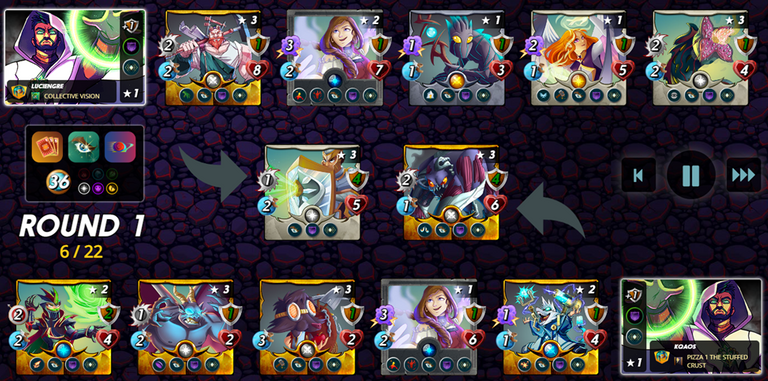 ---
So with around 4 hours and 45 minutes to go on this one I am 4 and 2, not a bad showing, I am happy with that one! However, the guild is currently sitting in 4th place, and not by much, this seems to be a rough brawl for us!
I ended up 5 and 2, a really good brawl for me! The guild ended up in 2nd place! So it was a good time for us as well!
---
Due to the merits I was able to get another gladius pack, unfortunately, nothing good: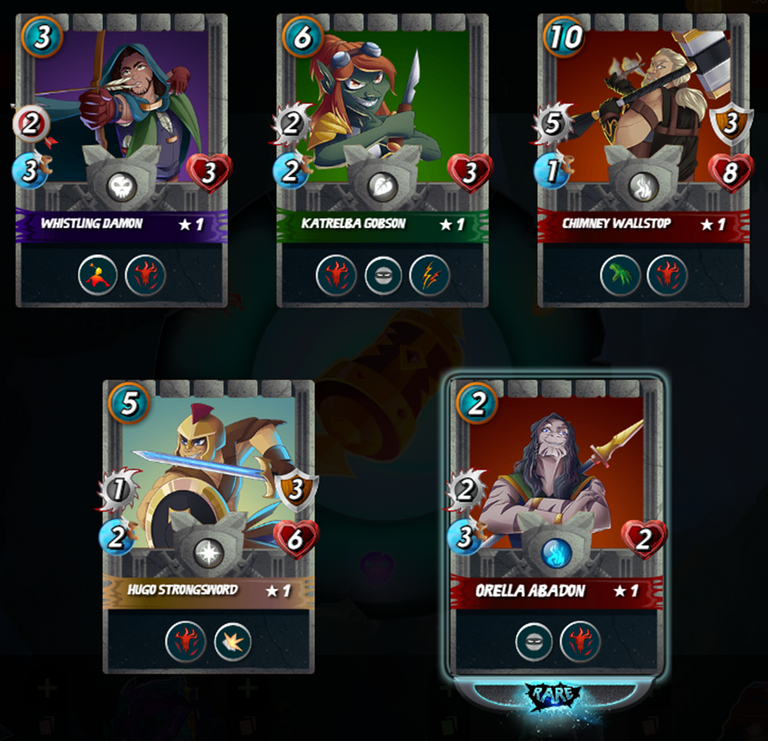 ---


Check out other Pizza Guild Brawls:
@vaynard86Social Media Challenge: Splinterlands Weekly (Jan 20 – Jan 26) + Brawl Report
@candnpgSplinterlands — Social Media Challenge and Brawl Report
@relf87Guild Brawls With Pizza 2 – Fighting With 3 Rulesets Now!
@blitzzzz Splinterlands & PIZZA Brawl Report : My 72nd Brawl Report with 🍕 PIZZA 2 The Deep Dish Guild ⚜️⚔️🛡️ — "1st place finish for the 2nd time in a row! 🎉"
@queenstarr ⚡️SPLINTERLANDS SOCIALMEDIA CHALLENGE : BRAWL REPORT + OPENED 10 GLADIUS PACKS⚡️
@pulubengdugs PIZZA 420 The Calzones Brawl Report #4
@edskymiguel PIZZA 1 THE STUFFED CRUST - BRAWL REPORT



Thank you for reading this far, additionally, I do want to thank the people in Pizza, a great place to hang out! I have learned a lot from it and there are great people and a very positive community.
You can find them here: Awesome Pizza Discord
I'm starting to track the Pizza token a little bit more as well, it is currently sitting at $0.01676 a great time to stake that 20 Pizza to get that badge! Not to mention, a place to hang out, lots of positivity that we need!
At some point I will be doing some other posts about my experiences in Crypto, but here are some links if you are interested in some other NFT Games or other games as well!


Splinterlands
If you use my referral link I will send you 200 DEC to get started!
Layer 2 Labs
A Great community for Splinterlands, with games and a faucet to help players as well, new name, was Splinterlabs.
Rising Star
Great music NFT and a way to support up and coming musicians!
Sorare
Still learning this one, but it is a football (American Soccer), easy to set up and go!
Star Citizen Referral code: STAR-LRKQ-D6NK
Space game, still in alpha development, playable, very immersive, sign up with the referral code it will give you money in the game along with both of us receiving a free ship!
Unmineable
A great way to get into Crypto mining, easy to set up, code gets you a 0.25% fee discount, uses the graphics card while you are not using your computer, or you can mine with just your CPU.

Let me know if there are any questions, you can find me in the messages here or in the
Pizza Discord
.
Remember to reach across the aisle and talk to someone that might be different than you, you might be amazed at the person you find!
Lastly, thank you again, remember you are awesome and have a wonderful week!
Dr. Kqaos
---
Photos come from PowerPoints stock image, Bitmoji with Splinterlands logo on top of it, or my own screen shots of Splinterlands, pizza dividers by @candnpg
Disclaimer: This is my opinion, not financial advice.
---
---