Beginner Guide for starters!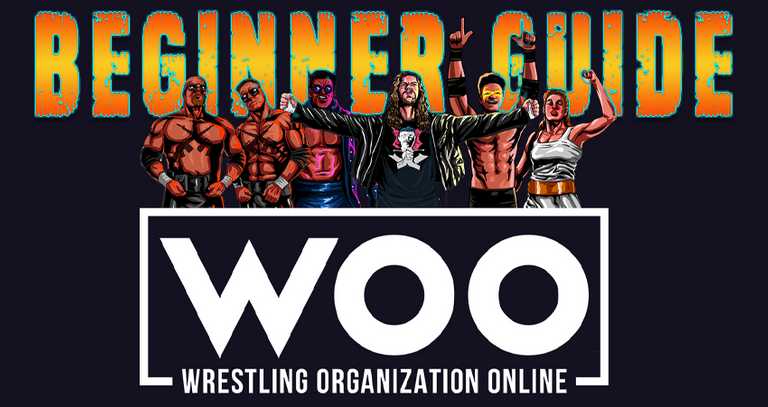 ---
Beginner Guide
Today I would like to share with this little, but growing community how I started investing into this game. When I started I had to read everything what asset to buy and what currency I need to use.
Luckily I had a huge help from @arkasz who is an official content creator of this game and @siberian12 who runs daily giveaways. They helped a lot how to start and I would like to give my advice to some of the newcomers thinking to start this game. 😇
---
This game is still in Alpha phase, which means there is no real game yet, because it will be released in 2023. The main objective for us is to collect cards and generate $WOO tokens.
---

My first step 😊
When I started my journey I have delegated few of my Hive Power to @wrestorgonline to see it working.

Suddenly I started generating a passive income of $WOO tokens and I quickly became addicted, so I delegated a lot of my Hive Power to them and I almost run into RC issues. 😂
You can open this website https://woo-prod-client.herokuapp.com/earn to start earning through delegation if you click on the piggy icon in the top right corner.

The second step 😇
Started generating $WOO is nice, but when I was reading through this post https://peakd.com/hive-102223/@arkasz/woo-how-much-does-mining-cost--overview-of-current-card-prices from @arkasz I quickly realised there is much more into it.
This is a card collection game after all, so it is important to get as much card as possible, but what you can do with them if there is no actual game yet?
The answer is that you can send your owned cards into the mine to generate more $WOO tokens! 😉 So I was determined to get some cards, but which one and using what currency, because we can't use $WOO tokens to do that?
On the top right corner of the same page I linked for delegating Hive Power you need to click on the marketplace icon, which is the third from the left.

Over there you will see all the cards available to buy and if you click on one of them you will see their price. Let's take a look for example the Titan. 💪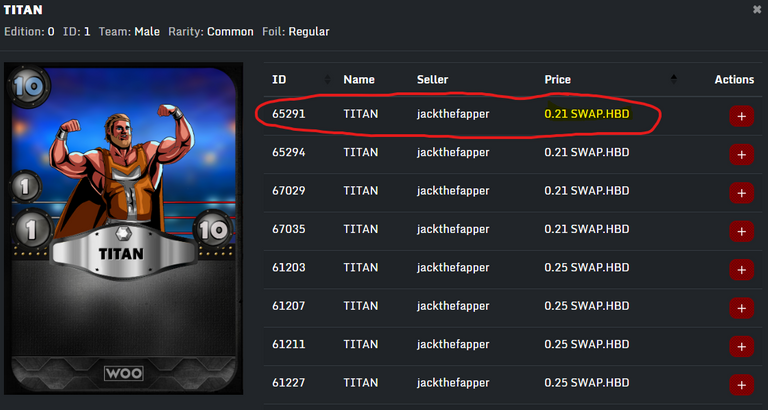 Currently there is 73 different Titan cards to buy from the marketplace and the cheapest cost 0.21 SWAP.HBD. I was confused at first what kind of currency is that, because I never used before, but when I looked into it I quickly found the way to acquire some.
The easiest way for me is (because I use this a lot) to open https://hive-engine.com/ log-in with your hive account and click on the market page on the top right corner, than in the search bar write SWAP.HBD.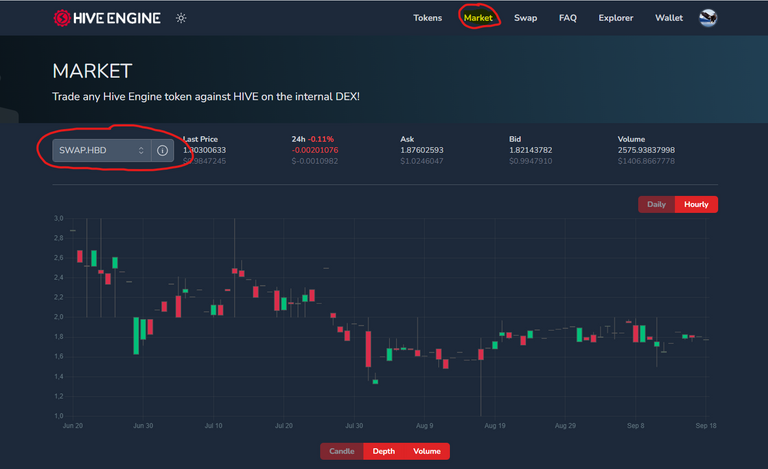 In here you can trade SWAP.HBD with your SWAP.HIVE. (usually I use https://beeswap.dcity.io/convert to convert my Hive into SWAP.HIVE) and than you can do the trade.
You need quite a lot of Hive, because some of the cards cost a lot. Here you can see how much I paid for my little collection.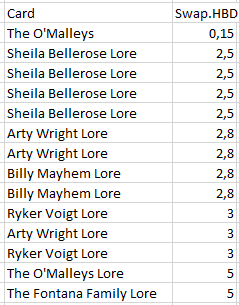 The third step 😌
When you have your cards it is time to send them into the mine, because there is not really any other option yet and they can give you some $WOO tokens until they are there. You just need to click under the picture to add them to the mine. 🤑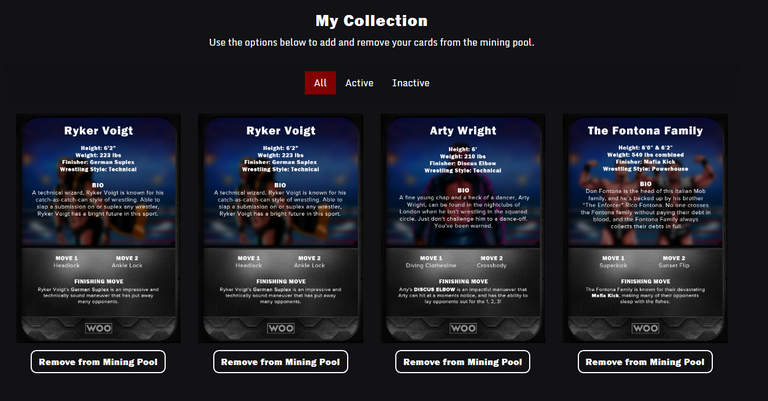 The only difference to a normal staking is that you will participate in a lottery raffle in every hour and if you win you will receive a nice sum of $WOO tokens.

Click on the little diamond icon if you want to see the mine. Each and every card gives you a different amount of tickets for the raffle and if you want to check them out follow this link please. https://peakd.com/hive-102223/@arkasz/woo-how-much-does-mining-cost--overview-of-current-card-prices

If you want to start your career or just a general information from this upcoming game please follow this link https://wrestlingorganizationonline.com/ to their website and start earning. 😎
If you want to start earning WOO immidiately this is the link you need to follow https://woo-prod-client.herokuapp.com/ 😉
Don't forget that there will be a general Sale of 30,000 WOO Alpha packs at 9 am EST on October 31st! https://peakd.com/hive-102223/@wrestorgonline/woo-general-sale-announcements-and-incentives 🤑
If you want to join to their Discord please follow this link https://discord.gg/7acdgdyemP
Thank you so much reading my post about this project and I hope it will shine in the future. 😇

---
---