Comprando cartas Gladius en Splinterlands [ES/EN]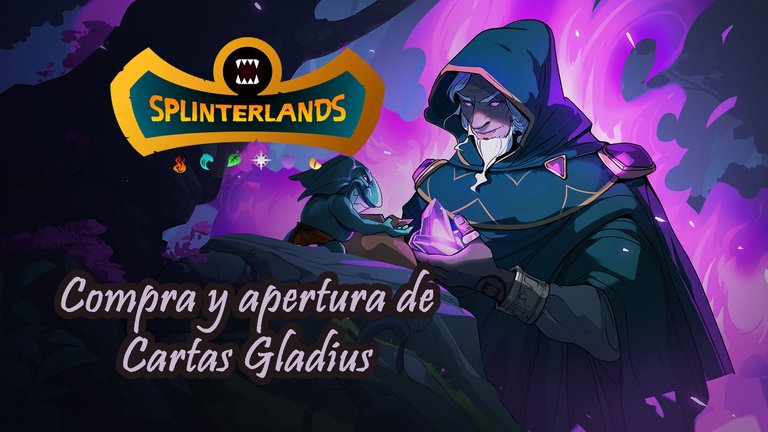 Esta semana me olvidé tomar capture de los resultados del Brawl para compartirlo con ustedes, mi Guild obtuvo el primer lugar y eso me alegra, yo por otro lado obtuve el 5to lugar creo, no estoy muy seguro. Pero hoy quiero compartirles la compra y apertura de pack Gladius para aumentar la colección de estas maravillosas cartas.
ENGLISH VERSION (click here!)

This week I forgot to capture the results of the Brawl to share it with you, my Guild got the first place and that makes me happy, I on the other hand got the 5th place I think, I'm not sure, but today I want to share with you the purchase and opening of Gladius pack to increase the collection of these wonderful cards. But today I want to share with you the purchase and opening of Gladius pack to increase the collection of these wonderful cards.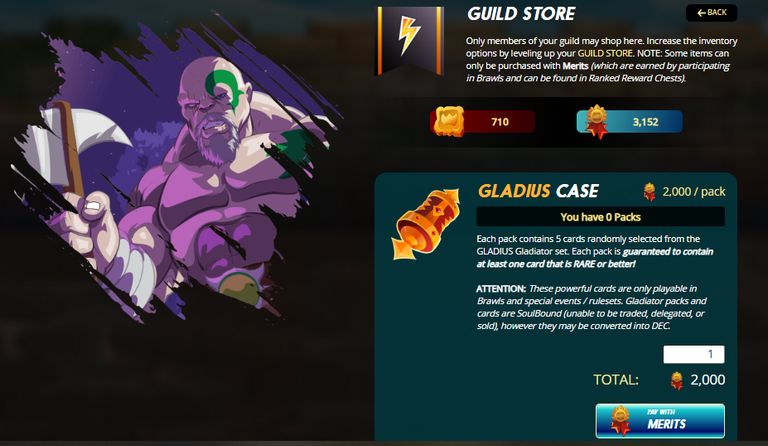 El participar en las Brawls cada semana me permite ganar algunos meritos, ese token interno que sirve para comprar ciertas cosas en la tienda del gremio, la única manera de obtener cartas Gladius es a través de la participación en las Brawls porque éstas no son cartas que se puedan delegar o rentar, mucho menos vender, están ligadas al jugador. Tengo unos 3152 meritos gracias a la participación en las últimas Brawls y esto me sirve para comprar un pack, me quedará algo más que guardaré hasta completar otros 2000 meritos.
ENGLISH VERSION (click here!)

Participating in the Brawls every week allows me to earn some merits, that internal token that is used to buy certain things in the guild store, the only way to get Gladius cards is through participation in the Brawls because these are not cards that can be delegated or rented, much less sold, they are linked to the player. I have about 3152 merits thanks to the participation in the last Brawls and this is enough to buy a pack, I will keep some more that I will keep until I complete another 2000 merits.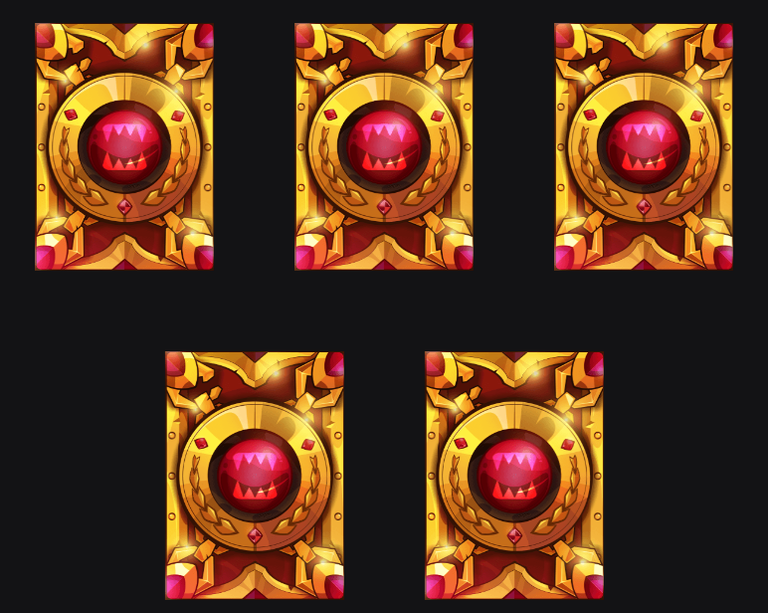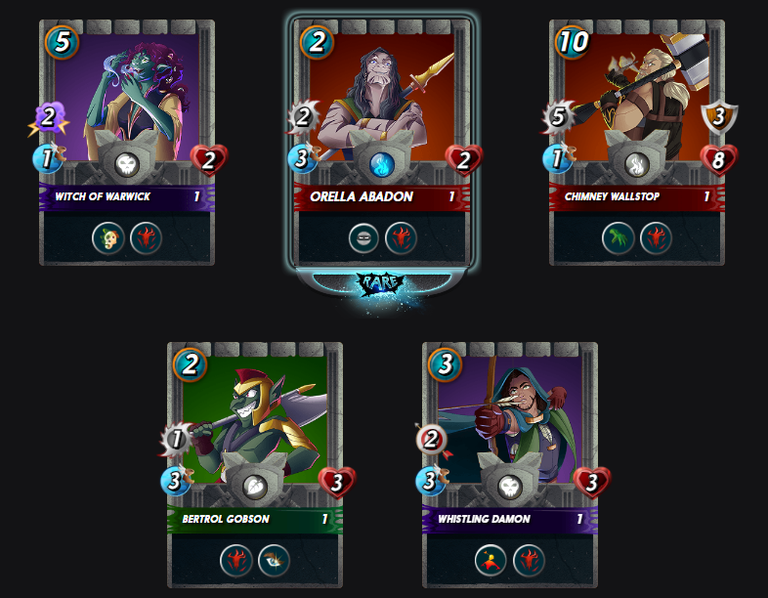 La única carta que no tenía es CHIMNEY WALLSTOP y me parece una excelente carta del elemento fuego que podría utilizar como soporte al tanque. En su primer nivel tiene 5 puntos de ataque cuerpo a cuerpo, aunque su velocidad es mínima, un escudo de 3 puntos y 8 puntos de salud.
ENGLISH VERSION (click here!)

The only card I didn't have is CHIMNEY WALLSTOP and I think it's an excellent fire element card that could be used to support the tank. At his first level he has 5 points of melee attack, although his speed is minimal, a 3 point shield and 8 points of health.

Mostrándoles mi colección, tengo 4 cartas del elemento fuego, todas nivel 1 aunque algunas se repiten no son suficientes para aumentar el nivel aún.
En el caso del elemento agua tengo unas 5 cartas, casi no las uso a excepción de la carta épica EDITH EMBERSTAR, aunque otras veces también utilizo la carta de soporte al tanque RELENOR CLEAVER. De este elemento no tengo repetidas, solo de la carta ALVA THE CRUSHER tengo una adicional.
ENGLISH VERSION (click here!)

Showing you my collection, I have 4 cards of the fire element, all level 1, although some are repeated, they are not enough to increase the level yet.
In the case of the water element I have about 5 cards, I hardly use them except for the epic card EDITH EMBERSTAR, although other times I also use the tank support card RELENOR CLEAVER. Of this element I don't have repeats, only of the card ALVA THE CRUSHER I have an additional one.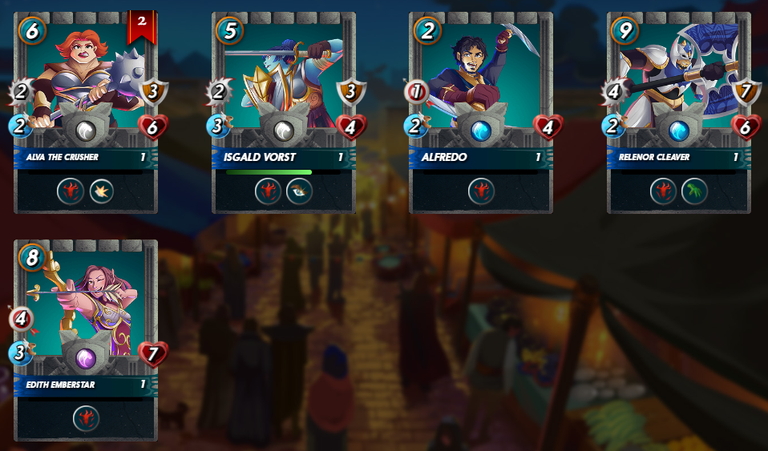 ---

Del elemento tierra tengo solo 3 cartas, estas son las cartas que más uso del tipo Gladius, empezando por la poderosa QUORA TOWERSHEAD que tiene dos tipos de ataque (mágico y cuerpo a cuerpo) y además se cura, también uso mucho la carta KATRELBA GOBSON, es una carta ninja de ataque cuerpo a cuerpo con doble, es muy peligrosa si no la eliminan rápidamente, puede dar muchos problemas al enemigo. BERTROL GOBSON también es una buena carta por su habilidad oportunista y el bajo coste de mana, aunque la uso muy poco.
Cartas neutrales Gladius no tengo ninguna, no estoy seguro si es que no hay o no he tenido la suerte de conseguir alguna.
ENGLISH VERSION (click here!)

From the earth element I have only 3 cards, these are the cards I use most of the Gladius type, starting with the powerful QUORA TOWERSHEAD that has two types of attack (magic and melee) and also heals, I also use a lot the card KATRELBA GOBSON, is a melee attack ninja card with double, it is very dangerous if not removed quickly, it can give many problems to the enemy. BERTROL GOBSON is also a good card for its opportunistic ability and low mana cost, although I use it very little.
Gladius neutral cards I don't have any, I'm not sure if there aren't any or I haven't been lucky enough to get any.

---

Tengo unas 4 cartas del elemento muerte, ninguna de ellas es épica o superior, sin embargo me gusta mucho utilizar la carta LIZA FOX, es de ataque a distancia, 4 puntos de daño y 3 punto de velocidad, es letal si la carta enemiga ya no tiene escudo. Las otras también están muy buenas y las he estado usando de vez en cuando, es curioso porque no me gusta jugar con el elemento muerte pero me gusta utilizar las cartas Gladius de este elemento.
Del elemento dragón no tengo ninguna carta Gladius, al igual que la neutral no estoy seguro si no existen o no he tenido suerte.
ENGLISH VERSION (click here!)

I have about 4 cards of the death element, none of them is epic or superior, however I really like to use the card LIZA FOX, it is ranged attack, 4 points of damage and 3 point of speed, it is lethal if the enemy card no longer has a shield. The others are also very good and I've been using them from time to time, it's funny because I don't like to play with the death element but I like to use Gladius cards of this element.
From the dragon element I don't have any Gladius cards, just like the neutral one I'm not sure if they don't exist or I haven't had any luck.

---

La única carta nivel 2 que tengo es del elemento vida, la carta HUGO STRONGSWORD que cuenta con la habilidad Shield. En este elemento la carta que más suelo utilizar es la llamada AJAX LIGHTFOOT, cuenta con dos puntos de ataque a distancia y una súper velocidad de 6 puntos, es muy buena, a medida que derriba a sus adversarios su velocidad sigue incrementando y su ataque. La carta HELMET KHARAFAX nunca la he usado y no le encuentro una función efectiva porque en ninguno de sus niveles tiene ataque, aunque en el nivel 7 cuenta con reflejo mágico.
ENGLISH VERSION (click here!)

The only level 2 card I have is from the life element, the card HUGO STRONGSWORD that has the Shield ability. In this element the card I use the most is called AJAX LIGHTFOOT, it has two points of distance attack and a super speed of 6 points, it is very good, as it knocks down its opponents its speed continues to increase and its attack. The HELMET KHARAFAX card I have never used and I do not find it an effective function because in none of its levels it has attack, although at level 7 it has magic reflex.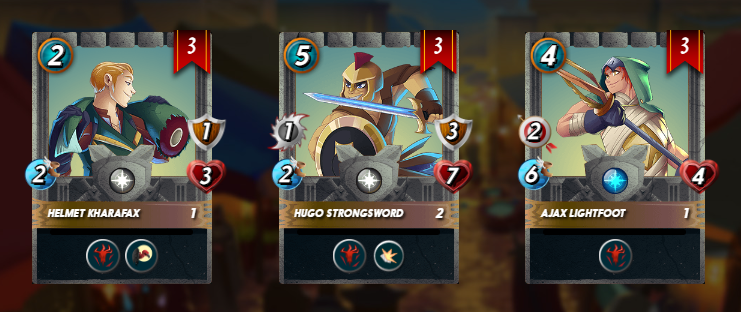 ---

Para cerrar, fui al market a comprar un par de cartas que siempre acostumbro alquilar, hace un tiempo compré varias cartas que estaba rentando muy regularmente, creo que es una buena idea ser propietario de las cartas que más he estado utilizando, entiendo en qué situaciones debo utilizarlas y estaría más tranquilo teniéndolas en mi poder. Intentaré comprar por lo menos un par de cartas cada semana.
ENGLISH VERSION (click here!)

To close, I went to the market to buy a couple of cards that I always use to rent, some time ago I bought several cards that I was renting very regularly, I think it is a good idea to own the cards that I have been using the most, I understand in which situations I have to use them and I would be more relaxed having them in my possession. I will try to buy at least a couple of cards every week.


Si me lees y aun no juegas Splinterlands me gustaría que te unas con mi enlace de referido. También te invito muy amablemente a unirte al servidor en Discord Hive NFTGame Latino el cual esta centrado en los proyectos NFTgame de nuestra amada Blockchain de HIVE.
Espero verlos muy pronto en el próximo social media challenge Splinterlands.
ENGLISH VERSION (click here!)

If you read me and still don't play Splinterlands I would like you to join with my referral link. I also kindly invite you to join the server at Discord Hive NFTGame Latino which is focused on the NFTgame projects of our beloved HIVE Blockchain.
I hope to see you very soon in the next Splinterlands social media challenge.


La imagen de fondo de portada fue editada con elementos del juego tomada de la página oficial splinterlands.com. Los divisores tomados del Discord oficial de Splinterlands.
---
---