JOINT CHAMPION AT CRYPTO-ZARD & BECCSS X THGAMING TOURNAMENT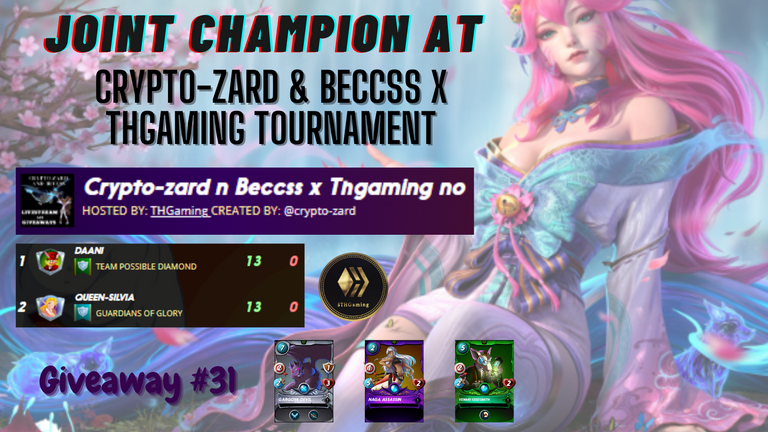 ~ 😘 Hi Hi Splinterfams around the world 😘 ~
| Number | Title | Accomplishment | Date | League |
| --- | --- | --- | --- | --- |
| 1 | Musdim's Missions on Immersys Modern | Runer Up | Sep 7, 2022 | Bronze |
| 2 | Archipelago Modern Bronze Invitational | Winner | Sep 24, 2022 | Bronze |
| 3 | YGG SPL Weekend Challenge | Winner | Sep 24, 2022 | Bronze |
| 4 | THGaming Bronze Tournament | Third Place | Oct 2, 2022 | Bronze |
| 5 | Crypto-Zard and Beccss Tourney Stream 52 | Winner | Oct 6, 2022 | Silver |
| 6 | Crypto-zard & Beccss THGaming Tournament no Splinterfest | Winner | October 9, 2022 | Bronze |
| 7 | Crypto-zard & Beccss THGaming Tournament no Splinterfest | Winner | October 9, 2022 | Silver |

In this article, I am gonna share all of the pictures of the battle when someone clicked on it, it will bring you to the battle, So if you are interested to one of them feel free to click on it to get the idea of the battle. There are also some tips which I am going to explain about the battle which (in my opinion) is the best among all.

This article will explain about the following topics :
Tourney Overview
Road to Champion
The most interesting battle
Tourney Result
Announcement of the Giveaway #29 Winner
Giveaway #31

- TOURNEY OVERVIEW -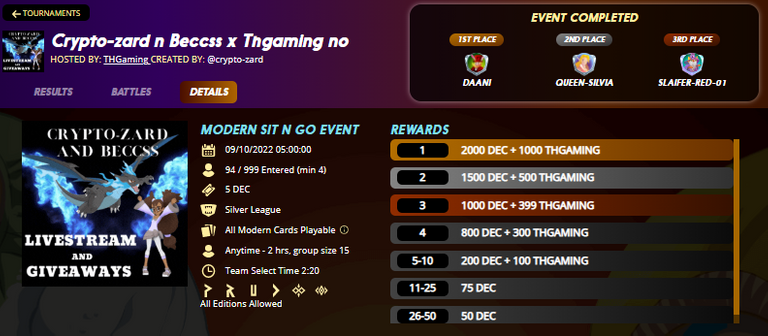 The entry fee of the tournament was 5 DEC, very cheap which allows everyone to join. The level of the tourney is Silver so we can see more skills unlocked than Bronze league. The card edition allowed is Modern, so alpha and beta cards would not be able to be used, some promo cards which has old frame edition could not be used as well. The tourney type is anytime with 2 hours time to fill all the matches, there is no second round but I hope the next tourney they will make it to prevent some players having the same score at the top 😊.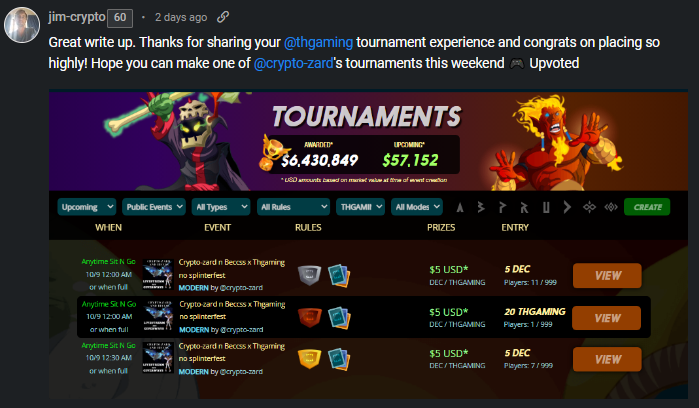 Yesterday, @jim-crypto put this comment on my previous post and I am so glad to be a winner at bronze and silver tournament. I was also joined the gold one but I finished 7th in that one. That was fine, I learned my mistake and would come back stronger💪.

- ROAD TO CHAMPION -
1st Battle against @samji
| | This is the Yodin battle. The key to win the match is to use monster with higher speed |
| --- | --- |

| | The mana was 34 so using Yodin is better than Tarsa due to to the deadly blast effect |
| --- | --- |

| | Void Monster (Torhilo & Oshannus) works perfectly to counter magic to give the win |
| --- | --- |

| | Snipe monster with blast damage give tremendous disaster to earth (magic) team |
| --- | --- |

| | Thorn, Void and double tank heal ability counter Obsidian team very well |
| --- | --- |

6th Battle against @edge1977
| | In Earthquake Brighton Bloom with some snare monsters should be used |
| --- | --- |

7th Battle against @contesmn
| | Lorna Shine is a perfect summoner in low mana. Pick her when you have less than 20 mana |
| --- | --- |

| | The ruleset was Noxious Fumes. So it's very important to use immunity monster to get rid of poison |
| --- | --- |
For those who are on the above list, Thank you very much for playing with me in the tourney. All of those battles above were great game🔥. Actually there are 5 matches left in this tourney but all of them fled. Here is the picture showing all the battles of my participation in tourney :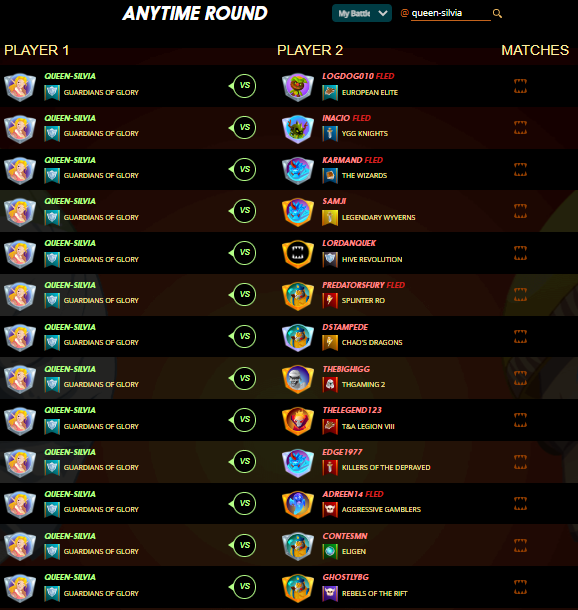 - THE MOST INTERESTING BATTLE -
This is the most interesting battle of my participation in the tourney. The mana was 60, very high so both players could choose any high mana cards they want. The ruleset was only earthquake so there are several options, either use a Brighton Bloom or high armor to protect all monsters from getting 2 physical damage each turn. Use monsters with snare ability too in order to remove the flying ability of the opponent monsters so the targeted monster will get 2 damage each round due to earthquake.

- TOURNEY RESULT -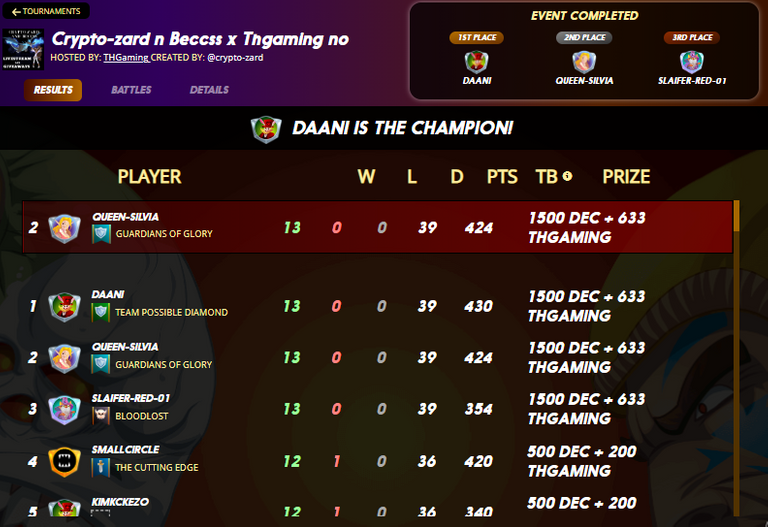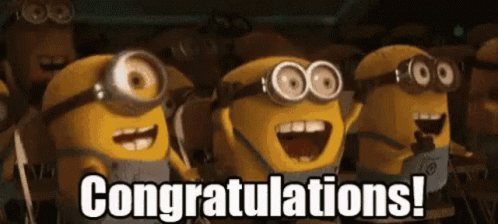 - ANNOUNCEMENT OF GIVEAWAY #29 WINNER -
Alright guys, now it's time for giveaway. We have 12 participants for the Giveaway #29. I'd like to say Thank you very much for visiting my blog and joined the giveaway. Here are the list of participants :
@qoogohome, @rimurutempest, @henruc, @gregory-f, @outwars, @blitzzzz, @davethegreat, @engilhramn, @olaf.gui, @pero821, @relf87, @amaari,
I hope I don't miss out any names there. Regardless you win or not, I hope you guys keep supporting me by participating in my upcoming giveaways because sharing to the community is fun.
Here is the snapshot of the winner :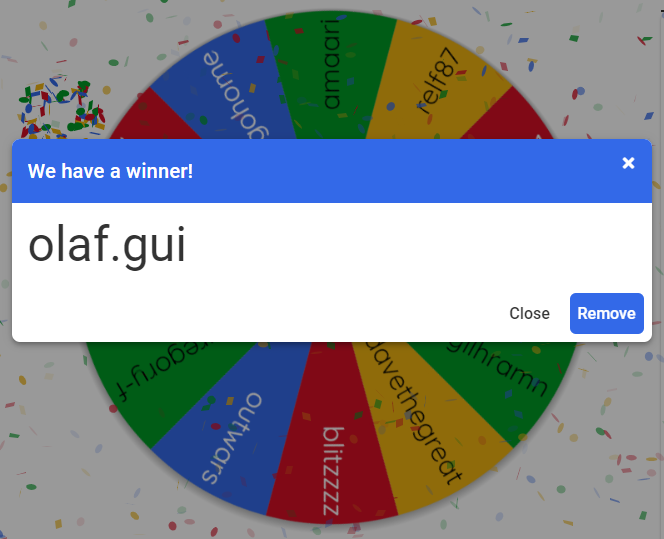 - GIVEAWAY #31 -
Alright, in the previous post we had some rare cards for the giveaways. In this giveaway post, there will be 3 rare cards that you could possibly win, All of them are Venaries, Here are the cards :
| | | |
| --- | --- | --- |
| Gargoya Devil | Naga Assassin | Venari Seedsmith |
I will use Wheel of Names for the drawing and the name picked out will be given any card you want on the comment section.
How to participate :
Please put any card you want (1 card) and your IGN (In-Game Name).
If you feel like the post is useful feel free to follow me for more battle tips and tricks and 2 weekly giveaways continuously. I'll make sure we will be good friends :)
Upvote is not a requirement but it will be greatly appreciated to increase the quality and the quantity of the next giveaway.
Only 1 person could win once a week.

Notes :
The cut off time is the pay-out of this post. I will put a comment "TIME'S UP" when the time is up.
The winner will be announced in the next giveaways.
If you want to give feedback or critics, feel free to leave any comments. As long they are constructive and not offensive, they will be appreciated.
Started from now, I will tag all of the participants who have joined (in the previous giveaway) in case you want to join the giveaway again, if you want me to stop tagging your IGN, feel free to comment STOP in the comment section.
Every time I posted blogs whether Art Challenge, Battle Challenge or Social Media Challenge, there will be 1 card (rare card) will be rewarded for the giveaway winner.
If you haven't got any Splinterlands account, you can get it here

Alright, that's the end of this article guys, Thank you for visiting my blog. See you in the next article and giveaway. Take care~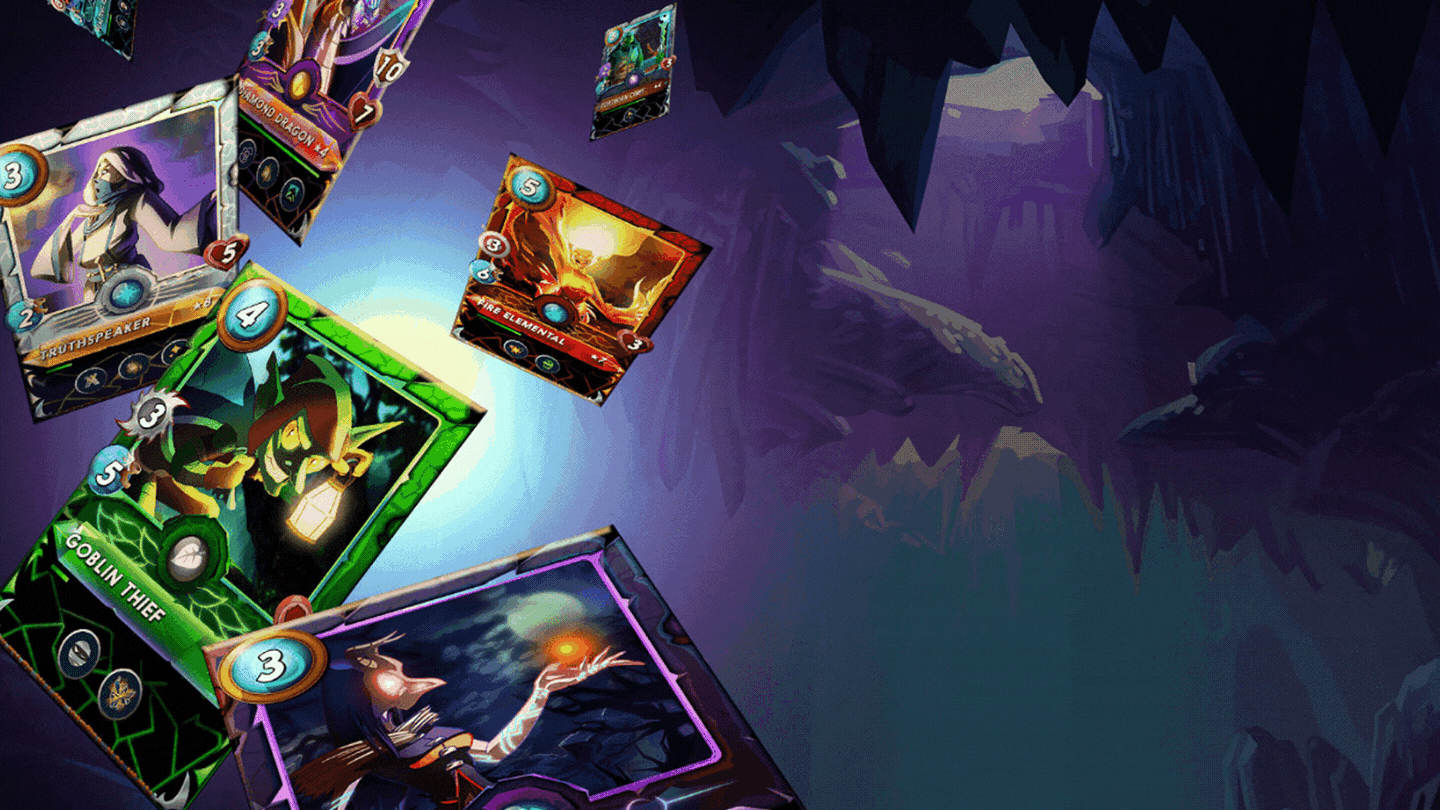 Source of picture :
https://defiance.games/games/play-to-earn/splinterlands/
https://www.google.com/amp/s/ggwp.id/media/esports/esports-lain/ahri-lol-wild-rift%3famp=1
---
---