NEW SPS PRIZE RECORD (1068 SPS), RUNNER UP AT GAUNTLET WILD BRONZE GF TOURNAMENT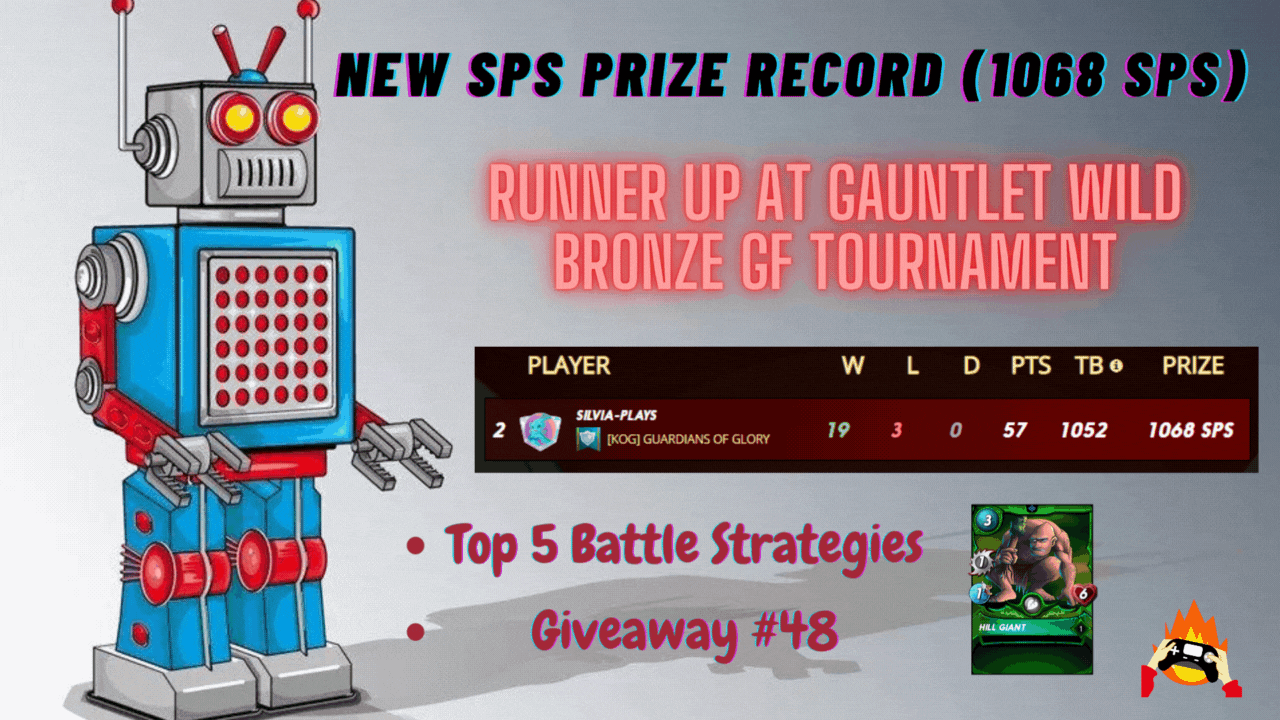 Source of Picture : https://www.deviantart.com/avero/art/wallpaper-retro-robot-289643539
~ 😘 Hi Hi Splinterlands lovers around the world 😘 ~
Welcome back to my blog, @queen-silvia. In the previous posts, we have some battle strategies at Silver and Gold league. If you are interested and didn't check it yet, the posts can be seen here :
| Title | Link |
| --- | --- |
| TOP 5 GOLD LEAGUE STRATEGIES AT NINHELM WILD GOLD TOURNAMENT (CHAPTER I) | LINK |
| TOP 5 GOLD LEAGUE STRATEGIES AT VICTOR'S GF TOURNAMENTS (CHAPTER II) | LINK |
| TOP 5 SILVER STRATEGIES AT CLOVE71 TOURNAMENT (CHAPTER III) | LINK |
In this article, I am going to share Battle strategies at Bronze league. Many people said that Bronze and Novice are the most difficult league since the ability of the card is very limited so RNG often decides the outcome of the match, Is it true?
Hmm... I think it's not 100% right since we can still think the best strategy to defeat our opponent although the ability is limited but if the mana is small like 17 and earth is available, people tend to use Llama-Kron or Llama-Grund since there's no counter in that match, so yes sometimes RNG takes important role to decide which player will win the match.

Alright, The top 5 strategies that we are going to discuss in depth are :
The Llama-Kron counter : Immortal void tank monster + Tank heal and Cripple ability
Use Dragon summoner in high mana battle (not always, depend on ruleset)
How to win match between Yodin vs Yodin
How to beat Byzantine Kitty in Noxious Fumes
Beating Yodin using Daria Dragonscale team
At the beginning of this article, I will share the result of the first and final round of the tournament and... at the end, there will be a giveaway #48 to grab. Let's get started !

- TOURNAMENT RESULT -
Here is the result of Round 1 tournament :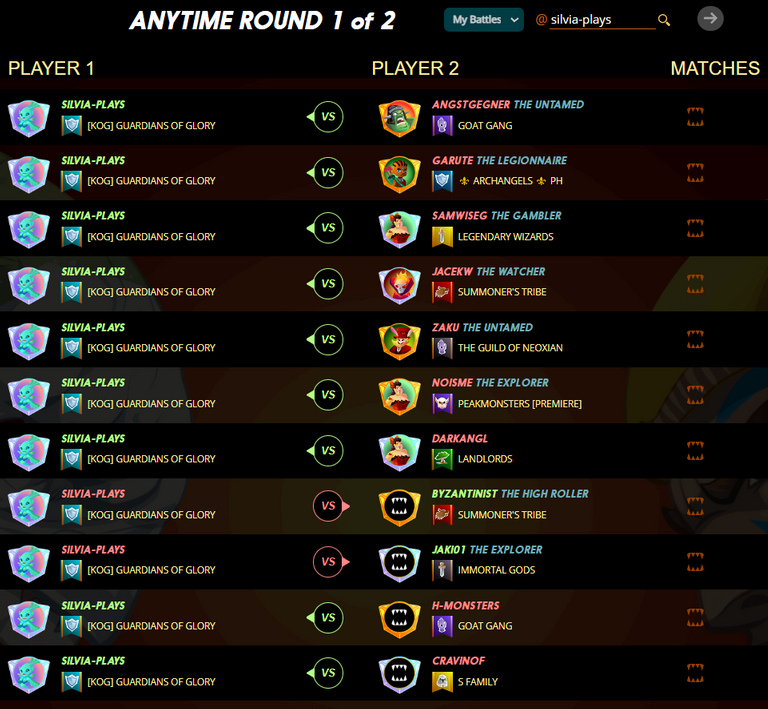 And here is the result of final round :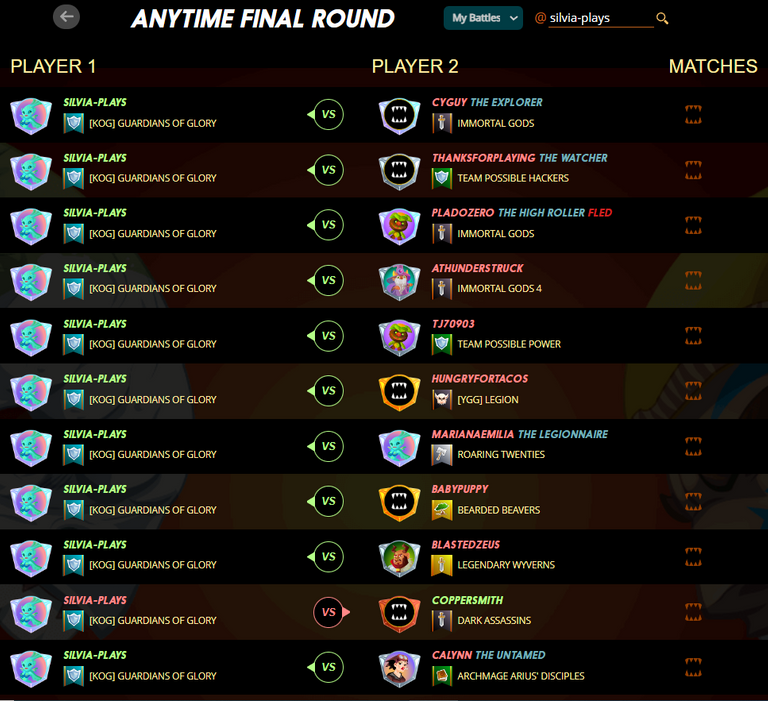 The tournament took the best 40% players and Here is all of my opponents at the final round :
@cyguy, @thanksforplaying, @pladozero, @athunderstruck, @tj70903, @hungryfortacos, @marianaemilia, @babypuppy, @blastedzeus, @coppersmith, @calynn
I took 1 L from the battle against coppersmith, it was the battle between Obsidian and Byzantine Kitty. I should have used Byzantine Kitty as well in that match since the mana is very high (60). In the battle where mana is very high, it's highly recommended to use dragon splinter because they have very high attack and defence compared to the average of other splinters. For all those players above, thank you so much for playing with me. I wish you all the best in the next tournament.

One thing that makes me really satisfied with the outcome of the tournament is that I was second and the top 10 were consist of 5 Immortal Gods players, 3 Summoner's Tribe players and 1 for each (KOG) Guardians of Glory and Guild of Neoxian. Immortal Gods are always pretty strong in tournaments which gives high prize and we often see the top 10 were filled by Immortal Gods the second was always Summoner's Tribe Guild. Now let's move into the battle strategy.

- LLAMA-KRON COUNTER : STRONG VOID TANK MONSTER + TANK HEAL & CRIPPLE -
| Ruleset | Mana | Element |
| --- | --- | --- |
| Weak Mgic, Explosive Weaponry | 20 | Fire, Earth |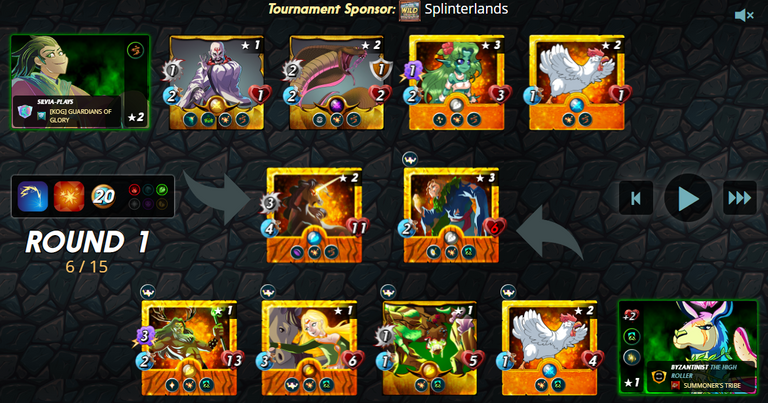 The reason why I lose in this battle is because my total damage was 6 and Llama-Kron has ability to restore 6 HP in each round. So at the end of the match my team died because of fatigue. Explosive Weaponry is the problem here. If the ruleset is not Explosive Weaponry, We could use Obsidian as a summoner (by replacing Venator Kinjo) and increase the damage into 7. We could defeat Llama-Kron that way.

- USE DRAGON SUMMONER IN HIGH MANA BATTLE -
| Ruleset | Mana | Element |
| --- | --- | --- |
| Equalizer, Fire and Regret | 60 | Earth, Death, Earth |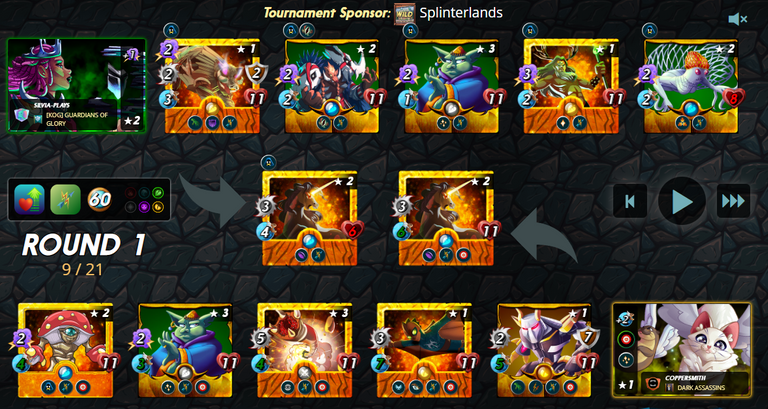 Coppersmith guessed my team perfectly by using void tank monster in the first position supported by double tank healer (Goblin Psychic and Byzantine Kitty). he also used Mushroom Seer to reduce my team magic attack. Aside of Strong defence, he has pretty solid attack using Carnage Titan, Dragon Jumper, and Sand Worm, I think I have o% win percentage in this battle. Very nice battle showing how to counter Obsidian perfectly.

- HOW TO WIN MATCH BETWEEN YODIN VS YODIN -
| Ruleset | Mana | Element |
| --- | --- | --- |
| Super Sneak | 60 | Earth, Death, Earth |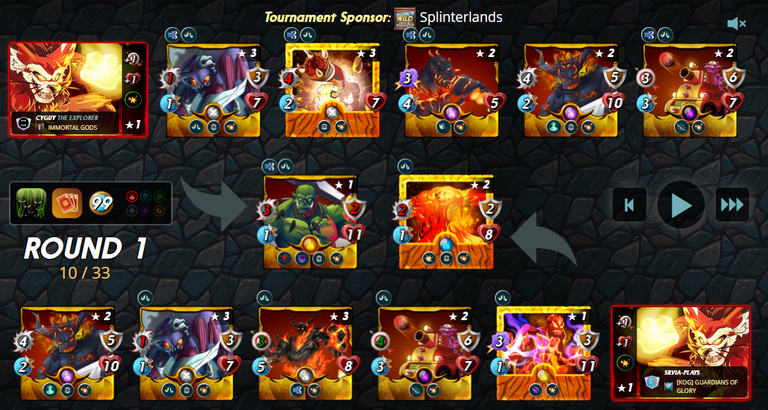 In this battle, the reason why silvia-plays won is because I have stronger defence as the first position is Living Lava who has shield ability and the second position is Caladuum who has void ability. Living Lava works pretty good to reduce all of physical attack from Grum Flameblade, Disintegrator, and Lava Launcher, while Caladuum could reduce the damage taken from blast damage of Djinn Inferni attack.

- HOW TO BEAT BYZANTINE KITTY IN NOXIOUS FUMES -
| Ruleset | Mana | Element |
| --- | --- | --- |
| Armored Up, Noxious Fumes | 20 | Fire, Water, Death, Dragon |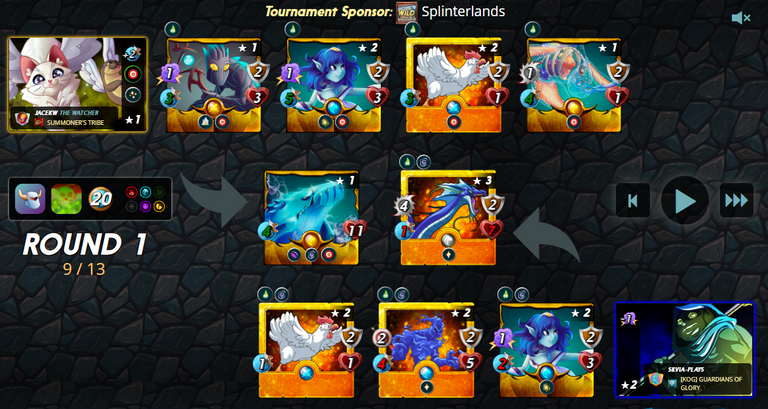 In Noxious Fumes, if there's no option to use monster with immunity ability, then we have to use monster with cleanse ability in order to remove poison from the tank monster. Always remember that cleanse only works to the first position monster (Tank monster). In the backline, we can use monster who has triage or heal ability. In this case, Jacek used Spirit Hoarder, while I am using Water Elemental. At the end of the match, I won the battle because I have total 7 damage while jacek only has 1.

- BEATING YODIN USING DARIA DRAGONSCALE TEAM -
| Ruleset | Mana | Element |
| --- | --- | --- |
| Aim True, Counterspell | 20 | Fire, Water, Earth, Dragon |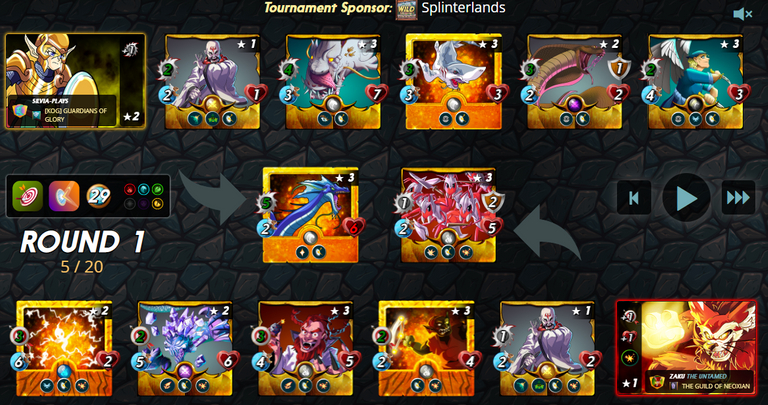 The idea is to use tank monster who have heal ability to hold all of the increased ranged attack in each round and negate the blast damage using Venator Kinjo in the second round. for the attack, we can use all of melee monsters, either who have opportunity or sneak attack. We chose melee since the summoner is Daria. He increased the melee attack by 1. all the sneak monsters killes Yodin team in the backline one by one and help me win the match.

- ANNOUNCEMENT OF GIVEAWAY #46 WINNER -
Alright guys, now it's time for giveaway. We have X participants for the Giveaway #46. I'd like to say Thank you very much for visiting my blog and joined the giveaway. Here are the list of participants :
@keniel16, @ianballantine, @circlebubble, @ieronimus, @dafusa, @candnpg, @rayius, @emeraldtiger, @engilhramn, @blitzzzz, @stekene, @henruc, @monsterbuster, @olaf.gui, @pero82, @jdike, @treefrognada, @willendorfia, @jhuleader, @vaynard86, @rayius,
I hope I don't miss out any names there. Regardless you win or not, I hope you guys keep supporting me by participating in my upcoming giveaways because sharing to the community is fun. Here is the snapshot of the winner :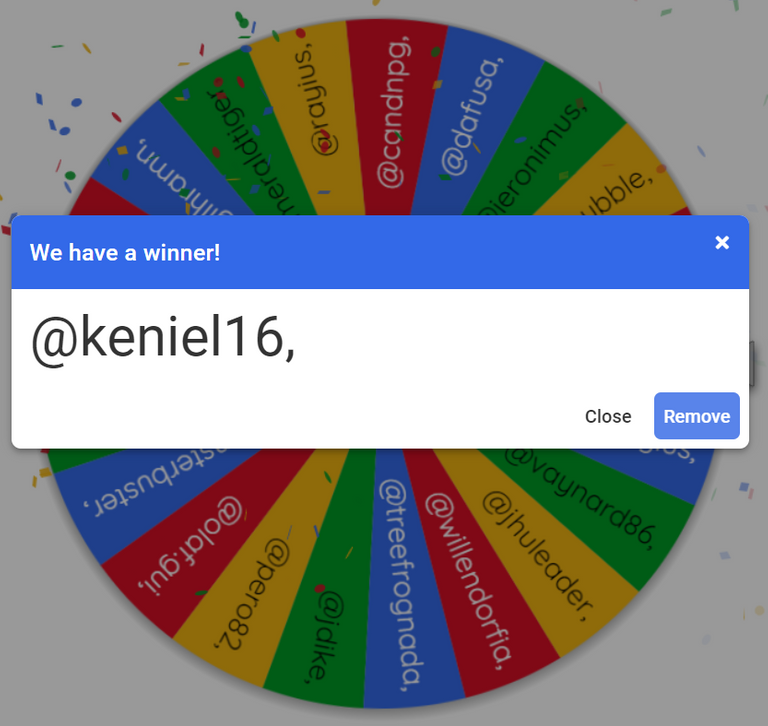 - GIVEAWAY #48 -
Alright, in the previous post we had a Chaos Legion card for the giveaway. In this giveaway post, there will be 1 Chaos Legion card that you could possibly win, Here is the card :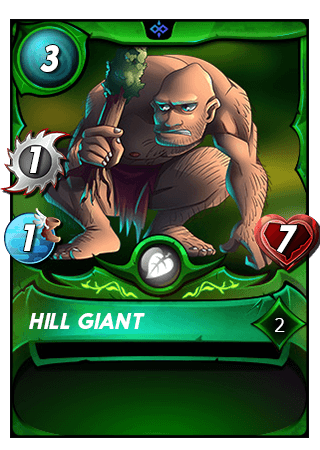 Hill Giant
I will use Wheel of Names for the drawing and the name picked out will be given the card prize.
How to participate :
Please put your IGN (In-Game Name) in the comment section.
If you feel like the post is useful feel free to follow me for more battle tips and tricks and 2 weekly giveaways continuously. I'll make sure we will be good friends :)
Upvote is not a requirement but it will be greatly appreciated to increase the quality and the quantity of the next giveaway.
Only 1 person could win once a week.

Notes :
The cut off time is the pay-out of this post (7 days). I will put a comment "TIME'S UP" when the time is up.
The winner will be announced in the next giveaways.
If you want to give feedback or critics, feel free to leave any comments. As long they are constructive and not offensive, they will be appreciated.
Started from now, I will tag all of the participants who have joined (in the previous giveaway) in case you want to join the giveaway again, if you want me to stop tagging your IGN, feel free to comment STOP in the comment section.
Every time I posted blogs whether Art Challenge, Battle Challenge or Social Media Challenge, there will be 1 card be rewarded for the giveaway winner.
If you haven't got any Splinterlands account, you can get it here
Great thanks to @rimurutempest for sharing everyone's giveaway (including me), so the number of participants are increasing.

Alright, that's the end of this article guys, Thank you for visiting my blog. See you in the next article and giveaway. Take care~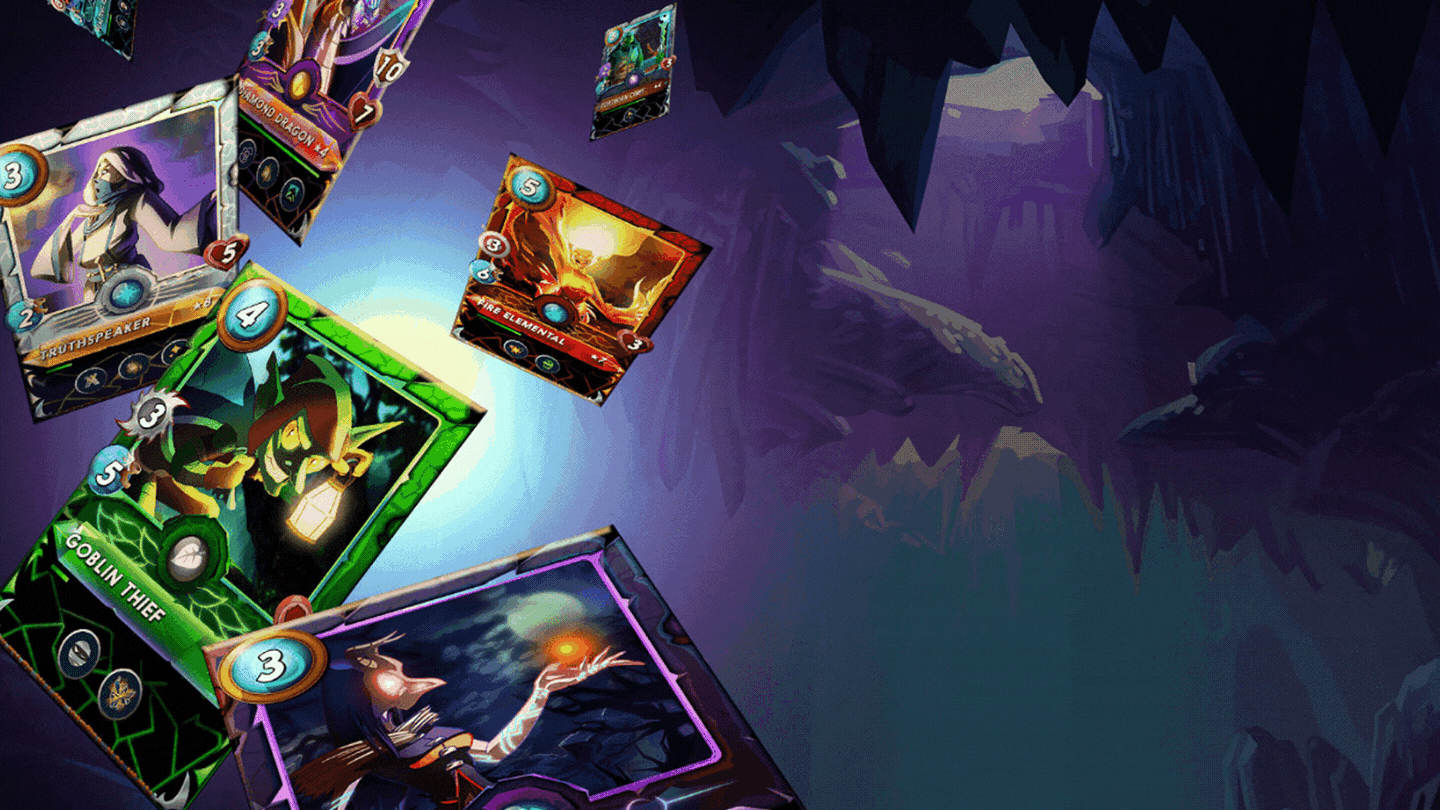 ---
---