TOP 5 BRAWL STRATEGIES TO BE A CHAMPION, REWARDS : 11600 MERITS & 320 SPS | GIVEAWAY #61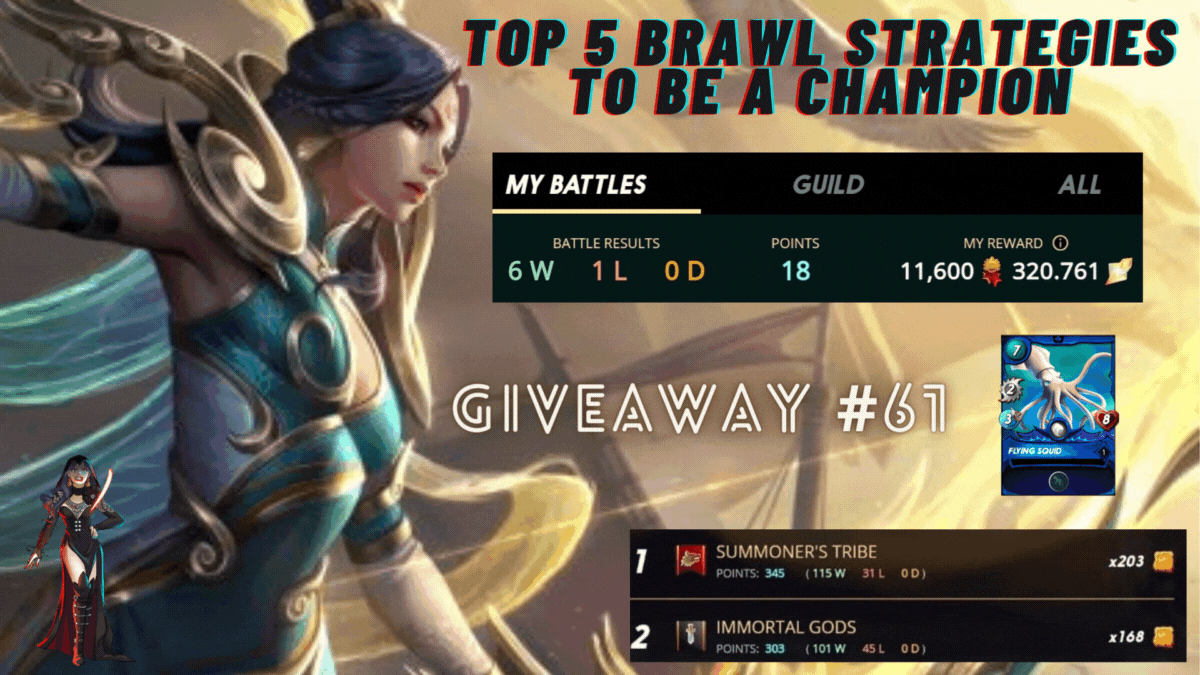 Source of Picture
~ 😘 Hi Hi... My Splinterlands family around the world 😘 ~

Alright, The top Tier 4 Silver Modern fray strategies that we are going to discuss in depth are :
Riftwing is a good tank monster in "Keep your Distance" Ruleset
Counter magic attack with Immortalis
Demoralize and Thorn abilities are very important in "Up Close and Personal" Ruleset
Inspire ability is a key to win "Melee Mayhem" ruleset
GM Rathe is very weak against Immortalis
At the beginning of this article, I will share the final result of the brawl and... at the end, there will be a giveaway #60 to grab so Let's get started !

- BRAWL RESULT -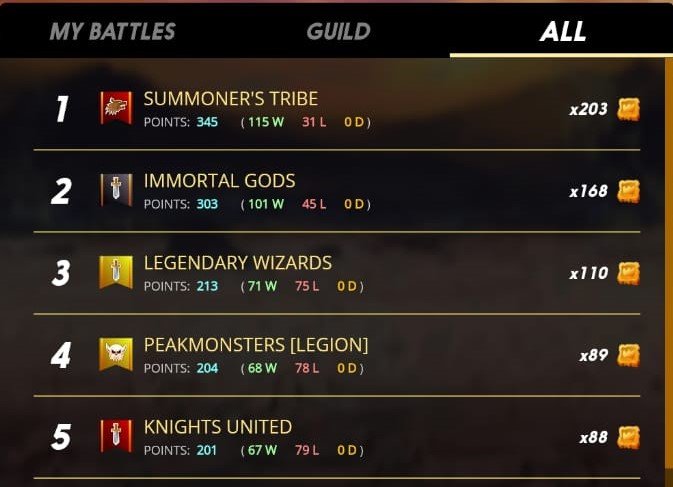 The above picture shows the result of top 5 guild. Summoner's Tribe again dominating the Tier 4 brawl with pretty outstanding performance with 115 Wins and 31 L so the winning percentage is 79%, almost 80%, wonderful, what a fantastic guild. I think every single player of Summoner's Tribe is very strong so they deserve to get magnificent result in every brawl. The runner-up goes to Immortal Gods with 101 Wins and 45 L, they got 168 merits for their building. The third position is legendary wizards with 71 W, followed by Peakmonsters [Legion] with 68 W and Knights United with 67 W.
---
Either Legendary Wizards, Peakmonsters Legion or Knights United have slight difference in their points, that means Summoner's Tribe and Immortal Gods are still dominating the brawl in tier 4. And... If we are comparing both ST and IG, There are 42 points difference between ST and IG which shows us How strong Summoner's Tribe are in the brawl. I need to keep practicing everyday to maintain the good performance. Well, in the next section we are going to discuss about the top brawl battle strategies in tier 4, Check it out :

- RIFTWING IS A GOOD TANK MONSTER IN "KEEP YOUR DISTANCE RULESET" -
| Ruleset | Mana | Element |
| --- | --- | --- |
| Rise of the Commons, Keep Your Distance, Armored Up | 58 | Death, Water |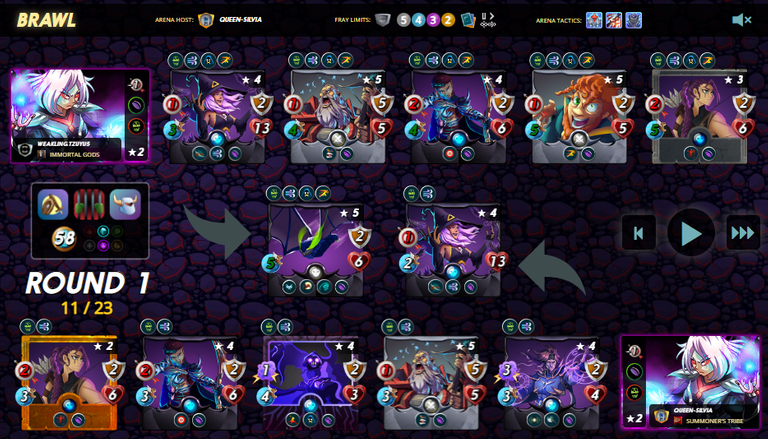 - COUNTER MAGIC ATTACK WITH IMMORTALIS -
| Ruleset | Mana | Element |
| --- | --- | --- |
| Fog of War, Even Stevens, Aim True | 58 | Earth, Water, Dragon |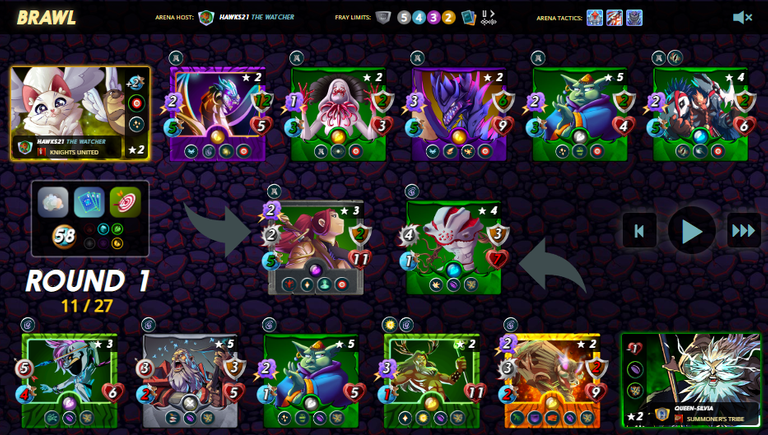 - DEMORALIZE AND THORN ABILITIES ARE VERY IMPORTANT IN MELEE ONLY RULESETS -
| Ruleset | Mana | Element |
| --- | --- | --- |
| Healed Out, Lost Legendaries, Up Close and Personal | 42 | Earth, Life, Death |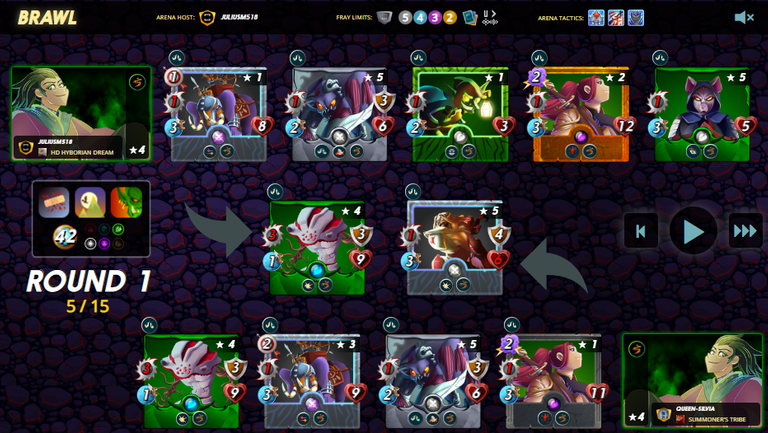 - INSPIRE ABILITY IS THE KEY TO WIN MELEE MAYHEM RULESET -
| Ruleset | Mana | Element |
| --- | --- | --- |
| Fire and Regret, Melee Mayhem, Silenced Summoners | 23 | Water, Life |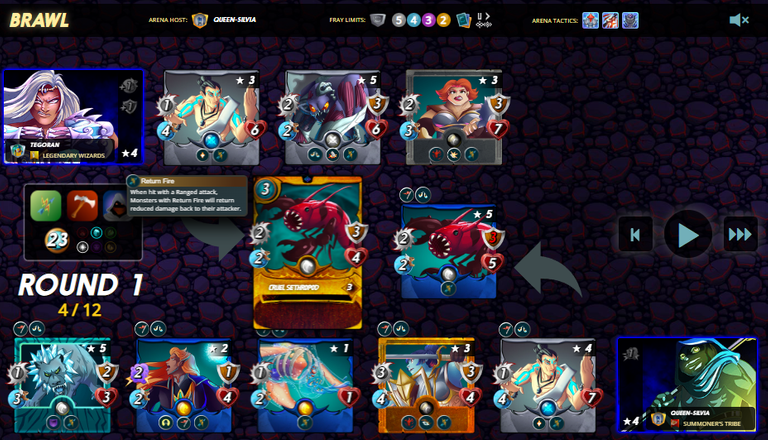 - GM RATHE IS VERY WEAK AGAINST IMMORTALIS -
| Ruleset | Mana | Element |
| --- | --- | --- |
| Fire and Regret, Melee Mayhem, Heavy Hitters | 58 | Earth, Life, Death, Water |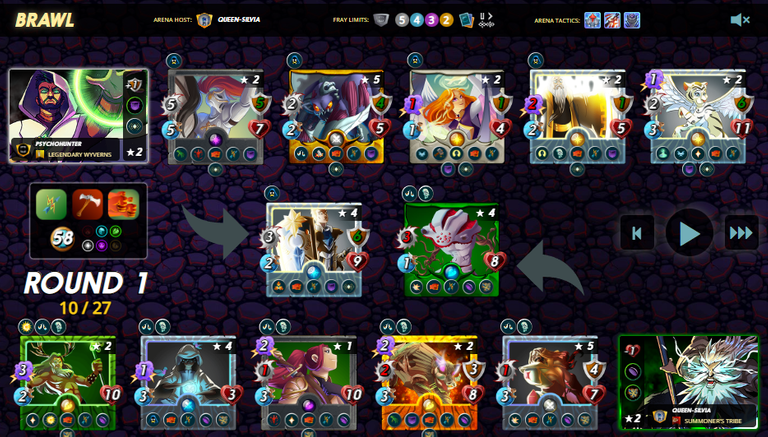 - ANNOUNCEMENT OF GIVEAWAY #59 WINNER -
Alright guys, now it's time for the giveaway. We have 35 participants for the Giveaway #59. I'd like to say Thank you very much for visiting my blog and joined the giveaway. Here are the list of participants :
@olaf.gui, @queenstarr, @engilhramn, @stonemountain69, @pero82, @candnpg, @danideuder, @pulubengdugs, @jdike, @zonadigital21, @syel25,
@cryptoace33, @amaari, @treefrognada, @willendorfia, @jhuleader, @pirulito.zoado, @rayius, @ladymisa, @henruc, @noctury, @invest4free, @blitzzzz, @flummi97, @vaynard86, @ianballantine, @amaari, @cpol, @cryptoace33, @ianballantine, @jhuleader, @pero82, @poplar-22, @pulubengdugs, @treefrognada
(Amaari, Cpol, Cryptoace33, Ianballantine, Jhuleader, Pero82, Poplar-22, Pulubengdugs, Treefrognada got additional 1 ticket as they re-blogged the post)
I hope I don't miss out any names there. Regardless you win or not, I hope you guys keep supporting me by participating in my upcoming giveaways because sharing to the community is fun. Here is the snapshot of the winner :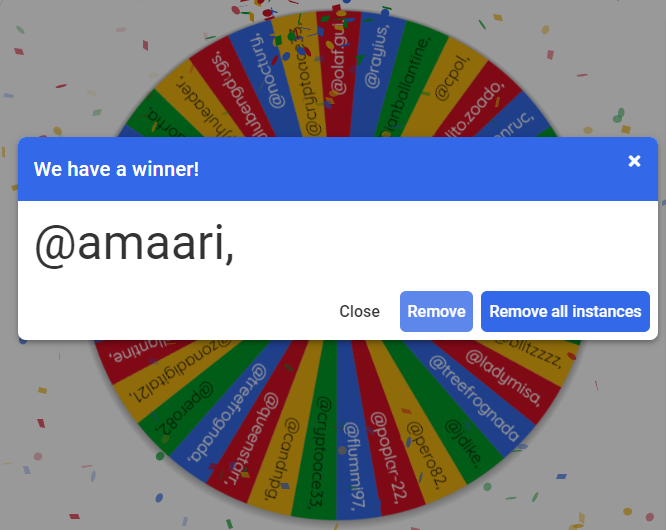 - GIVEAWAY #61 -
Alright, in the previous post we had a Chaos Legion card for the giveaway. In this giveaway post, there will be 1 Chaos Legion card that you could possibly win, Here is the card :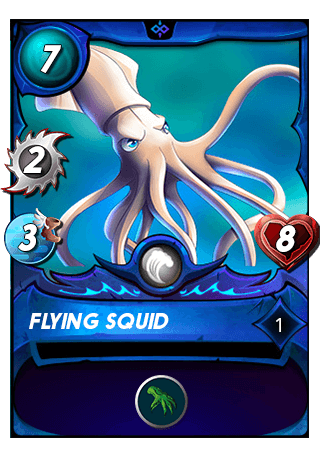 Flying Squid
I will use Wheel of Names for the drawing and the name picked out will be given the card prize.
How to participate :
Please put your IGN (In-Game Name) in the comment section.
If you feel like the post is useful feel free to follow me for more battle tips and tricks and 2 weekly giveaways continuously. I'll make sure we will be good friends :)
Upvote is not a requirement but it will be greatly appreciated to increase the quality and the quantity of the next giveaway.
Re-blogging this post will give you 2 tickets, higher tickets, higher chance to win the rewards 😉

Notes :
The cut off time is the pay-out of this post (7 days). I will put a comment "TIME'S UP" when the time is up.
The winner will be announced in the next giveaways.
If you want to give feedback or critics, feel free to leave any comments. As long they are constructive and not offensive, they will be appreciated.
Started from now, I will tag all of the participants who have joined (in the previous giveaway) in case you want to join the giveaway again, if you want me to stop tagging your IGN, feel free to comment STOP in the comment section.
Every time I posted blogs whether Battle Challenge or Social Media Challenge, there will be 1 card be rewarded for the giveaway winner.
If you haven't got any Splinterlands account, you can get it here

Alright, that's the end of this article guys, Thank you for visiting my blog. See you in the next article and giveaway. Take care~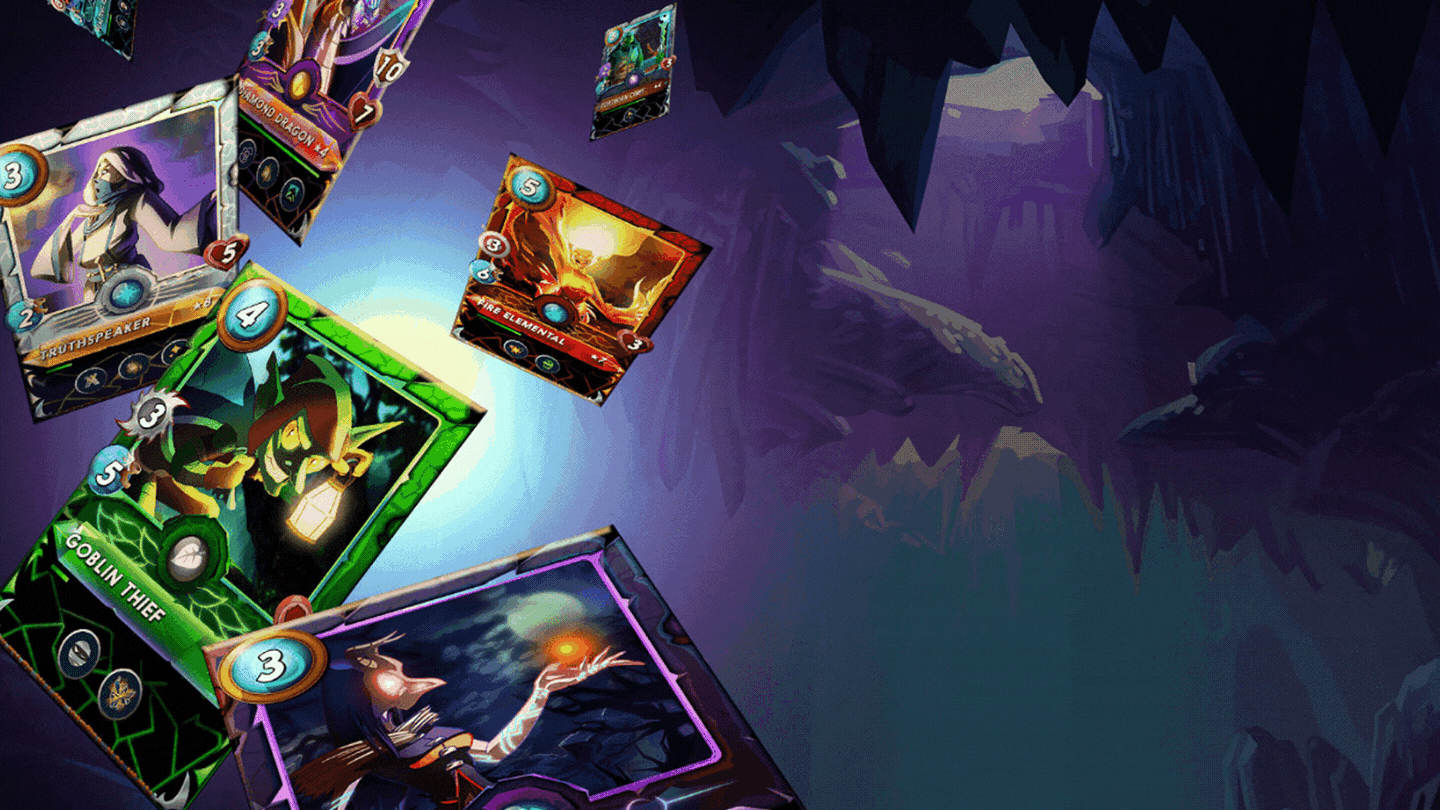 ---
---