002 WEEKLY 3 WINNERS GIVEAWAY WINNINGS TOTAL 5K STARBITS -RISINGSTAR/SPLINTERLANDS (rental) UPDATES

Hey everyone, hope this finds you all well. Man, it's been a week lol. New kittens, forest fires.. plus the normal Micah stuff 🤦🤣🤩
Risingstar
I have too admit my daily game update made me a better player! Lol I've kept it going but maybe not as strict as I could have on some days.
I did level up to 96.
Also I added last week's withdrawals to the LP pool.
Total NFTs: 529 (0/10 in storage)
Total 529 breakdown
Total Fans :26430
  Fans from cards: 26430
  
  Permanent fans ego: 9503
  
  Drunks: 0
  
  Total fans ego:35933

Total Skill: 38934
  From cards: 26466
   
  From music lessons: 12468

Luck: 4211
IM: 485
Ego: 0
Lvl : 96 (2549 /4800) 🐢 I'm on the way 🏃😎
Last week's withdrawals: 12808
This week's withdrawals: 29127
Total starbits: 30314
LP: PIZZA/STARBIT
       Shares:  2040.13

        0.373%

        Bonus: 0%


      User liquidity:

      119.7 PIZZA

       37748 STARBITS

       worth $4.214

Splinterlands
Last week, I took everything off the rental market. Losing 10 games almost in a roll changed my mind again.
So I went thru all my cards and mostly using the suggested price..I can't say I'm overly happy with the results. However, I'm going to let it ride.
I bought several common cards to level up a few cards. I also split my remainder DEC and added to Hive/DEC Pool
DEC income: 58.297 out of 103.624
ROA: 5.97%
Current DEC: 5.18
NFTs: 109 (884 BCX)
 Rented: 194 (791 BCX)
 
 On market for rent: 15 (93 BCX)

Market value: $ 215.17
CP: 21,570
LP Hive/DEC
        Shares:10.551
         <0.001%
          Bonus: 0%

        User liquidity:
           0.35831591 SWAP.HIVE
           362.553 DEC
        worth $0.434

Anyways, that's about it for today.. So let's get to the juicy stuff!🤑
To determine the 3 winners, I will be using. https://hivetools.herokuapp.com/picker/ The order it pulls will determine 1st-3rd place. The rewards are:
2500k to first winner
1500 to second winner
1000 to third winner
5k TOTAL in REWARD PRIZES 🎊🎉
Drumroll please🥁
Last week's winners are🎊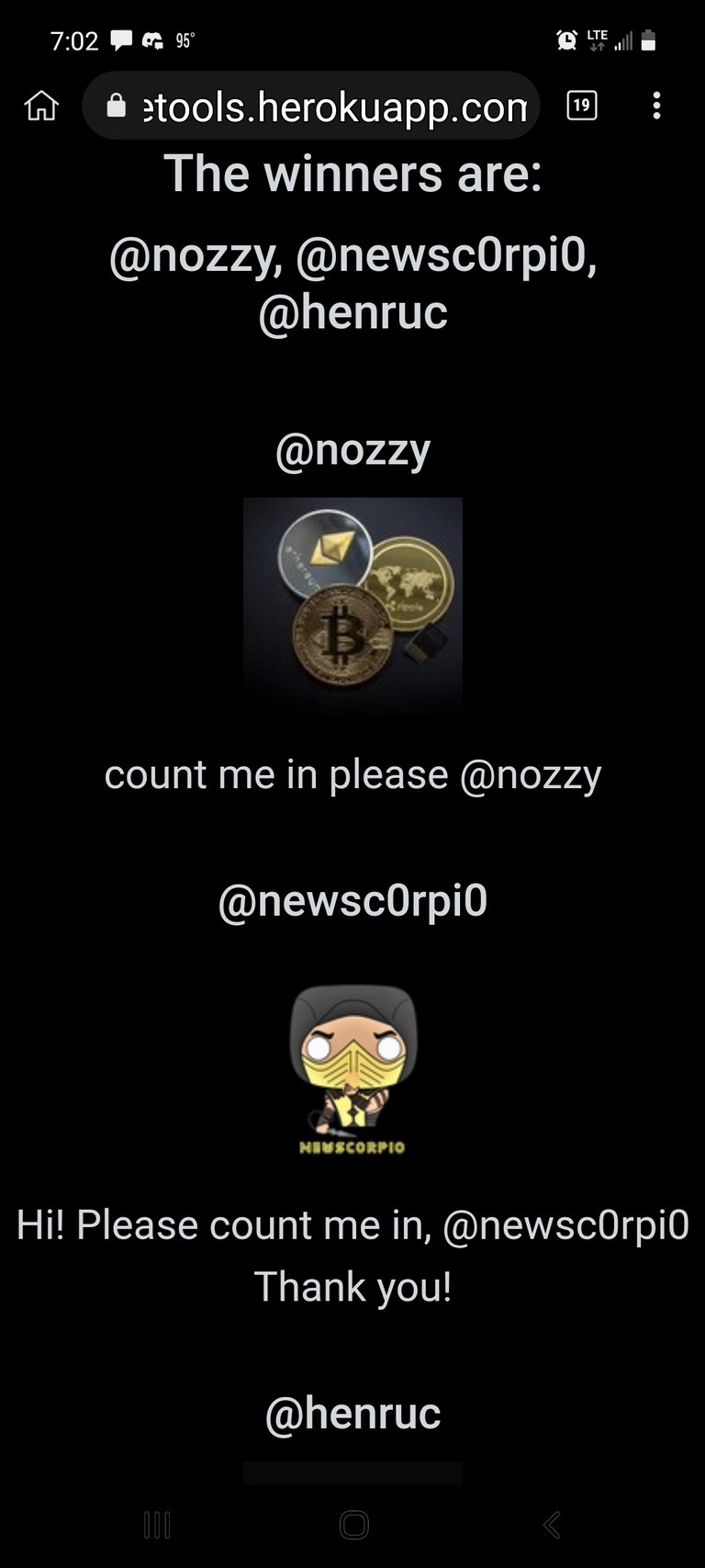 🎉 Congrats🎉 @nozzy, @newsc0rpi0, @henruc!! Y'all's starbits are on the way!
I'm going to tag all participants for notifications for the next contest.. Should you not want to be notified, please let me know in the comments thanks.
@dizzyapple, @coquicoin, @thaddeusprime, @mhowii, @amaillo, @ronnybryant, @daje10, @ganjafarmer, @vaynard86, @roscar9, @supriya.gupta, @krazydownhere, @stamato, @orenj1, @pregosauce, @dubble, @xheadhunterz, @pero82, @operahoser, @new.things, @rayius, @thoth442, @hoosie, @vicer0y, @jfang003, @mauriciolimax, @luizeba,
Thank all of you so very much for your help and support with my risingstar starbits giveaway! 🥰😊
TO JOIN MY GIVEAWAY:
Comment anything below (include your Rising Star name)
Upvote this post & Follow to not miss any giveaways (optional)
Winner will be drawn in the next post! Fair warning: I babysit my 2 year old full of energy grandson. I will do my best to be consistent with posting times but it might vary occasionally.
Scheduled posting time will be on Monday evenings 8pm CST
As always, if you have any helpful tips or advice please share. I'm sure newcomers would appreciate it and myself too! I'm still learning lol
Also, I'll do my best to tip GENUINE replies... Not bots. I'm still building my tip tokens, but I'll try my best 😊
IMPORTANT TIP
Never EVER buy a starbits millionaire NFT. Once you hold 1 Mill starbits they are free!! To obtain, go to the risingstar discord

My Referrals
If you don't play @risingstargame, you're missing out. It's free to start. You can earn/buy Starbits, Starpro, NFTS, and more (as in add your own music, which I know nothing about. To find out check out their discord )... It's been a very steady play2earn game for me.
I absolutely love it! If you're interested check it out using my link..
https://www.risingstargame.com?referrer=rachaeldwatson

Splinterlands
I love @splinterlands also! Here you can earn/buy DEC, SPS , NFTS and more.. if you're not already playing and interested check it out.
https://splinterlands.com?ref=rachaeldwatson
Disclaimer.. Not financial advice just games that I play, enjoy, and have earned from.
Thanks for reading 🥰
---
---