004 WEEKLY 3 WINNERS GIVEAWAY WINNINGS TOTAL 5K STARBITS -RISINGSTAR/SPLINTERLANDS (rental) UPDATES

Hey everyone, hope this finds you all well. This past week Micah has been somewhat a handful. Sweet handful but a handful none the less. It's been raining and storming quite a bit over past few days. Normally I'd let him play in the rain.. and this morning he tried, but it was making him too cold. So he's been fussy, not getting to go play "side" (his word for outside).. plus the weather has been a PITA for my phone's data service🤦 however, I'm glad to be getting the rain. We needed it! 🌧️
I'm game news..
Risingstar
Yesterday I opened 12 (actually 13) packs. I hadn't realized I had passed the 3k mission mark and recieved a free pack.🤦🤣🎉 Plus, I also bought some more petrol cans. I'll need 10 for when I reach lvl 100.
Sundays, I also try to dedicate to doing music lessons. I completed 9 lessons. Not too bad. It helped push me past the halfway mark thru lvl 98.
Total NFTs: 571 (0/10 in storage)
Total 571 breakdown
Total Fans :26895
  Fans from cards: 26895
  
  Permanent fans ego: 9974
  
  Drunks: 56
  
  Total fans ego:36869

Total Skill: 40740
  From cards: 27091
   
  From music lessons: 13649

Luck: 4665
IM: 498
Ego: 0
Lvl : 98 (3267 /4900) 🐢 almost there!🏃😎
Last week's withdrawals: 40828
This week's withdrawals: 31445
I pulled out of the Liquidity Pool. Used those starbits to purchase most of the 12k with.
Splinterlands
Ok, if y'all haven't noticed already I'm the real life version of Dory 🐟. I literally go in circles some days.. Well, I took everything back off the market. I have a new coach (hope he don't mind being named 🤩 but.... omg Jordan is the greatest!😎💪 With his tips and suggestions plus trying new cards etc. I even rented a few cards for myself due to his suggestions. I did see bronze for a few minutes 🤣🤣 I'll keep trying!
Least I was able to make it.
I'm probably going to play with a couple of elements and place the others back on the market. We'll see. I'm having issues trying to get the daily FP.. Maybe I shouldn't try and just stack up chest? Not sure...
Market value: $ 239.61
CP: 21,570
I removed my liquidity from the Dec pool.
Anyways, that's about it for today.. So let's get to the juicy stuff!🤑
To determine the 3 winners, I will be using. https://hivetools.herokuapp.com/picker/ The order it pulls will determine 1st-3rd place.The rewards are:
2500k to first winner
1500 to second winner
1000 to third winner
Drumroll please🥁...
Last week's winners are🎊l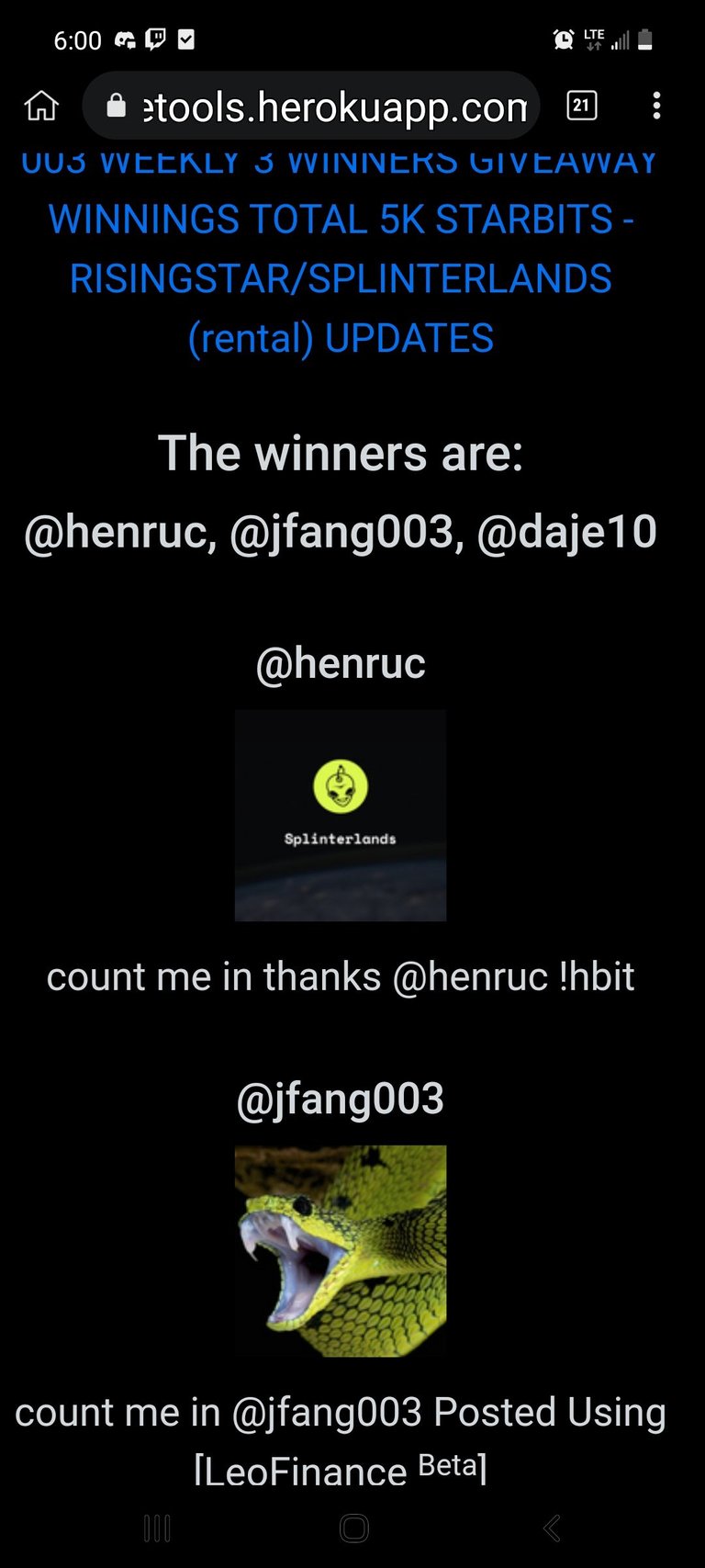 🎉 Congrats🎉 @henruc, @jfang003, @daje10!! Y'all's starbits are on the way!
I'm going to tag all participants for notifications for the next contest..
@thaddeusprime, @new.things, @coquicoin, @ifarmgirl, @mauriciolimax, @amigareaction, @tengolotodo, @hoosie, @newsc0rpi0, @vaynard86, @amaillo, @stamato, @blitzzzz, @rayius, @ganjafarmer, @mhowii, @dubble, @supriya.gupta, @pero82, @pregosauce, @xheadhunterz, @nozzy,
Thank all of you so very much for your help and support with my risingstar starbits giveaway! 🥰😊
TO JOIN MY GIVEAWAY:
Comment anything below (include your Rising Star name)
Upvote this post & Follow to not miss any giveaways (optional)
Winner will be drawn in the next post! Fair warning: I babysit my 2 year old full of energy grandson. I will do my best to be consistent with posting times but it might vary occasionally.
Scheduled posting time will be on Monday evenings 8pm CST
As always, if you have any helpful tips or advice please share. I'm sure newcomers would appreciate it and myself too! I'm still learning lol
Also, I'll do my best to tip GENUINE replies... Not bots. I'm still building my tip tokens, but I'll try my best 😊
IMPORTANT TIP
Never EVER buy a starbits millionaire NFT. Once you hold 1 Mill starbits they are free!! To obtain, go to the risingstar discord

My Referrals
If you don't play @risingstargame, you're missing out. It's free to start. You can earn/buy Starbits, Starpro, NFTS, and more (as in add your own music, which I know nothing about. To find out check out their discord )... It's been a very steady play2earn game for me.
I absolutely love it! If you're interested check it out using my link..
https://www.risingstargame.com?referrer=rachaeldwatson

Splinterlands
I love @splinterlands also! Here you can earn/buy DEC, SPS , NFTS and more.. if you're not already playing and interested check it out.
https://splinterlands.com?ref=rachaeldwatson
Disclaimer.. Not financial advice just games that I play, enjoy, and have earned from.
Thanks for reading 🥰
---
---