BI-WEEKLY HODGEPODGE GIVEAWAY CONTEST 002--Splinterlands update
Hey everyone! Hope this finds you all well. I have a few tokens I can't play, don't play, or just wanna share! So I'm going to throw a few of them into a bi-weekly contest and pick a winner every 2 weeks!
I really need to get this contest in sync with splinterland's season open/end but not this week...too much on my plate already.
🛑 Hey wait reminder I also do a weekly risingstar starbits giveaway. If you're interested it posted earlier today. Go check it out for a chance to win. (3 winners, prizes total 5k starbits).
https://peakd.com/risingstar/@rachaeldwatson/008-3-winners-giveaway-winnings-total-5k-starbits-risingstar-update
Ok let's continue on to the update..
Splinterlands
I'm still struggling although admittedly I'm getting better when I play. Which hasn't been a lot in the past week. But before that, I was doing fairly decent. I've found a card I really enjoy renting. Although it's a bit pricy.
I took all my own cards off the market but I think I might have messed up again lol. At least when they was on the market I had DEC income to use towards the card I rent.
Idk what I'm going to do just yet.
I did notice the value of my cards had increased. Back when I was passing daily combining my risingstar and sp updates my card value had dropped to under $300 last I looked the other day they were over $500. That made me smile
Anyways that's about it for my update let's jump on into the good stuff🤑
The list of tokens and prizes:
SBT: 70
HKWATER: 200
Bud: 2
*Pgm: 1
*Ape: 2
To determine the winner, I will be using.
https://hivetools.up.railway.app/picker/
And the winner is...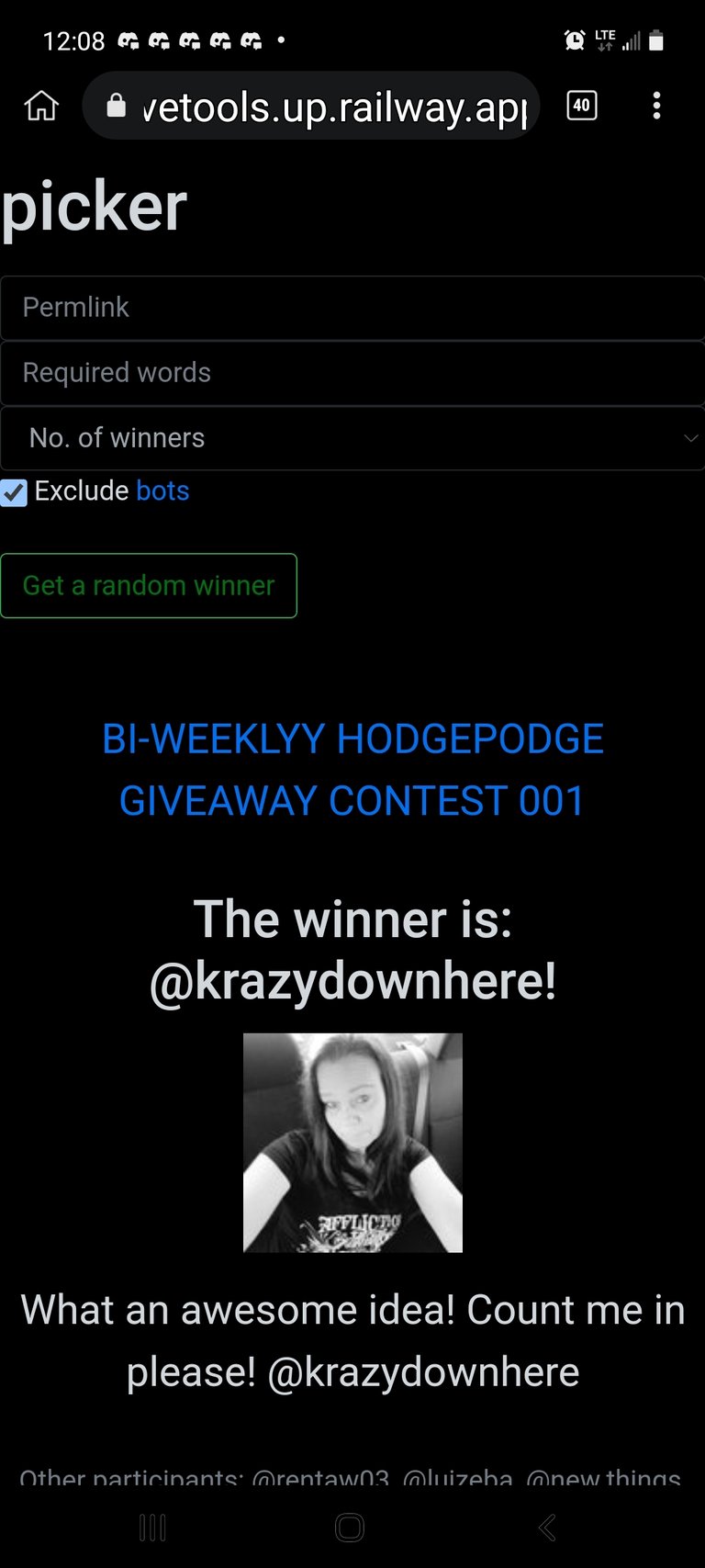 Congratulations🎉🎊 @krazydownhere 👏
I'm tagging all the other participants to notify of new contest (winner to be announced in 2 weeks). Should you not want to be notified please do not comment below🤗
Other participants: @rentaw03, @luizeba, @new.things, @amigareaction, @hoosie, @pero82, @vaynard86, @nozzy, @blitzzzz, @tengolotodo, @pregosauce, @mhowii, @criptosectadepit, @thaddeusprime,
Thank all of you so very much for your help and support with my hodgepodge giveaway! 🥰😊
TO JOIN MY GIVEAWAY:
Comment anything below
Upvote this post & Follow so not to miss any giveaways (optional)
Winner will be drawn in the next Hodgepodge post. Fair warning: I babysit my 2 year old full of energy grandson. I will do my best to be consistent with posting times but it might vary occasionally.
Scheduled posting time will be 6pm CST every other Sunday.
My Referrals
If you don't play @risingstargame, you're missing out. It's free to start. You can earn/buy Starbits, Starpro, NFTS, and more (as in add your own music, which I know nothing about. To find out check out their discord )... It's been a very steady play2earn game for me.
I absolutely love it! If you're interested check it out using my link..
https://www.risingstargame.com?referrer=rachaeldwatson

Splinterlands
I love @splinterlands also! Here you can earn/buy DEC, SPS , NFTS and more.. if you're not already playing and interested check it out.
https://splinterlands.com?ref=rachaeldwatson
🙈🙉🙊🙈🙉🙊🙈🙉🙊🙊🙉🙈🙊
There's not a referral link I've found. But I really like the ape mining game.. Here's the link if interested https://apemining.club/
Disclaimer.. Not financial advice just games that I play, enjoy, and have earned from.
Thanks for reading 🥰
---
---