Ramadhanight's Splinterlands Special Giveaway New Format #3 Edition | A little changes again, now 5 cards will given each week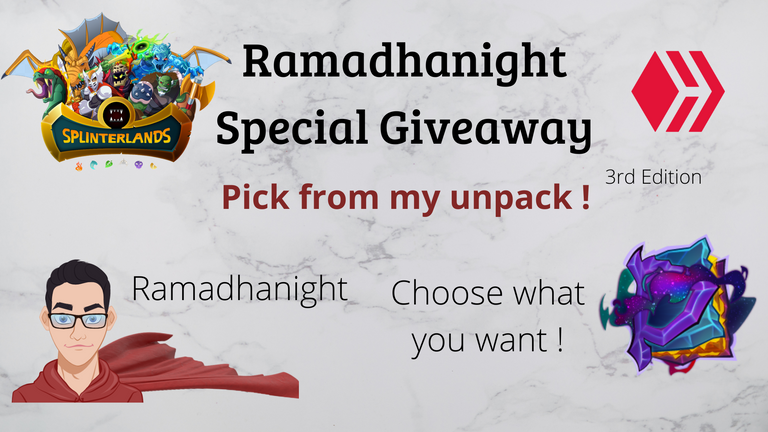 Introduction
Hello Everyone !
The Ramadhanight's Special Giveaway is back, with 3rd edition since i tried the new format. I tried to improved my giveaway to gives the best for all of you, so from now on, there will be 5 cards given each week ! That's mean at least 30% of my unpack will goes to the community !

Rewards
Rewards for my new format giveaway is based on the cards pulled on from my unpacking activity, you may choose 1 kind of a card that you want except for 3 categories: legendary, summoner and gold foiled. So you can pick any other cards include the epic one, and the amount of the cards is depend on how many i got from the unpacking activity. The draw for 3rd edition are shown on the video (note: it's very easy to find it 😉)
What an unlucky draw !
---
#2nd New Edition Winner Announcement
For the 2nd of my new format Splinterlands Giveaway, we got 3 winner, but i got mistakes and this causes that we got 1 extra winner :D. 1st winner is
@ladymisa
that winning the pelacor arbalest ! 2nd Winner is
@rayius
for winning the venari spellsmith, 3rd winner that is
@henruc
for winning 1bcx deeplurker and the real winner for the fastest secret words is
@rayius
(again) for winning 3bcx of deeplurker ! Congratulations ! See the video if you want to see the winner draw (except for the fastest secret words winner that i late realized).


Rules (A little changes, please read)
The rules are simple as shown below :
1. Put a 💬 comment on this post that you're join the giveaway and don't forget to put your Splinterlands IGN as well the cards that you want. Now you can pick 5 (FIVE) cards for next giveaway (any common till epic cards that is not gold and not a summoner);
2. 1st winner will be for lucky participants without any special requirement, but follow and reblog will give you +1 entries for each action. ;
3. 2nd Winner will be for my followers, (follow is required to join). A reblog will give you +1 entries
4. 3rd Winner will be for those that reblog my post, (reblog is required to join). A follow will give you +1 entries.
5. 4th Winner will be for the fastest to say the secret words.
6. 5th Winner will be for the luky one to say the secret words.
7. I will pick the winner base on the order above, and the cards that i picked will follow YOUR order on the comment section.
8. Upvotes and Tips are NOT required, but are greatly appreciated as this will allow me to do more giveaways with better reward.

Final Words
Thank you for kindly read my post, i hope my explanation is clear enough for anyone who want to participating on this Giveaway.
If you enjoy this post, feel free to follow me for next great things.
If you haven't play #Splinterland, you can start join this #Play2Earn game using my referral link below to get 60 Dec Bonus and A simple guide to start gain earn from this game.
(Just Dm me 😉 ).
Credits
splinterlands for the cool game and weekly challenge
peakd for the very useful blog and community platform
peakmonster for the cool card rent platform
Kyo Gaming for the cool dividers
Mrs. carrieallen for the very useful ULTIMATE Markdown Tutorial
all curators for their upvotes!
gregory-f, marianaemilia , archange , and fengchao for keep supporting my post
oadissin for reblogging my post
Splinterlands Indonesia Telegram Group Members for make this game more interesting
Photopea and Canva for the free photoshop
youtube for the great video platform
filoz hive comment picker for the free comment picker winner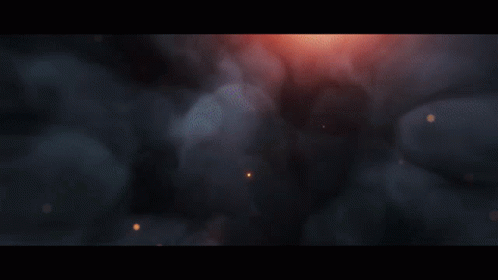 ~Thank you~
---
---
---