Tales of the Urban Explorer: Ridge Lea Hospital

I had hours to kill but knew how to minimise the boredom at least by a portion. @bingbabe was doing a mammoth run around Lake Windermere, with a different start and end point.
I was to be Jeeves the Chauffeur, a very bored Jeeves. Ridge Lea Asylum, though not exactly close but was to be my saviour. Going alone into an abandoned asylum was not one I was cherishing.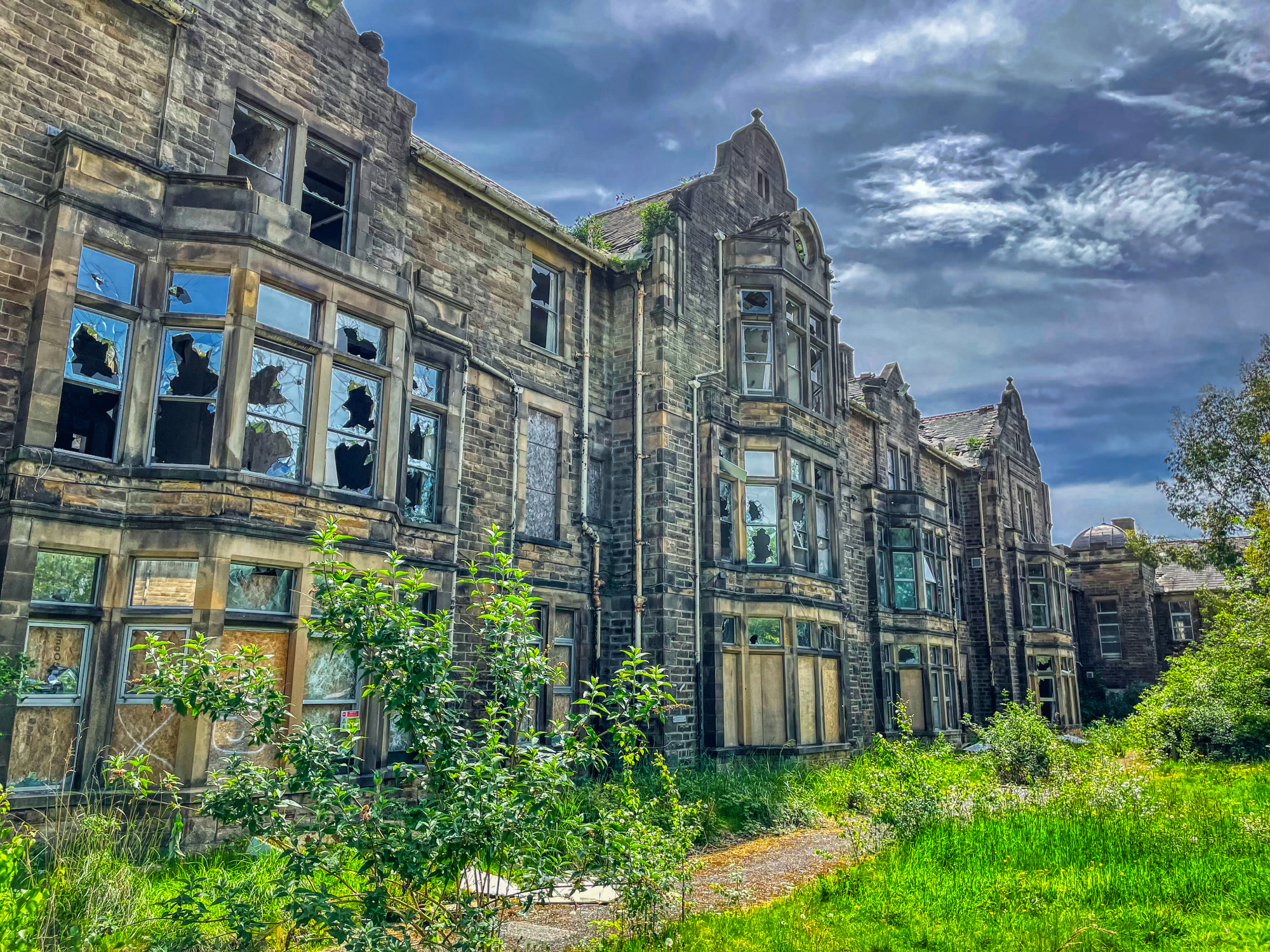 Nine months earlier, with @bingbabe in tow, we had failed to get inside; failed when every bastard on the planet had managed. It was an annoyance, and yet the distance to try again was prohibitive.
There had to be a reason and this was it. I was hoping to find a renegade Goth Band inside rehearsing, full of strange make-up, wearing shades (mandatory), and playing the worst music you have ever heard. This is what greeted @anidiotexplores on his visit.
He is one lucky bastard. The vocalist was even female.
Word on the street was the security had vacated and things had gotten worse. You could walk in via a myriad of holes, it was no big deal.
…yeah, that's what I heard last time…
There have been taller tales floating around that deep in the basement, behind impenetrable locked vault doors lay two electric chairs, still smoking with corpses strapped to them.
I could try and find the immovable doors, take some steroid powder with me, and heave with all my might just to be the first to see these grisly sights.
After deliberating about this legendary fable, I figured.. nahhh.., it's probably a load of bullshit and besides.. the steroid powder in question was found another derp and likely to be several decades out of date.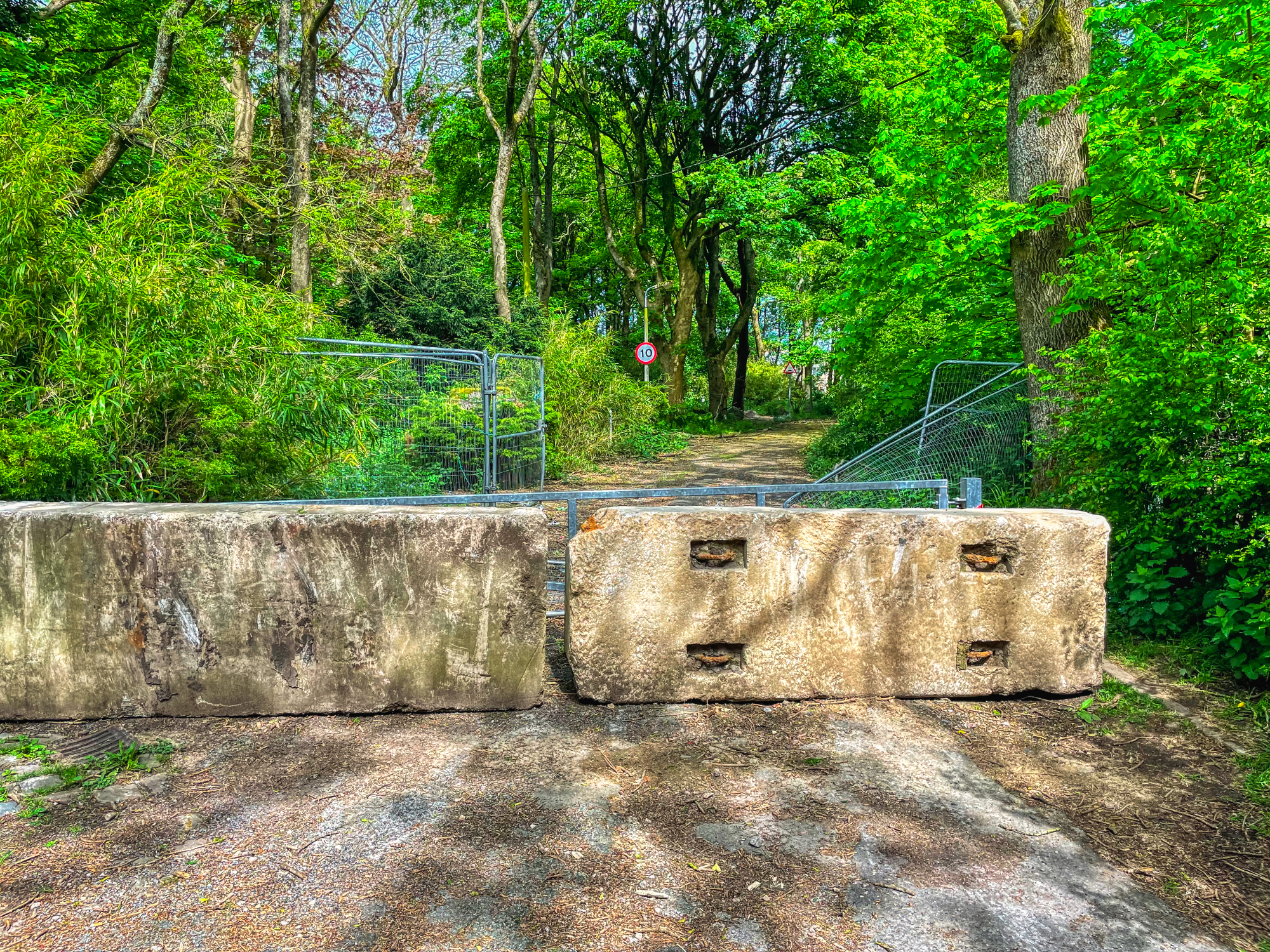 Parking up in the identical spot as my last ill-timed visit, I approached the front gate and gasped. Actually, I didn't, I walked past the broken-down gate quite relieved to hear that this time, the talk on the street was fact.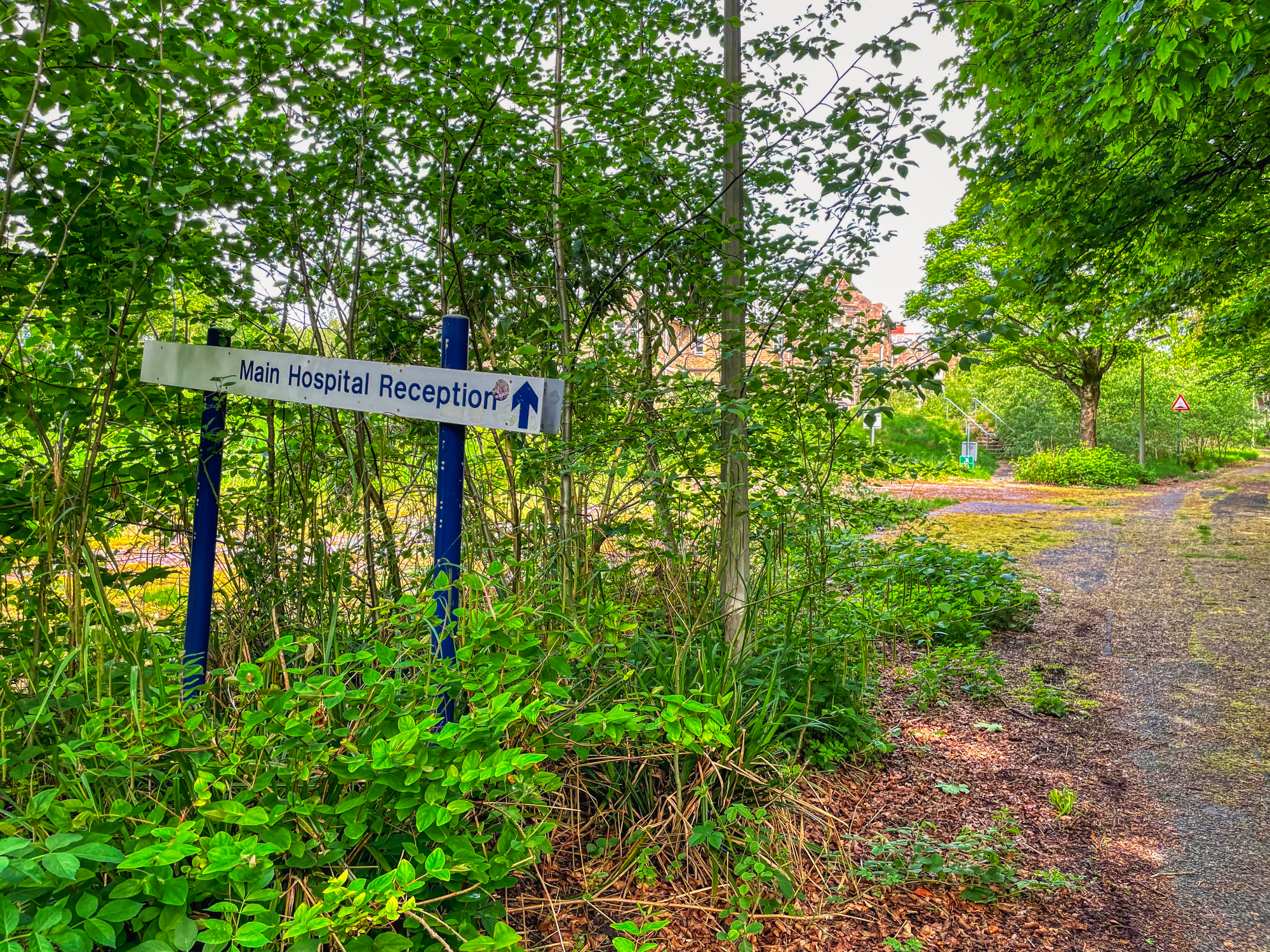 This time I saw nobody and that was good. I hate exploring alone, there's no backup, no safety, fear is amplified, sounds are magnified and any wild ravishing ghouls in there would eat me for breakfast.
It was a nice day and besides the anti-climbing fencing now being floored, I wasn't seeing all these holes.
Heading further in revealed a different view. Which one should I climb through?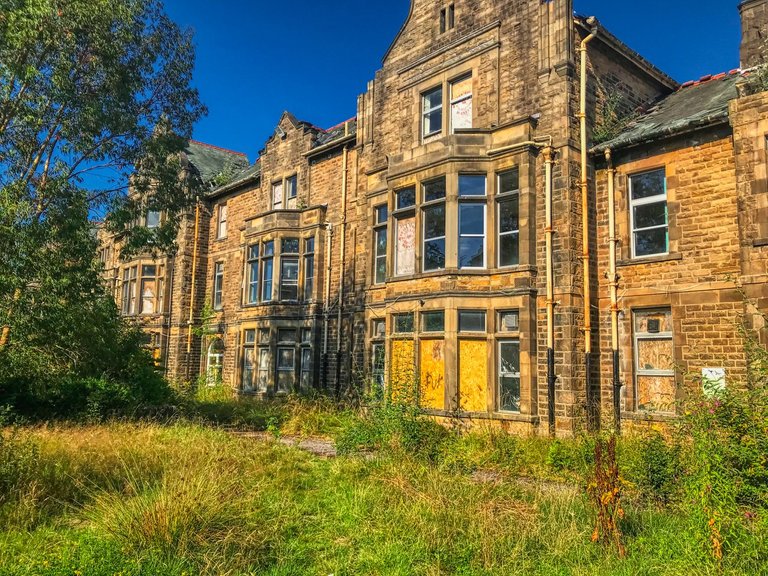 ...'Ridge Lea Hospital August 2021'...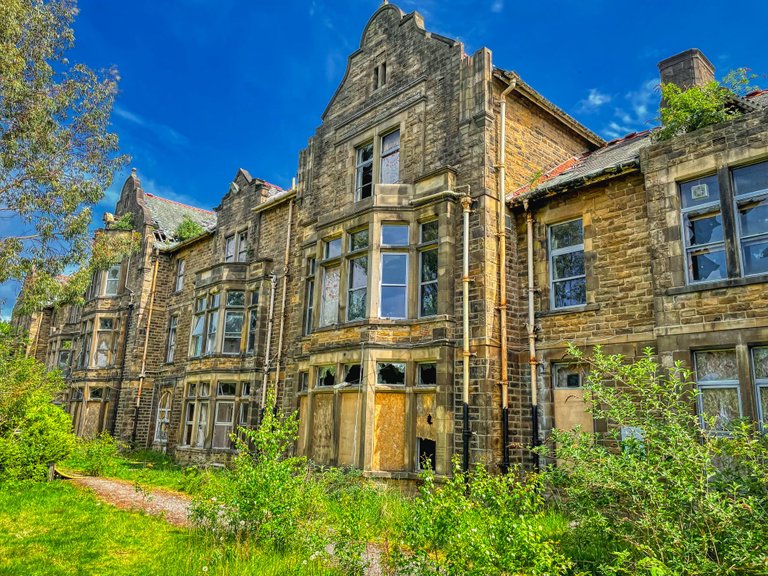 ...'Ridge Lea Hospital May 2022'...
My feeling was that I didn't want to be here for very long. This was a large hospital and inside was silent, and I mean deadly quiet. You get used to this, but I generally explore with someone else and there's some noise.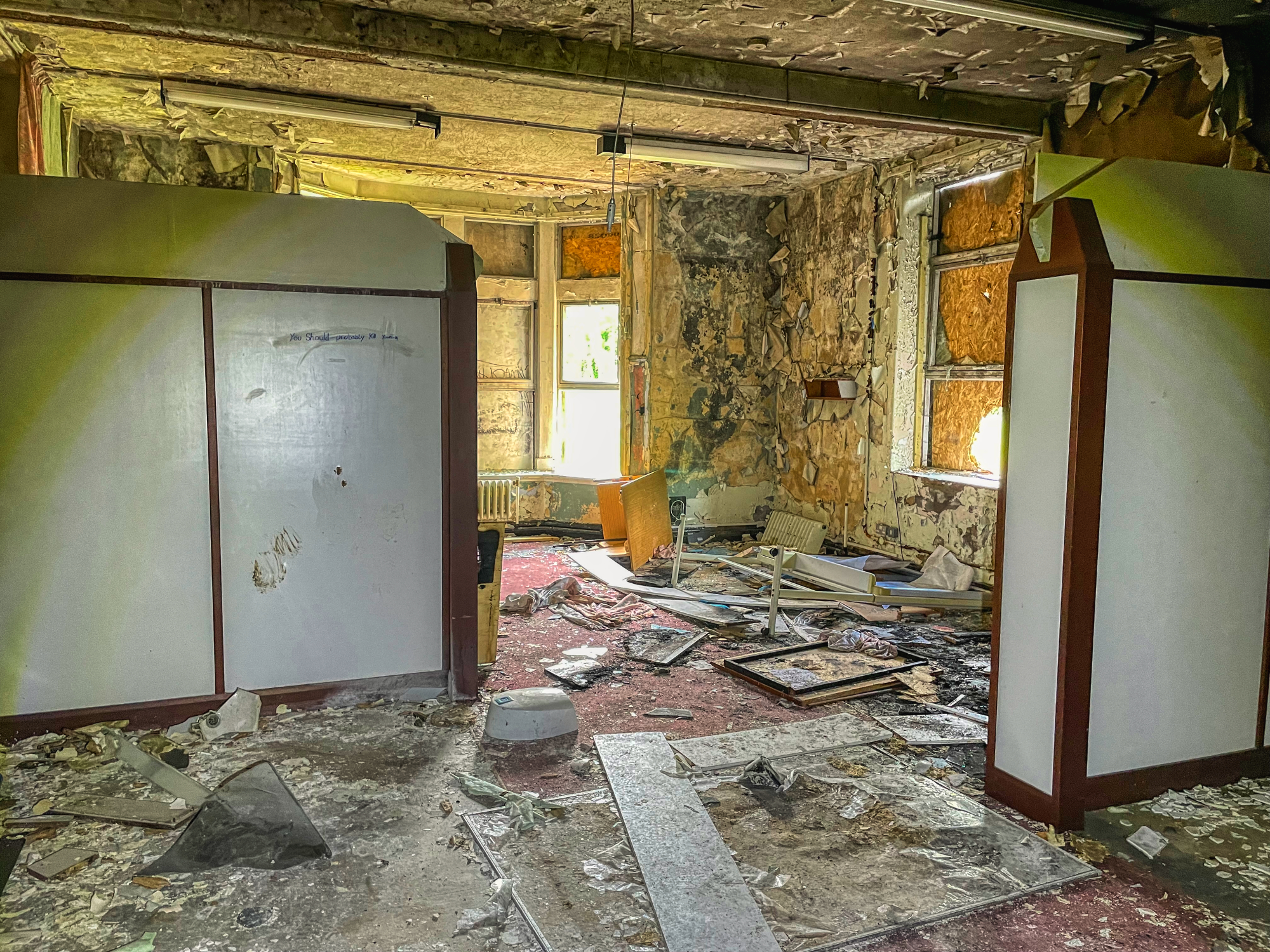 Trashed and I mean big time. The corridors were dark and unwelcoming. Even with a huge light, it was disconcerting to walk down there.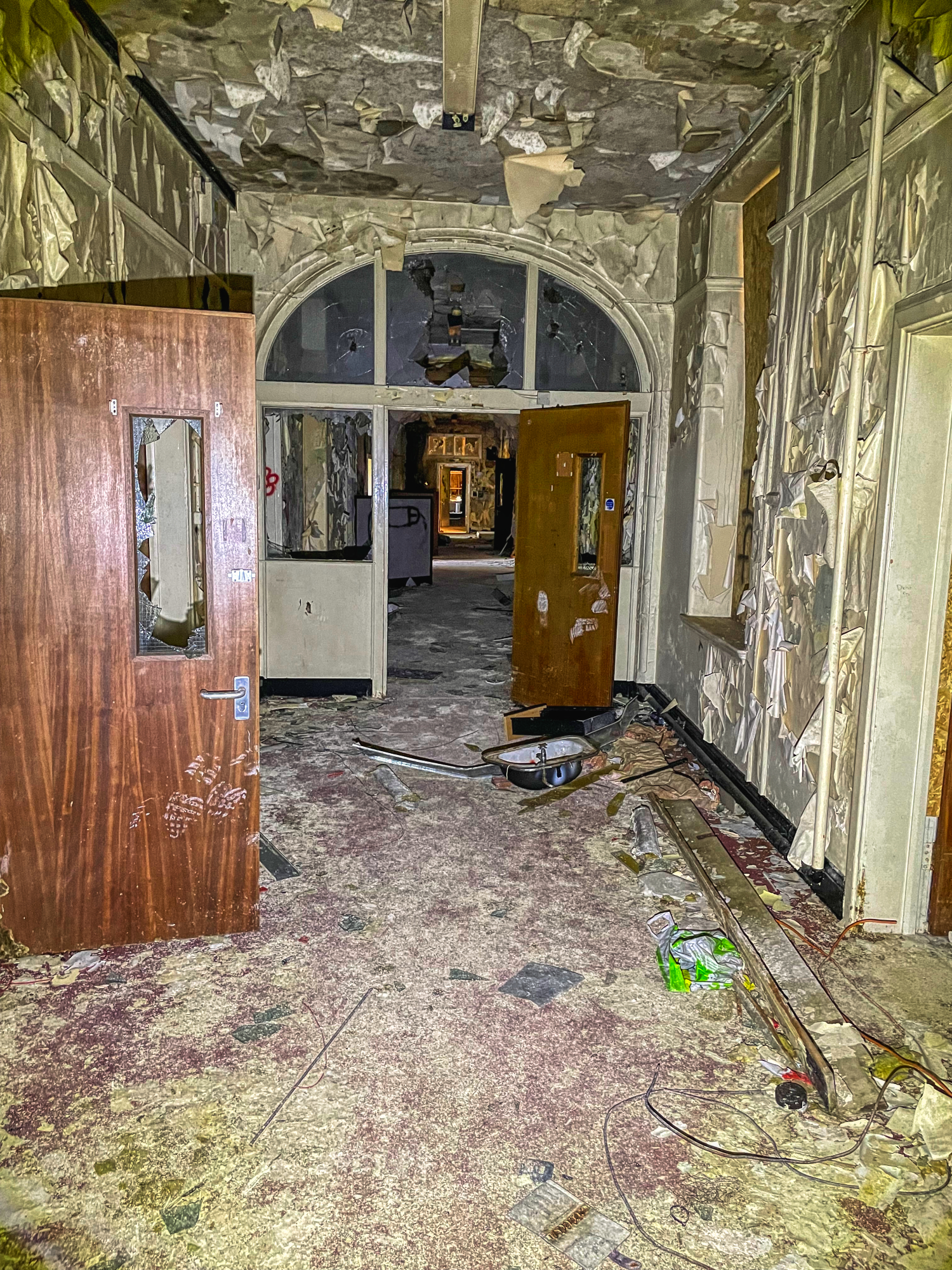 Older hospitals tend to have these long straight corridors that go on forever. This image shows that well.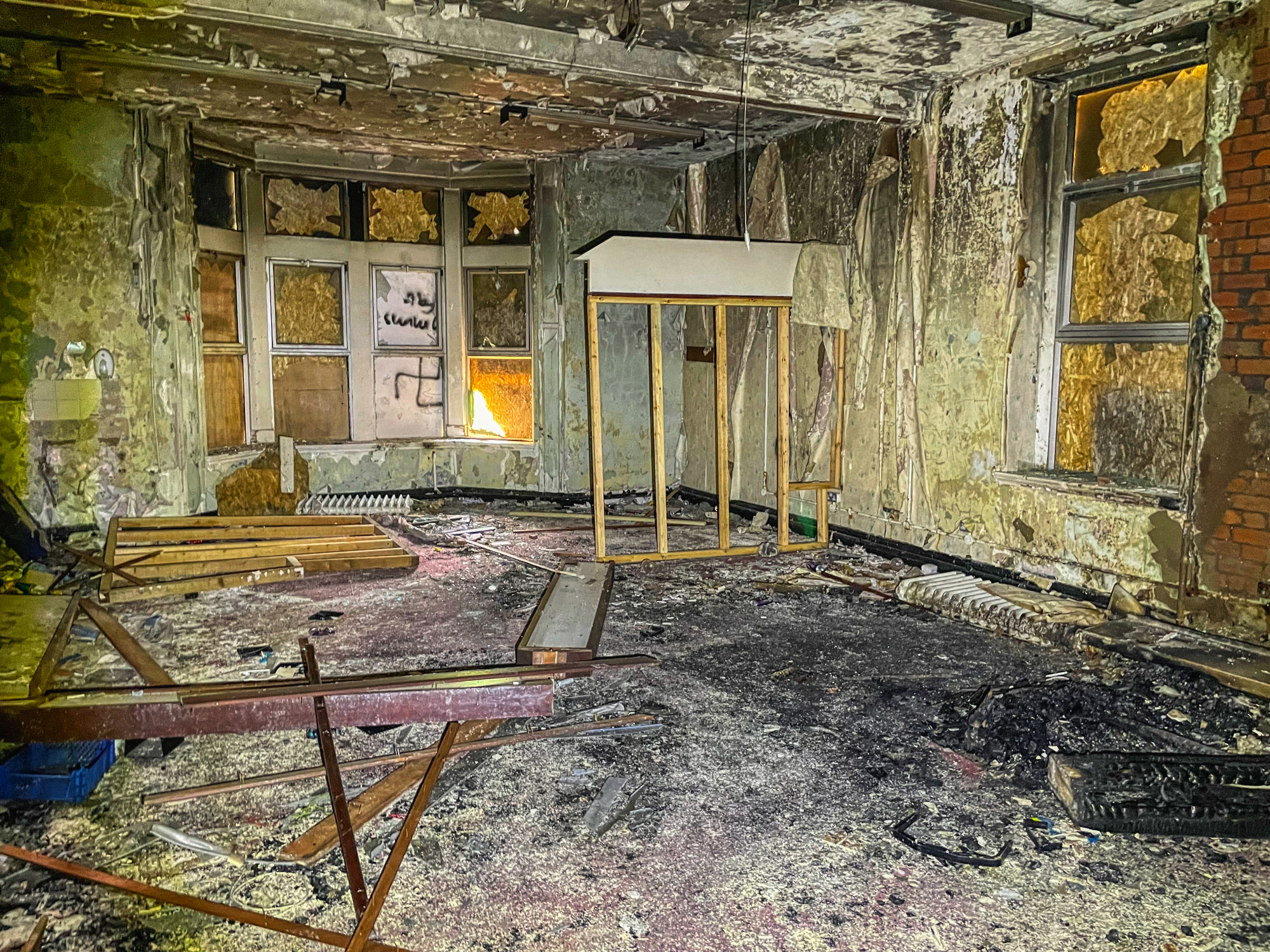 Burnt and the Nazis have been here already. They tend to make their mark often.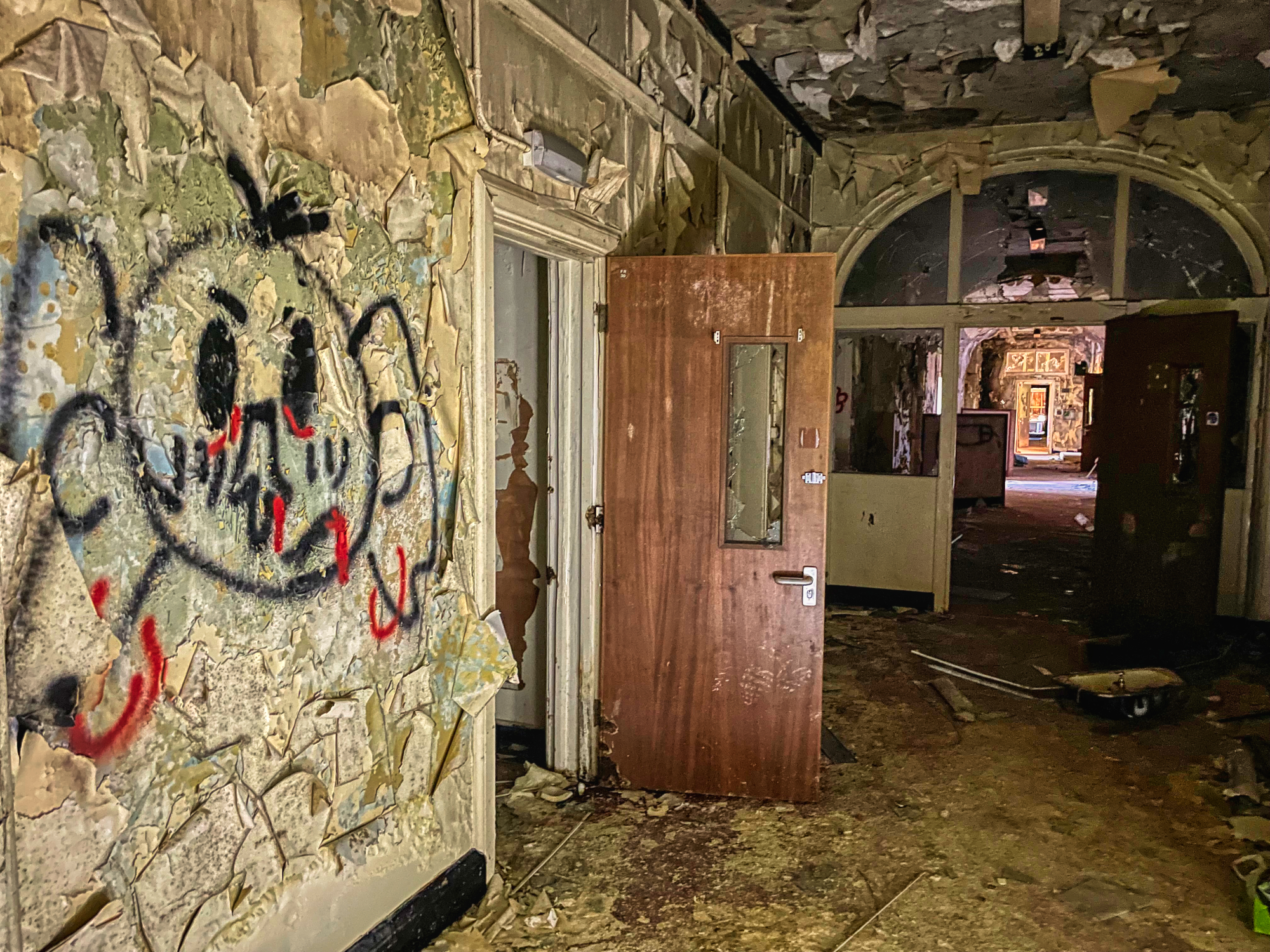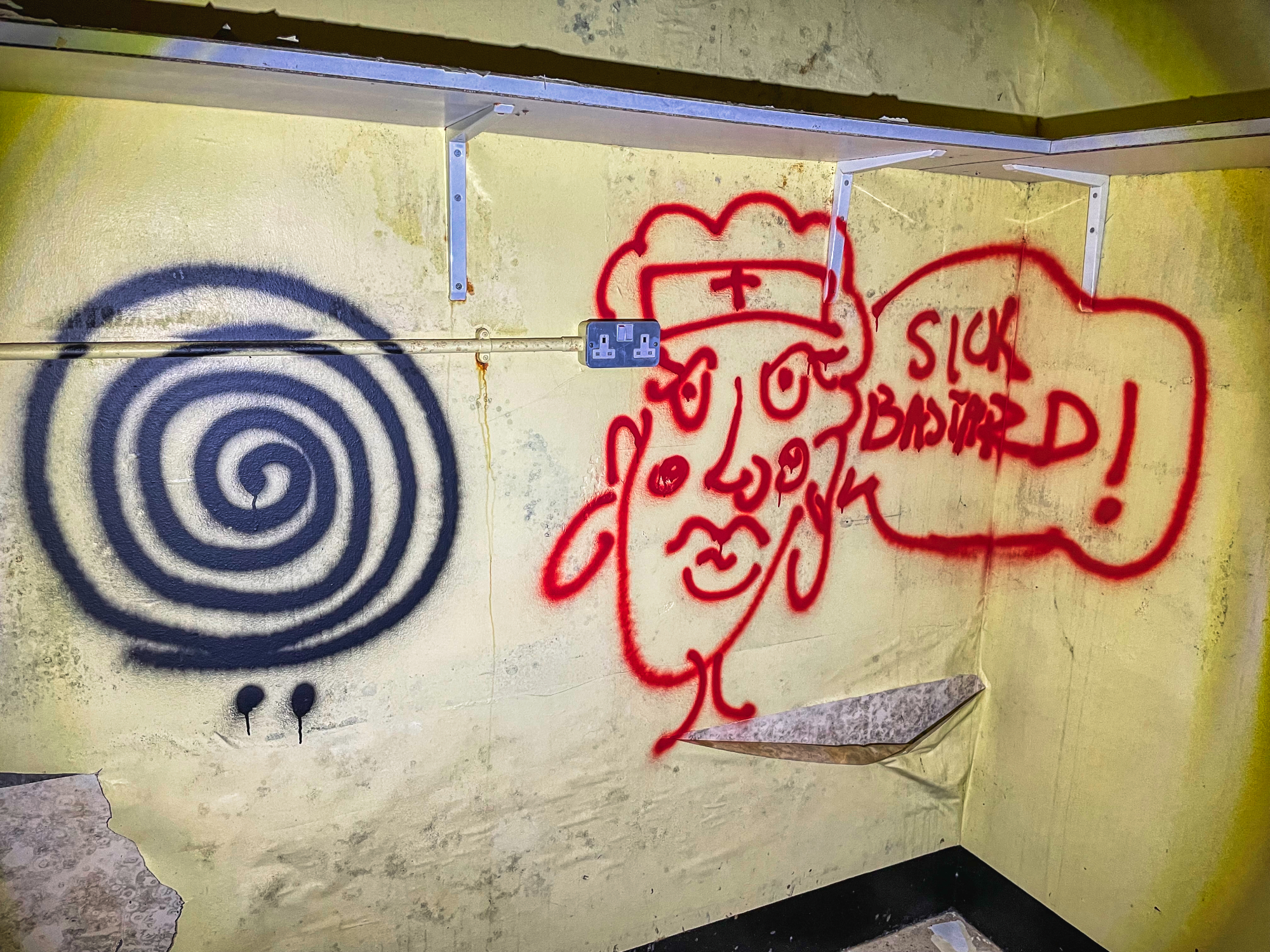 It's better than I can draw, but not exactly quality artwork.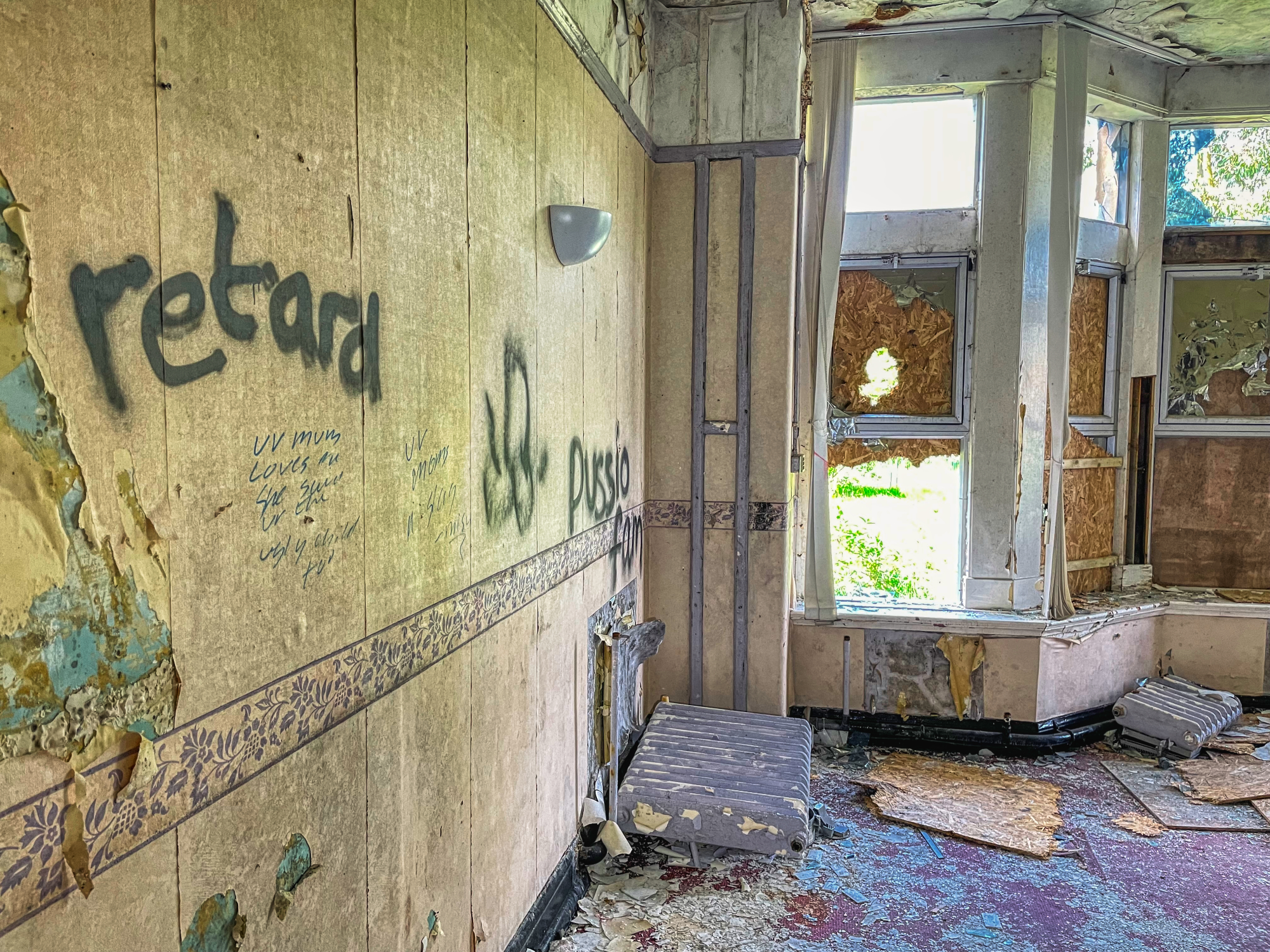 One of the many ways into Ridge Lea Hospital; the difference from just nine months beforehand was startling.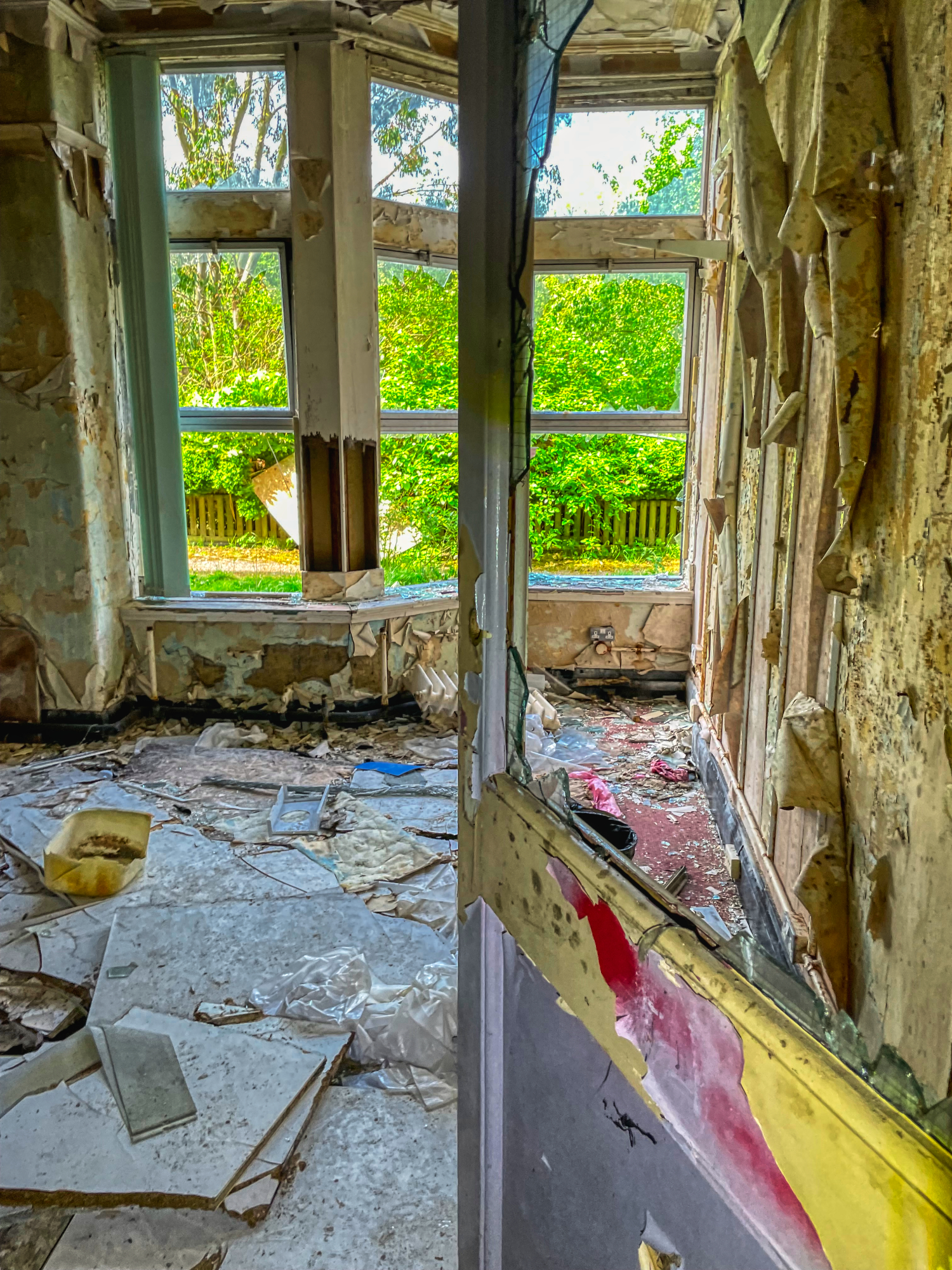 Just about every room was trashed; the windows were now full of holes.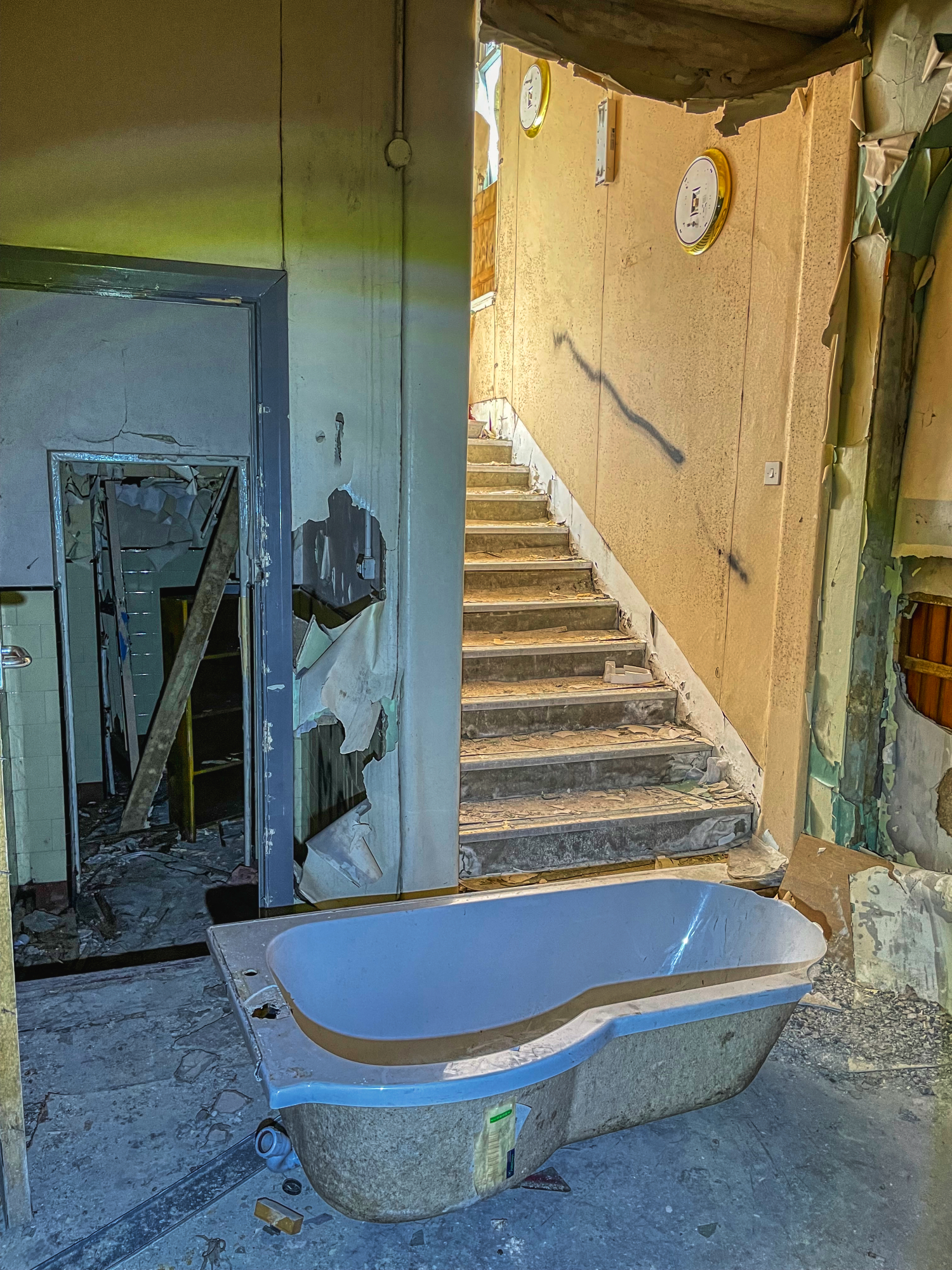 One of several baths I came across. That's a very public place to get your kit off. Better placement would be recommended.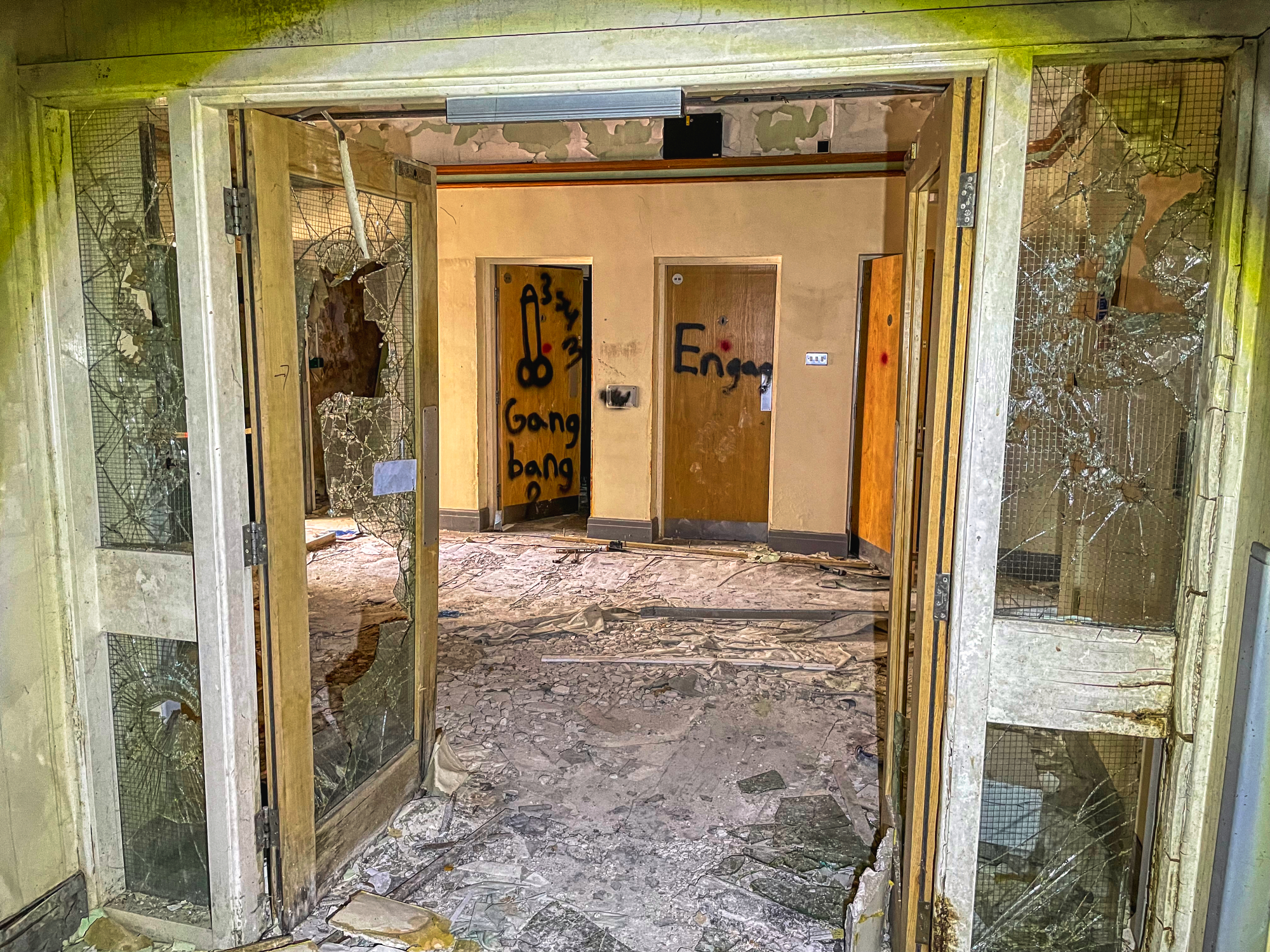 The obligatory cock-shot.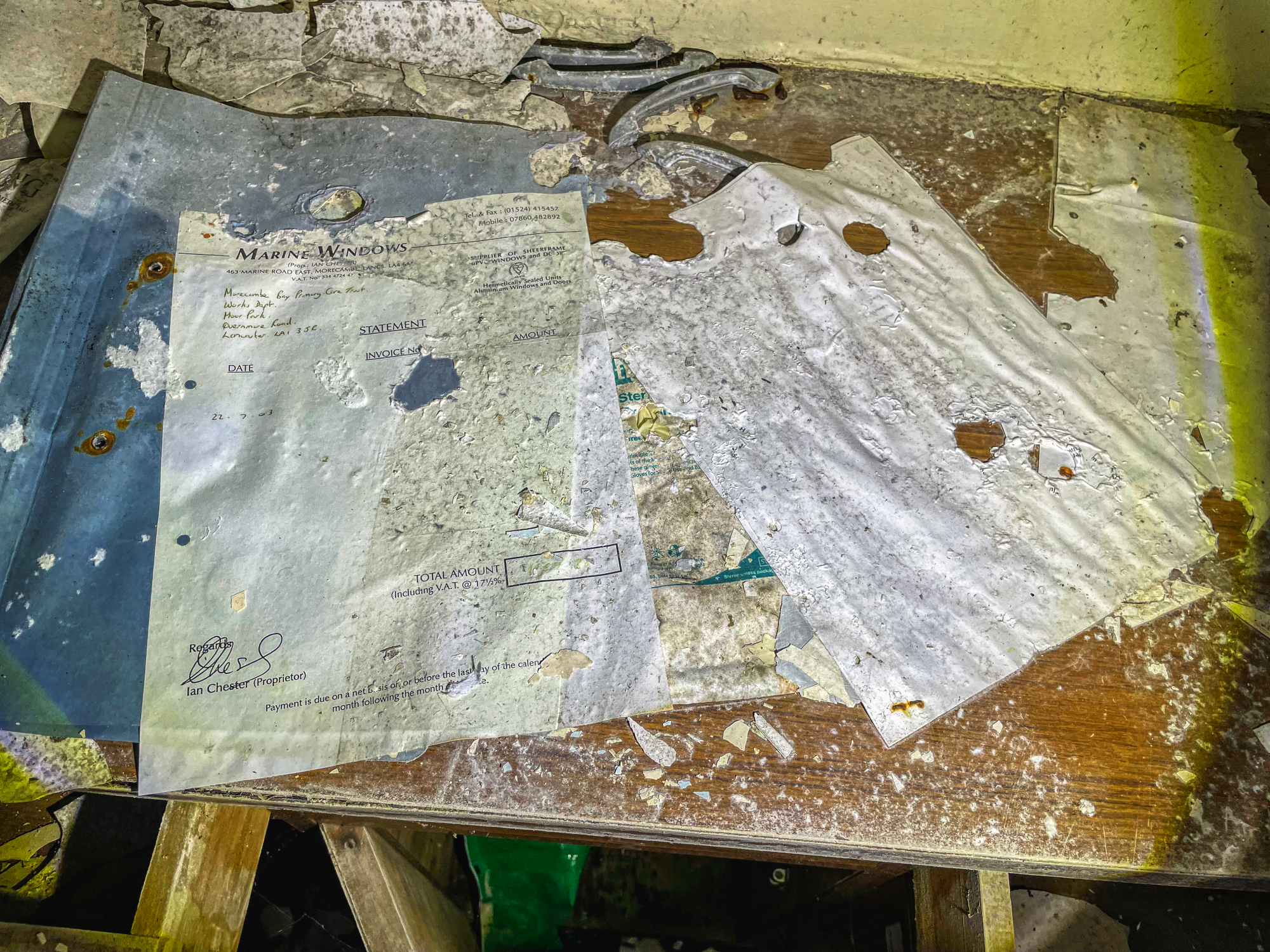 Finding anything legible was challenging. I would say that 'Marine Windows' should make another visit. There are plenty of windows that need replacing.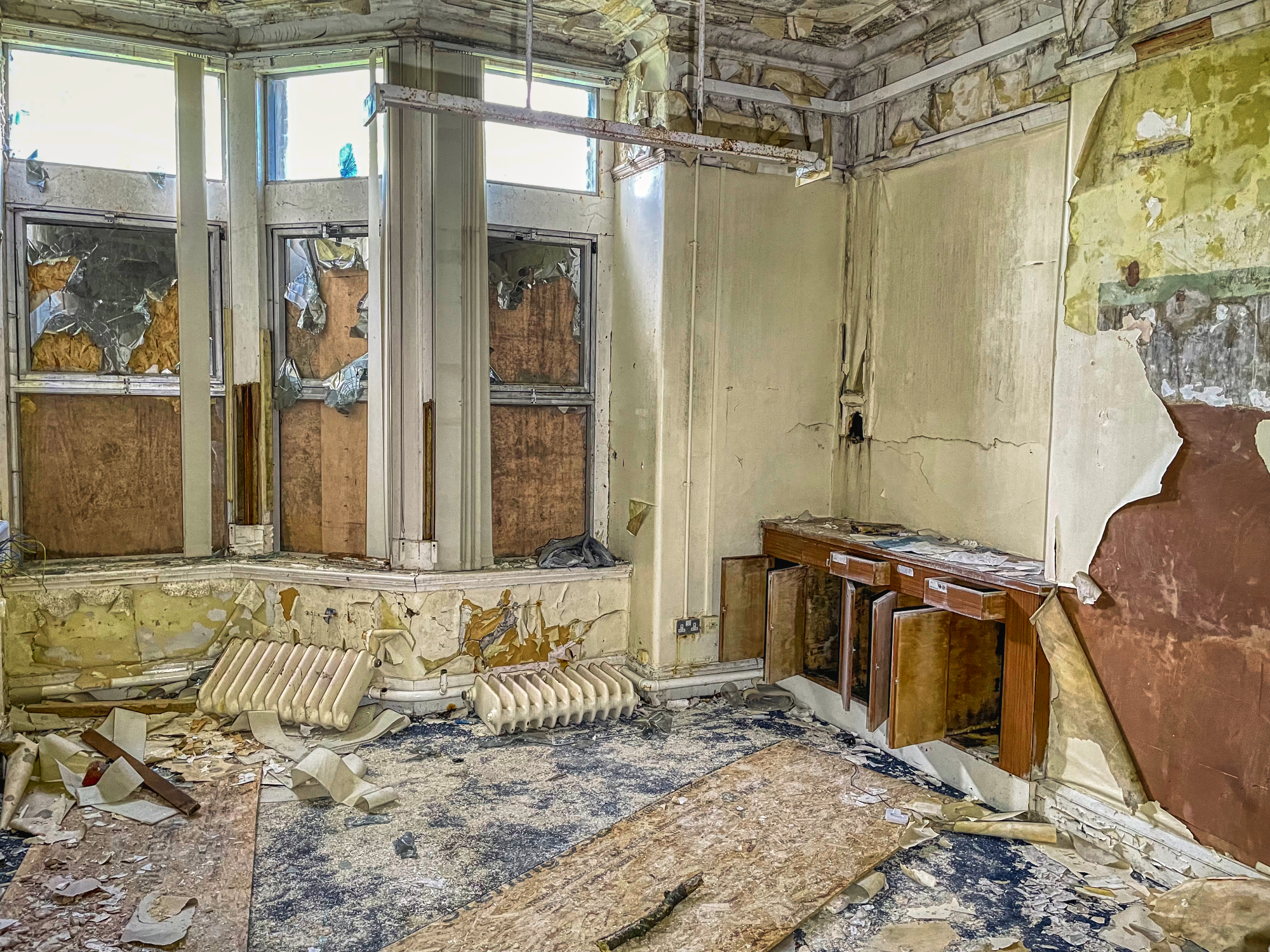 Why not rip the radiators off the walls? Is there a reason for this?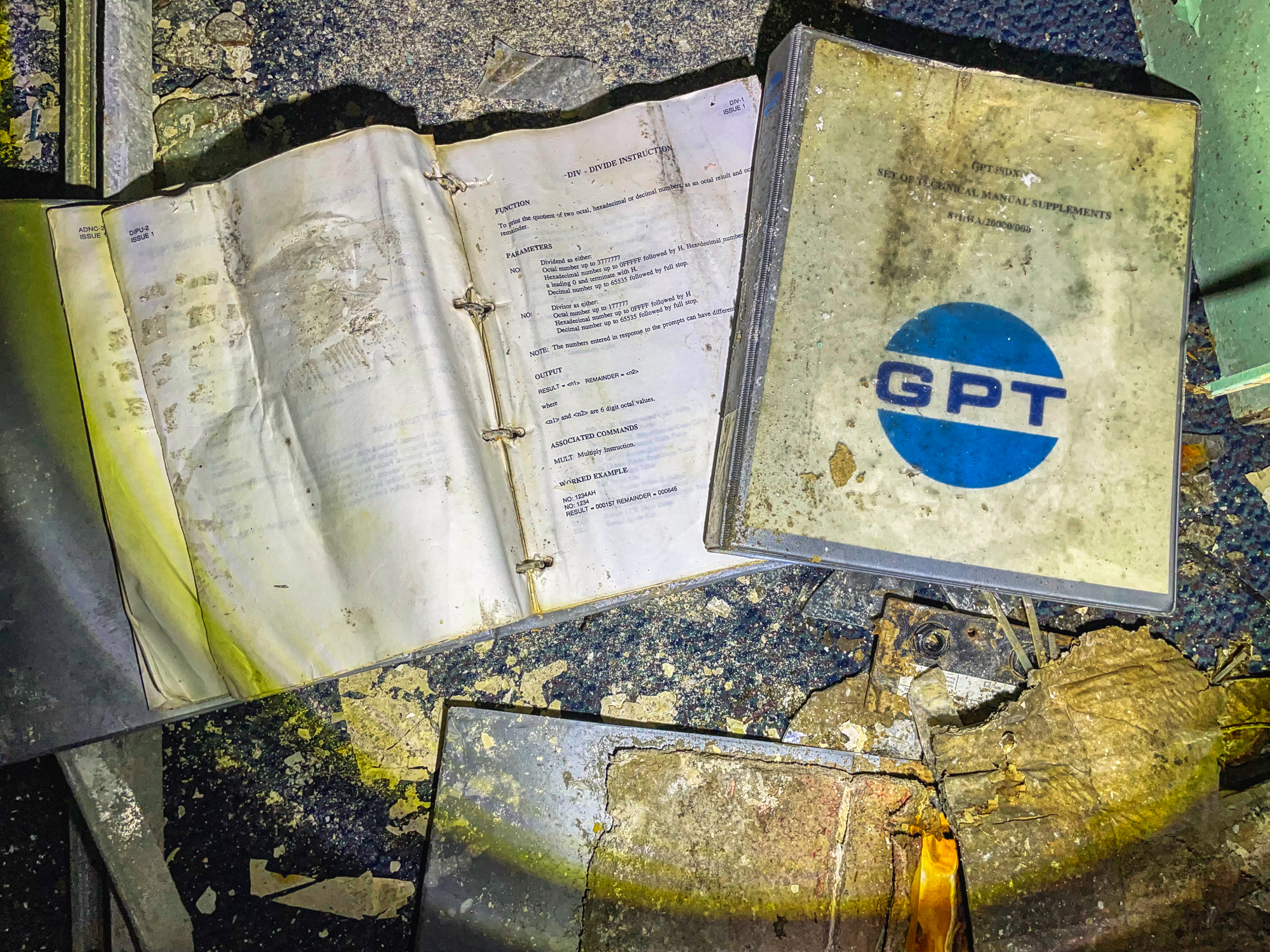 Technical Manual Supplements. The contents are talking about Octal and Hexadecimal. While that's perfectly understandable to me, it won't be to the regular reader.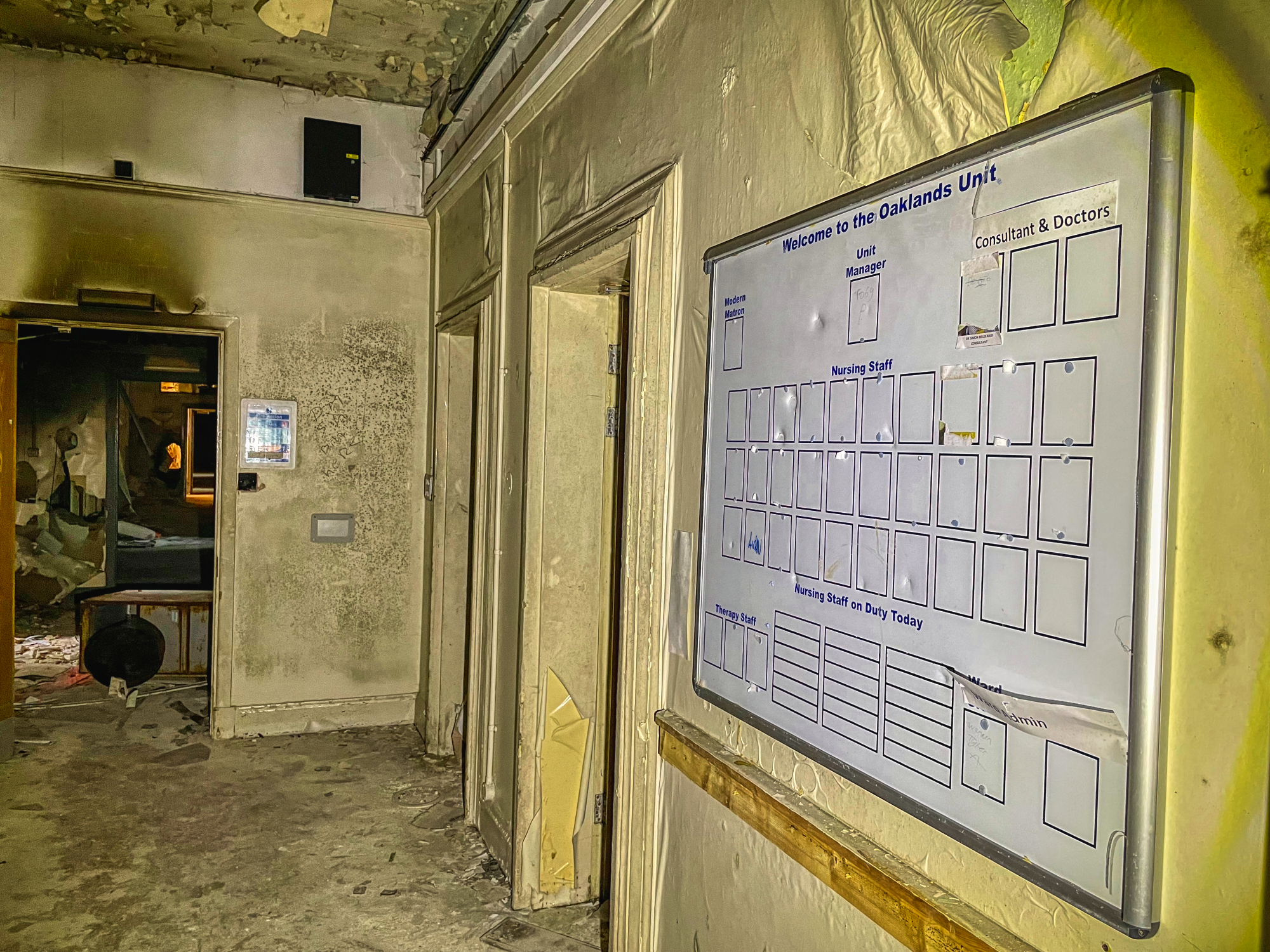 The Oaklands Unit appears to be short of staff. Nobody had written their names on the whiteboard for the latest shift. It's just as well as up until now, 'Ridge Lea Hospital' had thankfully remained silent.
My ears were alerted to any noise. Talk about fucking creepy, this was about my limit.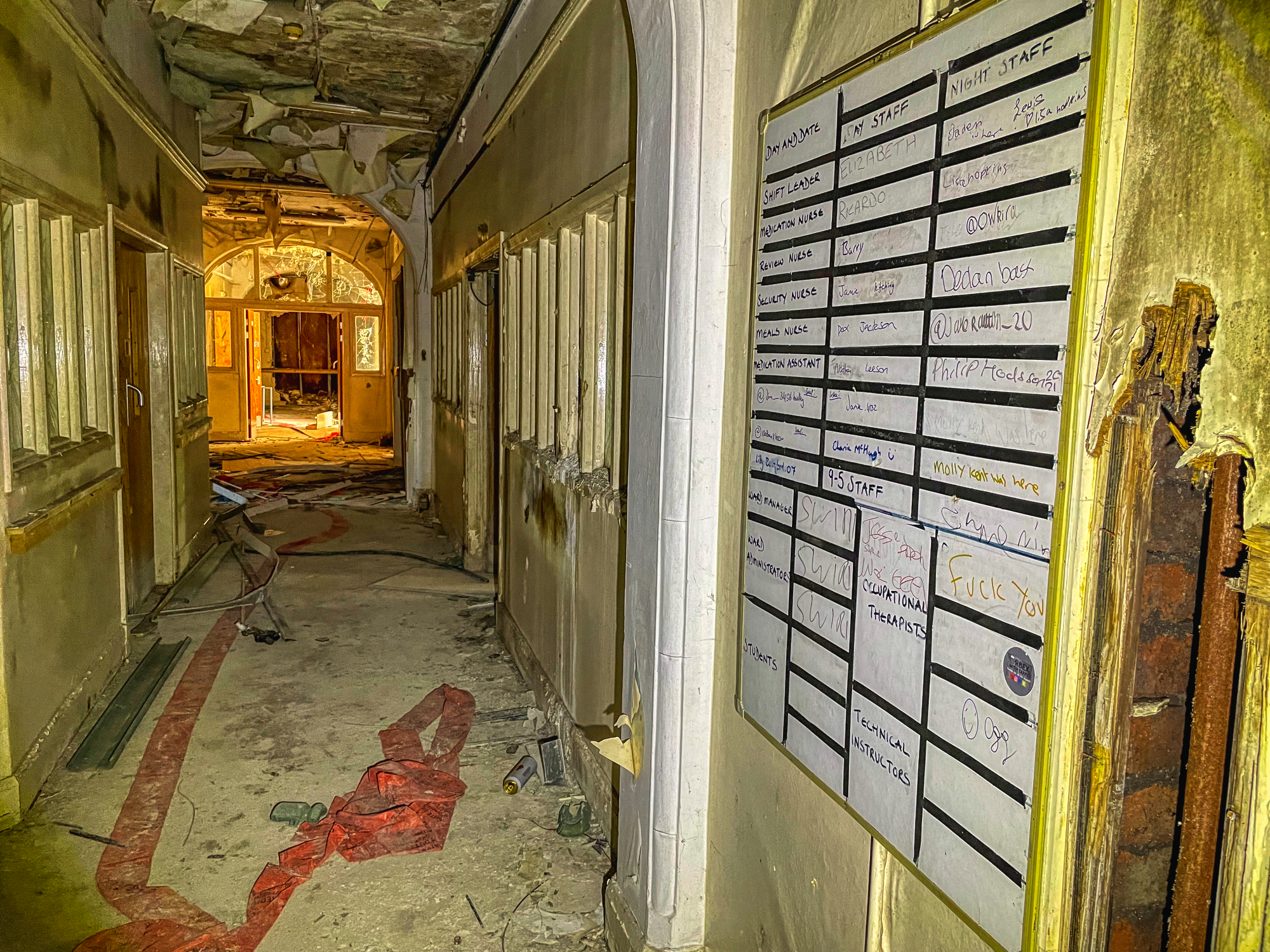 I guess some of the staff didn't want to do their work. 'Fuck You'.., that's the rebellious spirit. Just tell them I say.
I walked and saw room upon room of destruction before bumping into this old Football game. It had seen better days.
When I see those snakey things I automatically think 'grow'. However, they do need to be silver in colour to qualify.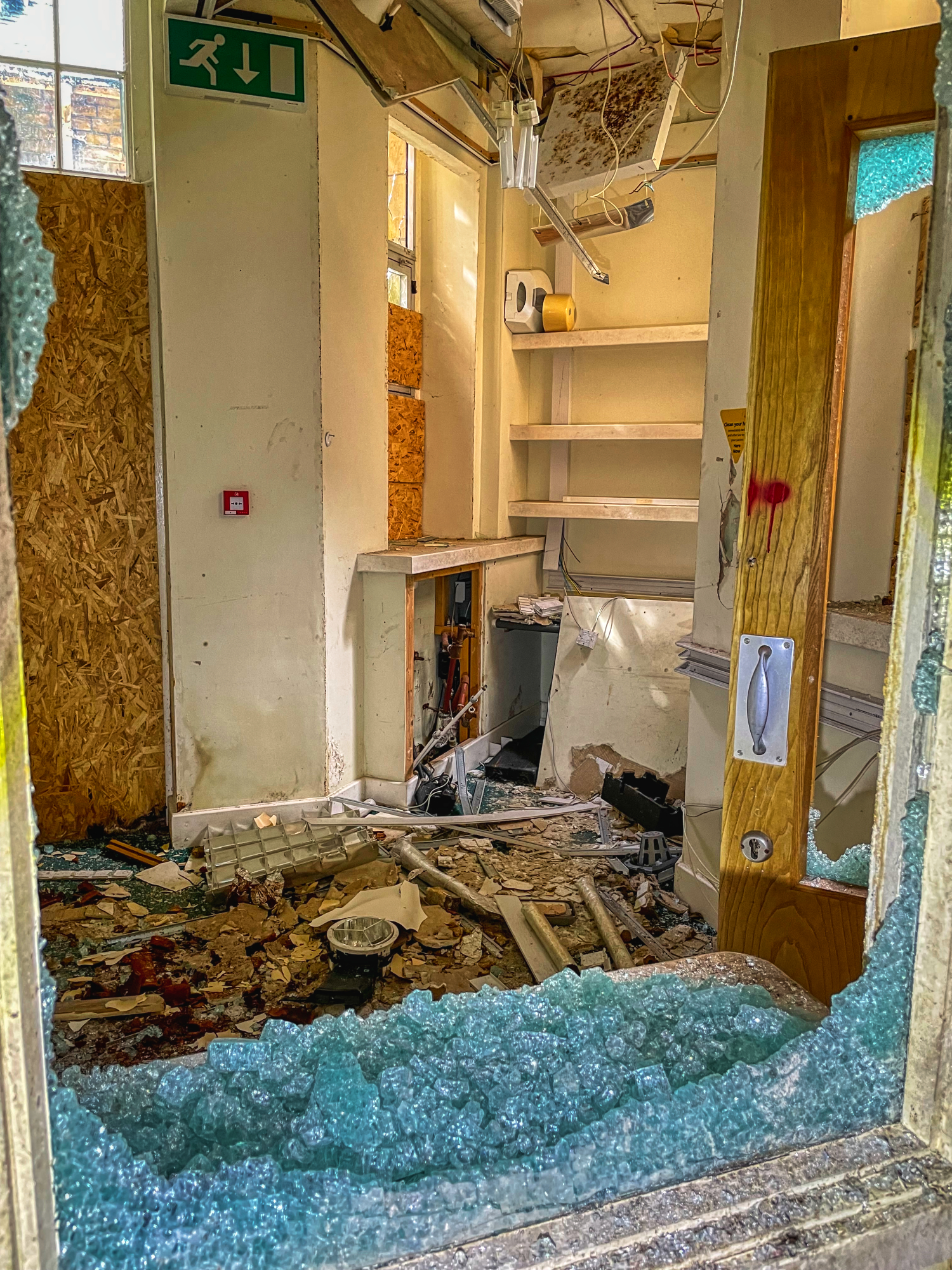 No shortage of glass shards in this window frame.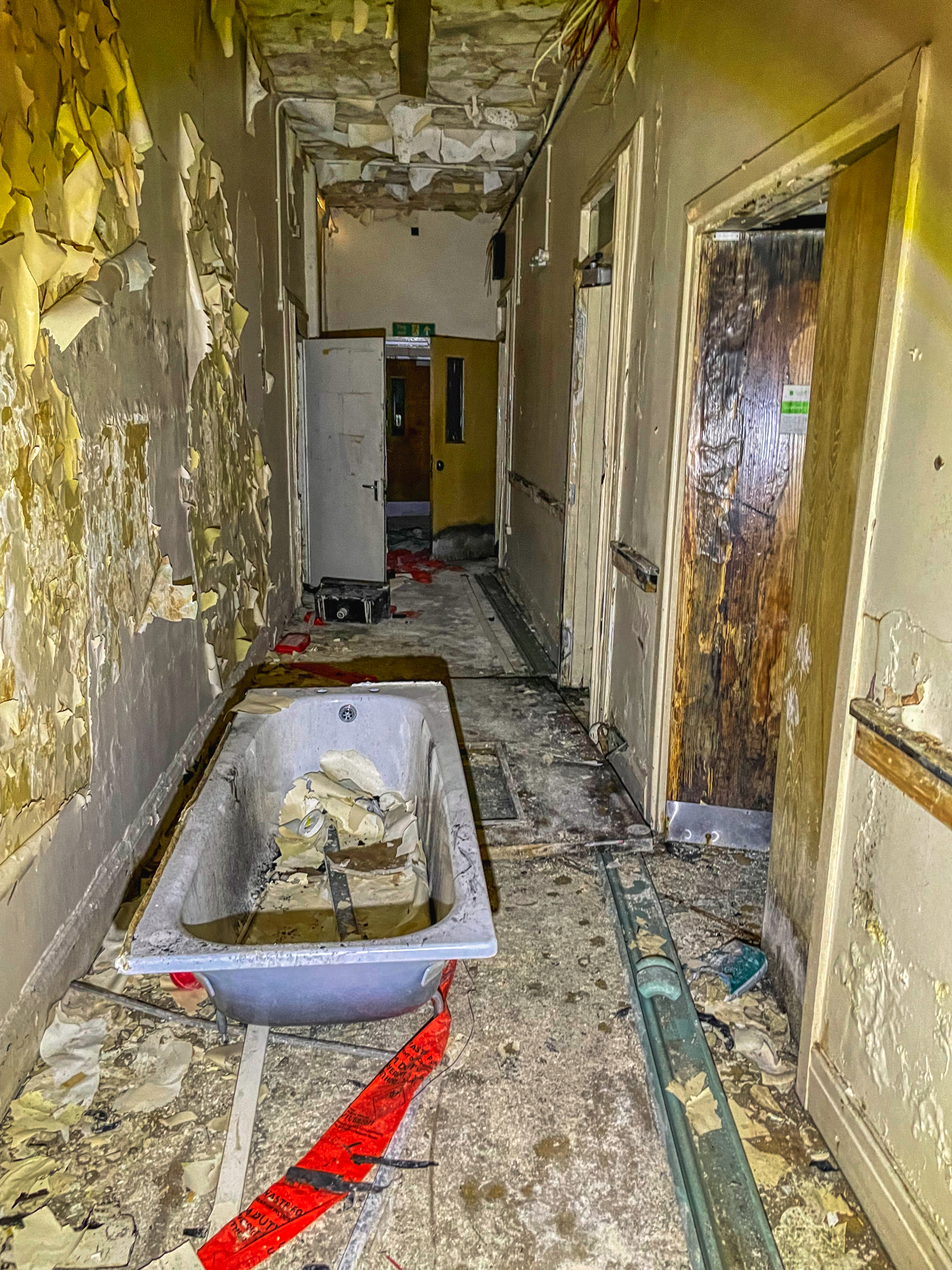 Yet another voyeuristic bather.
… and another way to escape 'Ridge Lea Hospital' if any strange noises were to enter my ears.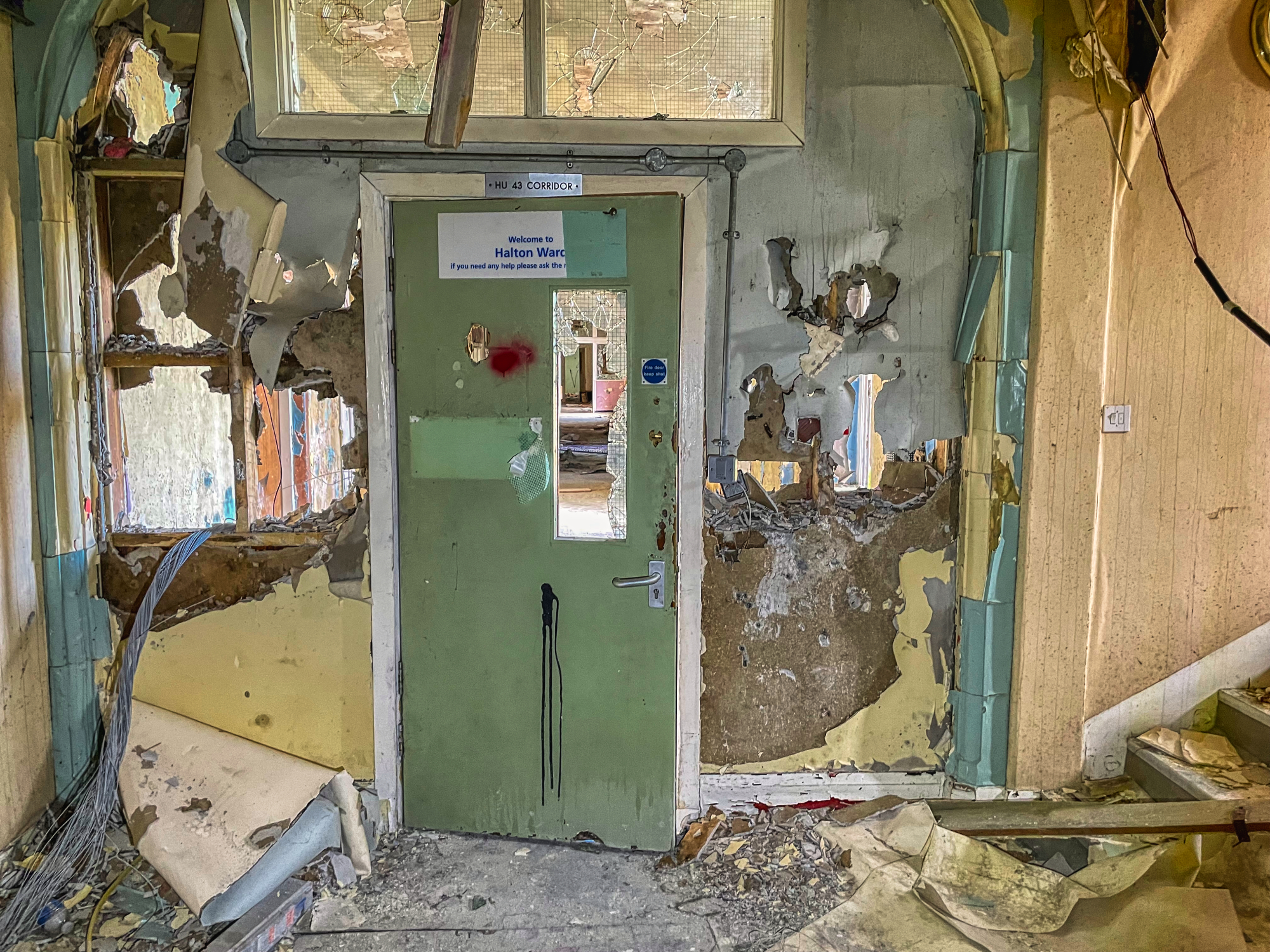 It wasn't looking promising for the 'Halton Ward'. I mean, would you like to be cared for in such lovely surroundings?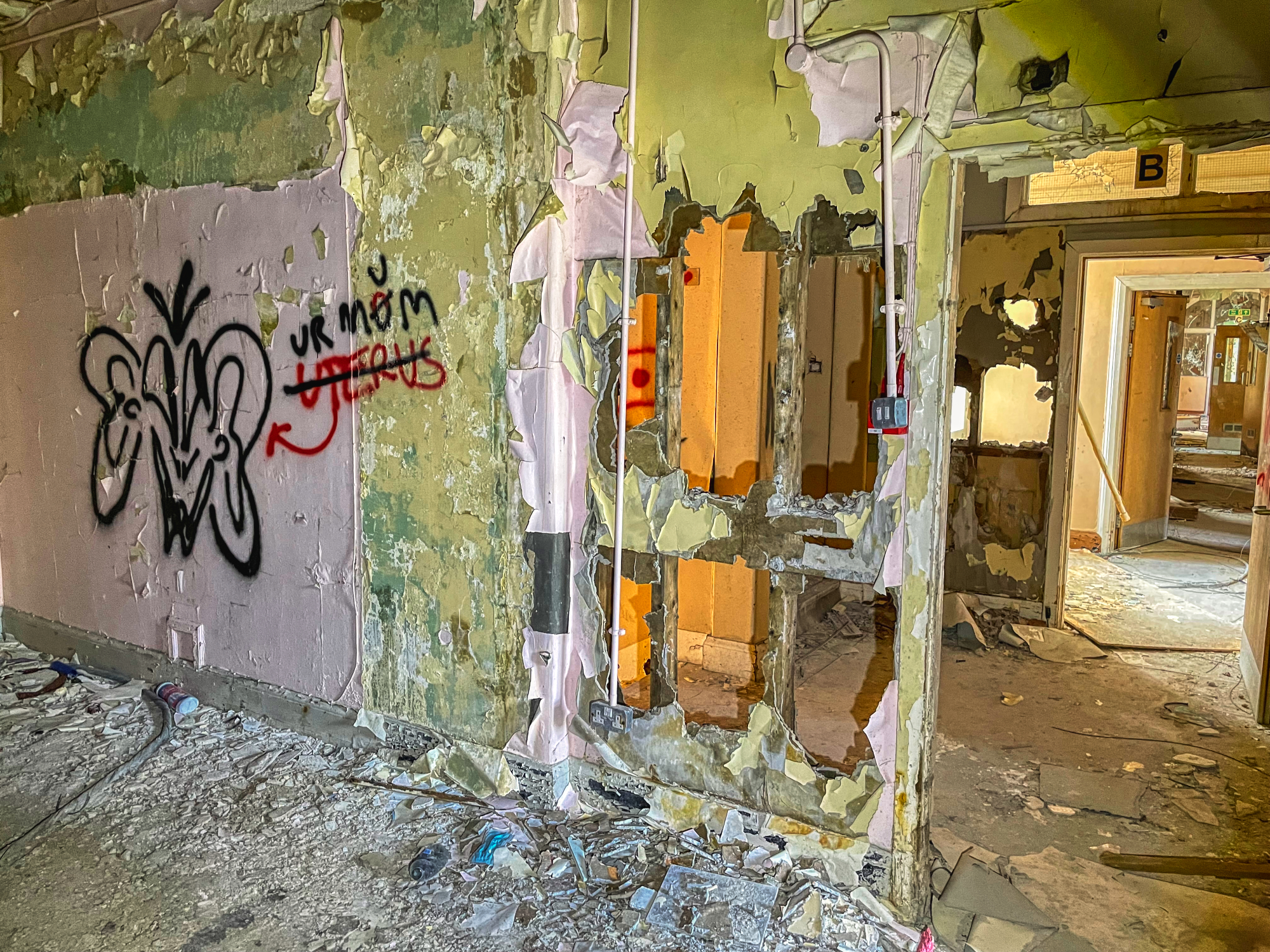 It does make a refreshing change to see a vagina, even if it's 'My Mums'.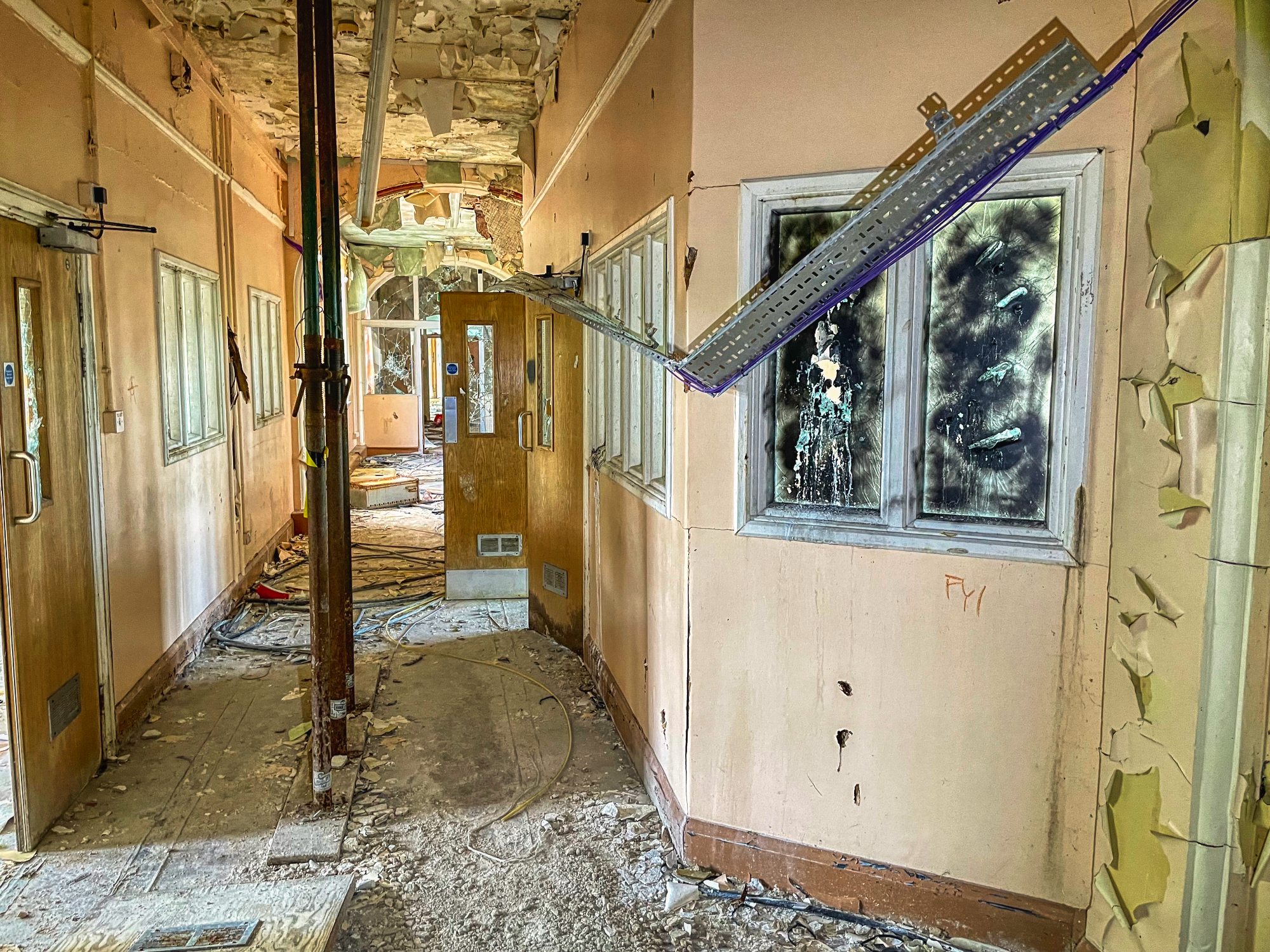 Scaffolding holding up the roof; the desire to violently kick the poles was not in my thoughts. I wanted to live.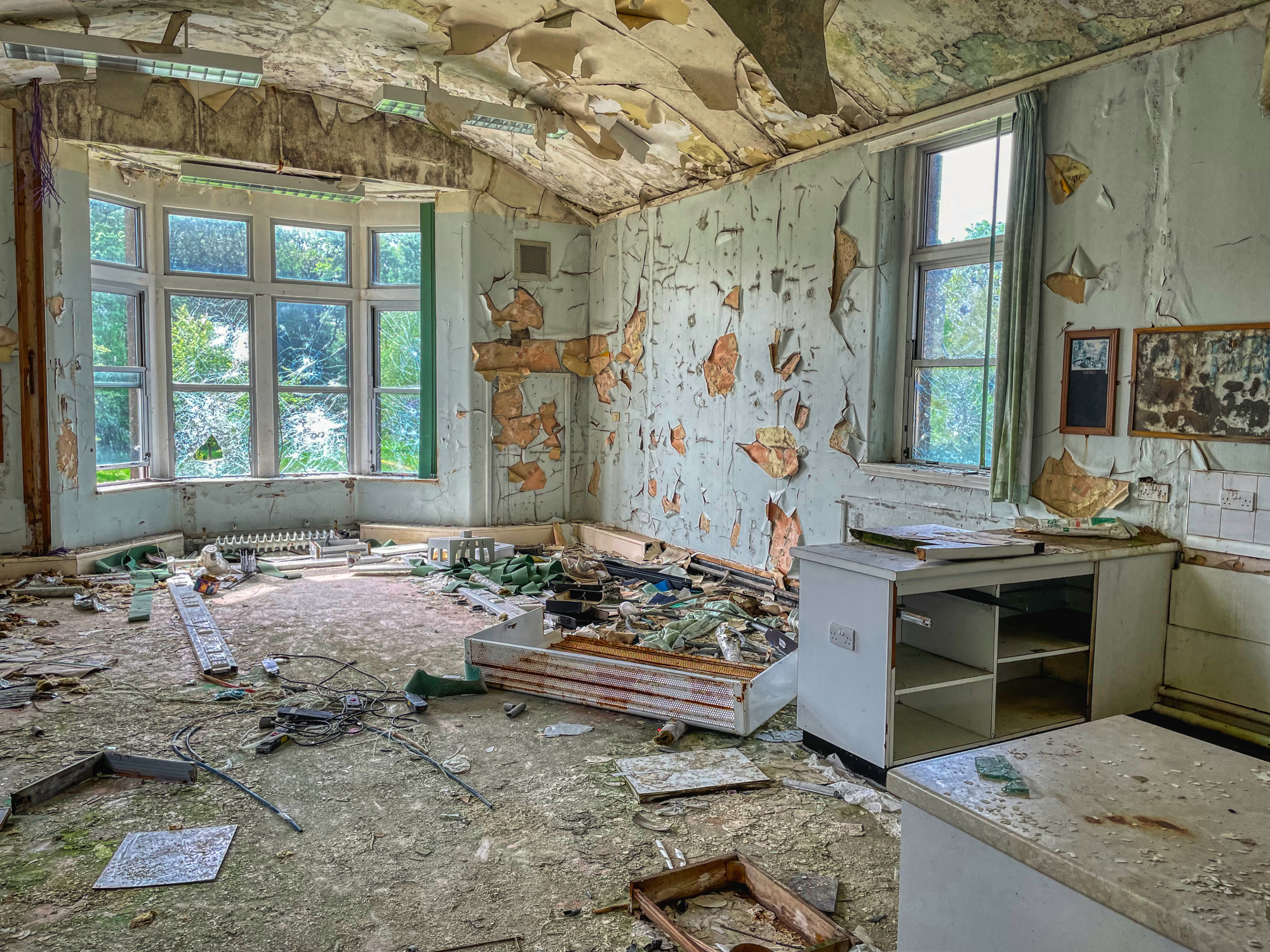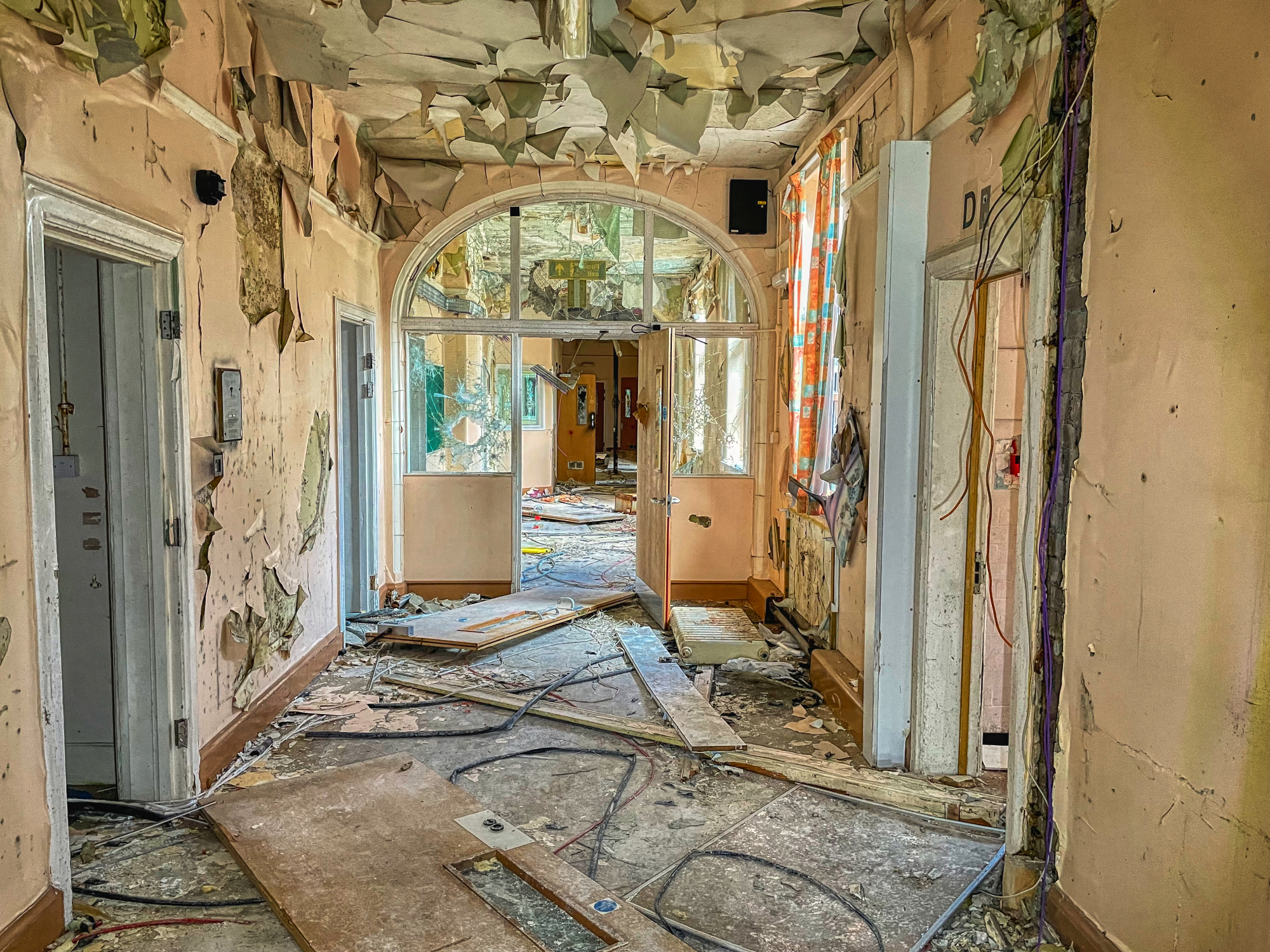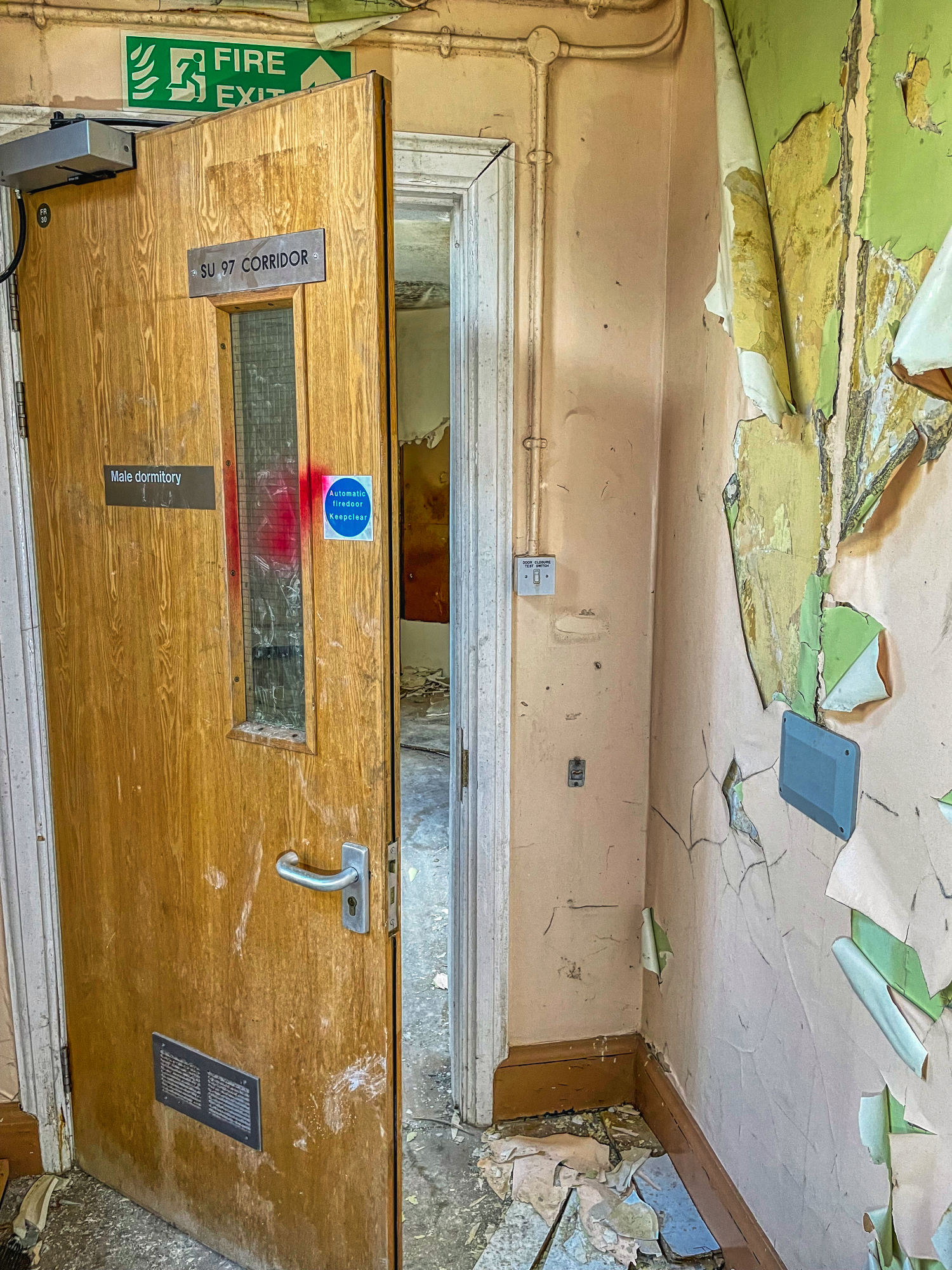 Trying to not get lost, I entered the 'Male Dormitory'. I would have preferred the Female one, but the likelihood of seeing more vaginas in that area was highly unlikely.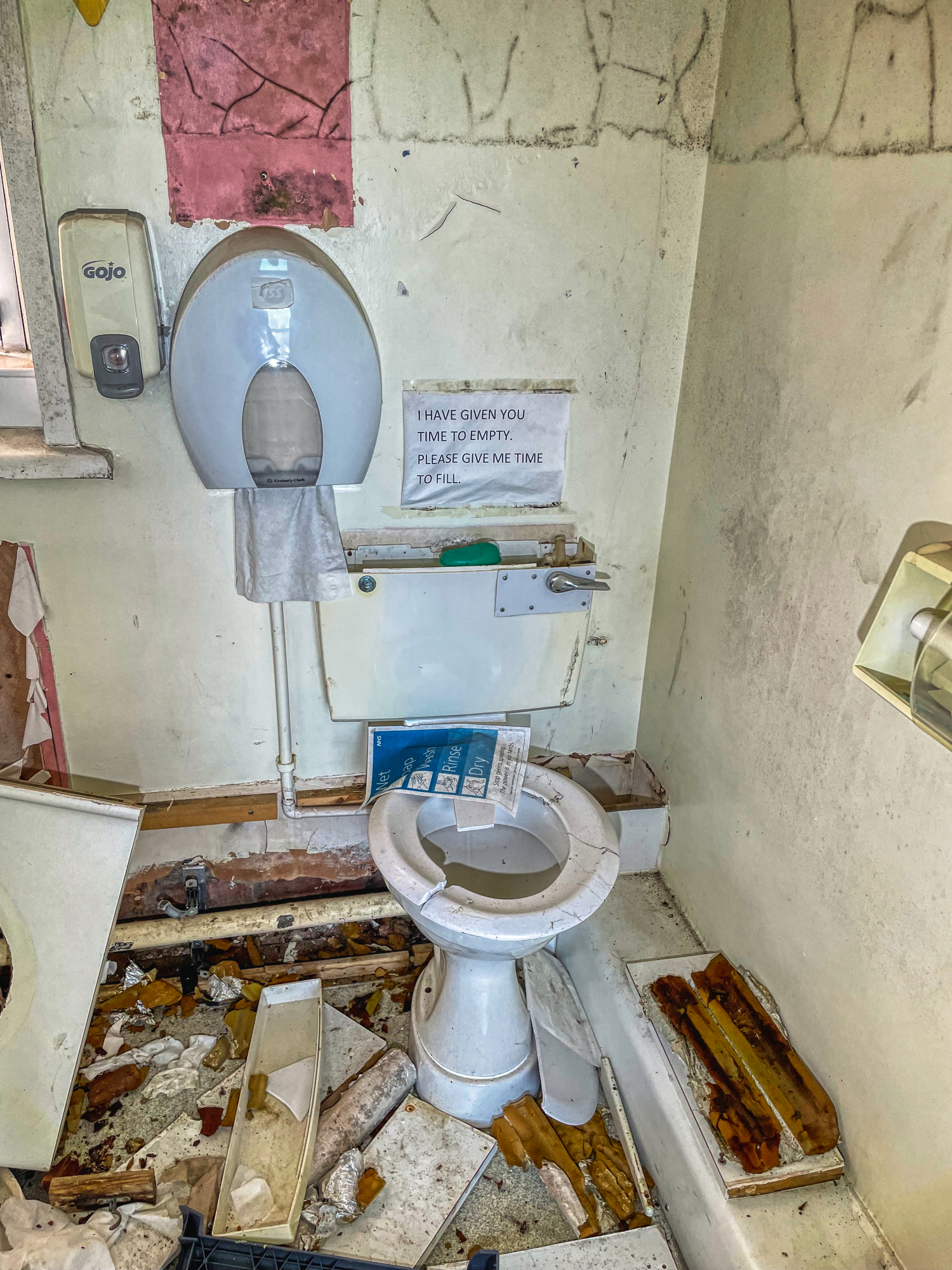 I spared you from the contents, they are never pleasant.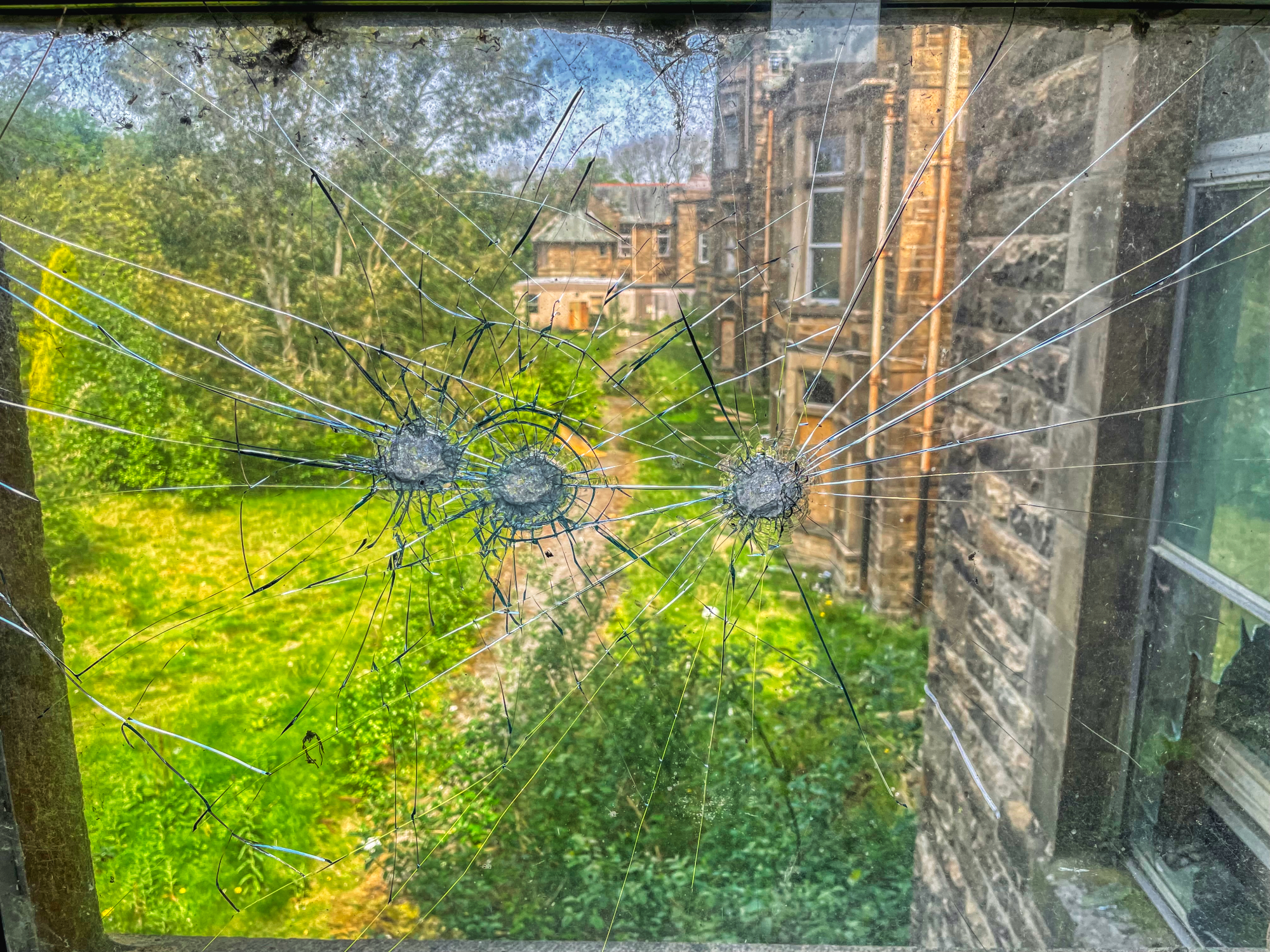 Let me out….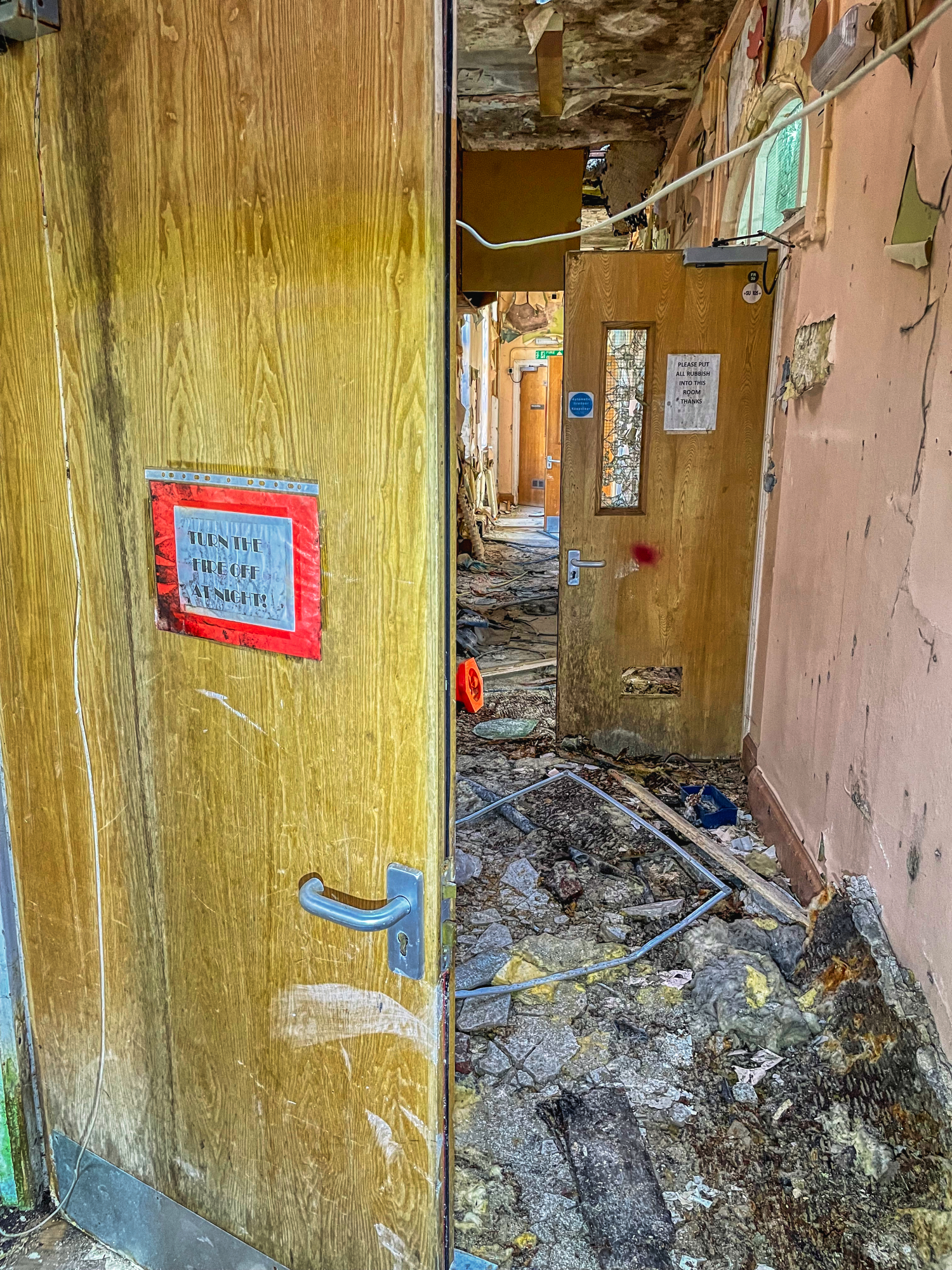 Even the bad graffiti is peeling off the walls. The paint has had enough of the dampness.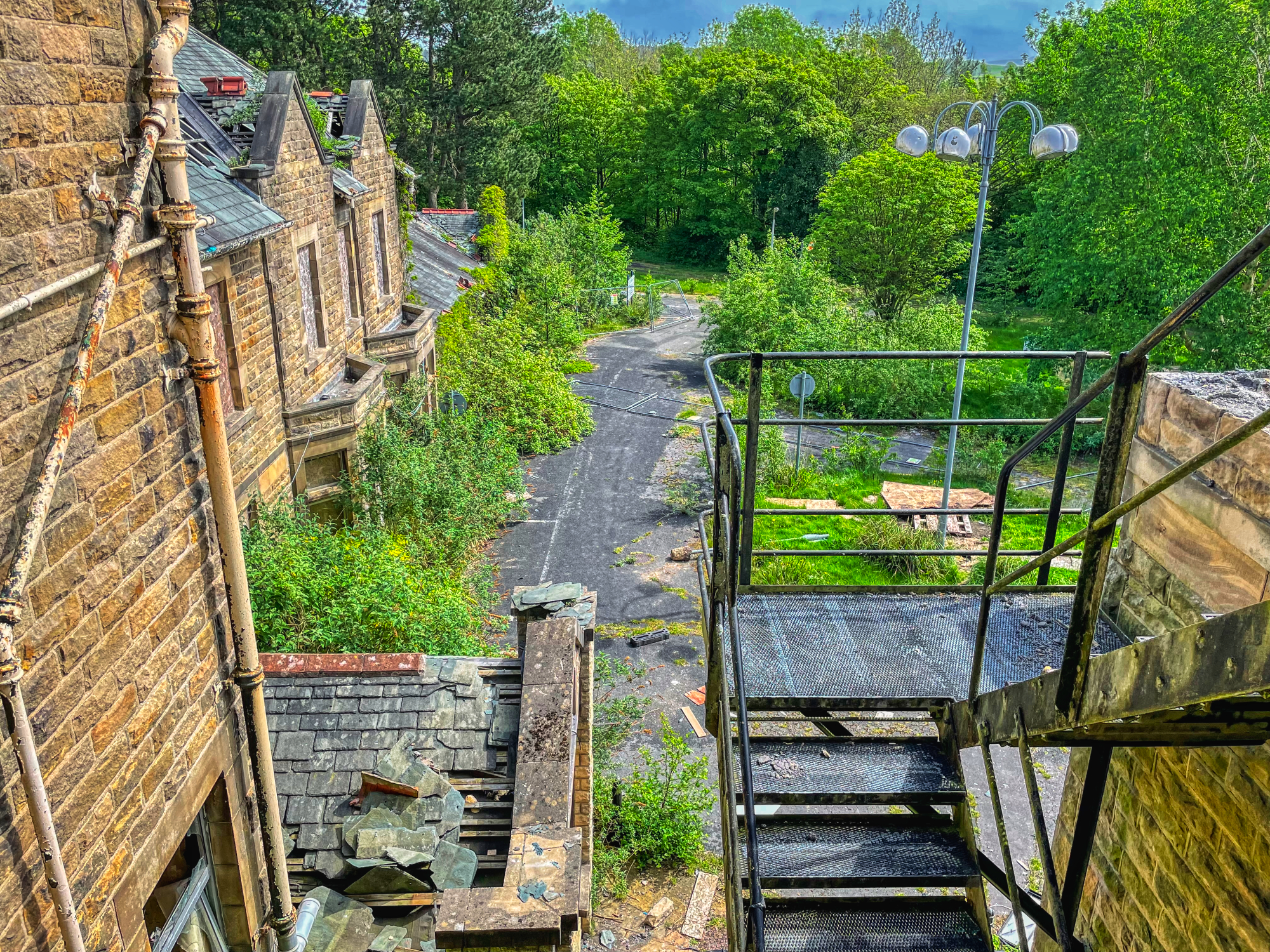 It was a long way down and not my exit point.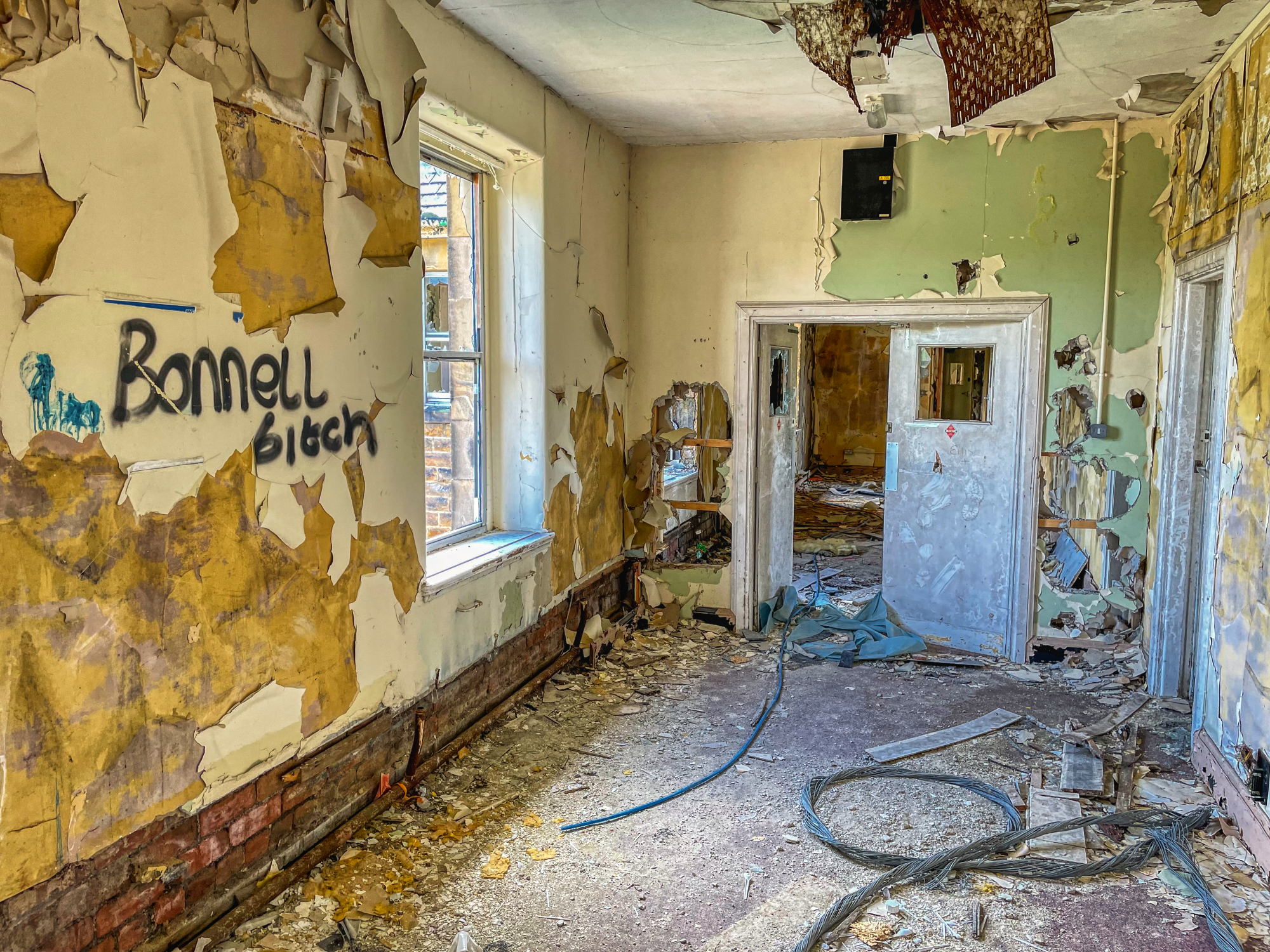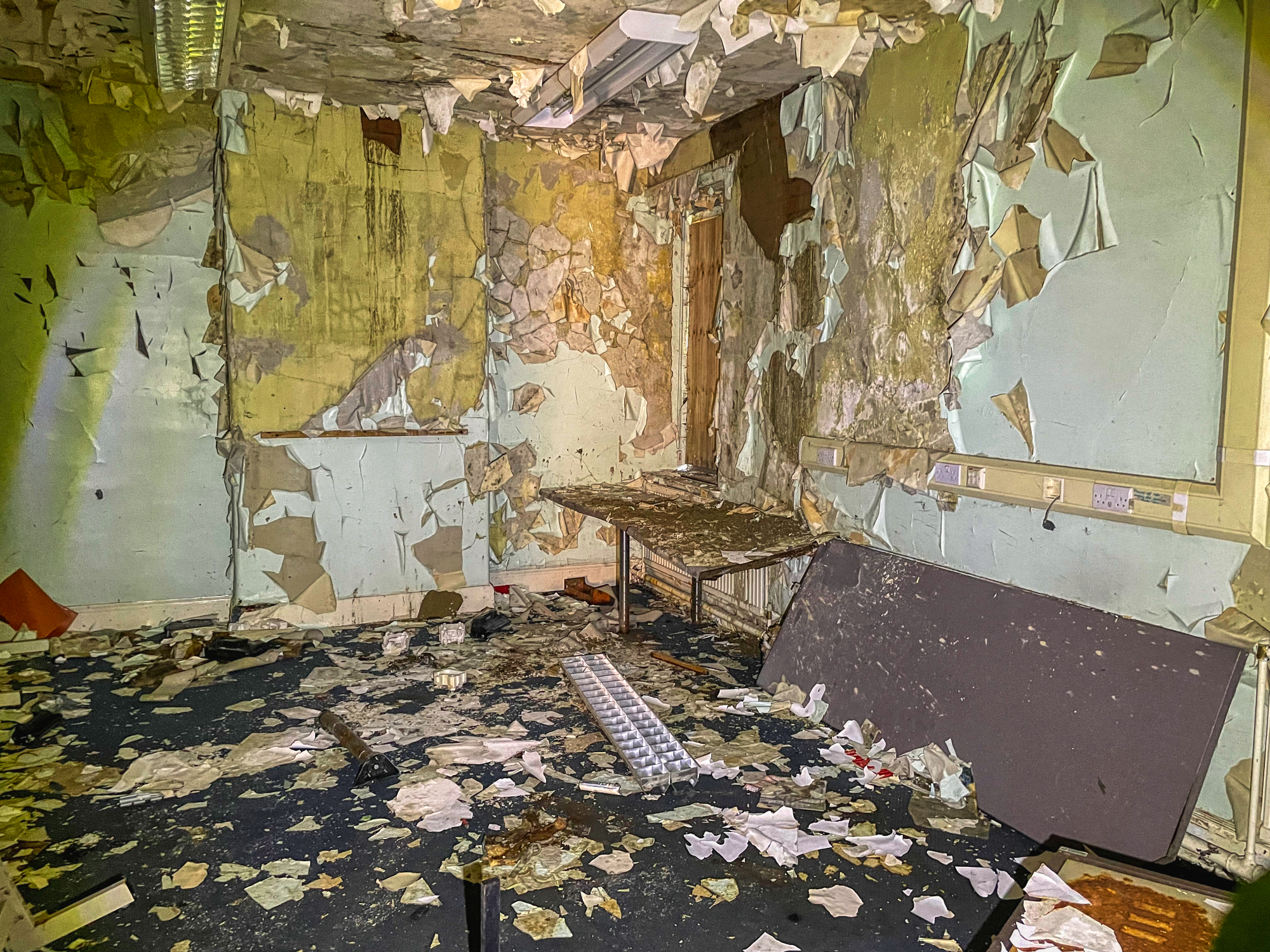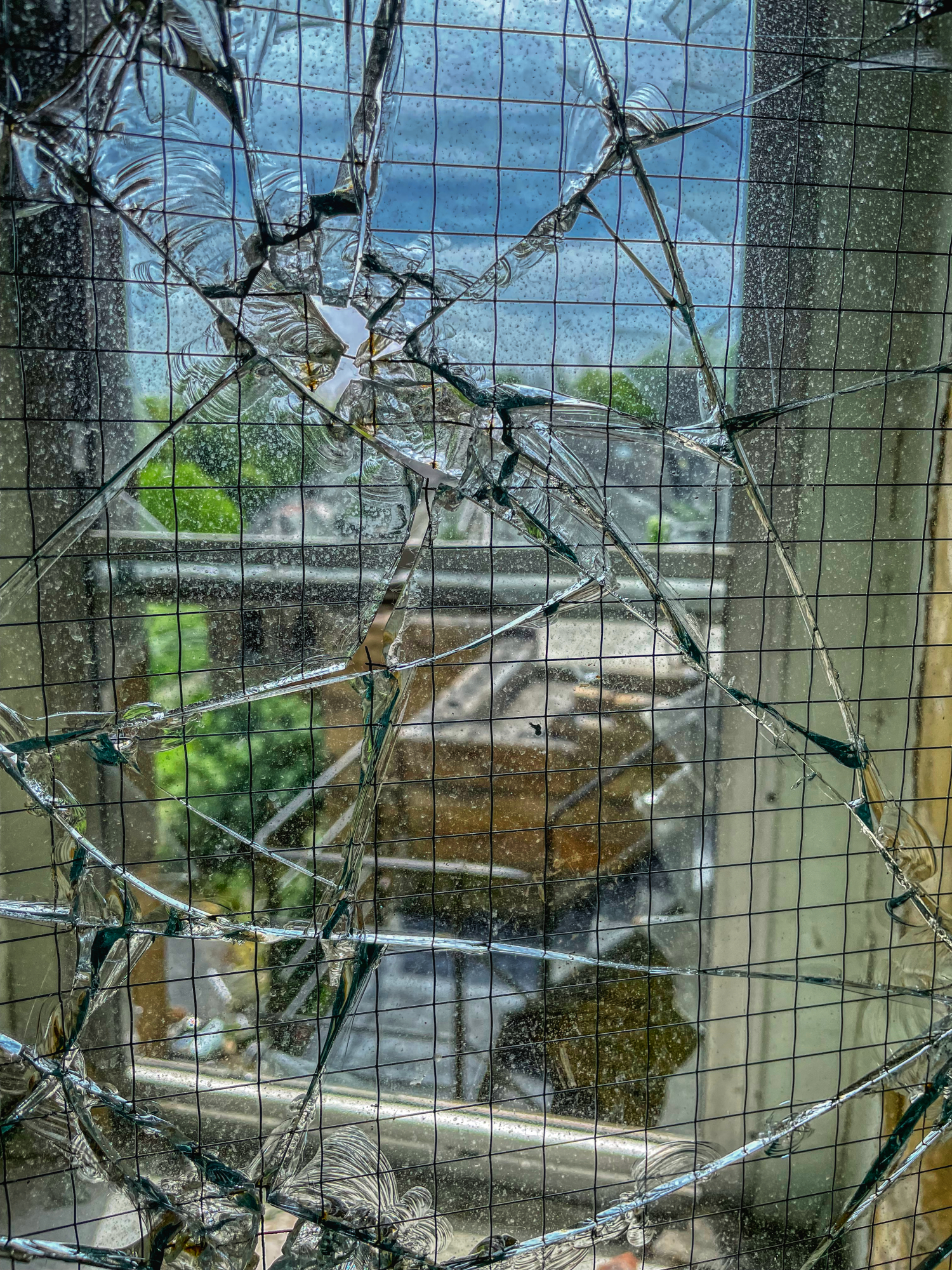 This one I did climb through. I needed to walk around 'Ridge Lea Hospital', and see the rear views.
What a frowning old building you are. I didn't feel any sense of warmth in the least.
Most of the fencing had been kicked over. It's not exactly tough to flatten Heras fencing.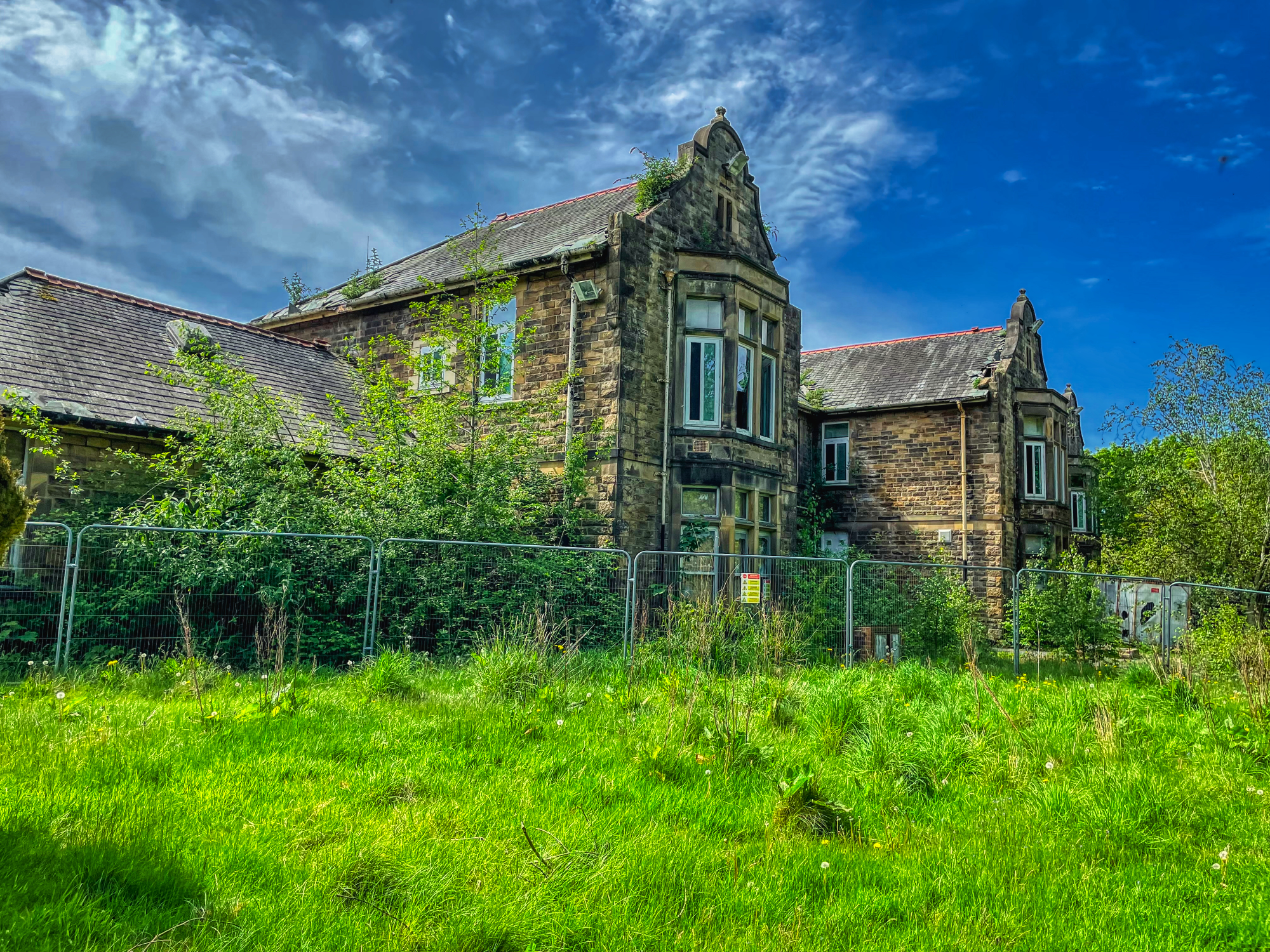 I figured I had seen the majority and thankfully had not met a soul. You don't want to meet anyone while alone if you can help it.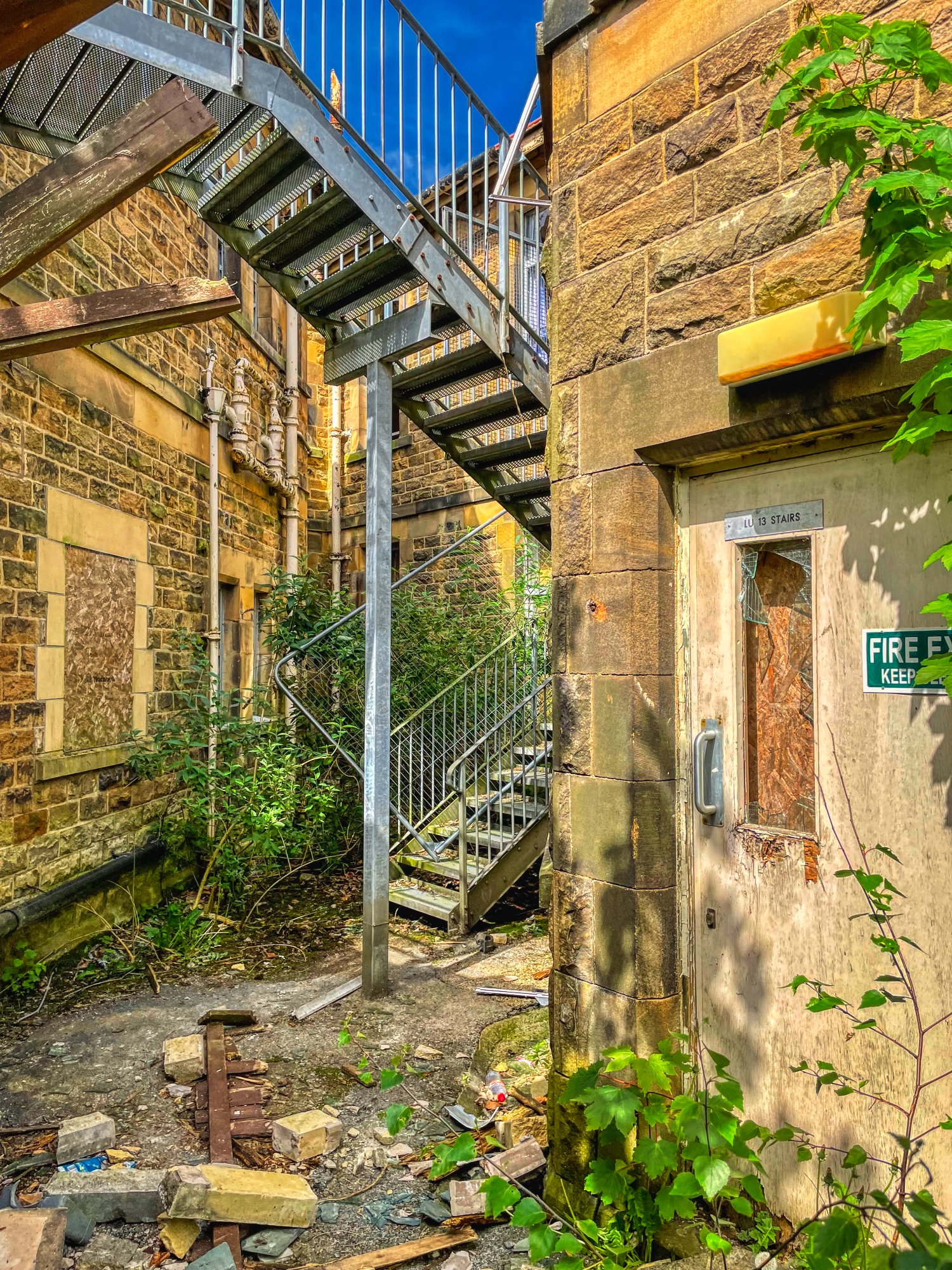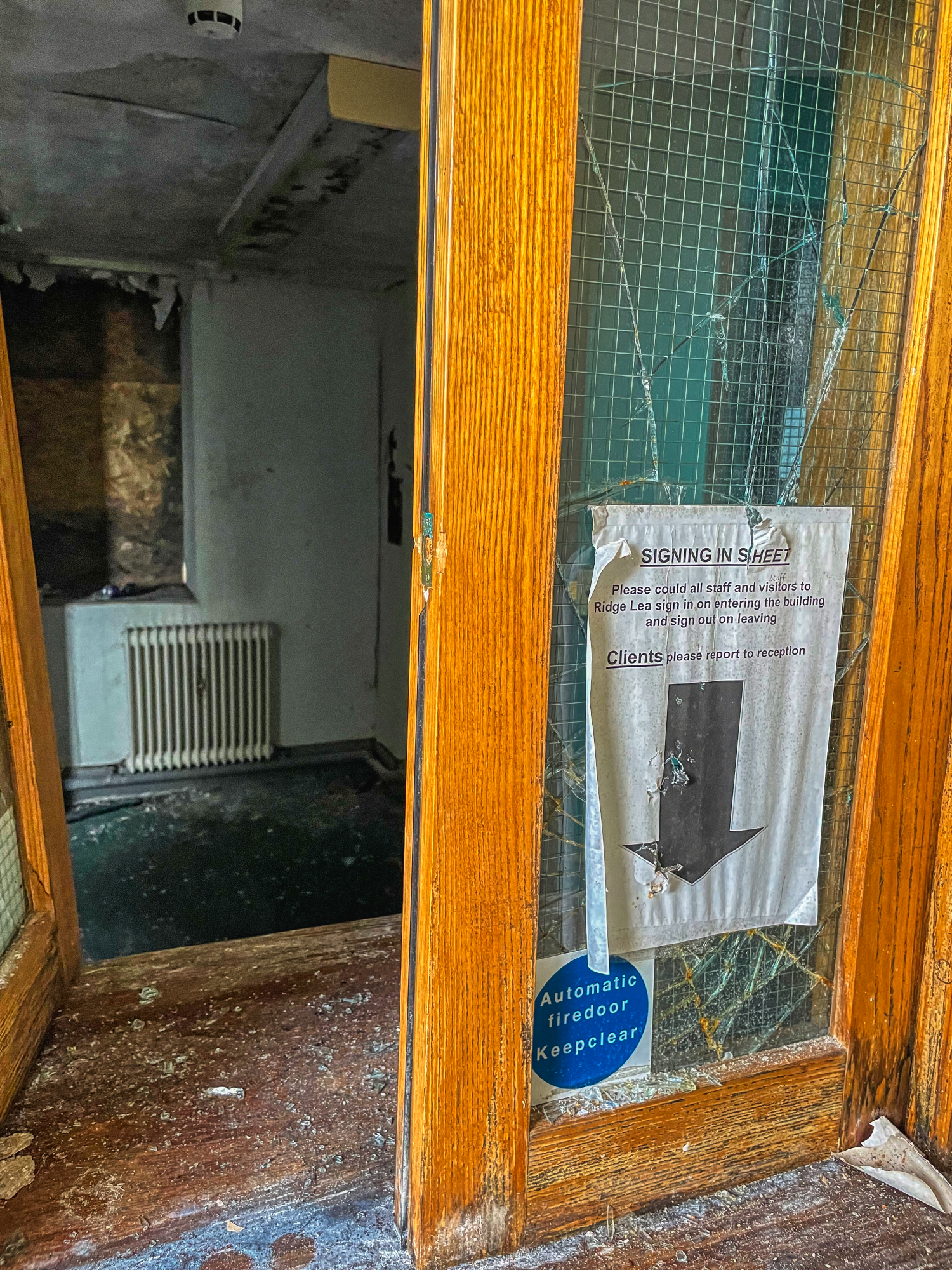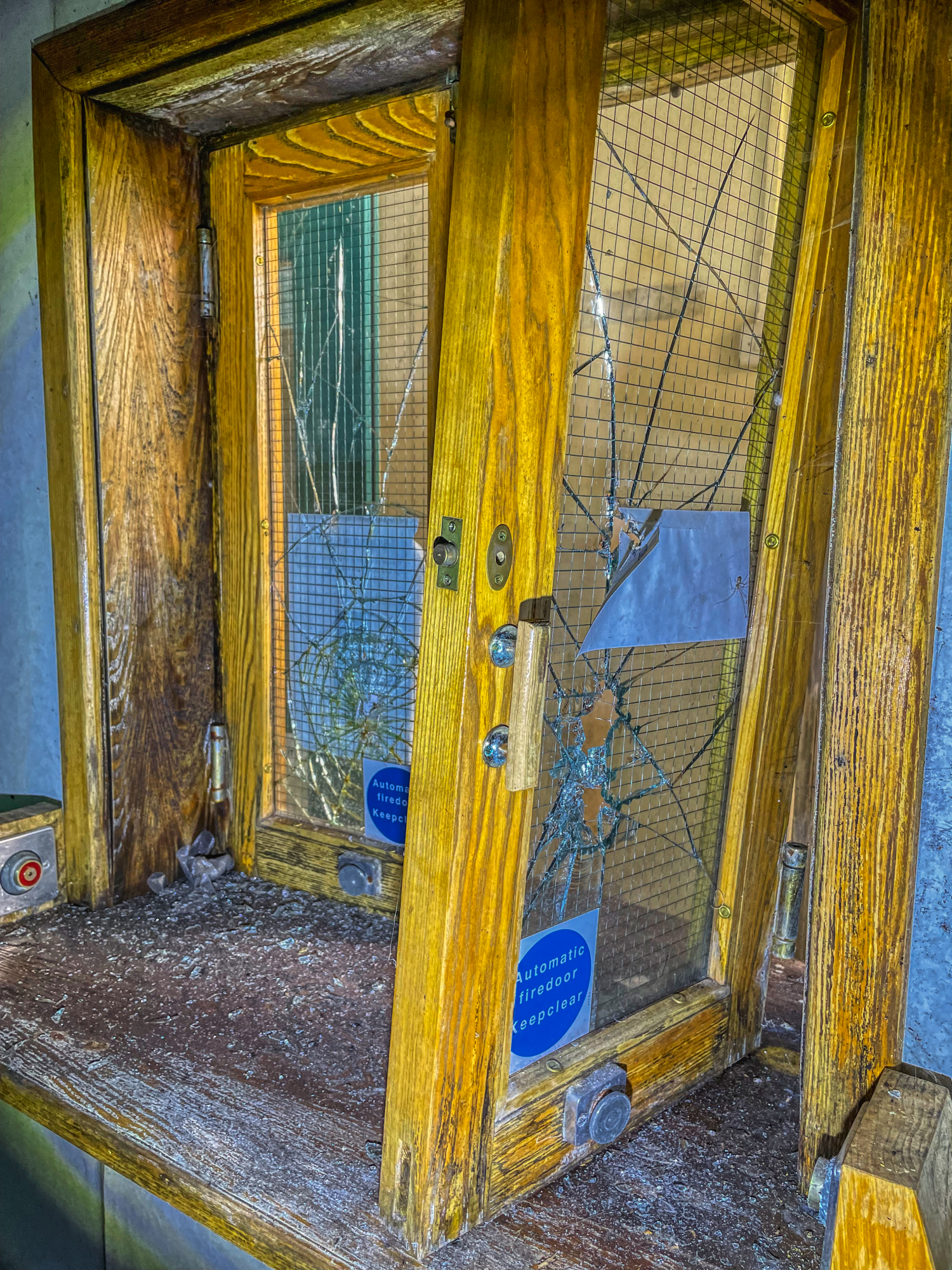 Feeling that I had missed a little, it was back through another window and a small reprise. This seemed to be some kind of reception area.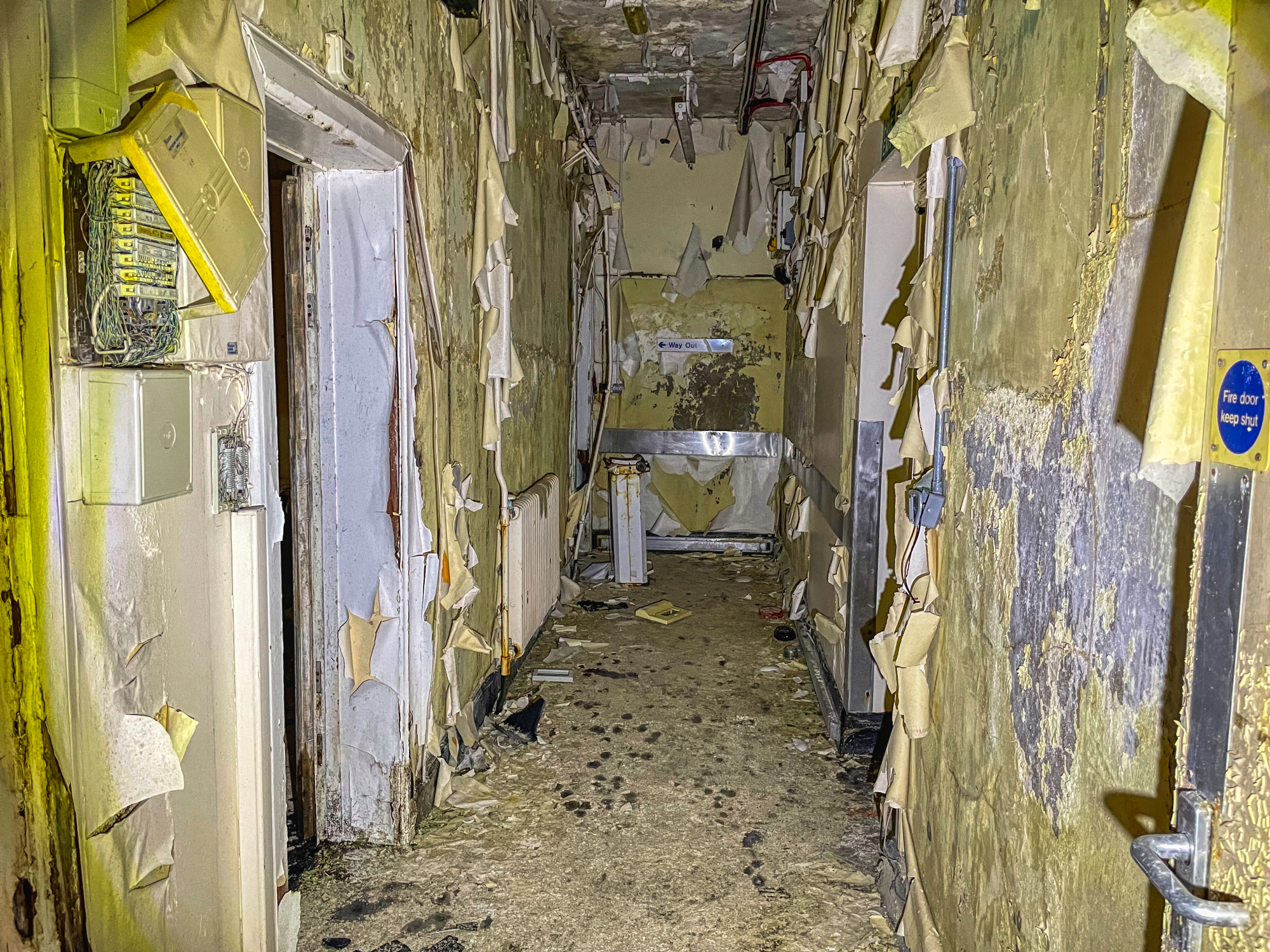 Once again I found myself roaming the derelict corridors of 'Ridge Lea Hospital'. It looked quite similar in this wing.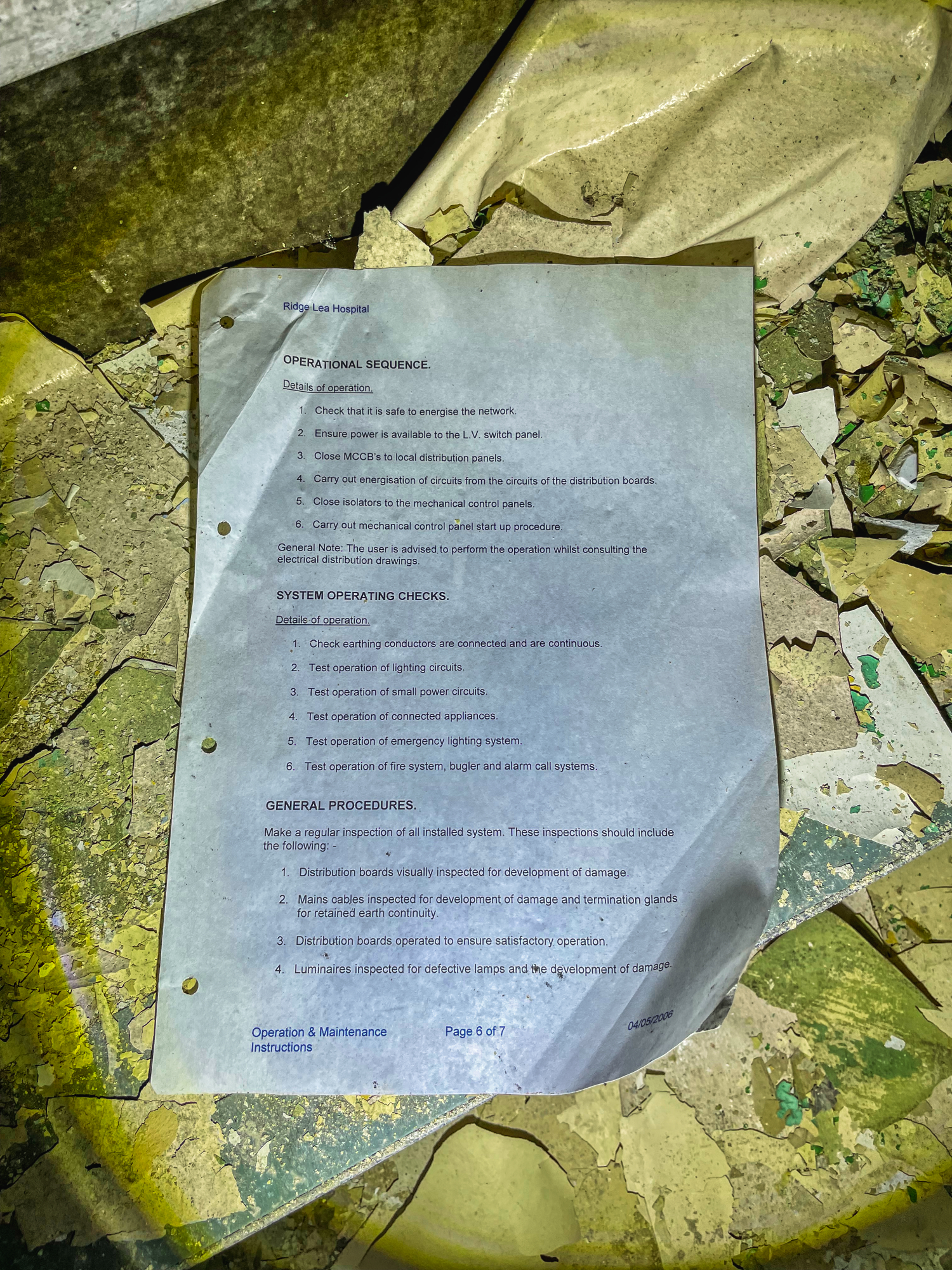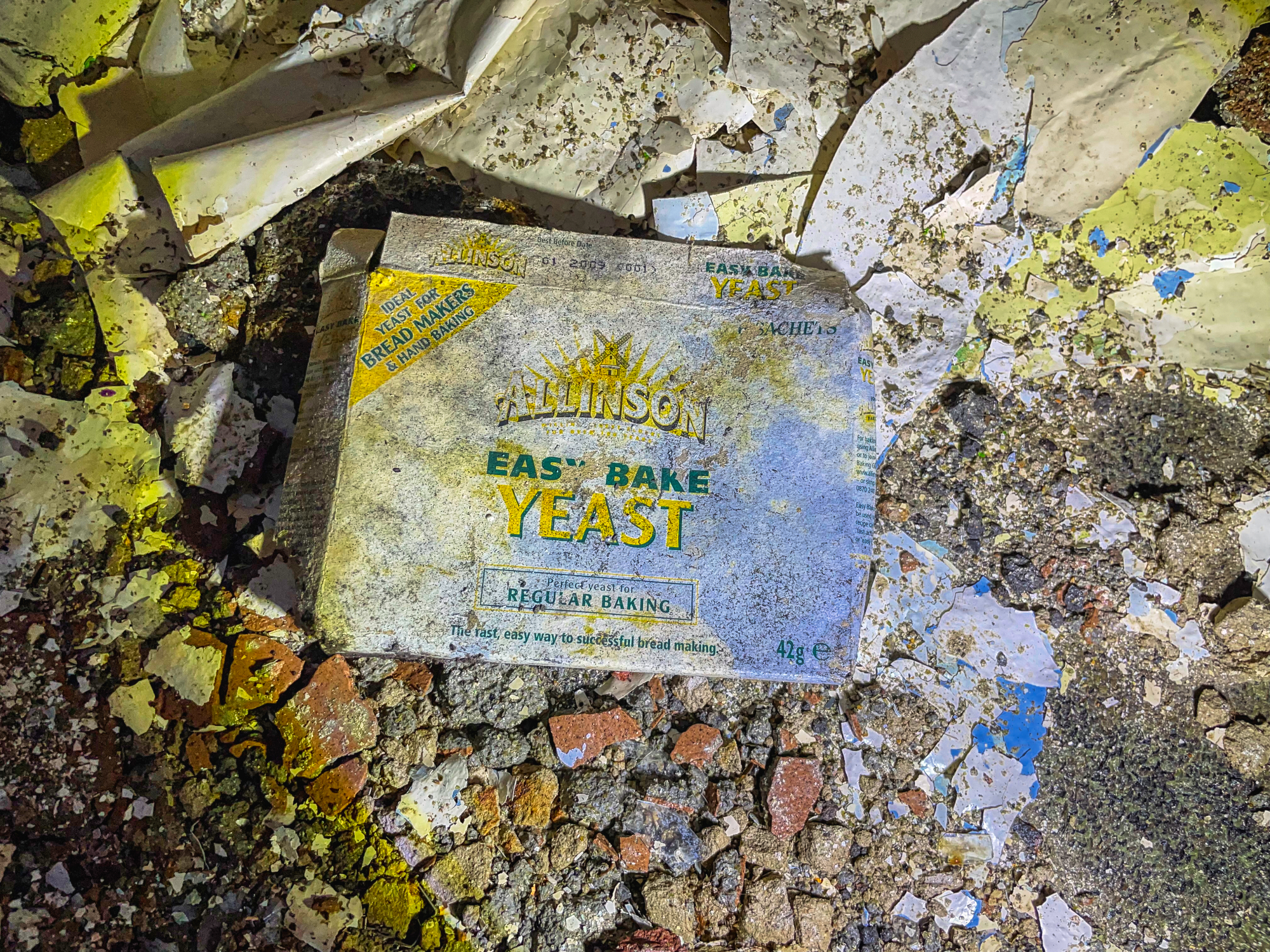 Anything written I pounced upon, even the old pack of yeast. Did they make bread here?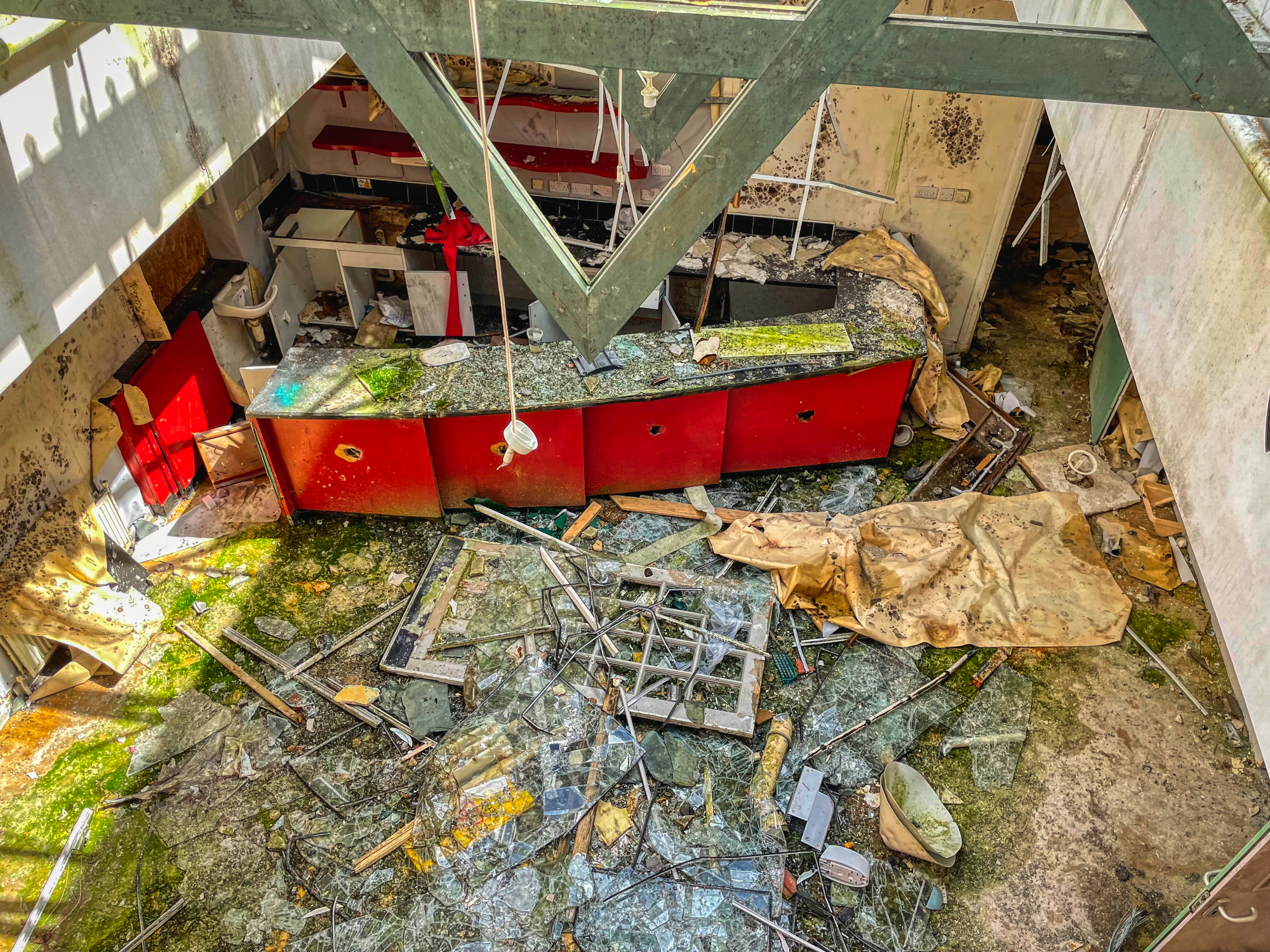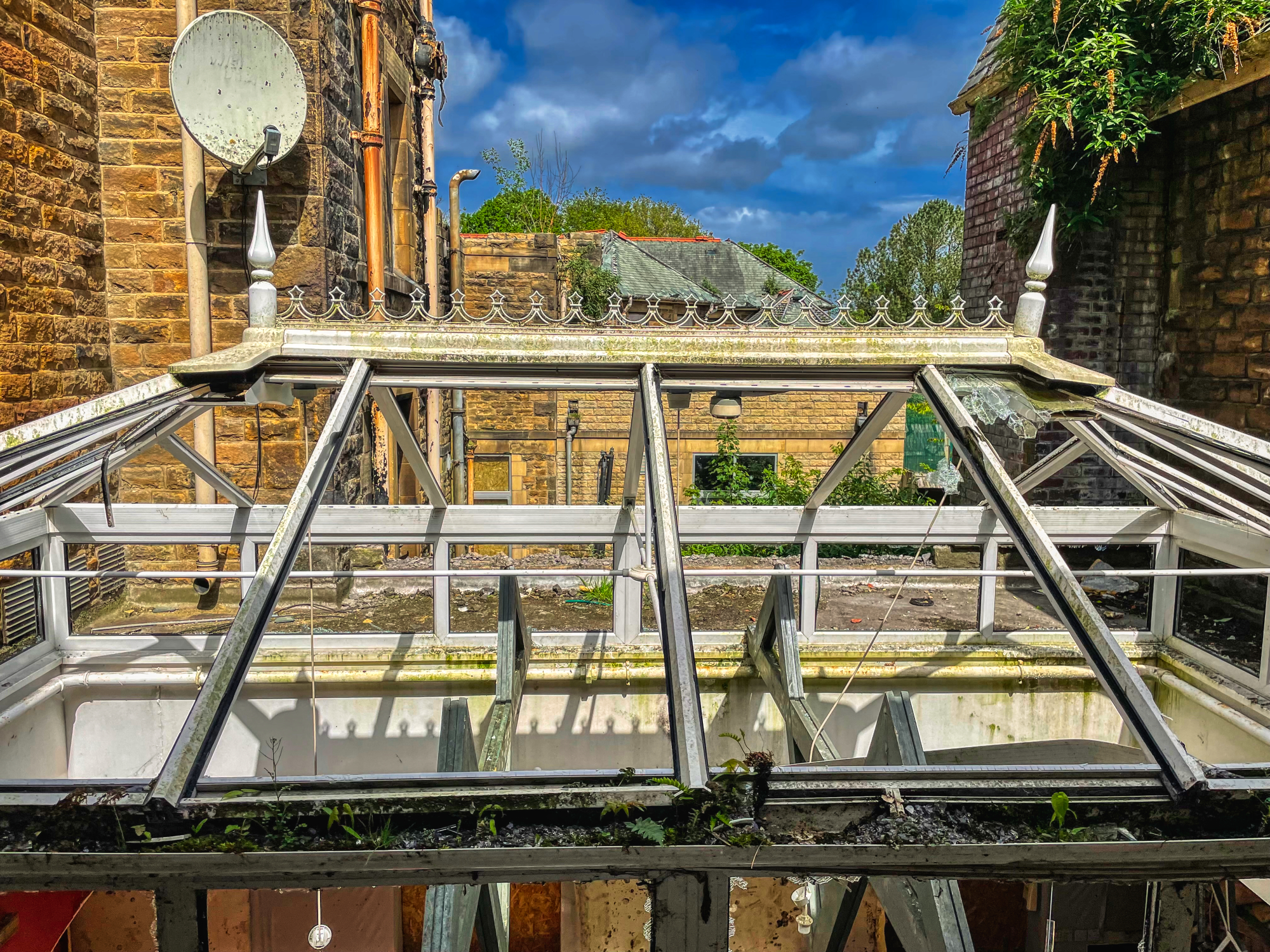 I am sure I spotted this area before, only on the lower floor. A long drop and little to hold you back. Safety is hardly a priority.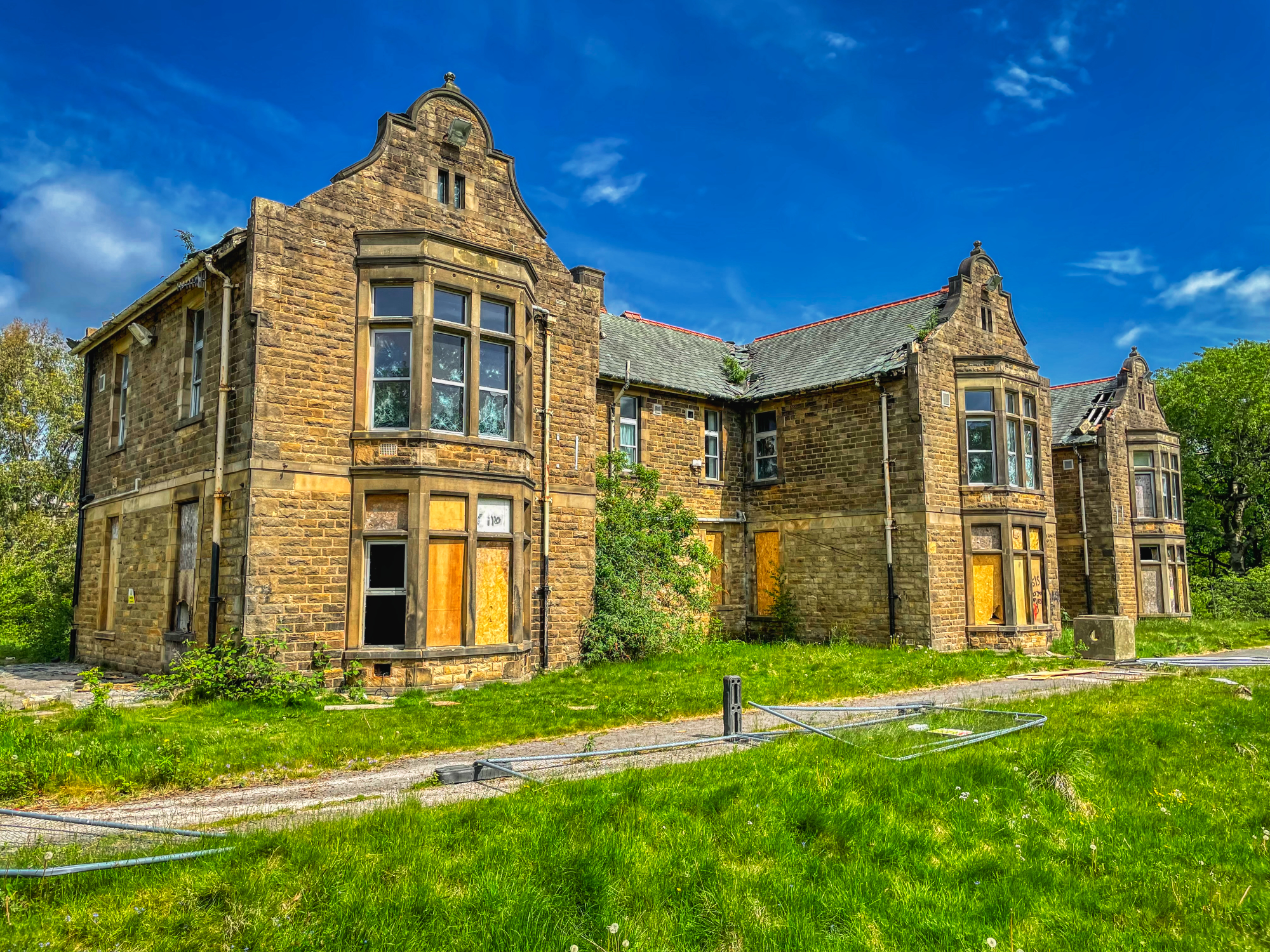 I somehow managed to escape by the same access point as I originally climbed through. Everything was still silent, no sounds to be heard.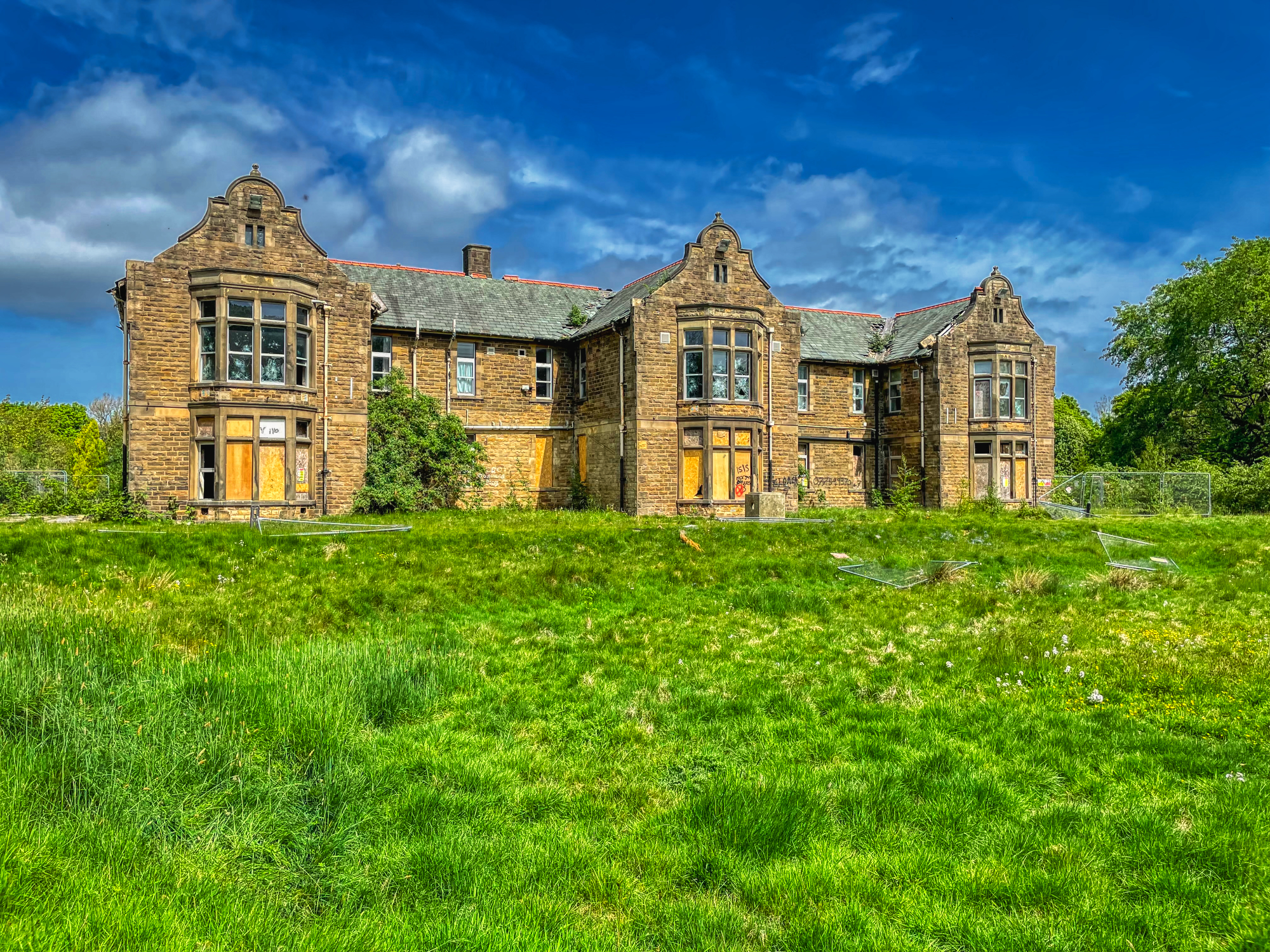 With some relief, I left 'Ridge Lea Hospital'. It would have been preferable to explore it duo, though it would have scared @bingbabe out of her wits.
Asylums are the ultimate of creepy explores. If you can solo one, you can solo anything.

FOOTNOTE: Demolition has once again been refused as outlined by this article.
Ridge Lea Hospital was built in 1916 and was an Asylum for some years. Its fate is now to rot away, get more unsafe, attract the TourBus, attract more vandalism, and likely get burnt down soon. This is the way…

Do you like posting your Urbex content and photography for FREE on Facebook and YouTube? I like to get some form of reward for my work and every time I create I do just that. Take a look at The Urbex Community on HIVE.
If you want to keep creating for FREE then ignore what you are reading. If you want to be like me and gain something other than BUGGER ALL for your work then click here and learn about posting on the HIVE blockchain.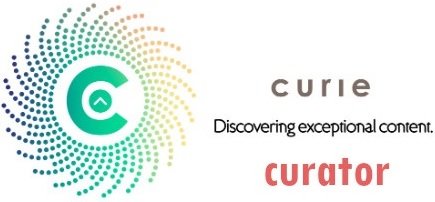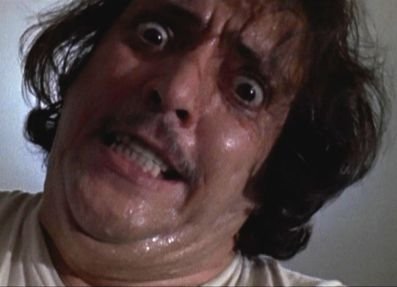 If you found this article so invigorating that you are now a positively googly-eyed, drooling lunatic with dripping saliva or even if you liked it just a bit, then please upvote, comment, rehive, engage me or all of these things.
---
---