How to take advantage of your duplicates NFTs in Splinterlands in 2023
If you have been in the Splinterlands vast ecosystem for a little longer you might have a lot of cards that you have but do not use. If so then you have several different options to put your duplicates to work for you and generate income. In this post I will be going through these various options and if you read it to the end you could end up with an extra card you can win!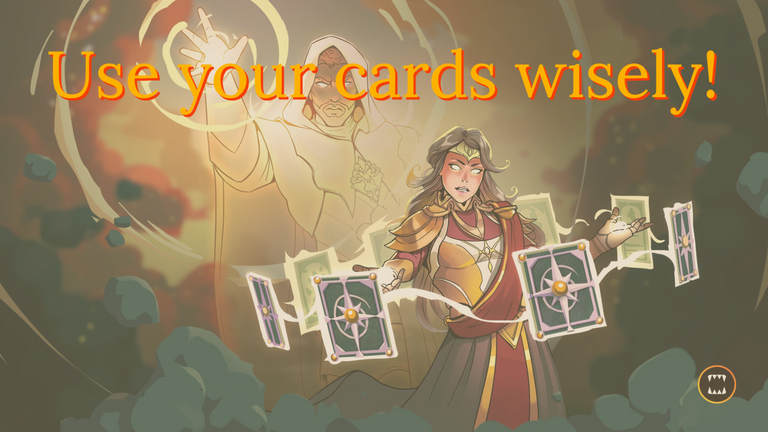 image from the creative team of @splinterlands
splinterlands is one of the most played crypto games out there and if you are not playing it, you should give it a try! You can try the game for free and if you decide to buy the spellbook which will create a hive account for you and also give you 3000 credits as a starting capital make sure to use my referral link! I will send you an extra welcome gift if you comment your in game name!


image from @arkasz link to the original POST
disclaimer: non of the contents of this post are in any way or form financial or investment advice! Please always do your own research before investing and never invest if you are not prepared for the total loss of your investment! Read this post for recreational and informational purposes only! I will not be held responsible for your financial decisions!
How to take advantage of your duplicate NFTs in Splinterlands in 2023?
Option 1: Sell cards
While this is only a one time thing you will gain DEC in exchange for your cards immediately. You can either list your cards using the in game market or on any 3rd party market. The advantage of this is instant DEC liquidity and the ability to trade your tokens on the decentralized exchanges. This of course has a big disadvantage to it as well. You can sell each NFT only once, afterwards it is not yours anymore. You might have a temporary monetary gain from it but I am more of a fan of steady passive income then just dumping my cards on the market.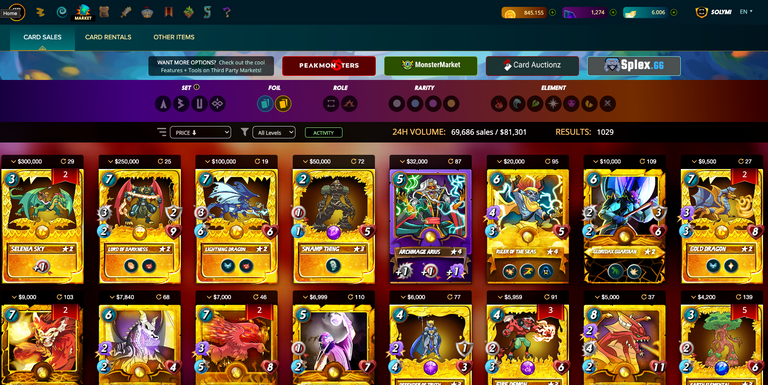 image from splinterlands website @splinterlands
Option 2: Card delegation to secondary account
If you like me can't get enough of playing Splinterlands the leading trading card game in the crypto space then this option might be a good one for you. However, you need quite a big collection of cards to be able to fully equip your secondary account and you also will have to buy a second spellbook. This will require an additional 10$ investment. (Hot tip: if you use your own referral link to create a new Splinterlands account you will get 500 credits when you purchase the spellbook!) You can either delegate your duplicates to the account or just send the cards to it. This is a matter of taste and security. Delegation is for sure the safer way since only 1 account will hold your cards.
Option 3: rent out your duplicate NFTs to make a steady passive income on the side
This is the option I went with for the past year and it does a great deal if you have the right level of cards to do it. The best thing, you can fully automate this process by using the services of Splexx.GG! For a 10% fee, you can delegate posting authority to the account holding the cards you want to rent out and the rental service will automatically list relist and adjust prices. Be aware that depending on the value of your cards this service either makes sense or not. There is a 1 DEC listing fee per card for the newest update and this makes it less profitable to rent out your collection if your cards do not make that much DEC!
You could also choose to do the rental listings manually by using the in-game rental market or any 3rd party market of your choice. Disadvantage: This is a huge timekiller. I spent countless hours on doiung my own rental listings and I am so happy Splexx did introduce this awesome service.
Option 4 delegate your cards with Niftyarcade and earn rewards in SPS and PACKS!
This is the newest addition on how you can utilize your cards, earn and even help others who can not afford to buy or rent cards in the traditional ways. You can choose cards from your collection and list them in a set for other players to rent.
In this case your cards will be automatically delegated to the renter and they will play with those cards. You will be earning a portion from their SPS daily and season rewards and you will be sent all packs they might find in EOS or daily chests!
I wanted to try this for a bit and I will for sure do another post where I will update you on how the earnings look like.
I listed a Silver/Gold Deck and a Bronze/Silver Deck and I might be able to list another 2 basic Bronze sets as well.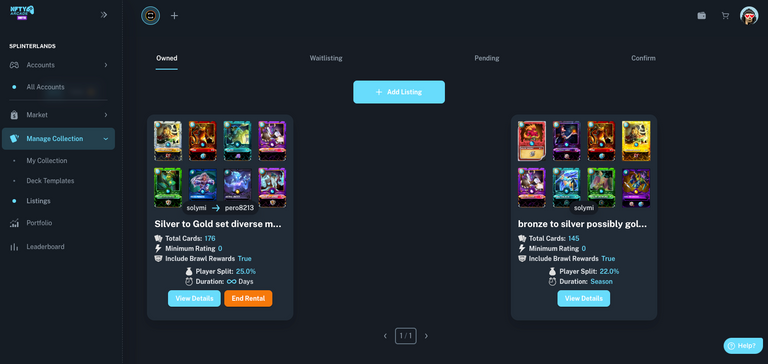 image from Niftyarcade.io
Let me know which option is your favorite and why in the comments! If you are reading these last lines you will also be able to win 1 random Splinterlands NFT that will be sent to you after the payout of this post!
If you like my content feel free to reblog here on hive and share on other social media platforms!
Thanks for reading!
cheers
solymi
---
---