SplinterBoost Daily Report 10-02-2023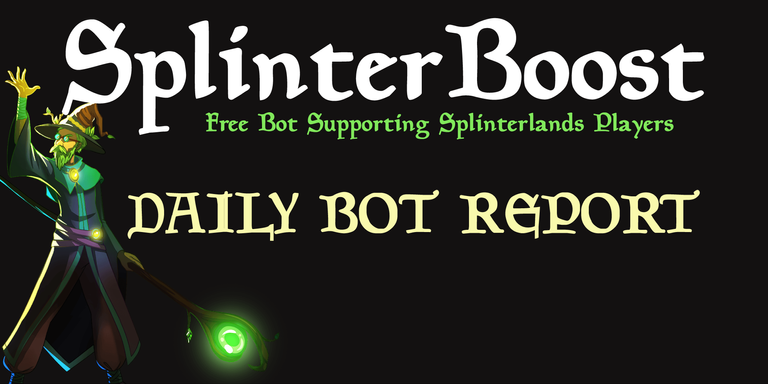 ---
Daily SplinterBoost Report for 10/02/2023
---
Splinterlands Posts UpVoted Today:
---
Bot Delegators & Earnings Report
Total Hive Delegated to Account: 13319 HP
Total HBD Balance: 0.2466
By delegating you HP to the @SplinterBoost bot you are helping to support the community and the bot & Earning Curation Rewards Daily!
Please note that payouts taht are smaller than 0.001 HBD are stored in the wallet and will be carried over to the next day's balance or unitll the payout is greater than 0.001
---
How to Earn:
If you delegate to @splinterboost you will get paid out daily in HBD that were received that day proportional to the amount of HP you have (delegated/total_hive_delagted) * 100 as a %. We will also post payout in a daily report along with APR being earned for delegating to promote growth. Any HP earned though the 50/50 post and curation rewards will remain with the bot and grow over time to make the SplinterBoost an individual force for upvotes and HBD earned from that will also be included in delegator payouts so you will always have access to the growth...(hint: you don't always need a token :P).
---
---
---