Battle & Giveaway #11 : BLIND FROM WATER SPLINTER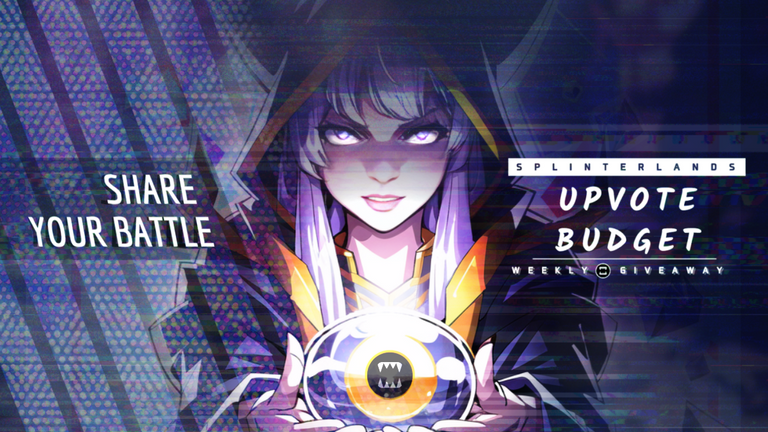 Hello everyone, welcome back to the
"Battle n Giveaway"
post. In this post, I will be sharing battles that I think are unique (
SHARE YOUR BATTLE
) and also hosting giveaways that I have done before (
UPVOTE BUDGET GIVEAWAY
).
This season is only a few days away, and I'm still looking for other formations for each element. The ABILITY that must be present (if possible) in each of my formations is BLIND. And this time I reviewed a little about one of the MONSTERS from WATER SPLINTER that has that ability. Can you guess who the monster is?

The first part of this post will be about
SHARE YOUR BATTLE
, be it
CARD FOCUS
or
RULESET FOCUS
or just a battle I find interesting enough to share. After that, we'll move on to the
GIVEAWAY
section.
There are changes to the GIVEAWAYS that are different from the usual (you can see them in full after the SHARE YOUR BATTLE section)
And giveaways will happen 1~2 times per week

THAT MONSTER IS...
!





---


Yup, that's right. Flying Squid. This CHAOS LEGION edition normal card from WATER SPLINTER is a monster that we will discuss a little this time. Flying Squid only has the REACH ability at the first level, while its second ability, BLIND, can only be used when we are in the GOLD LEAGUE. Since I am currently in the MODERN GOLD LEAGUE, I had the opportunity to try out the advantages of these abilities.

From these experiments, the results were beyond my expectations. I thought that BLIND could be a very troublesome ability (as long as it is not in AIM TRUE RULESET). In almost every experiment, I managed to win (or it would be more accurate to say "avoid defeat") using Flying Squid despite losing in SPEED. Attacks from the opponent's monsters were often missed even though they were ahead in SPEED difference.
And below is one of the battles using these monsters...


Lets Start the Battles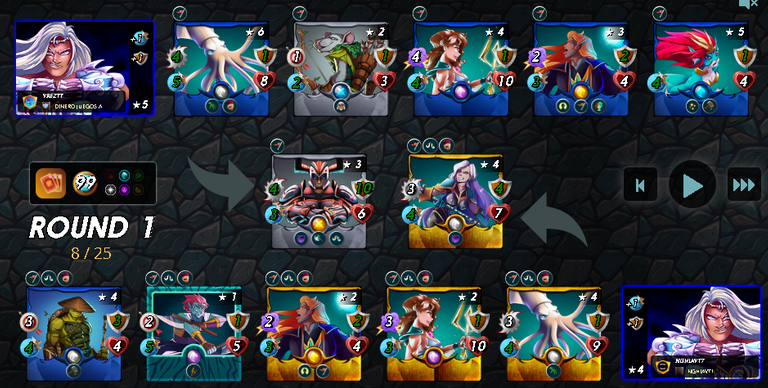 There was only one ruleset this time, ODD ONES OUT with max mana (99). My opponent and I both used Water Splinter and Kelya Frendul as SUMMONER (although I was ahead in level). Half of the monsters we brought were also the same (Flying Squid, Nerissa Tridawn, and River Hellondale).
Although they both use TANKER which has the VOID ARMOR ability, the Legionnaire Alvar I brought has another ability (DEMORALIZE) which is useful for reducing 1 Attack point from the opponent's Melee monster. The thing that worried me a little was that the opponent brought Axemaster who has the DOUBLE-STRIKE ability.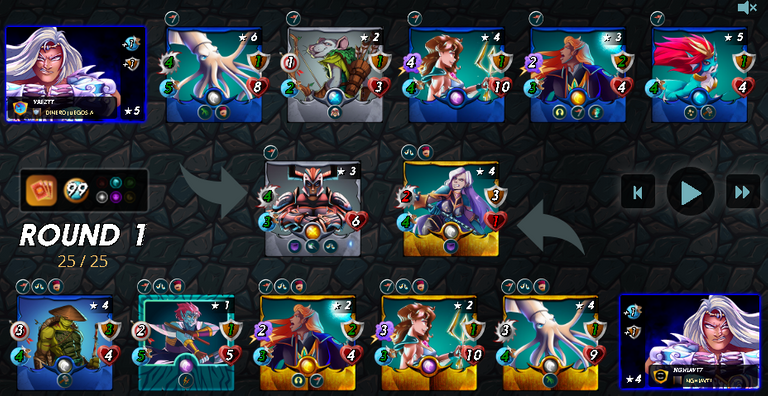 It turned out that my anxiety was too much. It was the opponent's monster that lost first (Lemell Refugee) despite being successfully resurrected with RESURRECT by River Hellondale. Attacks from the opponent's 2 Melee monsters (Lemell Refugee and Flying Squid) also missed despite a 1-point SPEED advantage.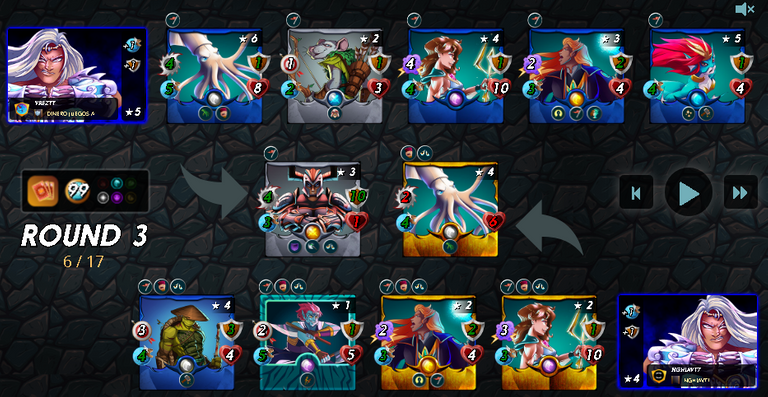 In the second round, Lemell Refugee has defeated again thanks to attacks from Flying Squid and Nerissa Tridawn. Also this round, it was the turn of the opponent's Range monsters (Axemaster and Swamp Spitter) whose attacks failed to hit Legionnaire Alvar.
It wasn't until Legionnaire Alvar was defeated in Round 3 (although it was later resurrected by River Hellondale) that they were able to take it down.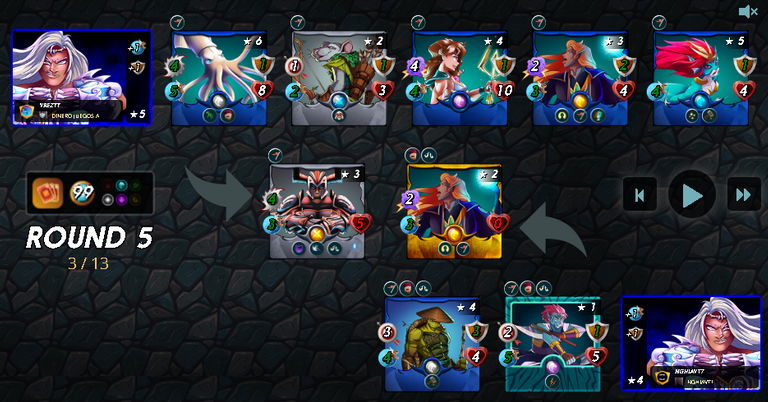 To see the entire battle clearly, you can watch it at >> FULL BATTLE LINK
Another battle that relied on BLIND from Flying Squid and managed to win despite losing the advantage in SPEED >> FULL BATTLE LINK

GIVEAWAYS TIME !!!
What is the Upvote Budget that you mentioned earlier?
Upvote Budget (or maybe there's a better name) is slightly different (perhaps) GIVEAWAYS from the others. The reason for naming Upvote Budget is because all prizes destined for GIVEAWAYS come from the total Upvotes received in each post (more precisely the Author Reward section)
How these giveaways work
Every GIVEAWAYS post uses @reward.app (so the reward for posting will be HBD and HIVE)
The Total Upvote Value affects the limit of cards that can be selected

Winners can choose any card they want (As long as there is sufficient DEC)

The maximum number of winners for giveaways is 3 people (3 draws) or until the DEC is not sufficient to purchase a card only 1 user.

The remaining DEC will be added to the GIVEAWAYS the next week next post.
The number of prizes from giveaway posts that will be converted into DEC is

20% (or 40% of the total Author Reward)


decreased to 5% (or 10% of the total Author Reward)

How to join this GIVEAWAYS
Upvotes are not required as a condition to enter this giveaway. However, the more upvotes that each post gets, the more varied the cards that can be selected will be.

Re-blog is also not a requirement. However, the more users who know about these GIVEAWAYS, the more likely they will upvote and the prizes will increase.

You just need to write a comment once on each GIVEAWAYS post.

Also write down your IGN (In-Game Name) if it is different from the name you use for your HIVE account.

Write down a list of the cards you want, starting with the most expensive to the cheapest. If you don't write it down, you will be disqualified.
Example* :
@vrezyy (or you can write IGN: vrezyy)
1. Tenyii Striker
2. Venari Crystalsmith
3. Gargoya Lion
*You are free to write down how many cards you want (as long as you follow the rules), but the winner will only get 1 card.

Previous Battle & Giveaway winners (#08)
Author reward obtained from last week: $4.842 x10% = $0.485
DEC earned from converting rewards: 638.267
The remaining DEC: 612.473
Total DEC: 1250.740
| No. | Winner | Card they got |
| --- | --- | --- |
| 1. | @jdike | |
The remaining DEC: 154.391

Previous Battle & Giveaway winners (#09)
Author reward obtained from last week: $3.856 x10% = $0.387
DEC earned from converting rewards: 512.335
The remaining DEC: 154.391
Total DEC: 666.726
The remaining DEC: 473.253

Previous Battle & Giveaway winners (#10)[Will be Update Soon]
DEC earned from reward post (Author-reward): 473.253
The remaining DEC: 473.253
Total DEC: 473.253

Previous GIVEAWAYS
Battle & Giveaway #10

That was the combined post of SHARE YOUR BATTLE and UPVOTE BUDGET GIVEAWAYS. As I said before, this kind of post will be held 1~2 times each week (following the participation limit on the Social Media Challenge each week). And thank you for visiting and participating in this GIVEAWAYS.
See you in another post.....
Thanks to:
@splinterlands
The challenge link >> CHALLENGE LINK
---
---