Poder Legendario de GRUM FLAMEBLADE en una batalla Splinterlands [ES/EN]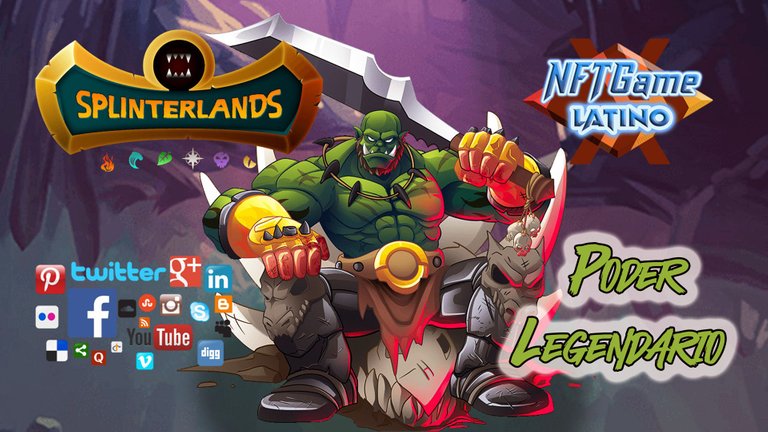 Saludos Hiversnft, Hoy para el Social Media Challenge les comparto una batalla que logré ganar utilizando el elemento fuego y mi carta legendaria GRUMFLAMEBLADE que estuvo imparable.
Greetings Hiversnft, Today for the Social Media Challenge I share with you a battle I managed to win using the fire element and my legendary card GRUMFLAMEBLADE which was unstoppable.
---

CARTAS ELEGIDAS Y POSICIONES / CARDS AND POSITIONS
La batalla contaba con la regla, todos los monstruos con ataque melee pueden atacar desde cualquier posición y el gasto de mana 99 puntos.
Me enfrenté contra @and262 el cual eligió el elemento agua con el invocador KELYA FRENDUL, aprovechó la ventaja del invocador que otorga +1 de escudo y +1 de velocidad y eligió cartas melee muy buenas junto a dos cartas mágicas, una de ellas VENARI WAVESMITH otorga +2 de armadura a todas las cartas.
The battle had the rule, all monsters with melee attack can attack from any position and the mana expenditure 99 points.

I was up against @and262 who chose water element with summoner KELYA FRENDUL, he took advantage of the summoner's +1 shield and +1 speed and chose very good melee cards along with two magic cards, one of them VENARI WAVESMITH gives +2 armour to all cards.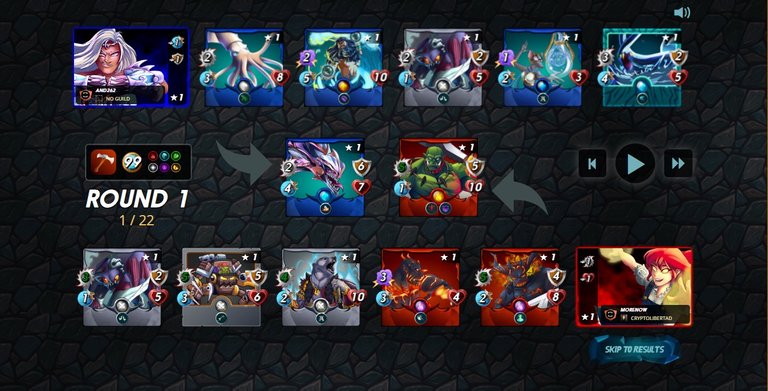 Por mi parte elegí el invocador de fuego TARSA para que mis cartas tengan +1 de ataque melee y +1 de salud, teniendo en cuenta que mi estrategia se basaría en aprovechar el mayor número de cartas melee, tengo algunas cartas de ataque cuerpo a cuerpo que me me encantan y que me salga una batalla con gasto 99 de mana es difícil, así que debo aprovechar y practicar en este tipo de batallas.
For my part I chose the TARSA fire summoner for my cards to have +1 melee attack and +1 health, taking into account that my strategy would be based on taking advantage of the largest number of melee cards, I have some melee attack cards that I love and that I get a battle with 99 mana expenditure is difficult, so I must take advantage and practice in this type of battles.
---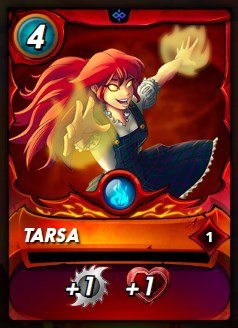 Mi invocador como dije es TARSA, la elegí con la intención de darle ventaja a todas mis cartas, me encanta el plus añadido de +1 de ataque melee ya que las cartas que tengo del elemento fuego tienen buen ataque cuerpo a cuerpo.
My summoner as I said is TARSA, I chose her with the intention of giving advantage to all my cards, I love the added bonus of +1 melee attack as the cards I have fire element cards have good melee attack.
---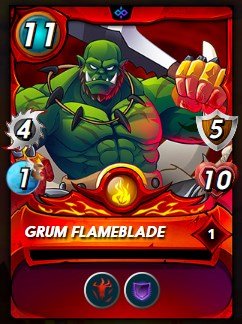 El tanque que elegí para esta batalla es el legendario GRUMFLAMEBLADE, con su ataque de 4 puntos, su escudo y salud altos, cuenta con la habilidad Void Armor que permite utilizar el escudo para detener el ataque mágico, también tiene Bloodlust que aumenta todas las estadísticas cuando elimina un enemigo. Es brutal!!
The tank I chose for this battle is the legendary GRUMFLAMEBLADE, with his 4 point attack, his high shield and health, he has the Void Armor ability which allows you to use the shield to stop the magic attack, he also has Bloodlust which increases all stats when he takes out an enemy. It's brutal!
---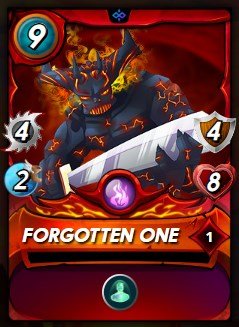 En segunda posición coloqué FORGOTTEN ONE aprovechando la condición de batalla, el cual tiene 4 puntos de ataque cuerpo a cuerpo, buen escudo y salud, cuenta con la habilidad Inmunidad lo cual hace que ningún efecto negativo le afecte. Lo coloqué en esta posición para que junto al tanque haga un buen daño al tanque enemigo.
In second position I placed FORGOTTEN ONE taking advantage of the battle condition, which has 4 melee attack points, good shield and health, it has the Immunity skill which means that no negative effects affect it. I placed him in this position so that together with the tank he can do good damage to the enemy tank.
---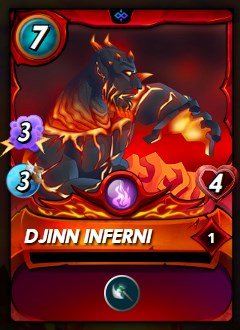 DJINN INFERNI lo coloqué en tercera posición para atacar con magia alguna carta que tenga un coste de mana superior a 10 puntos, de ser ese el caso el daño magico sería el doble, es decir 6 puntos de daño, teniendo en cuenta el coste de mana en esta batalla pensé que sería muy probable que mi oponente usara alguna.
DJINN INFERNI I placed it in third position to attack with magic any card that has a mana cost higher than 10 points, if that was the case the magic damage would be double, that is 6 points of damage, taking into account the mana cost in this battle I thought it would be very likely that my opponent would use one.
---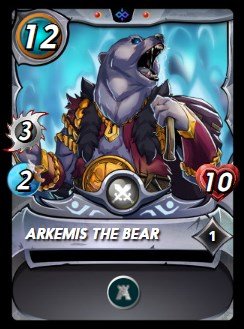 ARKEMIS THE BEAR lo coloqué en cuarta posición para aumentar +2 el escudo de todas mis cartas gracias a su habilidad , esta carta es neutral y la obtuve en un airdrop gracias a la compra de paquetes. Es costosa en gasto de mana pero en esta batalla el mana no es un problema.
ARKEMIS THE BEAR I placed it in fourth position to increase +2 the shield of all my cards thanks to its ability, this card is neutral and I got it in an airdrop thanks to buying packs. It is expensive in mana expenditure but in this battle mana is not a problem.
---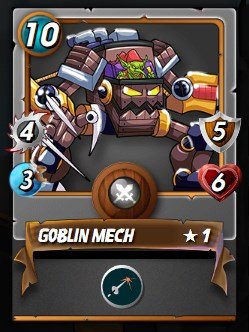 En quinta posición coloqué GOBLIN MECH el cual tiene la habilidad de atacar la salud del enemigo si destruye su escudo en un mismo ataque, es una carta neutral que acostumbro usar como tanque pero aprovechando la condición de batalla lo he elegido en esta posición.
In fifth position I placed GOBLIN MECH which has the ability to attack the enemy's health if he destroys his shield in the same attack, it is a neutral card that I usually use as a tank but taking advantage of the battle condition I have chosen it in this position.
---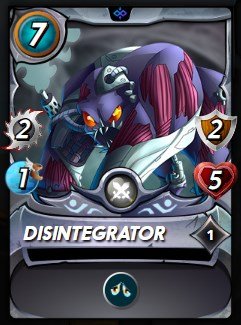 En última posición la carta DISINTEGRATOR que tiene la habilidad Demoralize y me permite bajar el ataque melee a las cartas enemigas, pensé que mi enemigo usaría cartas de ataque melee y con esto tomaría algo de ventaja. Esta carta también es neutral y la uso siempre que me tocan batallas con mucho mana.
In last position the card DISINTEGRATOR that has the ability Demoralize and allows me to lower the melee attack to the enemy cards, I thought that my enemy would use melee attack cards and with this I would take some advantage. This card is also neutral and I use it whenever I get into mana-heavy battles.

Batalla / Battle
En el primer asalto pude notar que ambos usamos la habilidad Demoralize y también nos sumamos +2 de escudo gracias a la habilidad de nuestras cartas, sin embargo el enemigo me tuvo ventaja porque su invocador también le subio +1 de escudo. Como se esperaba todos los ataque fueron hacia mi tanque rompiendo su escudo y dejándole con 10 puntos de salud, pero al llevar mis ataques al tanque enemigo el golpe de gracia fue de parte de GRUM FLAMEBLADE y esto permitió que subiera todas sus estadísticas volviendo a tener escudo.
En el segundo asalto la carta enemiga FLYING SQUID toma el lugar de tanque principal y nuevamente el golpe de gracia viene de mi tanque GRUM FLAMEBLADE, eliminando la carta y subiendo de nuevo sus estadísticas, ahora con 6 puntos de daño melee y 3 puntos de velocidad. El lugar del tanque enemigo es tomado por la carta mágica DJINN OSHANNUS que cuenta con la habilidad de vacío, es decir mi carta mágica no le haría daño.
In the first round I could notice that we both used the Demoralize ability and we also added +2 shield thanks to the ability of our cards, however the enemy had the advantage because his summoner also added +1 shield. As expected all the attacks went to my tank breaking his shield and leaving him with 10 health, but when I took my attacks to the enemy tank the coup de grace was from GRUM FLAMEBLADE and this allowed him to raise all his stats getting back his shield.

In the second round the enemy card FLYING SQUID takes the place of the main tank and again the coup de grace comes from my tank GRUM FLAMEBLADE, eliminating the card and raising his stats again, now with 6 points of melee damage and 3 points of speed. The enemy tank's place is taken by the magic card DJINN OSHANNUS which has the void ability, meaning my magic card wouldn't hurt him.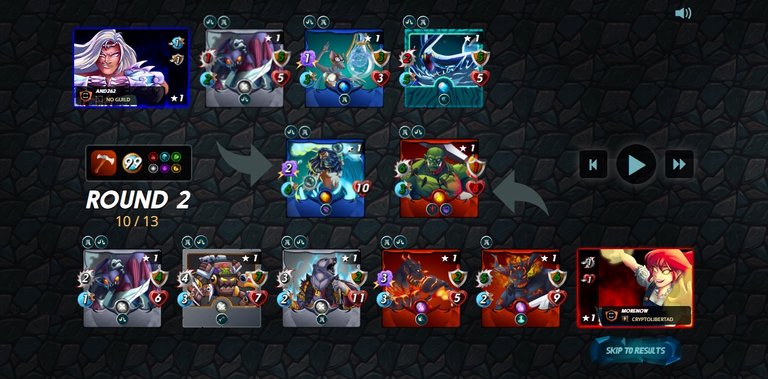 En el tercer asalto mi tanque recibe algunos ataques pero el tanque enemigo es golpeado severamente y al recibir el ataque fulminante de GRUM FLAMEBLADE es eliminada, una vez más aumentan las estadísticas, ahora con 7 puntos de daño melee y 4 puntos de velocidad. Los ataque de mis otras cartas derriban también a la carta DISINTEGRATOR que había tomado el lugar del tanque, esto quita la desventaja que provocaba -1 de daño melee y todas mis cartas aumentan el daño cuerpo a cuerpo a +1.
En el cuarto asalto el enemigo solo contaba con dos cartas, la primera es derribada por mi carta mágica y la segunda esquiva todos mis ataques por su capacidad de evasión.
En el quinto asalto muy difícilmente podría escaparse del ataque de GRUM FLAMEBLADE y efectivamente cae por un golpe de 8 puntos de daño cuerpo a cuerpo y de ese modo mi victoria es conseguida.
In the third round my tank receives some attacks but the enemy tank is hit severely and on receiving the withering attack from GRUM FLAMEBLADE is eliminated, once again increasing the stats, now with 7 points of melee damage and 4 points of speed. The attacks of my other cards also knock down the DISINTEGRATOR card that had taken the tank's place, this removes the -1 melee damage disadvantage and all my cards increase the melee damage to +1.

In the fourth round the enemy only had two cards, the first is knocked down by my magic card and the second dodges all my attacks because of his evasion ability.

In the fifth round he could hardly escape the attack of GRUM FLAMEBLADE and effectively falls by a hit of 8 points of melee damage and thus my victory is achieved.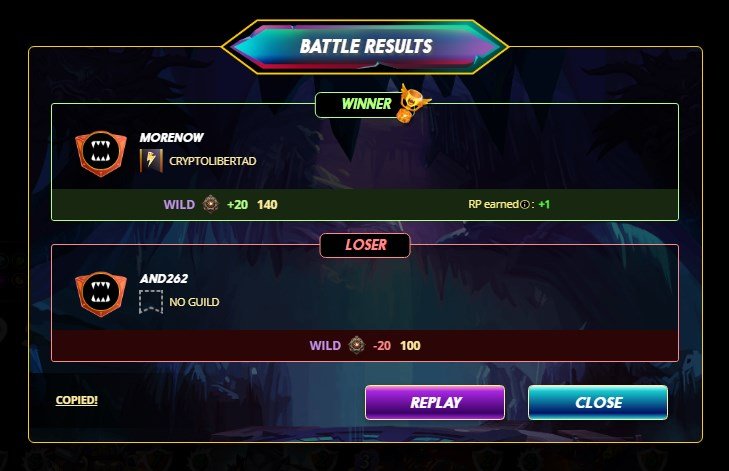 Quieres ver la batalla? ingresa aquí / Want to see the battle? click here
https://splinterlands.com?p=battle&id=sl_0e169882246006c58a56c2e646f341e0&ref=morenow

La carta estrella de esta batalla ha sido GRUM FLAMEBLADE, su capacidad de aumentar sus estadísticas la hacen muy peligrosa, se debe eliminar lo antes posible porque una vez empieza a subir sus estadísticas se complica mucho poder eliminarla. Me encanta pero no sirve de nada si no cuenta con buenos soportes. El diseño es hermoso 10/10.
The star card of this battle has been GRUM FLAMEBLADE, its ability to increase its stats makes it very dangerous, it should be eliminated as soon as possible because once it starts to increase its stats it is very difficult to eliminate it. I love it but it's useless if it doesn't have good supports. The design is beautiful 10/10.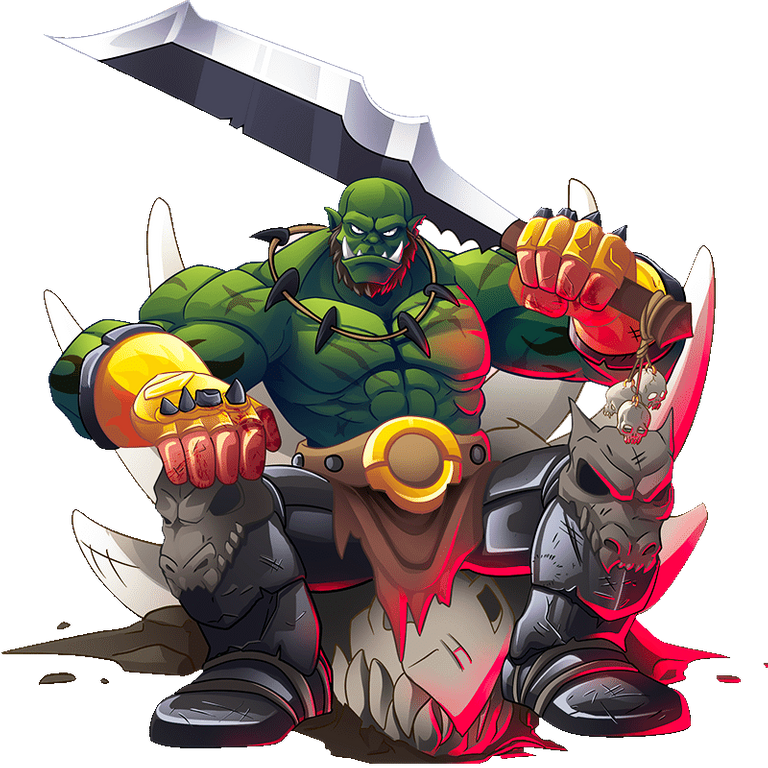 ---
Si me lees y aun no juegas Splinterlands me gustaría que te unas con mi enlace de referido. También te invito muy amablemente a unirte al servidor en Discord Hive NFTGame Latino el cual esta centrado en los proyectos NFT de nuestra amada blockchain de HIVE. Si buscas algún clan en lenguaje español escríbeme, estamos reclutando jugadores para el clan CRYPTOLIBERTAD sin importar el nivel y que realmente quieran jugar Splinterlands.
Esta ha sido mi entrada para el reto Social Media Challenge.
If you read me and don't play Splinterlands yet I would like you to join my referral link. I also kindly invite you to join the server on Discord Hive NFTGame Latino which is focused on the NFT projects of our beloved HIVE blockchain. If you are looking for a Spanish language clan write to me, we are recruiting players for the CRYPTOLIBERTAD clan regardless of level and who really want to play Splinterlands.

This was my entry for the Social Media Challenge.


La imagen de fondo de portada así como los elementos fueron tomados de juego de la página oficial splinterlands.com. Los divisores tomados del Discord oficial de Splinterlands.
---
---