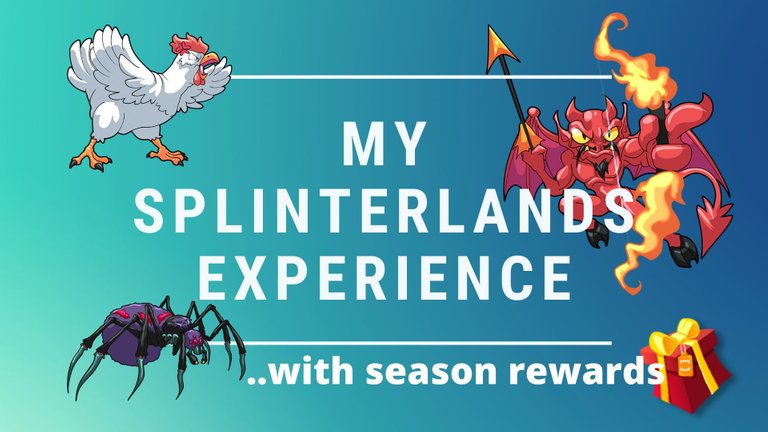 Howdee Splinter warriors!
I hope all of you have collected your season rewards by now. That goes for me too and today I want to share my card pulls and share my experience and thoughts about the Best game in town!
I am playing Steemmonsters AKA Splinterlands for quite a time by now. I have passed many seasons and almost everyday I invest some of my time by playing this game.
When I joined steemmonsters, my primary motive was to make some quick money from it (..being truthful ;) ) but then I started playing it every day and it became the part of my life. Not to mention I am earning really well with it and making my cards stronger as well.
At this moment, undoubtfully I am addicted to this game. I don't know what you guys do when you wake up in the morning but my first task of the day is to check if my DEC mana bar is 100% full or not, and I am not bluffing! XD
I may sound optimistic, but I Steemmonmsters as the most successful project in steem. I know many players from around the world are here in the steem blockchain just for the game. SM is representing itself outside of this blockchain, to the broader audience and offering themselves not only a good card-strategy game but also a passive income for players and investors, witnessed with a sustainable growth since it's birth.
---
When a big industry forms, many small shops also being formed around it. The same case is also happening here. Steemmonsters is creating a whole bunch of new opportunities as it is growing and developing itself day by day. Below are some points to explain my points here..
Third-party marketplace:-
Thou @steemmonsters has its own card shop, they are open to third-party shops for trading. Many of us already know about the monsters-market (created by @reazuliqbal and @zaku) which has a great and easy User Interface and it is also giving 3% cashback on purchasing cards. You can use steem/sbd and DEC to purchase cards. I personally use this shop now as it's giving me both the easy-to-go experience while surfing the website and the sweet cashback!
There are also others like peakmonsters, cheap-monsters etc. Hence, if you are a good developer and have enough time and patience to develop a good marketplace, you will surely gain a passive income by running a card shop.
Today I bought a bulk bcx of peaceful giant and a max alpha Pit Orge from monster-market, I bought total of 175 steem worth of cards and got 5 steem as cashback! Isn't that awesome!
---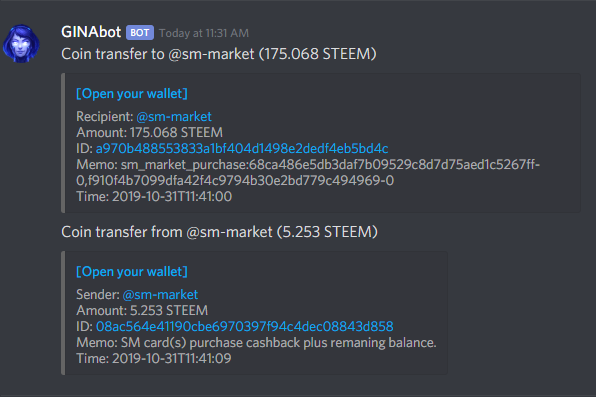 ---
---
---
Heron Service:-
Another great one is Heron Accounts! Suppose you have a very good collection of sm cards but you don't have enough time to play. You can then give it to the Heron's and start getting dec's without even doing anything. Same goes with good players who don't have maxed decks but love the game and want to play big. You can use heron's accounts to play and all the incomes from ranked matches, quests, season rewards and tournaments will be automatically splitted one half to players and the other half to owners. I am currently playing with a Heron account and my passive income from it is really sweet!
Another service by @ottermaker AKA Heron owner is that they buy your extra/unwanted cards and pays of 101% of the card's burning value in DEC. So, If you have a tons of shit reward cards to burn, instead you can send them to @ottermaker and get 1% extra value in dec, nice isn't it? I have once burnt one gold foil legendary unicorn for 75750 dec! I had this card for sale for weeks but no one was buying so I decided to send it instead of burning at 75000 DEC, thus I made 750 dec extra. I also did the same with my gf phantom soldier and some common reward cards. Hey, I am just sharing my experience! I know I would have earned much more if I have waited to get it sold on market. So, it is not financial advice at all. You should double-check the market price before burning any card.
---
---
I think the future of Steemmonsters will be bigger-n-better! The game is constantly evolving itself and their discord server is live all the time. Arn't we all waiting for the grand release of Untamed Edition! Thanks to the founder @yabapmatt and the whole steemmonsters team for their great and constant effort behind this. You guys rock!
Now, let us come to my card pulls for this season...
After saving all of my DEC's for this season, I finally was able to buy both the 100% legendary and gold foil potions this time before opening the season rewards. The potions come with 500 charges (applicable on next 500 beta, reward and orb card opening) and as I don't have any beta packs or orbs to open, hopefully, the potions will only work upon my reward cards and I hope they will last for the next season. Now, without further ado... let me open my season rewards!
---
---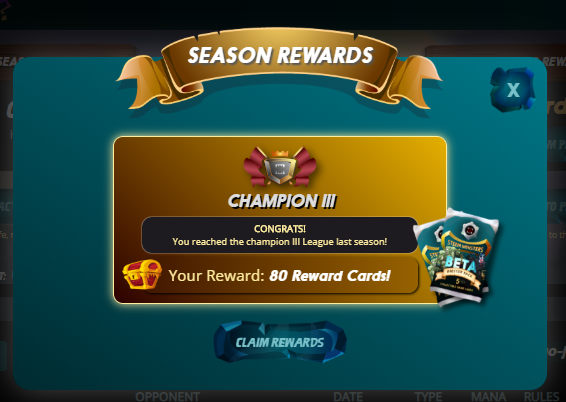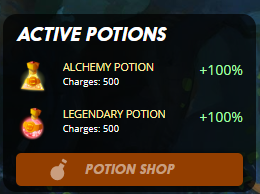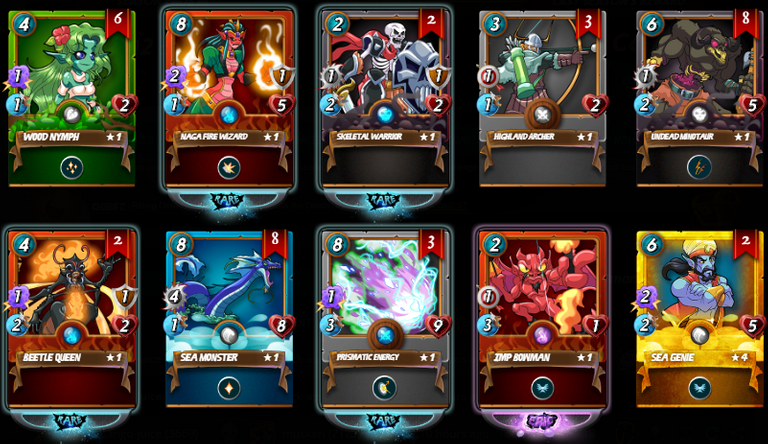 ---
---
Well, it's quite a great pull for me. So many gold foils so the gold foil potions is working well, only disappointment is even after having the 100% legendary potion, I haven't got a single one. Hope I ll see some soon in daily quest chests!
Now let's open my heron account @whitefaced-heron.Thanks to the owner of this account and my friend @netaterra
---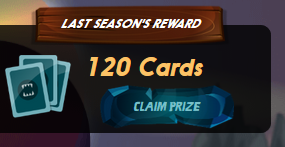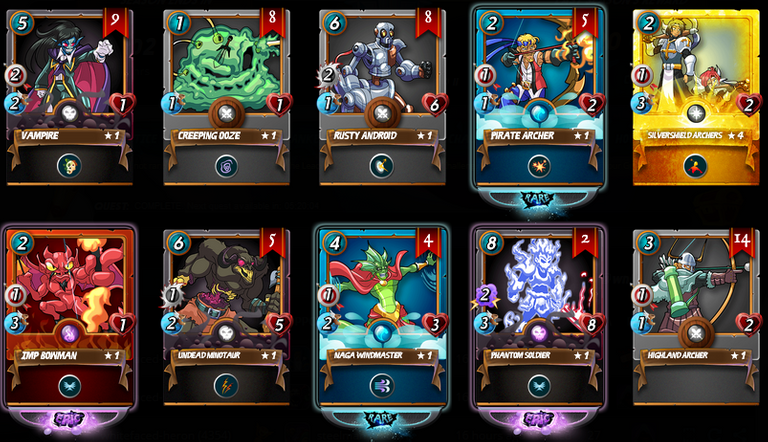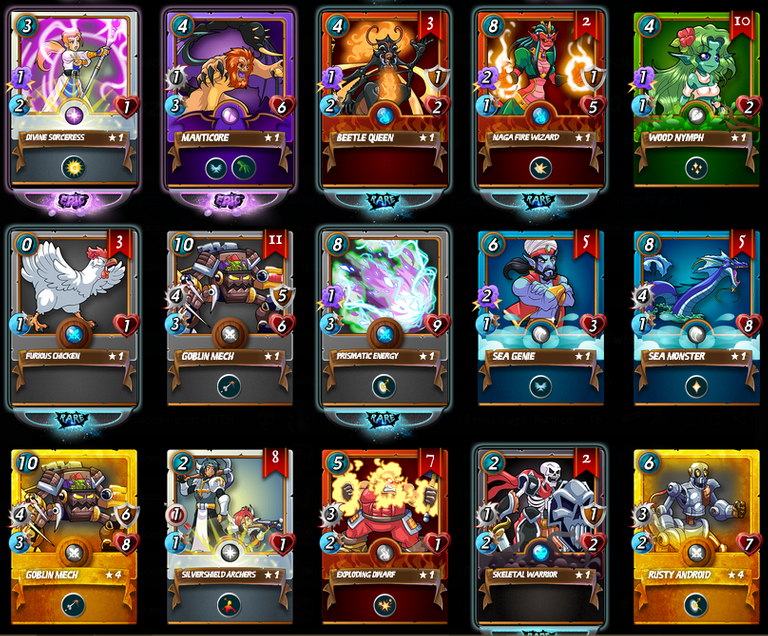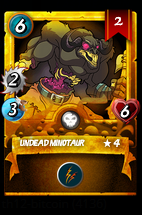 ---
---
A few gold foil card and 2 epic cards alongwith a lot of common n rare cards, not bad at all. Just o legendary in here too :(
Guild of Neoxian :-
Neoxian Guild is the place I live and fight for the ultimate glory. I am an old citizen in the Neoxian city and I am from here in the guild since it's birth. We, the inhabitants of this mighty clan are doing quite well with the Guild upgrades. We have just reached max guild level! Currently the quest lodge is at level 8 which gives us +12% DEC bonus for every ranked match win and +6% DEC bonus from shop purchases. But we have to complete the quests ASAP!
---
---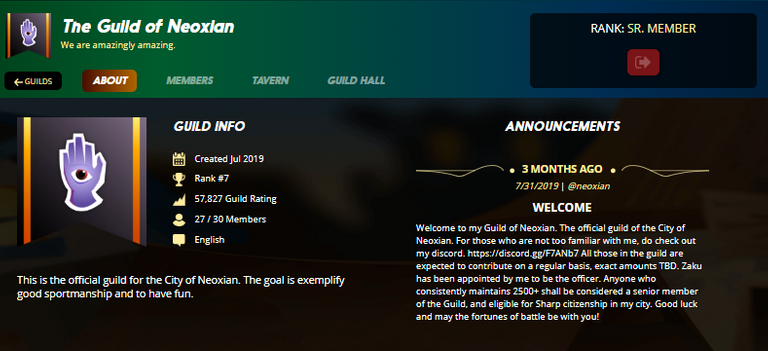 ---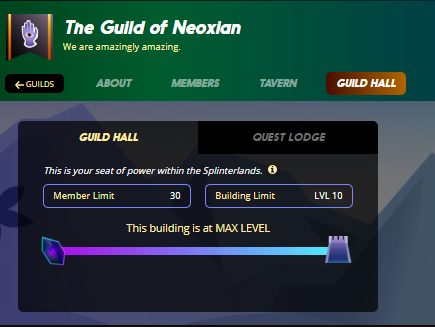 Thank you to all the 26 active clan members @adelka @swedishdragon @akomoajong @planosdeunacasa @shoemanchu @xawi @chrismartinez @zaku @jimbobbill @ifeoluwa88 @burlarj @roadtonowhere @axeman @aamirijaz @reazuliqbal @dylanhobalart @definethedollar @rehan12 @manniman @raymondspeaks @bitcoinflood @d-zero @neoxian @hetty-rowan @bala41288 and @anouk.nox.
A big thanks goes to our dear dragons @neoxian, @swedishdragon and @zaku for their great donations toward the guild hall, without you it was impossible to come this far.
Top 5 lifetime Contributors:-
..And thank you Sir @Neoxian for creating the awesomely awesome sm guild. We are proud to be a citizen!
I hope you liked my post.
See you again in my next post!
Until then, keep fighting...
---