🚀🚀🚀 SPLINTERLANDS GIVEAWAY - RESULTS FOR DAILY AND FOR SPECIAL PRIZE - MAY 10, 2022 🚀🚀🚀
Hey guys,
Sorry for the delay in the result of the giveaways, I dont think I can provide splinterlands giveaway with a format like this again since most likely the same scenario will happen and there would be unforseen delays like this. That being said, I will still try to host simple splinterlands giveaway from time to time and the participants from this series would be tagged.
Any way, Here are the results for the last daily giveaway and also for the SPS. Thanks.
🚀🚀 LAST GIVEAWAY RESULT 🚀🚀
The winners are : @johnripper @vaynard86 @jfang003 @eijibr @hoosie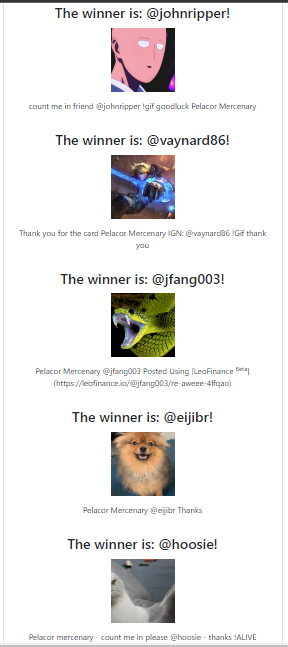 Prize sent today :




😱 SUPREME PRIZE SUNDAY (SPS) 😱
🚀🚀 WINNER OF SPS 🚀🚀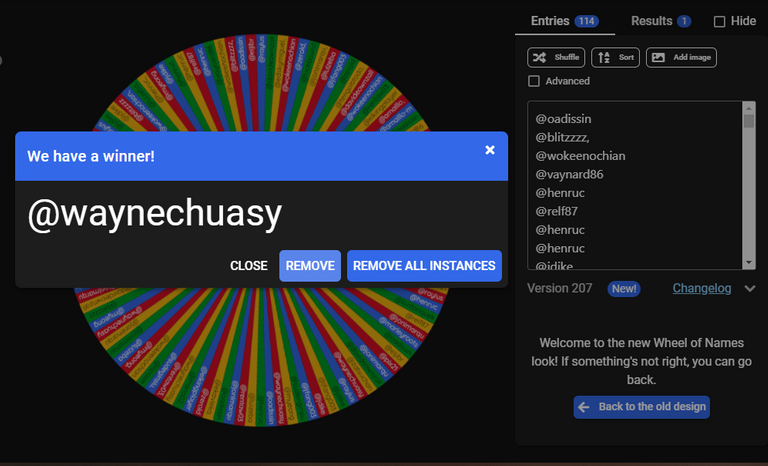 ---
---
⭐️PERMANENT TAGGED LIST⭐️
If you would like to be notified everytime there are giveaways, just say so in the comments. The ones listed here will always be notified per round of giveaways :
@rayius @jonimarqu @vaynard86 @luizeba @zatsuchan @ekavieka @marleyroots
🍀🍀GOODLUCK 🍀🍀
Upvote is not required but are highly appreciated
Follow me if you want to get updates of future planned giveaways
---
---
⚠️ WARNING ‼️ ⚠️ THERE MIGHT BE PHISHING LINKS IN THE COMMENT SECTION. I SUGGEST TO NOT CLICK ANY SUSPICIOUS LINKS OR JUST PROCEED WITH CAUTION. THANKS.
---
---
🚀 PARTICIPANTS FOR THIS SERIES OF GIVEAWAYS 🚀
@relf87, @davideownzall, @wokeenochian, @henruc, @jdike, @luizebaM @myeong, @jfang003, @blitzzzz, @rayius, @vaynard86, @pix21, @jonimarqu, @hoosie @lologom @elkingplayer @lordanquek @amaillo @rentaw03 @waynechuasy @tengolotodo @ekavieka @eijibr @zerold @sieghard1990 @luckbound @marleyroots @flummi97 @edskymiguel @mario02 @janome2 @zatsuchan
---
---