Coming back from Hell! Giveaway Serie #4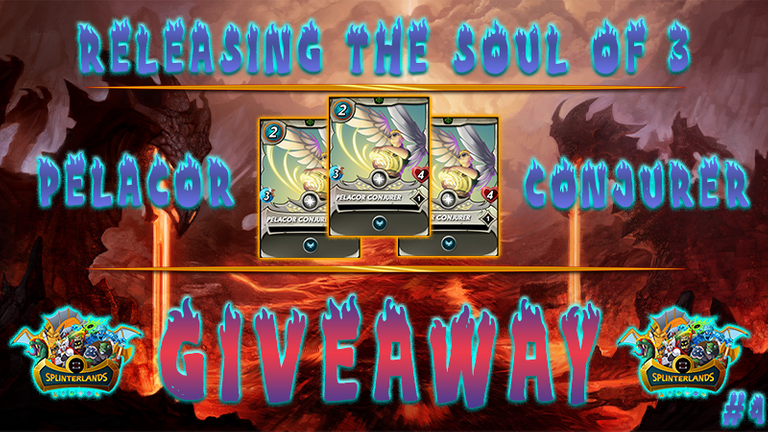 I would like to start a series of giveaway to free the spirits of the creatures who died heroicly in the battles of Splinterlands and they don't deserve to be in Hell! 😈
---
Let's see which Hero of you is eager and brave enough to help them getting out from the Deep Hell.
The three soul who deserved to be released will be the Pelacor Conjurer. 😇


The main idea is to give 3 of my Pelacor Conjurer to the Winners. I will be using the https://filoz.info/picker/ to determine the eligible Winners. 🤞
---
In every post there will be three lucky Winner from the eligible participants.

The rules are simple:
One comment is required with your in-game username. (This is required to participate!)

The 1️⃣First Winner will be chosen from the participants upvoted this giveaway post.

The 2️⃣Second Winner will be chosen from the participants following me.

The 3️⃣Third Winner will be chosen from the participants reblogging this post.
One participant can only win once in each post to give others the chance to get a card.
I will announce the Winners when this post pays out, so exactly one week later and there will be a separate post to notify the Winners.


Notification List: (if you don't want to be notified, please let me know in the comments and I will remove you from here.)
@luizeba, @amaillo-m, @makhinoo, @xezat, @cjames-40, @davideownzall, @alexis666, @asrullpare, @stekene, @cibi, @irisworld, @yasky, @klaucsani, @genming, @highhaschdi, @siberian12, @henruc, @litrydow, @asrullpare, @noctury, @mr-house, @eman13088, @evanr, @ducanhsx1, @nemesis-10101, @gessy, @litrydow, @matthew14429, @eijibr, @lundall, @lofone, @vaynard86, @matimath, @splurgee, @blitzzzz, @indiebandguru, @Koodies, @alphawog, @screamheart, @highfist, @relf87, @tinyputerboy, @jfang003, @lobaobh, @lordanquek, @gregory-f, @ericburgoyne, @handtalk5, @sheikh27, @jmehta, @jdike, @dadspardan, @reagept, @ianballantine, @yeckingo1.
Thank you all who was participated in my giveaways!🍀 May the Luck Be With All of You!!! 🍀



I like to help new players 😉, so if you are just starting this game you can use my referral link to sign-up and write me a message on Discord, so I can send you 100 DEC and few key cards (for an entire season) to kick off your career in Splinterlands. 😊

---
---