Step Up Your Game: Soulbound Rewards (WATER)

Soulbound Reward Cards: Water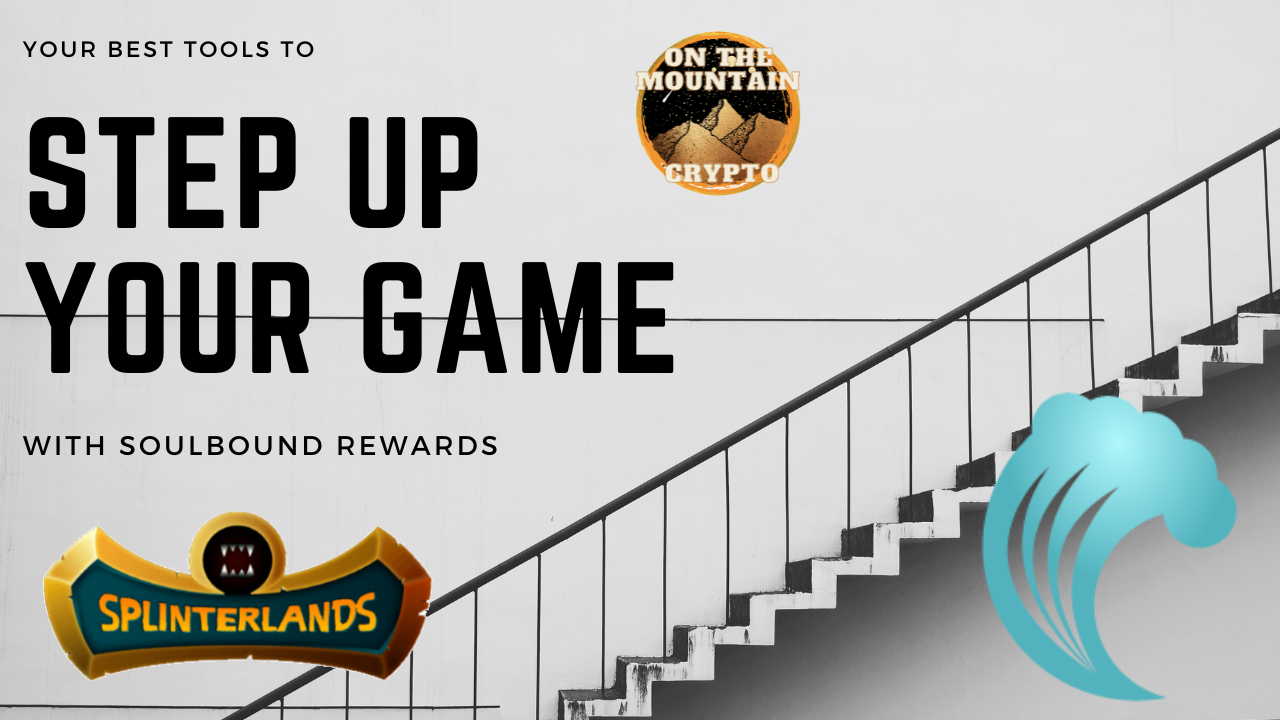 Summoner:
Pembrook Nymph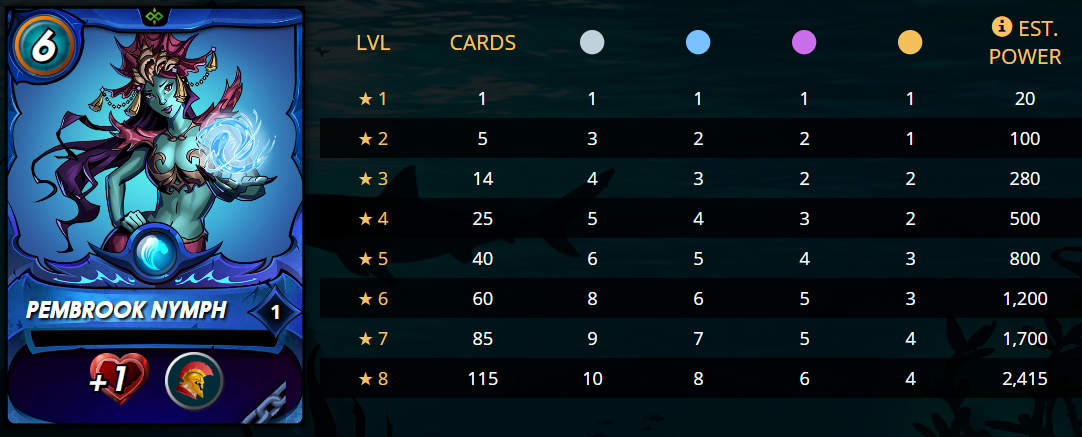 +1 Health: The only buff that is always effective for every monster you play, no matter what. Solid.
Conscript is the common ability of all 6 of the new summoners, allowing the use of one additional Gladiator card in any given situation; I'm unimpressed with it from testing, in general.
Summoners stats are all standard, so there's little to say in that regard.
Best Use: Literally anywhere; unaffected by any rulesets.
Worst use: N/A.
"Conscript" may potentially be worthwhile even in these situations.
Common:
Coastal Sentry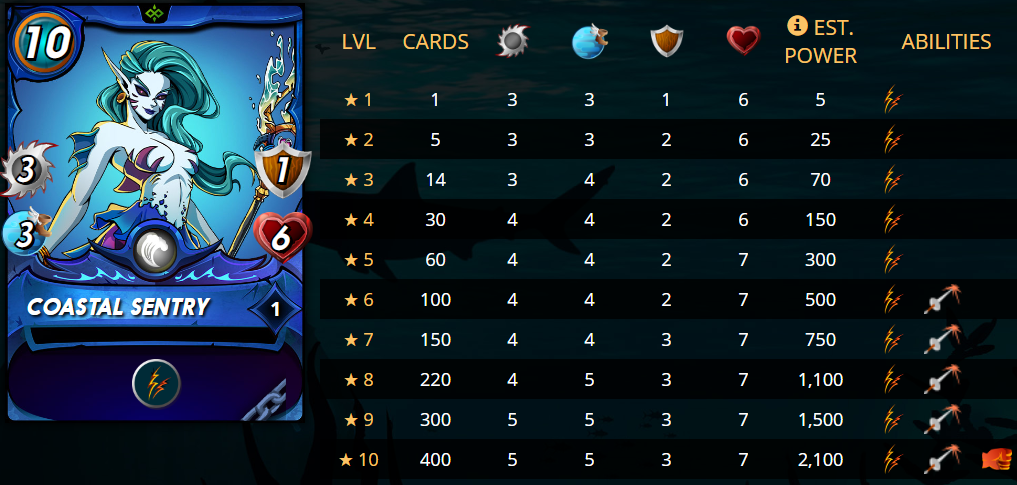 10 Mana, 3-5 Melee Damage, 3-5 Speed, 1-3 Armor, 6-7 HP
Double Strike: Attacks twice each turn, with both attacks dealing full damage and being subject to miss chance, "Thorns", "Shield", and armor.
Pierce (Level 6): If an attack is blocked by armor, but deals more damage than there is armor present, any additional damage will carry through and be dealt to the target.
Knockout (Level 10): Deals double damage to a target affected by "Stun".
Best Use: Coastal Sentry is an offensive powerhouse, but lacks any form of damage mitigation; 'Equal Opportunity', 'Super Sneak', and 'Melee Mayhem' rulesets allow her to go ham from relative safety; 'Armored Up', 'Weak Magic' and 'Lost Magic' are rulesets that tend to provide armored opponents to take advantage of "Pierce"; 'Tis but Scratches' ruleset takes full advantage of "Double Strike"; "Stun" ability on your other monsters is necessary to activate "Knockout".
Worst Use: 'Briar Patch' ruleset will annihilate Coastal Sentry as she takes FOUR damage per turn.
Swamp Spitter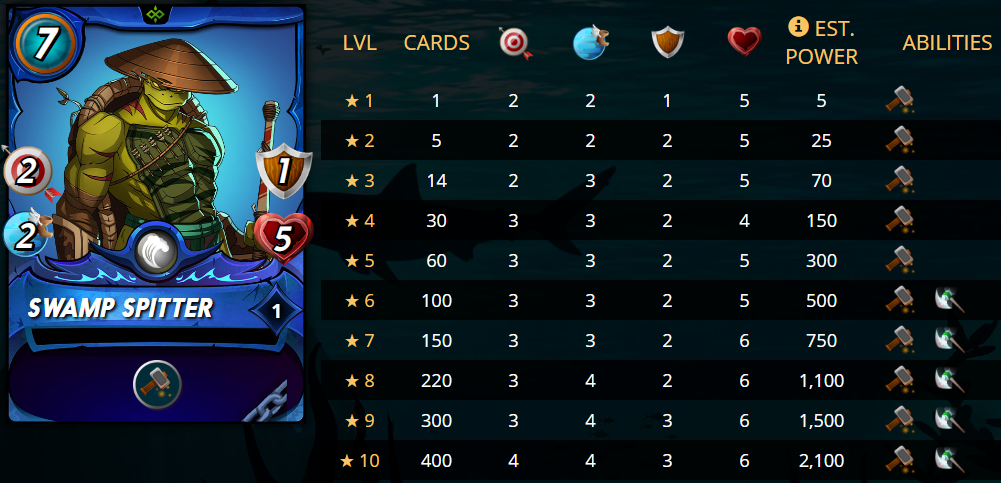 7 Mana, 2-4 Ranged Damage, 2-4 Speed, 1-3 Armor, 4-6 HP
Repair: Gives the allied monster with the most damaged armor an additional 2 armor at the beginning of this monster's turn.
Giant Killer (Level 6): Deals double damage to a target whose mana cost is 10 or greater.
Best Use: High mana games make "Giant Killer" more likely to find an appropriate target; 'Equal Opportunity', 'Super Sneak', 'Target Practice' rulesets tend to make opponents likely to play "Taunt" monsters, which tend to be higher mana cost; 'Armored Up' ruleset ensures all your monsters have armor to benefit from "Repair"; 'Weak Magic' ruleset and monsters with the "Void Armor" ability help your "Repair" to be at it's most effective.
Worst Use: 'Unprotected' ruleset nullifies "Repair" and low-mana matches mean "Giant Killer" is less likely to find a target; Only play in 40+ mana
Rare:
Riverboat Captain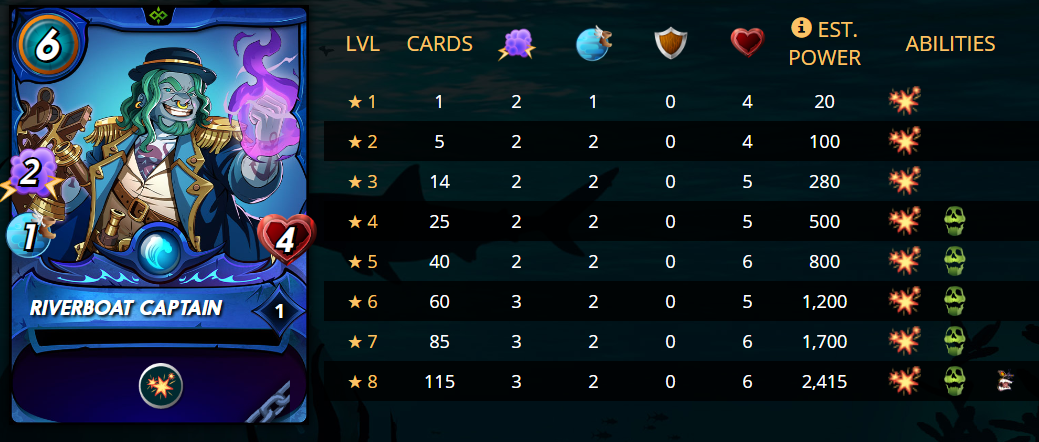 6 Mana, 2-3 Magic Damage, 1-2 Speed, 4-6 HP
Blast: Deals 1/2 base damage, rounded up, to the monster(s) on each side of the target.
Affliction (Level 4): 50% chance on hit to apply "Affliction" debuff, which blocks all heals; Subject to "Cleanse"; Does not affect "Repair" or "Resurrect"
Fury (Level 8): Deals double damage to a target with the "Taunt" ability.
Best Use: 'Target Practice' and 'Equal Opportunity' rulesets will draw magic damage toward the middle of the opponent's line, allowing "Blast" damage to spread out to both sides unless opponent plays a "Taunt" monster, which then engages "Fury" for double damage; 'Reverse Speed' ruleset mitigates the abysmal 2 speed; Alric and Delwyn Dragonscale summoners provide additional damage, especially relevant before level 6 because the 3rd magic damage means your "Blast" triggers 2 damage instead of 1.
Worst Use: 'Healed Out' ruleset renders "Affliction" irrelevant; 'Ferocity' ruleset renders "Fury" irrelevant.
Do NOT Use: 'Counterspell' ruleset will absolutely DESTROY Riverboat Captain with the damage being returned from every monster hit.
Epic:
Noa the Just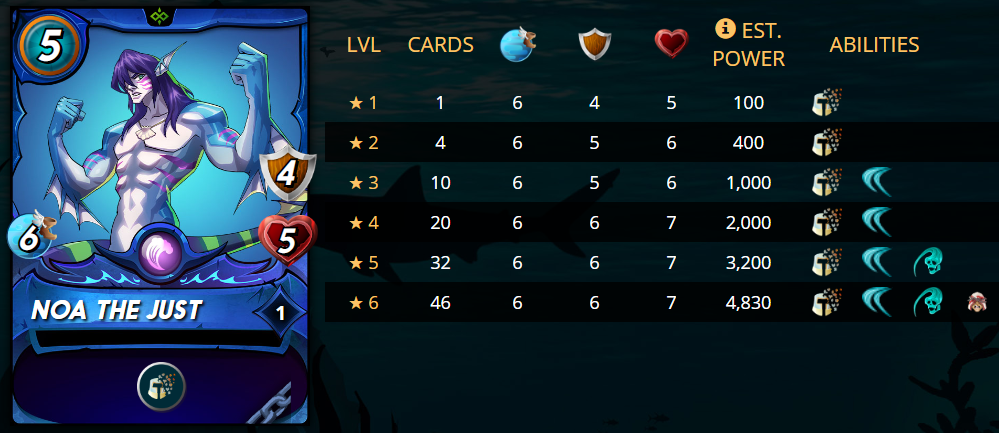 5 Mana, No Damage, 6 Speed, 4-6 Armor, 5-7 HP
Rust: Removes 2 armor from all opposing creatures at the beginning of combat; If this reduces a creature's armor to 0 it cannot be repaired; When Noa leaves the battlefield, all opposing creatures regain any armor lost to this ability.
Dodge (Level 3): Provides an additional 25% chance for any melee or ranged attacks targeting Noa to miss; applies to magic attacks if Noa is granted "Phase" (such as by summoner Sthispa)
Backfire (Level 5): Whenever an attack targeting Noa misses, the attacker takes 2 damage in return; Cannot miss, hits armor, reduced to 1 damage by "Shield" ability.
Martyr (Level 6): On death, provides allied monsters to either side with +1 to all stats (any damage, speed, armor, HP); works great with resurrect.
Best Use: 'Target Practice' ruleset, position 3, Sthispa summoner, "Swiftness" and "Slow" on allied monsters, Kulu Mastermind position 2, Baakjira position 1; Position 1 tank with Kulu Mastermind position 2.
Worst Use: 'Reverse Speed' ruleset.
Legendary:
Kulu Mastermind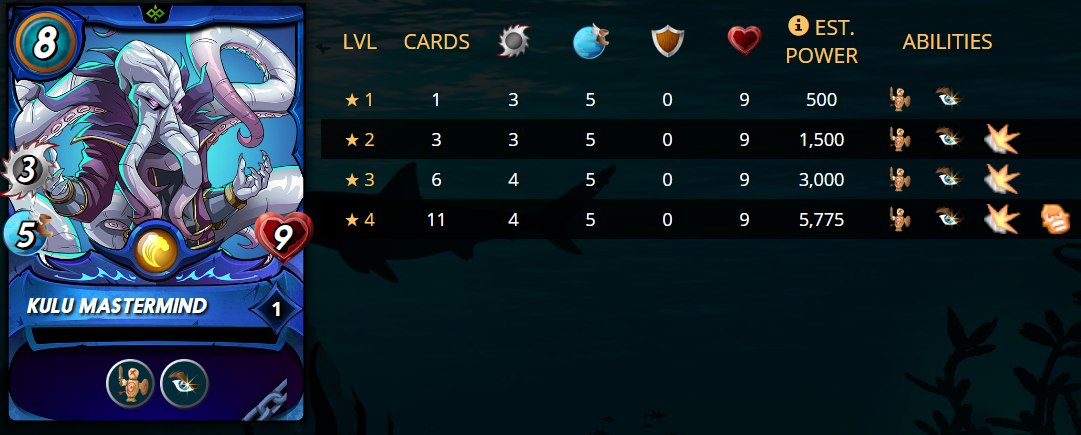 8 Mana, 3-4 Melee Damage, 5 Speed, 9 HP
Weapons Training: Adds 1/2 melee damage (rounded up) to any adjacent monsters that have no attack stat.
Opportunity: If not in position 1, Kulu Mastermind attacks the foremost monster with the lowest current health; if in position 1, "Opportunity" is irrelevant; 'Fog of War' cancels.
Shield (Level 2): Takes half damage (rounded up, except from 1) from all physical sources (Melee and ranged attacks, "Thorns", 'Earthquake' ruleset).
Enrage (Level 4): When Kulu Mastermind is at less than full health, Speed and Melee attack are increased by 1/2 (rounded up).
Best Use: As outlined above, with Noa the Just
Worst Use: 'Reverse Speed', 'Fog of War' rulesets.
Musa Saline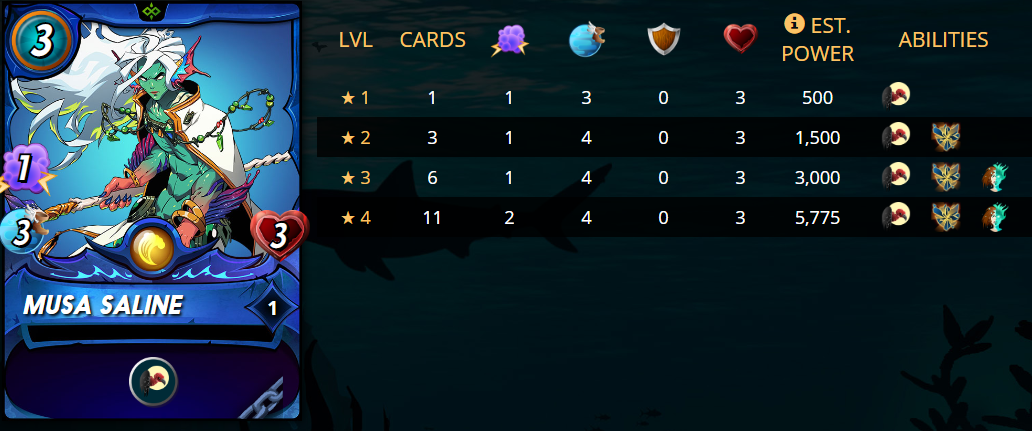 3 Mana, 1-2 Magic Damage, 3-4 Speed, 3 HP
Scavenge: Gains 1 current and maximum HP whenever any monster dies.
Shatter (Level 2): Any hit will destroy all armor on any opponent creature, after damage is dealt.
Dispel (Level 3): On hit, removes all buffs from targeted monster. Can affect monsters with "Immunity".
Best Use: 'Armored Up' ruleset; low-mana matches.
Worst Use: 'Counterspell', 'Earthquake', and 'Noxious Fumes' rulesets.
Conclusion:
Water has the most universally usable of the new summoners, and a very strong Epic-Legendary pairing. Coastal Sentry is superb in the correct circumstances and Riverboat Captain adds a wonderful tool to a potential water splinter blast team.
Links:
FIRE: https://www.splintertalk.io/@onthemountain/soulbound-rewards-review-fire
EARTH: https://www.splintertalk.io/@onthemountain/step-up-your-game-soulbound-rewards-earth
LIFE: https://www.splintertalk.io/@onthemountain/step-up-your-game-soulbound-rewards-water-3fdlcp
DEATH: https://www.splintertalk.io/@onthemountain/step-up-your-game-soulbound-rewards-death
DRAGON & NEUTRAL: https://www.splintertalk.io/@onthemountain/step-up-your-game-soulbound-rewards-dragon-and-neutral
Posted using Splintertalk
---
---