Step Up Your Game: Soulbound Rewards (LIFE)

Soulbound Reward Cards: Life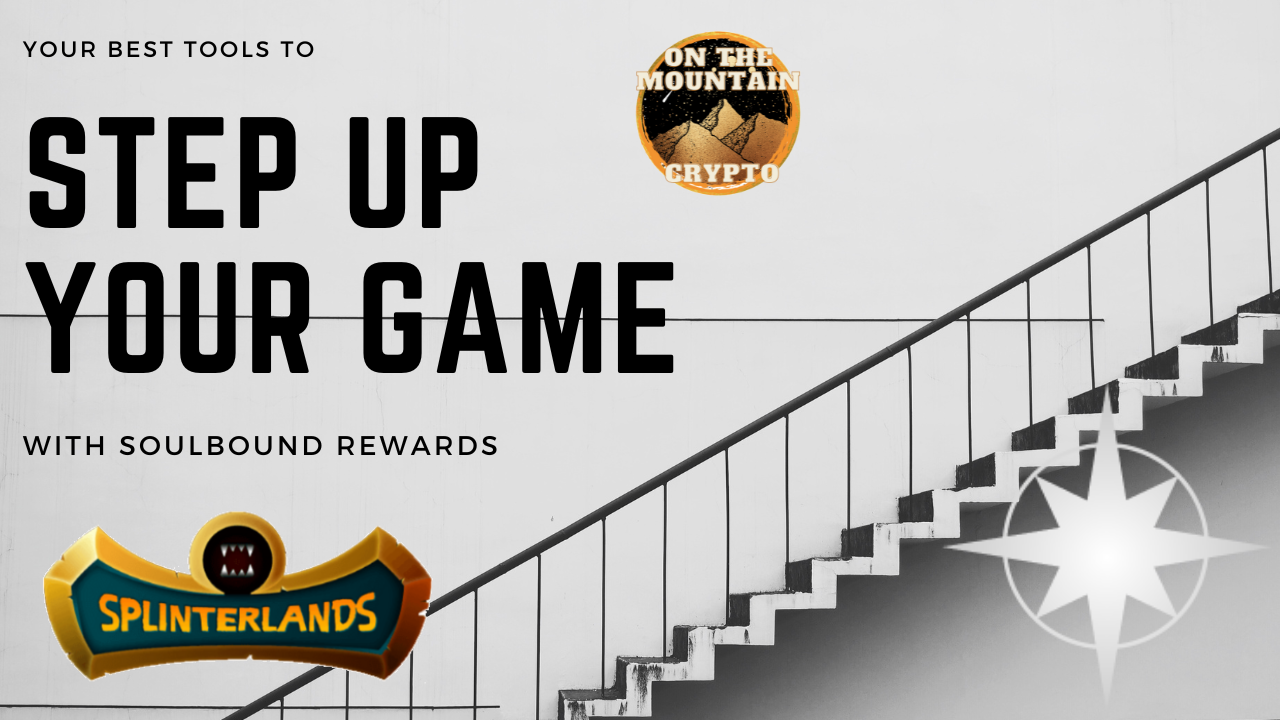 Summoner:
Franz Ruffmane


+1 Armor: A solid buff, everywhere except 'Unprotected' ruleset
Conscript is the common ability of all 6 of the new summoners, allowing the use of one additional Gladiator card in any given situation; I'm unimpressed with it from testing, in general.
Summoners stats are all standard, so there's little to say in that regard.
Best Use: 'Weak Magic', 'Lost Magic', 'Up Close and Personal', 'Going the Distance' rulesets are all situations that make your armor more effective; "Repair" ability on your monsters
Worst use: 'Unprotected' ruleset renders +1 armor useless; 'Wands Out', and 'Tis but Scratches' rulesets render armor less effective in general.
"Conscript" may potentially be worthwhile even in these situations.
Common:
Drybone Barbarian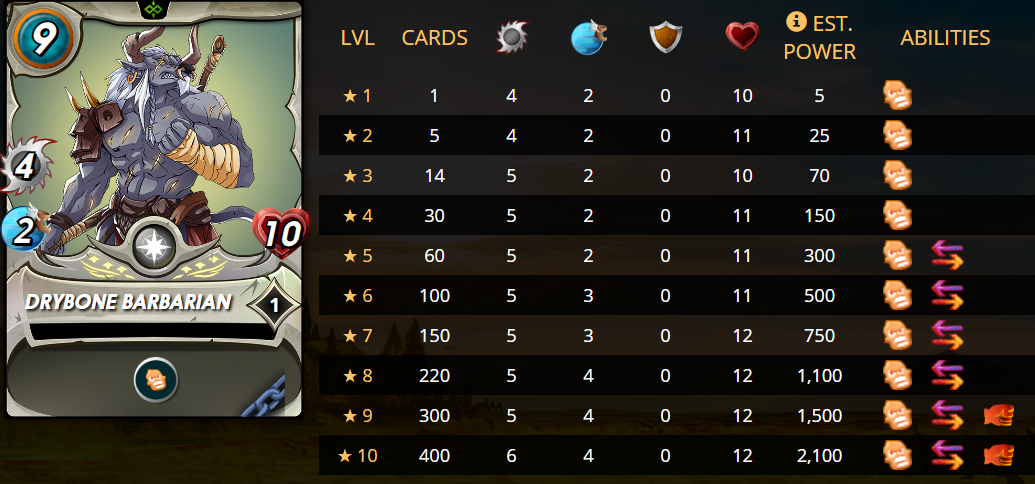 9 Mana, 4-6 Melee Damage, 2-4 Speed, 10-12 HP
Enrage: When Drybone Barbarian is at less than full health, Speed and Melee attack are increased by 1/2 (rounded up).
Retaliate (Level 5): 50% chance to strike back when hit by a melee attack.
Knockout (Level 9): Deals double damage to a target affected by "Stun".
Imperial Knight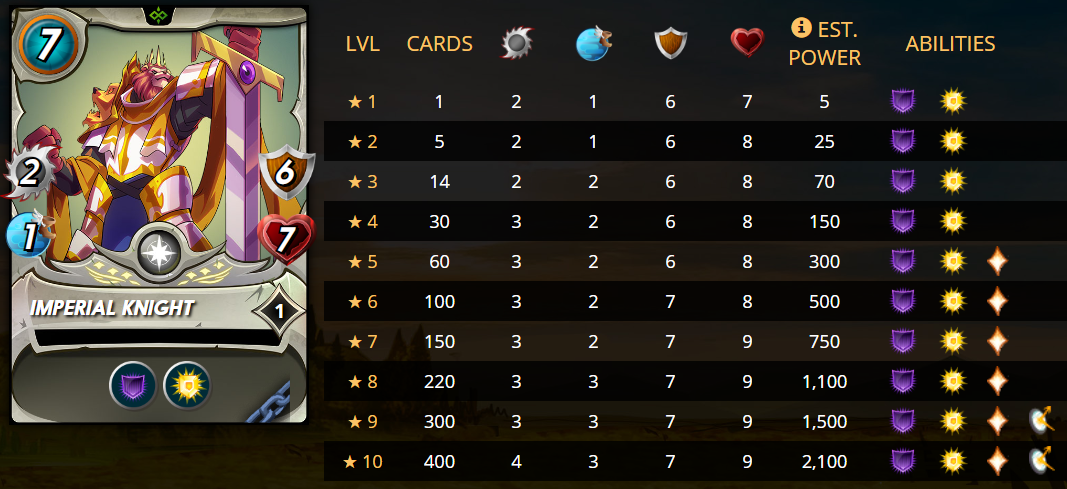 7 Mana, 2-4 Melee Damage, 1-3 Speed, 6-7 Armor, 7-9 HP
Void Armor: Magic Damage must hit armor before HP
Divine Shield: Disregards the first damage taken from any single source except 'Noxious Fumes' poison; will still be affected by "Shatter" and "Cripple" abilities.
Heal (Level 5): Heals Imperial Knight for 1/3 Max HP (rounded down) at the beginning of each of his turns.
Magic Reflect (Level 9): When hit by a magic attack, Imperial Knight will deal half the damage (rounded up) back to that monster. Cannot miss, ignores armor (except "Void Armor"), reduced to 1/2 damage by "Void" ability.
Best Use: Main tank, especially with "Repair"
Worst Use: 'Healed Out', 'Briar Patch', and 'Tis but Scratches' rulesets.
Do NOT Use: 'Unprotected' ruleset.
Rare:
War Pegasus

7 Mana, 2-4 Ranged Damage, 3-5 Speed, 7-9 HP
Flying: 25% chance to dodge attacks from monsters without "Flying" or "Snare"; Immune to 'Earthquake' ruleset damage (unless "Snare"d)
Shatter: Any hit will destroy all armor on any opponent creature, after damage is dealt.
Demoralize (Level 8): Reduces all enemy Melee attack stats by 1 (minimum 1)
Best Use: 'Earthquake', 'Armored Up', 'Lost Magic' rulesets
Worst Use: 'Fire and Regret', 'Back to Basics' rulesets
Epic:
Evelyn Auvera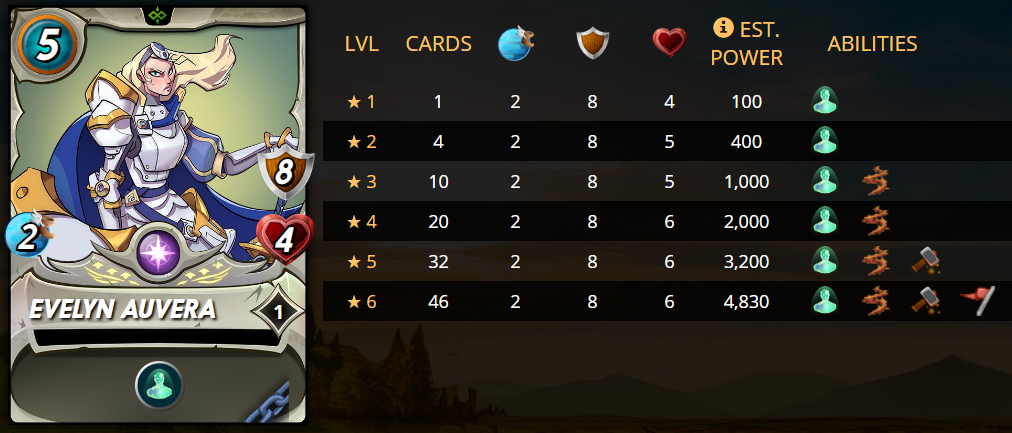 5 Mana, No Attack, 2 Speed, 8 Armor, 4-6 HP
Immunity: Cannot be affected by any debuffs
Thorns (Level 3): Deals 2 damage to any monsters that hits Evelyn Auvera with a melee attack.
Repair (Level 5): Gives the allied monster with the most damaged armor an additional 2 armor at the beginning of this monster's turn.
Inspire (Level 6): Adds +1 to all allied monsters' Melee attack stats.
Best Use: 'Noxious Fumes', "Armored Up', and 'Broken Arrows' rulesets, especially with Aves Sturgis.
Worst Use: 'Unprotected', 'Keep Your Distance', and 'Back to Basics' rulesets all ignore key parts of Evelyn's kit.
Legendary:
Aves Sturgis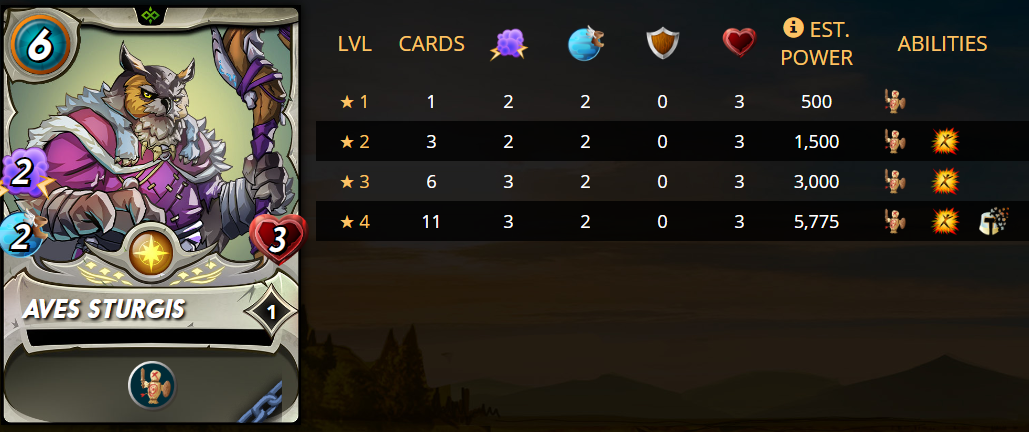 6 Mana, 2-3 Magic Damage, 2 Speed, 3 HP
Weapons Training: Adds 1/2 magic damage (rounded up) to any adjacent monsters that have no attack stat.
Redemption (Level 2): Deals 1 damage to all enemy monsters when Aves Sturgis dies. Cannot miss, hits armor, is reduced to 0 by "Shield" ability.
Rust (Level 3): Removes 2 armor from all opposing creatures at the beginning of combat; If this reduces a creature's armor to 0 it cannot be repaired; When Aves Sturgis leaves the battlefield, all opposing creatures regain any armor lost to this ability.
Best Use Position 3-5 between Evelyn Auvera and Truthspeaker.
Worst Use: "Rust" is nullified in 'Unprotected' ruleset, and Aves will die quickly, as will his "Weapons Train"ees in 'Counterspell'.
Iziar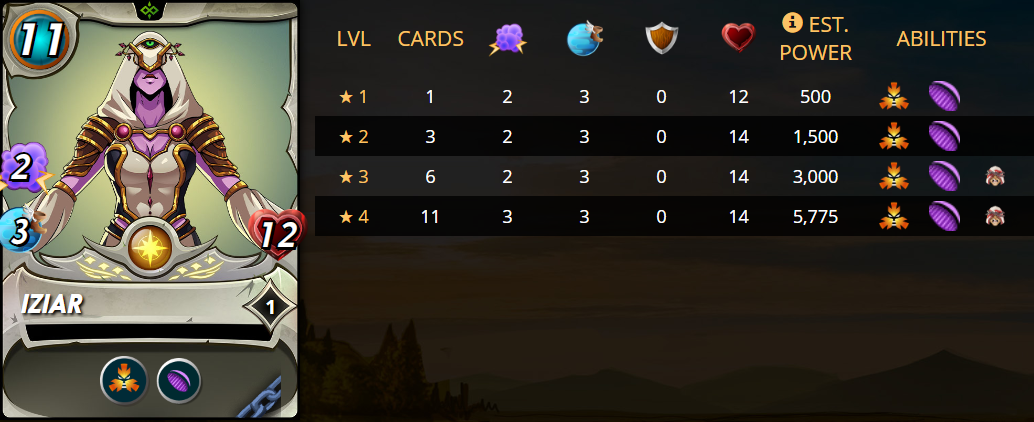 11 Mana, 2-3 Magic Damage, 3 Speed, 12-14 HP
Taunt: Forces all enemy monsters to target Iziar, unless they have "Scattershot" ability.
Void: Takes half damage (rounded down, except from 1) from all magic damage.
Martyr (Level 3): On death, provides allied monsters to either side with +1 to all stats (any damage, speed, armor, HP); works great with resurrect
Best Use: Chanseus the Great Summoner, position 2-3, Adelade Brightwing, Angel of Light, High Priest Darius
Conclusion:
Life continues to do as life does, with excellent protections and buffs and damage mitigation; Iziar is fun with multiple resurrects, Aves seems to be the best of the "Weapons Train"ers.
Links:
FIRE: https://www.splintertalk.io/@onthemountain/soulbound-rewards-review-fire
WATER: https://www.splintertalk.io/@onthemountain/step-up-your-game-soulbound-rewards-water
EARTH: https://www.splintertalk.io/@onthemountain/step-up-your-game-soulbound-rewards-earth
DEATH: https://www.splintertalk.io/@onthemountain/step-up-your-game-soulbound-rewards-death
DRAGON & NEUTRAL: https://www.splintertalk.io/@onthemountain/step-up-your-game-soulbound-rewards-dragon-and-neutral
Posted using Splintertalk
---
---