DREAM COMES TRUE : JOINING SUMMONERS TRIBE | BRAWL CLEANSWEEP REPORT AND GIVEAWAY #59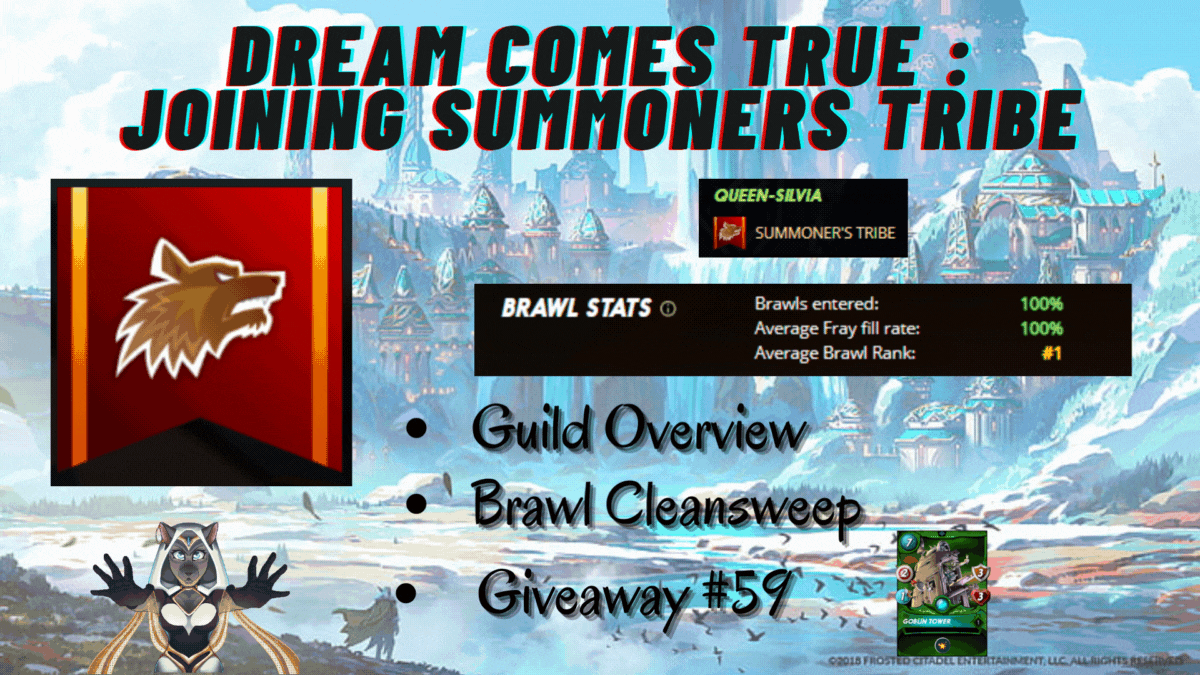 Source of Picture
~ 😘 Hello Splinterlands lovers around the world 😘 ~

Alright, Here are some of the topics that I would like to share in this article:
Summoners Tribe members (More explanation about the most popular member)
ST Buildings
My Brawl Clean sweep with the previous guild (Shield of Glory)
Announcement of the Giveaway #57
Giveaway #59

- SUMMONER'S TRIBE MEMBERS -
Well. I won't talk about all of the Summoner's Tribe members because there are 28 people at the moment, But I would like to explain the most popular players in ST who makes me really interested to join this amazing guild. Alright, below are the players :
1. Imperfect One

---
2. Jacekw

---
3. Giker

---
4. Bulldog1205

---
5. Ueyuey

- BUILDINGS -
Well, The main reason why I joined the guild is because the guild has so many strong players whom I can learn the strategy from and another reason is because of the sophisticated building level, as the guild has Lv.10 Hall, Lv.9 Lodge, Lv.8 Arena, Lv.6 Barracks, and Lv. 8 Store. All of these high level buildings helps all the Summoners Tribe Gladiators collect very strong Gladius cards as they are able to buy both Blood Stone and Power Stone to increase the chance to get the Gold or Legendary gladius card. Let's talk about each building one by one :
1. Hall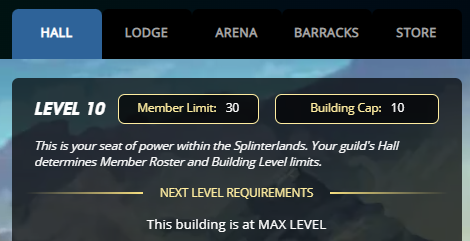 The Hall has reached maximum level 10. At this level, it allows ST to raise the level of some other buildings to maximum level. Another advantage of having Hall at level 10 is that the building will allow Summoner's Tribe to have 30 players. I saw currently they are 28 players, so If you are a skilled player and interested to join Summoner's Tribe, feel free to DM jacekw guys, maybe he will accept you to be a part of us.

2. Lodge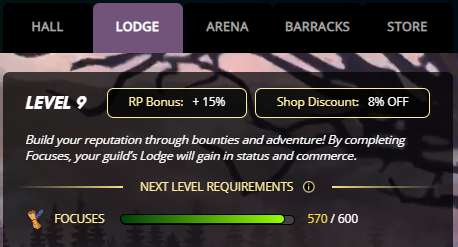 The next building is Lodge. Currently, The lodge has reached Level 9 which gives all the players 15% of Reward Point bonuses and 8% discount when purchasing at Shop. I think the bonus is huge as the more Reward Points, the more chests we can get from ranked battle. Grinding at ranked battle everyday regularly will increase the chance to get high rewards such as GFL (Gold Foil Legendary) or huge SPS reward. Another advantage is shop discount, As ST often finished as the winner in brawl, they got huge SPS rewards and Merits. we got around 11,000 - 12,000 merits which allows players to purchase up to 6 gladius pack after each brawl so the discount will help a lot to reduce the cost.

3. Arena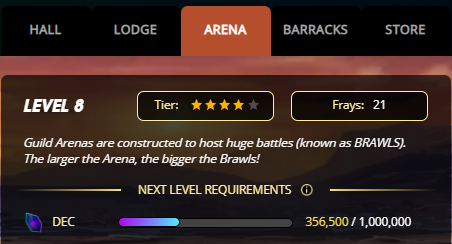 The third building is Arena. We have Level 8 which allows Summoner's Tribe to brawl at Tier 4. The building gives X6 reward multiplier which increase the SPS and Merits rewards. As per the guild officer information, ST will move up to Tier 5 in the next 2 cycles and it makes Summoner's Tribe the first guild who will move into Tier 5. The next guild which probably follow soon are Guild of Neoxian and Immortal Gods as both of guilds are often finished first in Tier 4 aside of Summoner's Tribe.

4. Barracks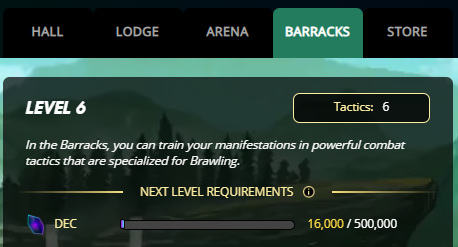 The forth building is barrack. We have Level 6 building which granted many advantages in brawl matches such as :
Home team wins when the brawl ended draw
Can use gladiator cards up to the silver cap
Banish 2 of the opponent Summoners
+1 added mana cap to all of the brawl battle.
Well, I can't say which Summoners that the ST has decided to ban because I am thinking it's a secret XD. You'll know if your guild are fighting against us 🙏. See you there guys XD.

5. Store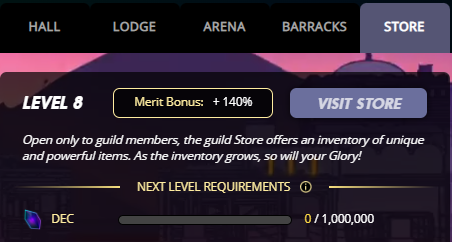 The last building is Store. Summoners Tribe has Level 8 in this building which gives 140% merit bonus as brawl reward. Some other advantages are The availability of all inventories such as Gladius Case (a pack that holds 5 Gladius case), Spy Glasses (a tool to sneak at enemy fray assignments), Blood stone (a stone to increase the drop rate of Legendary Gladius cards) and Power Stone (a stone to increase the drop rate of Gold Foil Gladius cards). Since all the inventories are already available at level 8 building, rising the building level to 9 and 10 will only increase the merit bonus to 160% and 200% respectively.
Overall the buildings are awesome since all the features are available.

- BRAWL CLEANSWEEP WITH SHIELD OF GLORY -
Alright, this chapter will explain my last brawl with Shield of Glory where I have successfully win all the match and presented this farewell gift to all of my guildmates. There are 6 matches but I'll just share the top 5 of them, I hope you like it :
---
- STRONG TANK + KITTY + OPPORTUNITY MOSNTERS -
| Ruleset | Mana | Element |
| --- | --- | --- |
| Aimless | 30 | Water, Death, Dragon |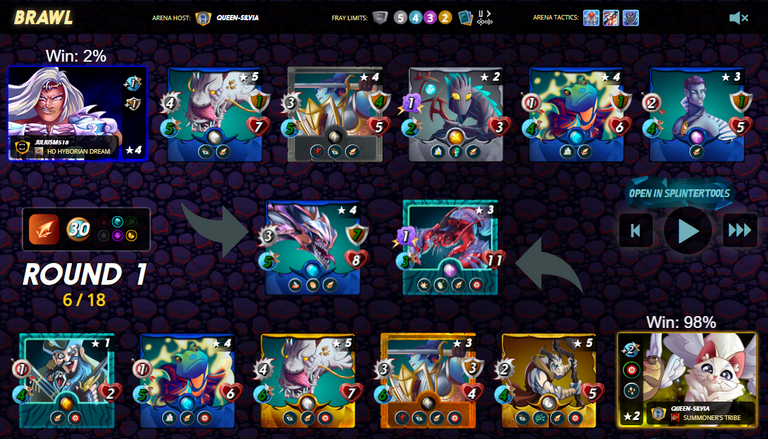 I think 30 is the minimum mana to use kitty in the battle field. Very low mana will make our team get destroyed by lots of opponent's monsters. The more mana, the better since dragon has great monsters with high mana. In the battle above, I think the reason why my team win is because the kitty team is more offensive with 3 opportunity monsters while the opponent has only 2 opportunity monsters. Another reason is the kitty is faster with additional 2 speed.

- UNICORN MUSTANG TO COUNTER QUORA-
| Ruleset | Mana | Element |
| --- | --- | --- |
| Aimless | 25 | Fire, Water, Earth, Life, Dragon |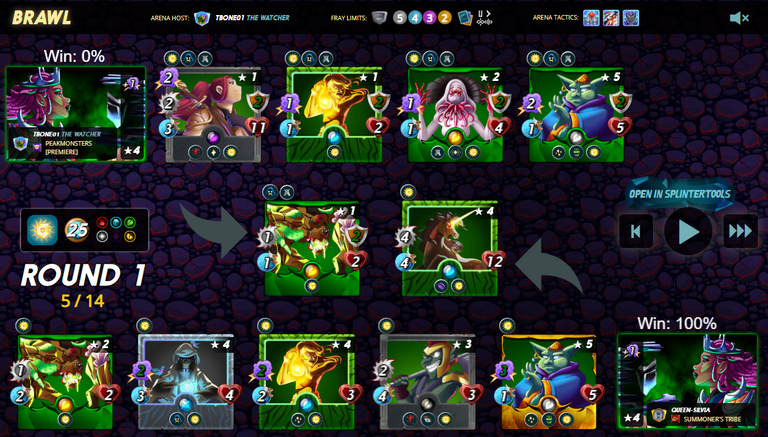 Unicorn Mustang is the key to win the match because of his Void ability and high health points. The 12 Health points will enable Goblin Psychic and Khmer Princess to restore 4 health points. Another key monster who have lots of contribution to the win is Elven Mystic as his silence ability is reducing all of the magic attack, making the opponent's attack weak and not able to penetrate my defence. At the end, Bertrol Gobson kills the opponent's monster to activates his bloodlust ability.

- LLAMA & CORNEALUS COMBO -
| Ruleset | Mana | Element |
| --- | --- | --- |
| Close Range, Stampede | 18 | Fire, Water, Earth, Dragon |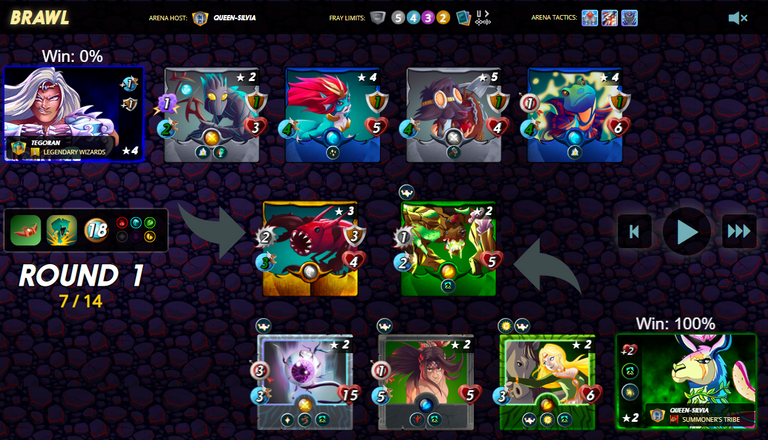 I learned this strategy from tournament which is showing that Llama-Cornealus is stronger than llama-Kron when the ruleset is Close Ranged, because at Lv.2, Cornealus have higher health points than Kron and both monsters have 5 damage so the health points will decide the winner. The Llama-Cornealus has very high win rate in this battle due to the last stand ability which makes the opponent died because of fatigue.

- USE SHIELD TO REDUCE RANGED ATTACK -
| Ruleset | Mana | Element |
| --- | --- | --- |
| Aimless, Heavy Hitters | 34 | Fire, Water, Death, Dragon |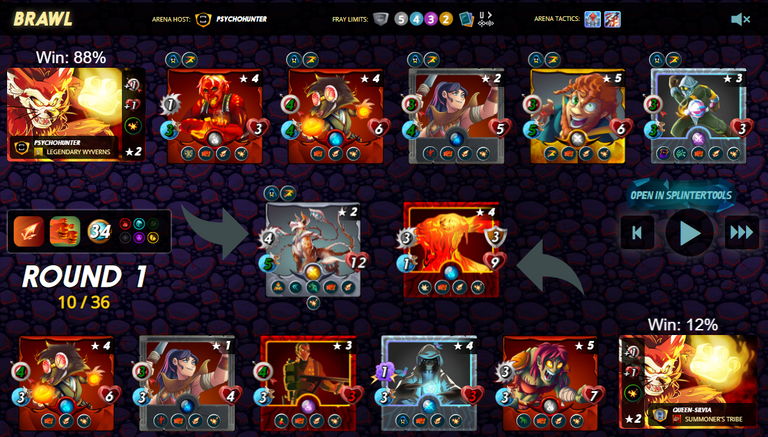 Well, the opponent has higher win rate than me, way higher, 88% against 12%. The reason why I won the match is maybe because all of my attack to Coeurl Lurker hit him. Besides, I used Living Lava who has Shield ability to reduce all of the opponent ranged attack monster. Another reason why I won the match is because I used Ferexia General who has snipe ability, along with the blast effect, it becomes the deadly attack as lots of opponent's monsters will receive the blast damage.

- NEVER USE RANGED ATTACK MONSTER IF YOUR OPPONENT COULD DO RETURN FIRE -
| Ruleset | Mana | Element |
| --- | --- | --- |
| Keep your distance | 56 | Life, Water |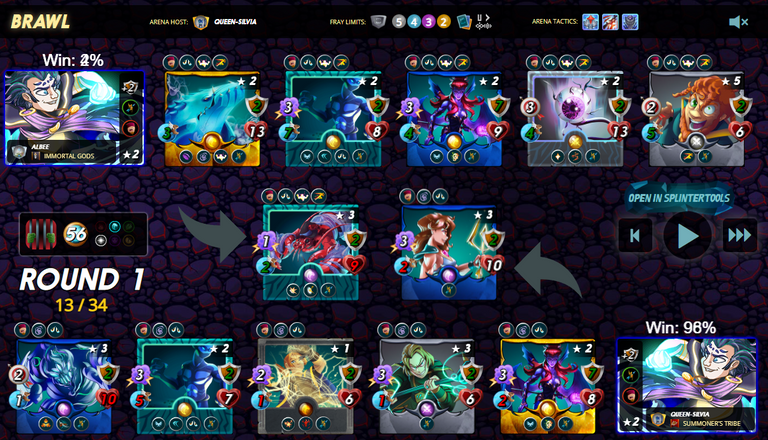 Well, the key to win this match is never use ranged attack if there's a chance that the opponent will use return fire because the returned attack will kill themselves. Another reason why I won the match is because my team is more offensive with total 14 magic and 2 ranged damage, way higher than my opponent who just have 7 magic and 5 ranged damage. In "Keep your distance" ruleset, no melee monsters would be available in the match, so the probability of attack are just 2 types, either magic or ranged. since the splinter available are just water and ranged so the good choice is either Ilthain or Lir Deepswimmer to return the ranged attack.

- ANNOUNCEMENT OF GIVEAWAY #57 WINNER -
Alright guys, now it's time for giveaway. We have 27 participants for the Giveaway #57. I'd like to say Thank you very much for visiting my blog and joined the giveaway. Here are the list of participants :
@pulubengdugs, @treefrognada, @syel25, @willendorfia, @henruc, @pirulito.zoado, @stonemountain69, @ladymisa, @danideuder, @queenstarr, @noctury, @rayius, @blitzzzz, @engilhramn, @ianballantine, @olaf.gui, @jdike, @vaynard86, @pero82, @amaari, @amaari, @cpol, @ianballantine, @pero82, @pulubengdugs, @russia-btc, @treefrognada, @oadissin
(Amaari, Pero82, Cpol, Ianballantine, Russia-btc, treefrognada, Oadissin and Pulubengdugs got 2 tickets as they re-blogged the post)
I hope I don't miss out any names there. Regardless you win or not, I hope you guys keep supporting me by participating in my upcoming giveaways because sharing to the community is fun. Here is the snapshot of the winner :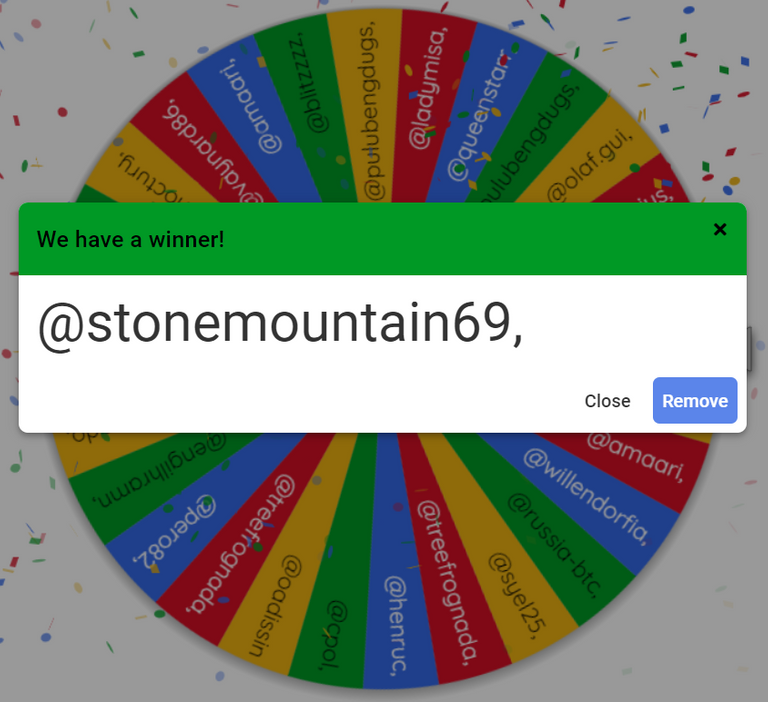 - GIVEAWAY #59 -
Alright, in the previous post we had a Chaos Legion card for the giveaway. In this giveaway post, there will be 1 Chaos Legion card that you could possibly win, Here is the card :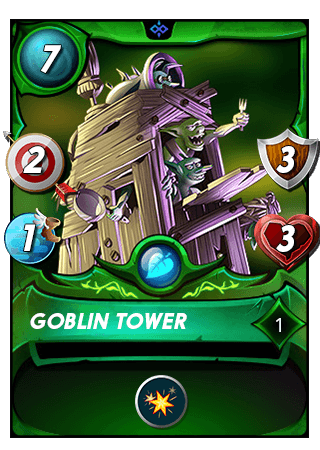 Goblin Tower
I will use Wheel of Names for the drawing and the name picked out will be given the card prize.
How to participate :
Please put your IGN (In-Game Name) in the comment section.
If you feel like the post is useful feel free to follow me for more battle tips and tricks and 2 weekly giveaways continuously. I'll make sure we will be good friends :)
Upvote is not a requirement but it will be greatly appreciated to increase the quality and the quantity of the next giveaway.
Re-blogging this post will give you 2 tickets, higher tickets, higher chance to win the rewards 😉

Notes :
The cut off time is the pay-out of this post (7 days). I will put a comment "TIME'S UP" when the time is up.
The winner will be announced in the next giveaways.
If you want to give feedback or critics, feel free to leave any comments. As long they are constructive and not offensive, they will be appreciated.
Started from now, I will tag all of the participants who have joined (in the previous giveaway) in case you want to join the giveaway again, if you want me to stop tagging your IGN, feel free to comment STOP in the comment section.
Every time I posted blogs whether Battle Challenge or Social Media Challenge, there will be 1 card be rewarded for the giveaway winner.
If you haven't got any Splinterlands account, you can get it here

Alright, that's the end of this article guys, Thank you for visiting my blog. See you in the next article and giveaway. Take care~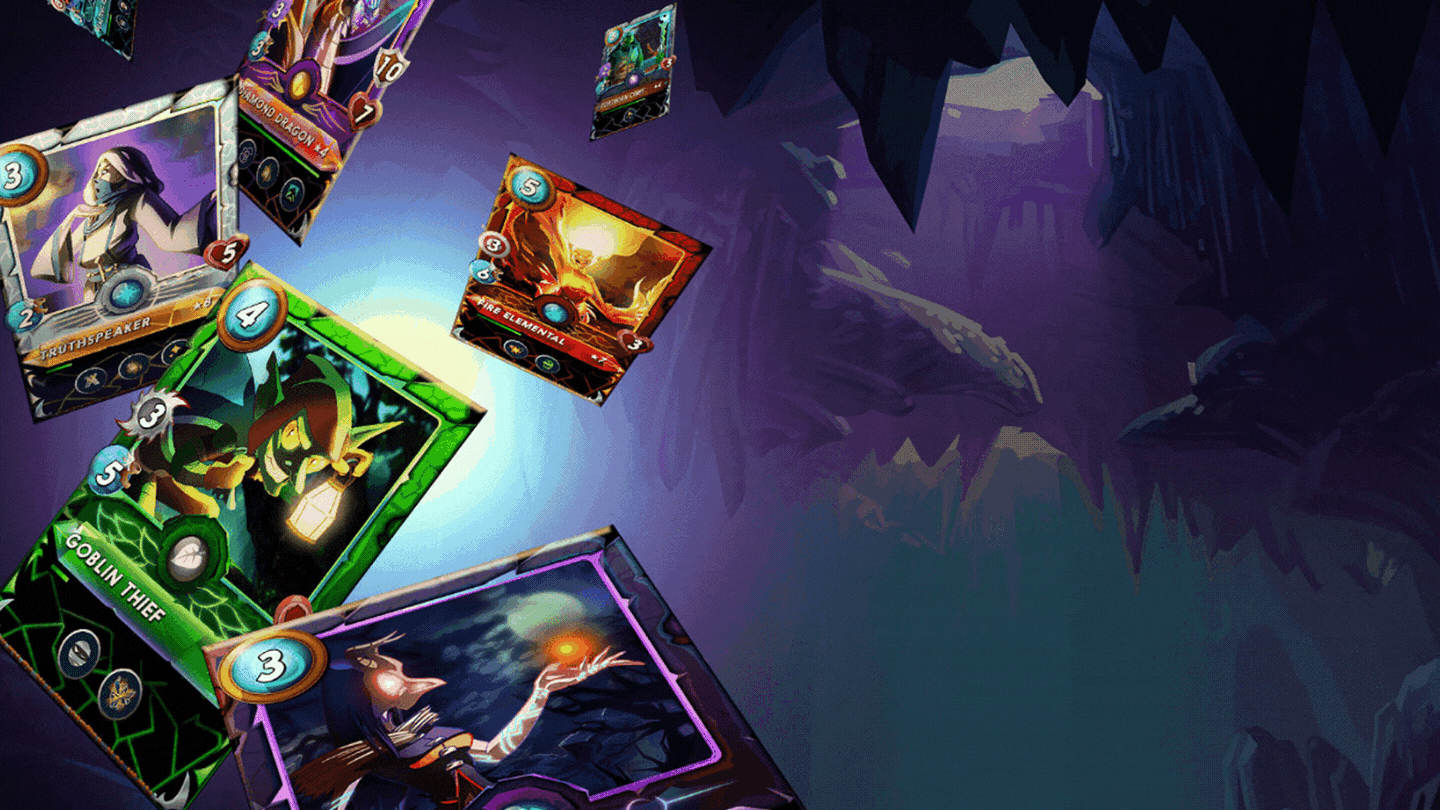 ---
---