TIPS & STRATEGIES TO GET CLEAN SWEEP AT GOLD LEAGUE BRAWL (Plus Giveaway #89, GF Kulu Swimhunter)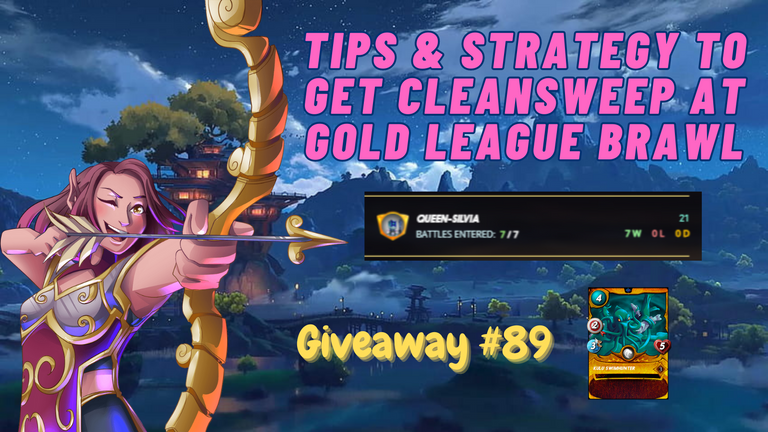 ~ 😘 Hi Hi My Splinterlands family around the world 😘 ~
Welcome back to my post, @queen-silvia. Today, I am going to show you some tips and strategies to get clean sweep 🗑 at Gold league brawl. Well, although it's a gold league, I think the basic concept of all league are same. To me Splinterlands game is about :
Predicting the opponent movement and set the line-up which can anticipate the opponent attack or giving ultimate attack which the opponent could not counter it.
Well, I think that's the fundamental concept 📝 to win any battle in every ruleset and any league. No matter whether it's Bronze, Silver, Gold, Diamond or even Champion. Well, it sounds easy to understand but in reality, it's sometime harder because there's an RNG at high league which could ruin 🤷‍♀ our strategy. Therefore, Building up great line-up which can attack ⚔️ and defense 🛡 well at the same time is very important and today, I will share how to make good line up in brawl 🏛 so that we can get clean sweep 💨 and contribute many points to our guild. Alright guys so here are some topics that we are going to discuss :
6 Battle strategies in Brawl to get clean sweep 🥇
A common mistake that players often do in Brawl ❌
Final result of Brawl 📝
The Announcement of Giveaway #87 🎊
Giveaway #89 (Gold Foil Kulu Swimhunter) 🎁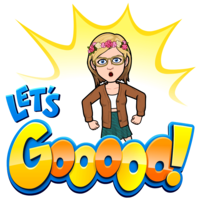 - USE BRIGHTON BLOOM AND SNARE IN EARTHQUAKE RULESET -
| Ruleset | Mana | Element |
| --- | --- | --- |
| Unprotected, Heavy Hitters, Earthquake | 13 | Fire, Life, Dragon |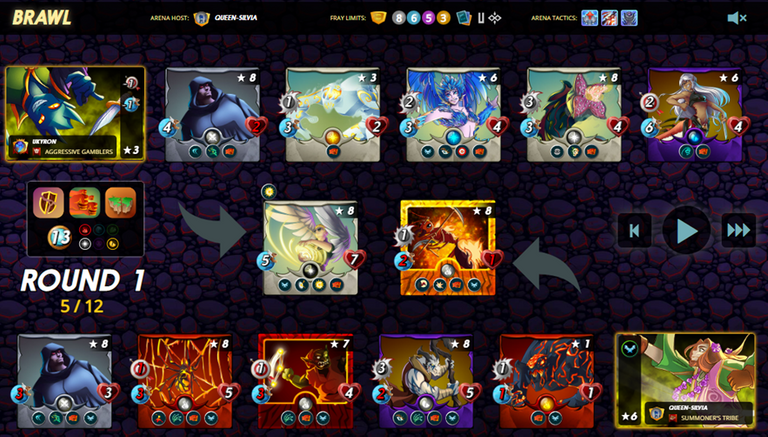 Lesson Learned :
Earthquake ruleset is always giving -2 melee 👊 damage to all of friendly monsters who don't have flying 🦅 ability. So giving flying ability to all friendly monsters is very important. The only summoner who can give flying ability is Brighton Bloom 🌷, a Dragon summoner. Another tips for Earthquake ruleset is to use monster with flying ability and use Vera Salacia 💦 as the summoner, because she will give snare ability to all friendly monsters. Snare 🗑 is also another ability in Earthquake 🌍 ruleset which is very crucial to remove flying ability of the opponent and the attack can not miss. If you want to know more about the tips for Earthquake ruleset, you can check the article here :
SNARE, The best ability in Earthquake ruleset
In the opponent side (above battle), only Celestial Harpy who has Flying 🦅 ability. So the rest of monsters will receive -2 melee 👊 damage. Things are getting worse when Celestial Harpy got hit by snare 🗑 ability, her flying ability gone and Dragon splinter team won the match.

- USE DEMORALIZE IN UP CLOSE AND PERSONAL RULESET -
| Ruleset | Mana | Element |
| --- | --- | --- |
| Unprotected, Up Close and Personal, Briar Patch | 50 | Fire, Life, Dragon |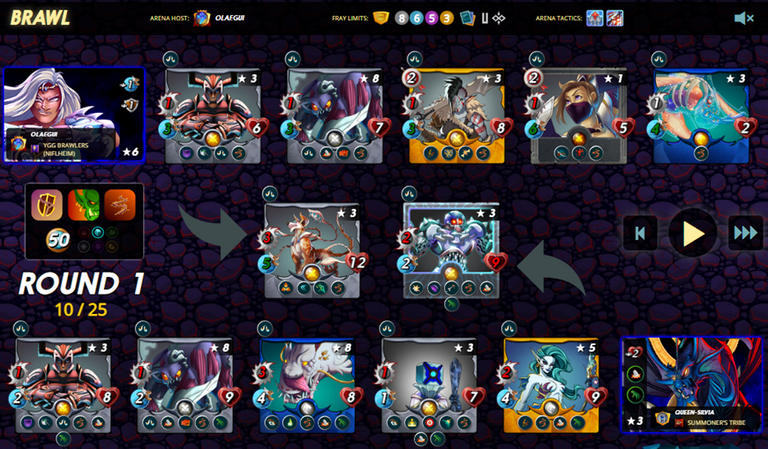 Lesson Learned :
The key to win "Up Close and Personal" 👹 Ruleset is to use Demoralize ability as many as we can since only melee 👊 monsters can be used in the battle. We can also use monsters with Shield 🛡 ability to reduce the opponent's melee damage. In the above battle, I used Disintegrator and Legionnaire Alvar to reduce the opponent's melee 👊 damage and Chain Golem in the first position who have shield ability to decrease the opponent's damage from 3 to 2. For the Summoner, I would recommend to use Possibilus 💦 because whenever opportunity melee monsters like Runi or Deeplurker killed the target, they can do another melee attack to the monster next to the target 🎯.

- USE VOID AND SILENCE ABILITY IN WANDS OUT RULESET -
| Ruleset | Mana | Element |
| --- | --- | --- |
| Wands Out, Holy Protection, Counterspell | 54 | Fire, Water, Earth |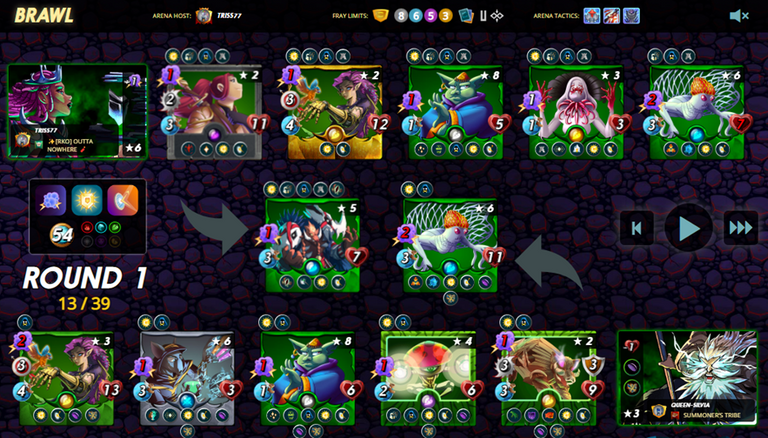 Lesson Learned :
In Wands Out Ruleset, only magic 🔮 monsters can be used in the battlefield so the best abilities would be Silence and Void abilities. Silence 😖 will reduce the magic damage and it's stacked which means that the more silence ability we used, the more magic damage will be reduced, let say we used 2 monsters with silence 😖 ability then the magic 🔮 damage from the opponent will be reduced by 2. Meanwhile, Void 🌑 ability is attached to the monsters and it's not stacked. It helps to reduce magic damage when the monsters with void 🌑 ability are being targeted for the magic attack. The main difference in the battle above is the presence of Queen Mycelia 👑. It helps to increase the magic reflected with her amplify ability. That's the key to win this match 🏆.

- USE OPPORTUNITY IN EXPLOSIVE WEAPONRY RULESET -
| Ruleset | Mana | Element |
| --- | --- | --- |
| Even Stevens, Explosive Weaponry, Close Range | 15 | Life, Dragon |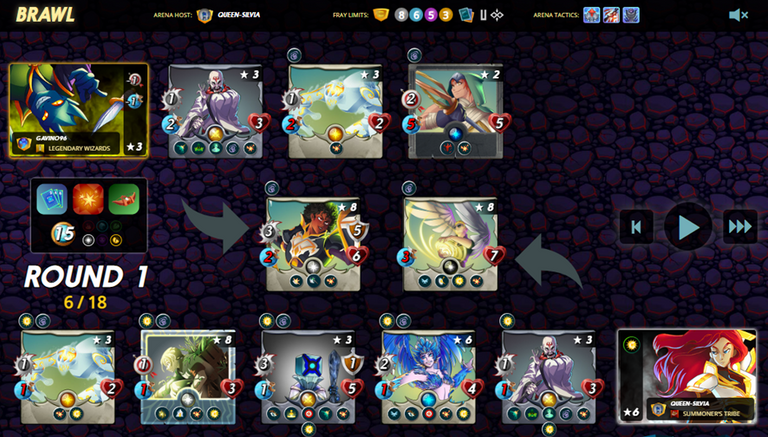 Lesson Learned :
Both team have used Venator Kinjo who have reflection shield 🛡 ability as the anticipation for Explosive Weaponry 🔥 ruleset. That's good. I think many players have realized the use case of reflection shield monster in the second position but what makes the Lorna Shine ✨ team won the match is because there are 2 monsters who have opportunity 👀. This ability is very dangerous since they are attacking the backline monsters and the Explosive Weaponry ruleset will inflict blast 🔥 damage to adjacent monsters. Meanwhile the opponent only attack the first monster which has been anticipated by reflection shield 🛡 monster in the second position.

- DR. BLIGHT IN LITTLE LEAGUE IS A GREAT OPTION -
| Ruleset | Mana | Element |
| --- | --- | --- |
| Little League, Wands Out, Explosive Weaponry | 57 | Fire, Water, Life, Dragon |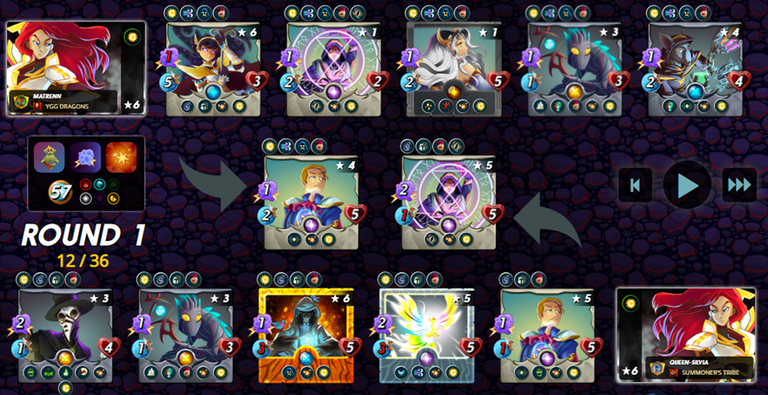 In little league, Dr. Blight 👺 is very strong because of his super abilities, Affliction, Poison, Camouflage, and Scavenger. The poison 😰 has 50% to activate poison to the targeted monster, the camouflage 🍃 keep him hidden 🌳 until he moved into the first position and the scavenger 🦃 will make him a monster with very high health point as every monster (either friendly or enemy) died in the battlefield will increase his health point ♥️ by +1. Since the ruleset is Wands Out monster with silence ability is always needed, That's why I put Elven Mystic to reduce the opponent's magic 🔮 damage.

- USE HEAL AND TRIAGE ABILITY IN AIMLESS RULESET -
| Ruleset | Mana | Element |
| --- | --- | --- |
| Going The istance, Aimless, Fire and Regret | 40 | Fire, Water, Life, Death, Dragon |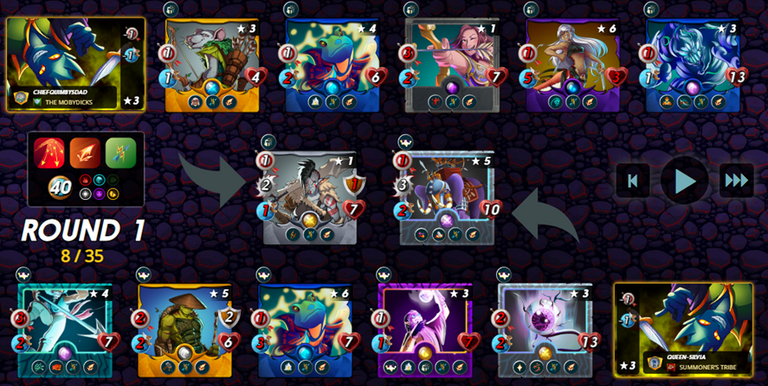 Lesson Learned :
In aimless ruleset, the attack from magic 🔮 and ranged 🎯 attack is randomly spread to the target. There's high chance that the attack will hit monsters in the backline so putting monsters with heal ✨, triage ⭐️ and repair 🔨 ability is good idea since they can repair the armor or restore the health points after being damaged. In the battle above, I set 2 monsters with triage ⭐️ ability (Scale Doctor and Angelic Mandarin), a monster with repair 🔨 ability (Swamp Spitter) and a monster with heal ✨ ability Cornealus. Those 4 monsters defending themself really well to win the match 🏆.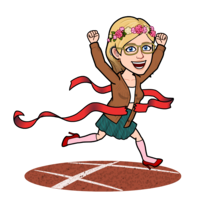 Alright guys, so here is my opinion about a common mistake in Brawl which I saw many players are doing it on Brawl 🏛 :
"Using the gladius card blindly (too pushy) and ignoring the ruleset"
Well, One of many advantage that given in Brawl is that we can use the Gladius 🍁 card but it doesn't mean we have to use it in all Brawl match. To me using cards according to ruleset 📝 is more important than using gladius cards, that means if I have to ignore using gladius card in order to arrange cards according to ruleset, that would be better than using gladius cards but ignoring the ruleset. The battle ⚔️ below can be the example :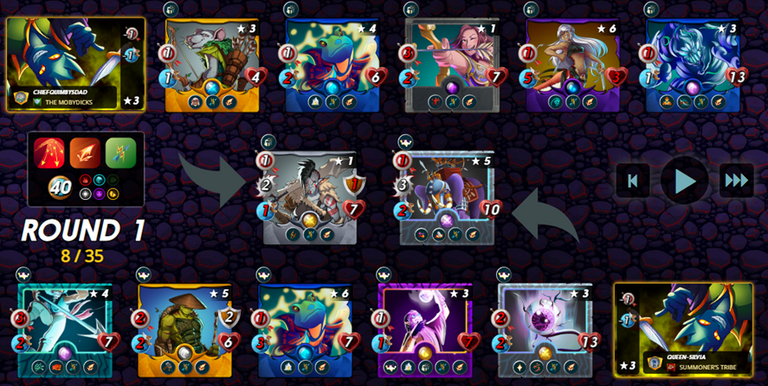 In the battle above, I am intentionally not using any gladius 🍁 card because I saw the ruleset was Aimless, so monsters with heal ⭐️, repair 🔨, and triage ✨ will be really needed in Brawl. I need a monster with melee damage, so War Chang is always become the best option for the first spot. If we see the Chiefquimdad team, he set 1 monster only with triage and the rest of monsters are intended for attacking the opponent. Since the ruleset is Fire and Regret, all the ranged 🎯 attack will be reflected and any attack without good defense will kill 💀 themself. That's why, making a team according to the ruleset will create strong Attack and Defense which is really needed in the battle ⚔️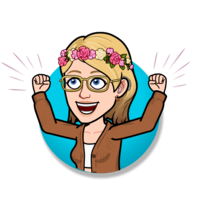 Here is the final standing (Top 5) of the Brawl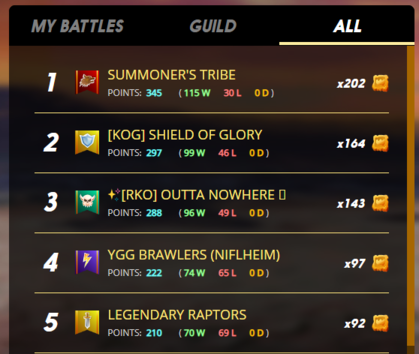 Summoner's Tribe is always finished at the top 🥇 spot in every brawl and I am very glad to be a part of this wonderful guild. At the second spot 🥈, we have my ex-guild, Shield of Glory. They have 3 win margin with the third place 🥉, RKO Outta Nowhere. The race for the second spot was so intense and thrilling between both guilds and at the end, Shield of Glory won it. At the forth place, we have YGG Brawlers (Niflheim). They have 4 win difference with Legedary Raptors with 70 win. Congratulation for the top 5 guilds and see you in the next brawl 😊

Alright guys, now it's time for the giveaway. We have 67 participants for the Giveaway #87. I'd like to say Thank you very much for visiting my blog and joined the giveaway. Here are the list of participants :
@outwars, @tub3r0, @dafusa, @pero82, @ank12c, @olaf.gui, @danideuder, @syel25,
@candnpg, @ganzanello, @allama, @henruc, @tinyputerboy, @holdeck2, @squishna, @engilhramn, @stamato, @jhuleader, @pablito.saldo, @inuke, @jats-0, @blitzzzz, @nietokilll, @wommi, @vaynard86, @jdike, @gs1, @flummi97, @meta007, @theacks, @speedtuning, @kryptofire, @zm984, @oadissin, @diochen, @willendorfia, @circlebubble, @alex2alex, @ladymisa, @stonemountain69, @rayius, @pulubengdugs, @danideuder, @greatsaiyanman, @ianballantine, @ank2020, @blitzzzz, @cpol, @dafusa, @greatsaiyanman, @holdeck2, @ianballantine, @javeson, @jhuleader, @juliocamacho, @ladymisa, @oadissin, @pablito.saldo, @pero82, @pulubengdugs, @rayius, @soltecno, @squishna, @theacks, @tinyputerboy, @tub3r0
(Ank2020, Blitzzzz, Cpol, Dafusa, Greatsaiyanman, Holdeck2, Ianballantine, Javeson, Jhuleader, Juliocamacho, Ladymisa, Oadissin, Pablito.saldo, Pero82, Pulubengdugs, Rayius, Soltecno, Squishna, Theacks, Tinyputerboy, Tub3r0, Theacks got additional 1 ticket as they re-blogged the post)
I hope I don't miss out any names there. Regardless you win or not, I hope you guys keep supporting me by participating in my upcoming giveaways because sharing to the community is fun. Here is the snapshot of the winner :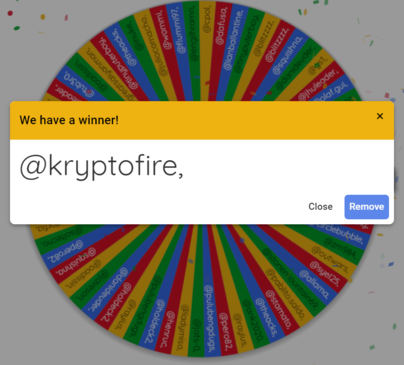 Congratulations to
@kryptofire
for winning Lv.3 Gold Foil Venari Scout. This card has Opportunity and Dodge at maximum level which are very powerful in the battle.


1 BCX of Lv.3 Gold Foil Venari Scout has been sent to IGN :
@kryptofire
, enjoy that Gold Foil Crypt Beetle 👍. For other participants who didn't win, you can try your luck taking a part in the next giveaway below (Giveaway #89).

In the previous post we had a Lv.3 Gold Foil Venari Scout card for the giveaway. In this giveaway post, there will be another Gold Foil card that you could possibly win, Here is the card :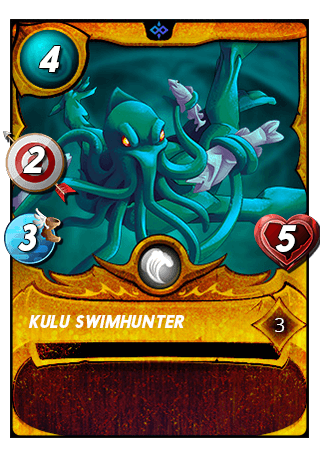 Lv.3 Gold Kulu Swimhunter
I will use Wheel of Names for the drawing and the name picked out will be given the card prize.
How to participate :
Please put your IGN (In-Game Name) in the comment section.
If you feel like the post is useful feel free to follow me for more battle tips and tricks and 2 weekly giveaways continuously. I'll make sure we will be good friends :)
Upvote is not a requirement but it will be greatly appreciated to increase the quality of the next giveaway.
Re-blogging this post will give you 2 tickets, higher tickets, higher chance to win the rewards 😉

Notes :
The cut off time is the pay-out of this post (7 days). I will put a comment "TIME'S UP" when the time is up.
The winner will be announced in the next giveaways.
If you want to give feedback or critics, feel free to leave any comments. As long they are constructive and not offensive, they will be appreciated.
Started from now, I will tag all of the participants who have joined (in the previous giveaway) in case you want to join the giveaway again, if you want me to stop tagging your IGN, feel free to comment STOP in the comment section.
Every time I posted blogs whether Battle Challenge or Social Media Challenge, there will be 1 card be rewarded for the giveaway winner.
---
Notification List :
! [Click to see the Notification list] Previous participants:
@henruc, @pulubengdugs, @outwars, @akiraymd, @danideuder, @tinyputerboy, @engilhramn, @ianballantine, @jats-0, @olaf.gui, @poplar-22, @mario89, @seeweed, @syel25, @bechibenner, @arveno, @mxm0unite, @willendorfia, @saydie, @candnpg, @flummi97, @ijat, @dk1trade, @noctury, @jhuleader, @jdike, @kqaosphreak, @ladymisa, @thebighigg, @vaynard86, @pero82, @gregory-f, @circlebubble, @rayius, @javeson, @cpol, @cribbio, @gasaeightyfive, @ianballantine, @jhuleader, @kqaosphreak, @ladymisa, @marcocasario, @maxmaka, @mxm0unite, @oadissin, @pero82, @pulubengdugs, @russia-btc, @bitandi, @obifenom, @cryptoph0823, @hendrot, @kryptofire, @canada804, @mvl2304, @chaosbug, @speedtuning, @seewed, @theacks, @mario89, @dgi, @gamesworld, @supergtom, @yahuzah, @canada804, @supergtom, @saydie, @cryptoace33, @alex2alex, @shiekhnouman, @subidu, @dafusa, @stamato, @gs1, @meta007, @chaosbug, @bfciv, @sheikh27, @allama, @offia66, @kran1um, @inuke, @evans-education, @mario89, @diochen, @squishna, @actordontee, @kran1um, @byz8tine, @subidu, @ganzanello, @oadissin, @hendrot, @juliocamacho, @holdeck2, @ank12c, @tub3r0, @jhridoy14, @pablito.saldo, @faruq10, @daddydog, @wommi, @josephbr550, @greatsaiyanman, @zm984, @diochen, @ebastion, @professorrotten, @ak08, @arc-echo, @zm984
If you haven't got any Splinterlands account, you can get it here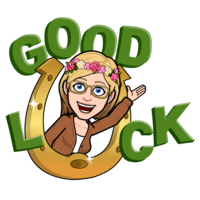 Alright, that's the end of this article guys, Thank you for visiting my blog. See you in the next article and giveaway. Take care~
Credit
Canva : As a tool for me to create Thumbnail
Bitmoji : As a tool for me to create Avatar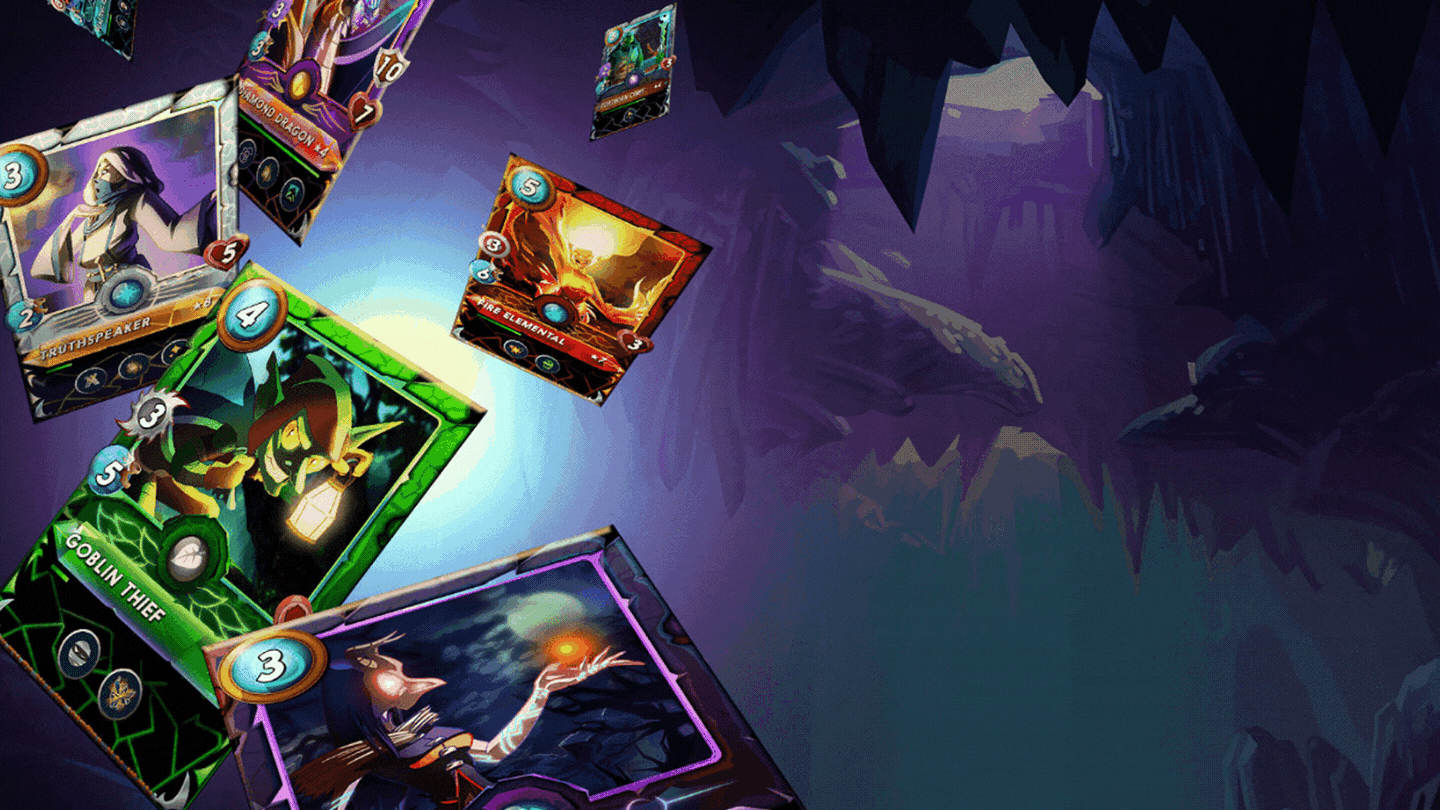 ---
---