Announcing SplinterStats Season Report Card
Introducing SplinterStats Season Report Cards
For those who haven't been following along with @splinterstats and my (@kiokizz) Splinterlands Statistics, welcome. Currently available is my Rewards Cards page, Cards By League Cap and this blog (@splinterstats) which posts daily and monthly statistics on Mystery Potions.
Today I would like to introduce you to the Splinter Stats Season Report Card. The report card is a free, once each season tool, which provides players a template to reflect on and share their Ranked Performance, overall card usage statistics and a summary of their rewards for the season. The report is under incremental development, so expect some things to change or look different each season when you come back to produce your report. Hopefully most bugs have been found (thanks to @mattclarke & @jacekw), though if you notice something that looks unusual, please join our Discord server and let me know in #report-card.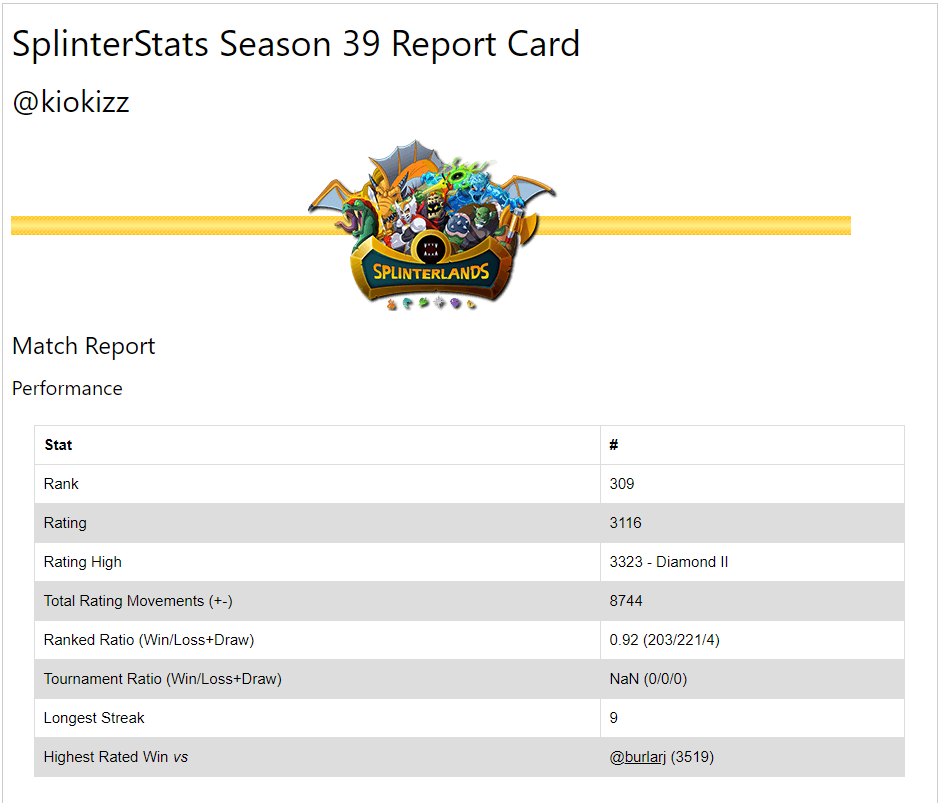 https://kiokizz.github.io/Splinterlands/seasonReportCard
More features will be released in the future, with the following on the #ComingSometime'Soon' list (no hard timelines to share at this stage:
Mystery Potion Report
Tournament Report
Cards Report

Combines
Burns
Bought/Sold

...
Generating your Season Report Card
Before you start, you will need to make sure you have Hive Keychain installed and have the posting key for your Splinterlands Hive account imported. Having trouble finding your Hive positing key? Head to the Official Splinterlands Discord and ask for assistance.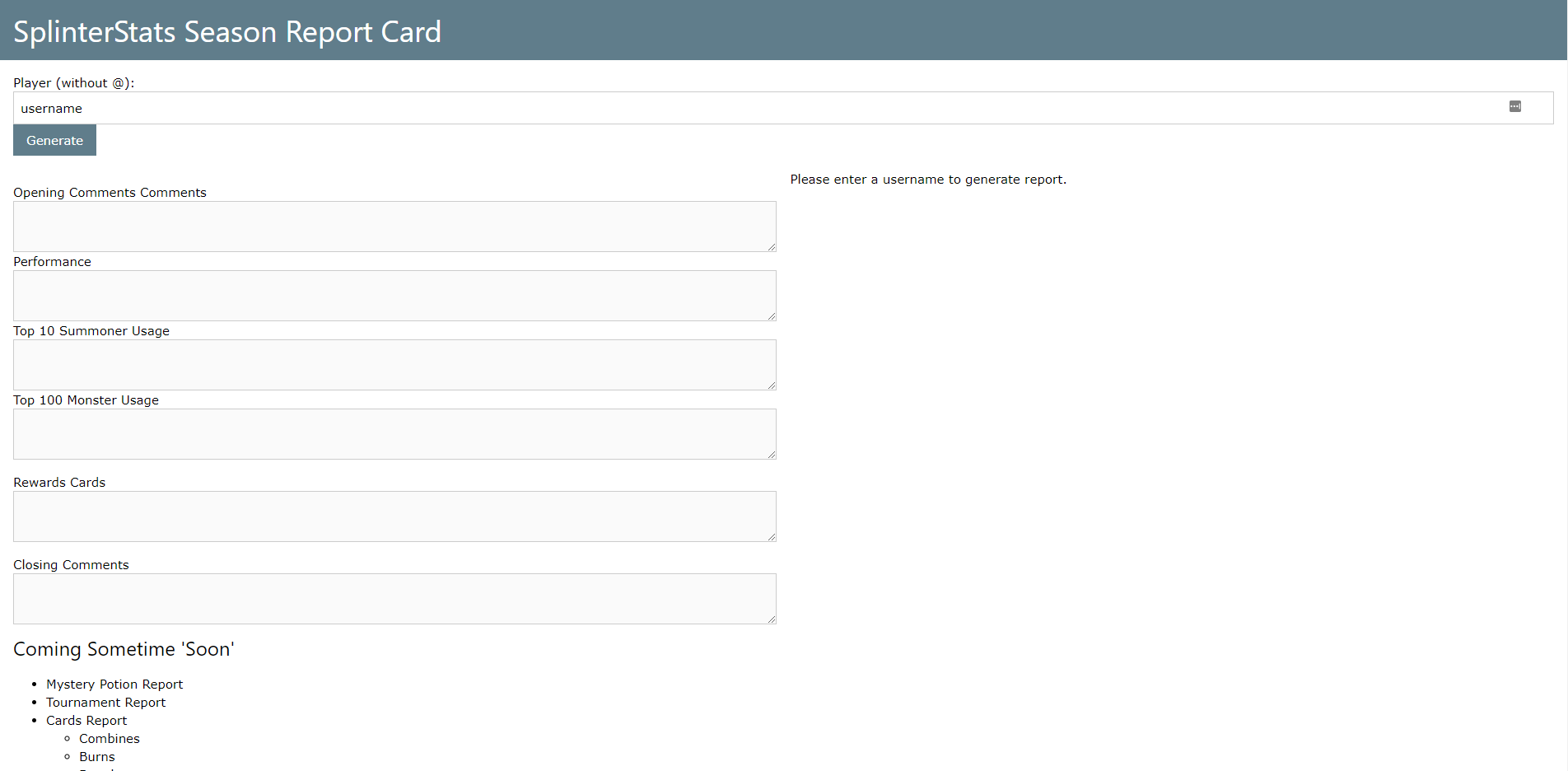 After entering your username in the form and clicking Generate, you will be prompted by Hive Keychain to verify you are who you say you are.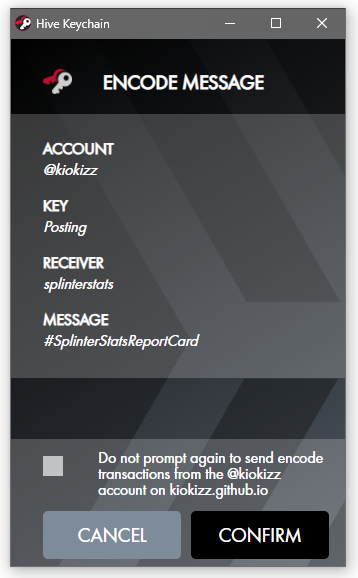 This will be followed by a few messages on the right hand column which update to let you know things are happening in the background.

Depending on how active you've been playing, these messages should continue for less than a minute in most cases. You should then be presenting with your report template.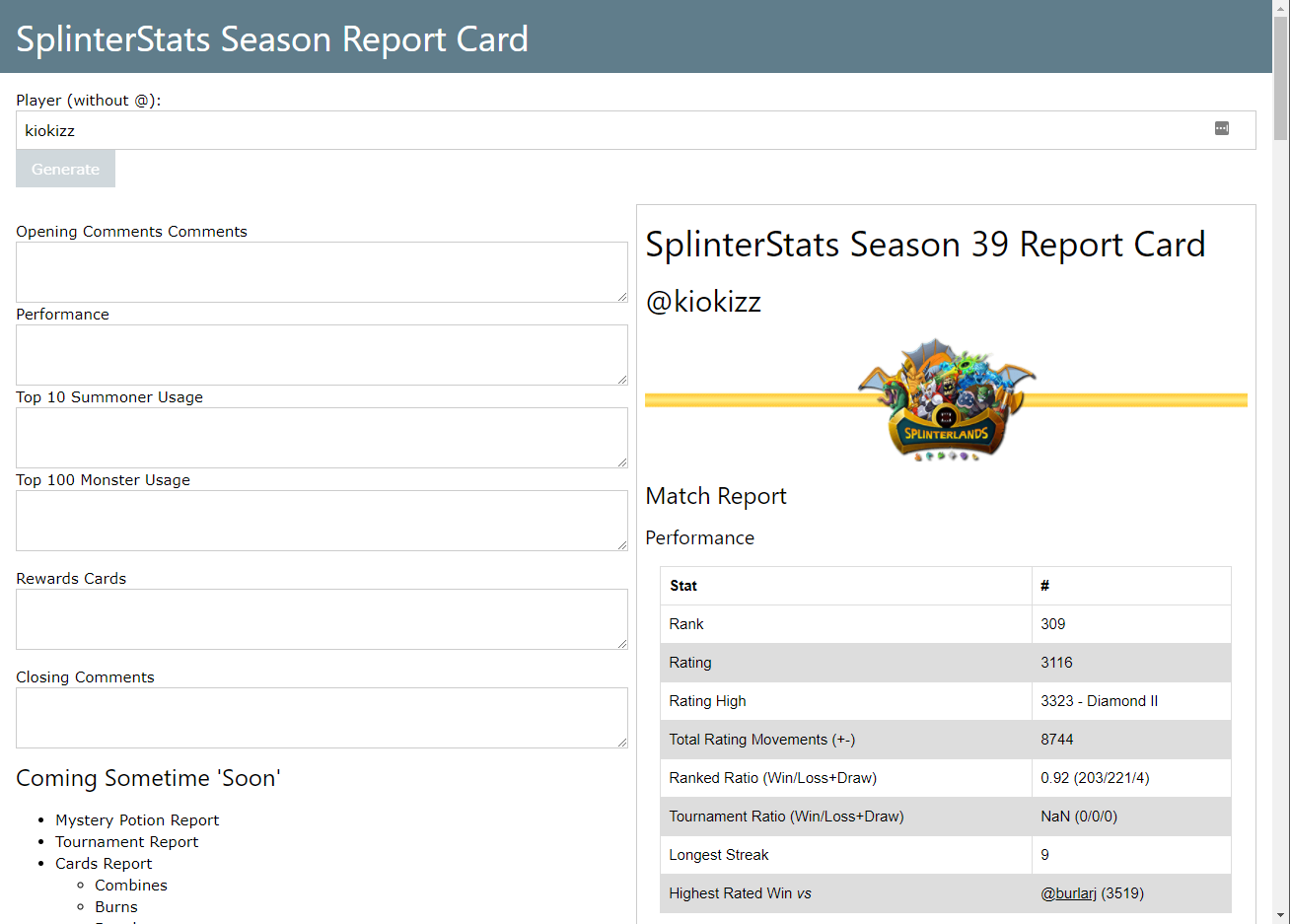 At this stage take some time for some serious reflection. But don't forget to write some comments! Take your notes, reflect on your performance this season, one of your most challenging battles won (see Performance: Highest Rated Win vs). This is also a good opportunity to check which summoners you favour and if they've been winning their keep: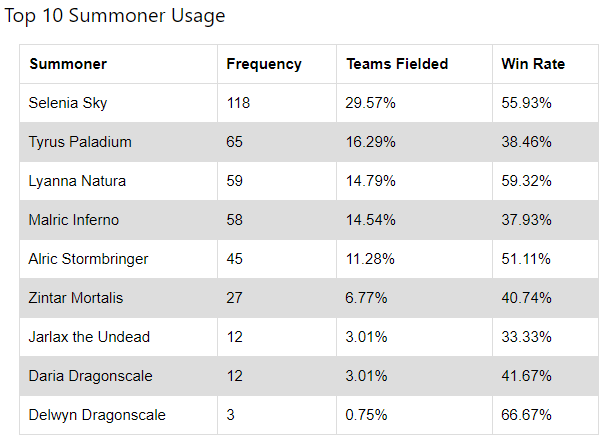 Then again with your monsters:


(and corresponding notes)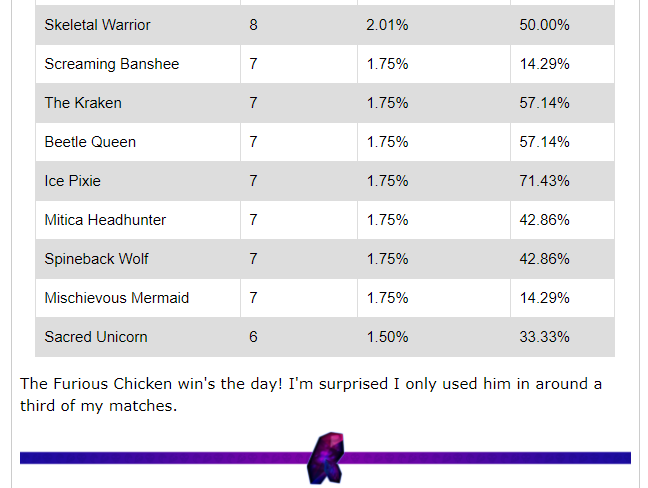 Last, but not least, is a section reporting your rewards for the season. This may be useful for players who keep track of their earnings.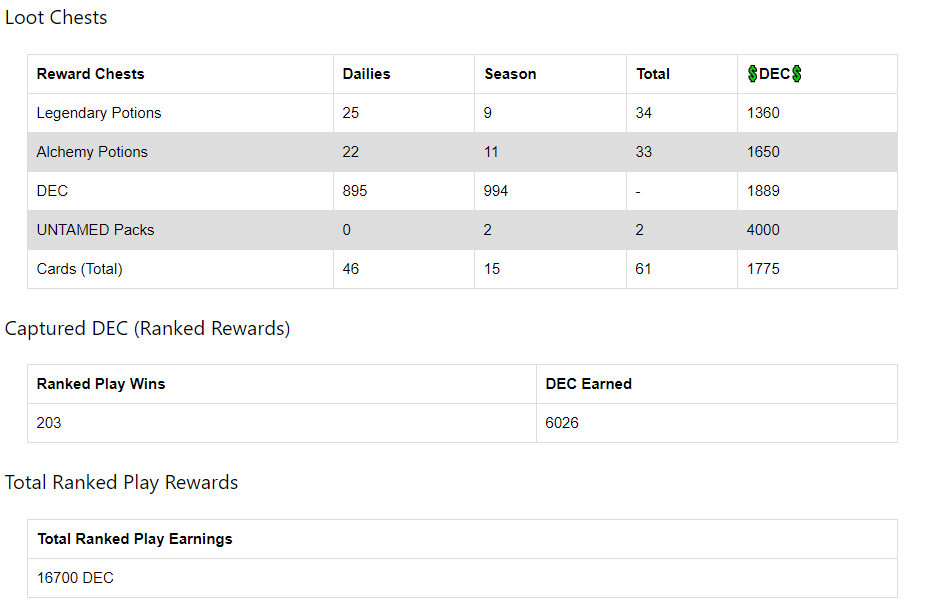 By now you should be all set ready to post.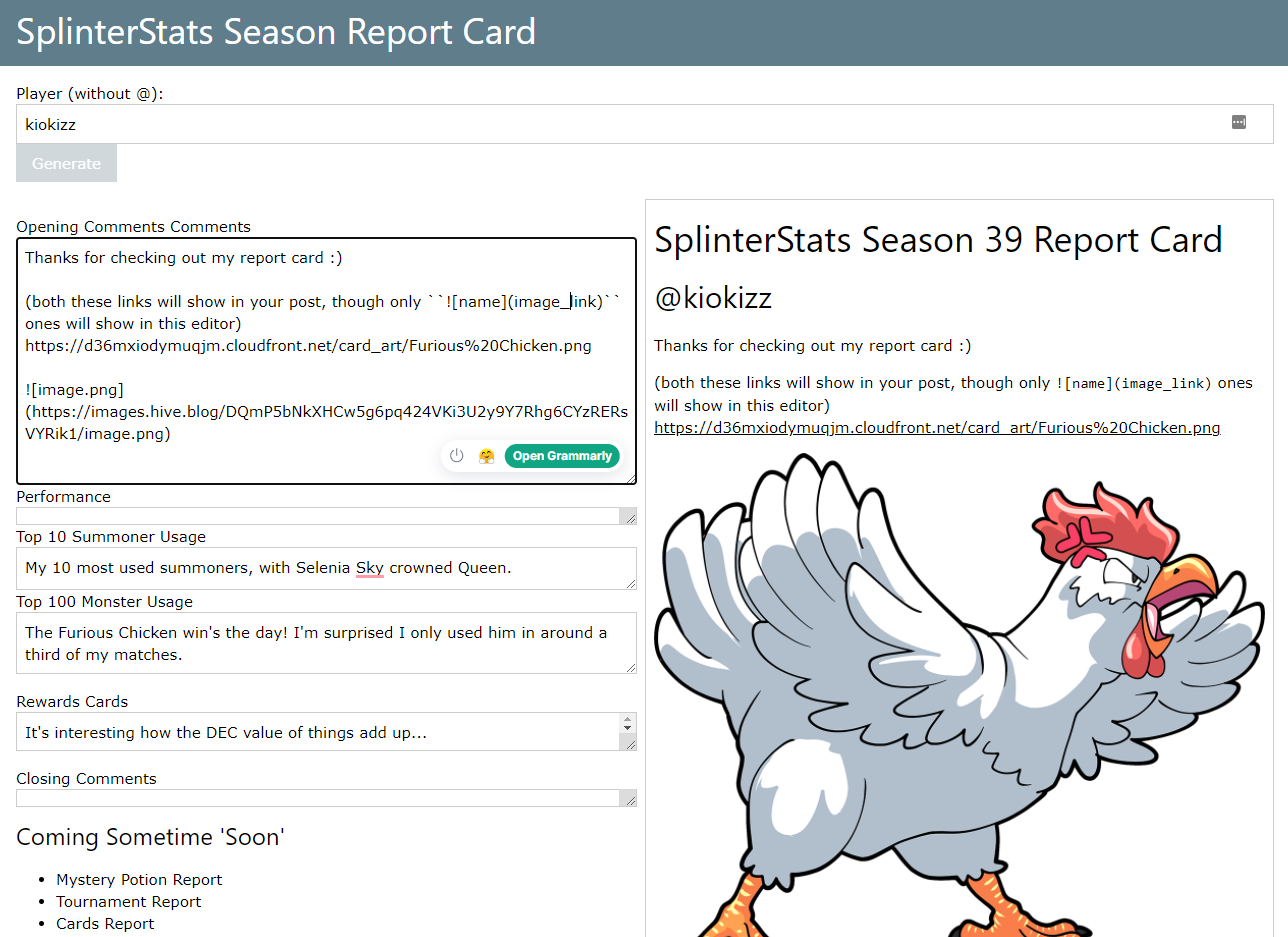 Posting to Hive
It's important to consider what sort of tags to use in your post. By default your post will include #SplinterStats and #spt. This will make your post eligible for Splintertalk Tribe (SPT) tokens in addition to HIVE/HBD Rewards which can be earnt from posting quality content to the Hive Blockchain.
Other tags which may be appropriate:
Palnet: The Palnet community is a general topic forum where nearly all sorts of posts are allowed.
Neoxian: The Neoxian community is a general topic forum where nearly all sorts of posts are allowed.
Leofinance: The Leo Finance community where you write about anything that is related to crypto & finance.
After you have entered all your tags (ensuring your post meets the criteria above for each one) you can go ahead and Click 'Post'.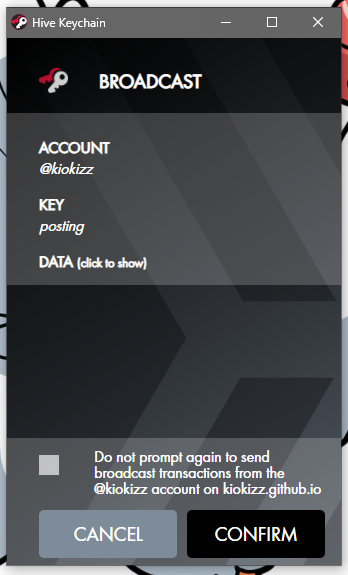 After confirming the transaction with Hive Keychain, you're all done! Consider visiting SplinterTalk.io to read others posts.
---
#Any troubles?
Had any issues making your post? Save a copy of your template comments in case you lose them, then join our Discord Server and let us know what your issue is.
---
---