hive.pizza | Weekly Investment Updates and Giveaway #18

Olá 👋 fellow Pizza lovers and Hivians,
This weeks "Hello" is in Portuguese Language and Welcome to weekly updates on my progress and happening on 🍕hive.Pizza🍕 - an activity community of people who like to help each other and love Pizzas🍕🍕🍕🍕🍕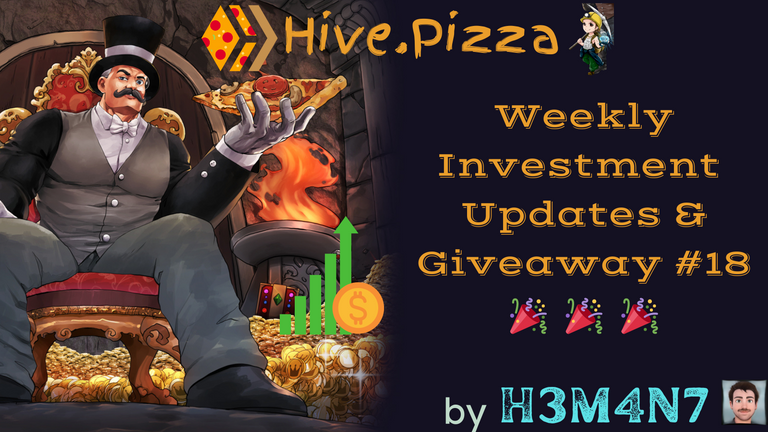 My Pizza🍕 Investment Statistics
Continuing with tracking of my investments in 🍕hive.Pizza🍕, below statistics are from snapshot taken today (4/24).
Expenses

This week has been slow on trading side so not much activity like the last week, since last update I purchased around 330🍕 spending around 10 hive, which brings my total expenses to 792.24 for Pizza🍕 token. Additionally I received around 30🍕 as rewards from the liquidity pools.
---
Revenues

On the revenue side, sold 100🍕 (frankly have not been trading actively in last week due to being busy with some other stuff) at an average price of 0.085 hive/🍕, taking my total revenue to 698.22 for the Pizza🍕. Additionally gave away 35🍕 as rewards to last weeks winners.
---
Assets

Staked: staked 62🍕 by myself and with around 17🍕 coming from staking rewards and Pizzabot tips, my current staked pizza total stands at 6102.83🍕
Liquid: increased by around 163🍕
The current market price of Pizza is around 0.038 (-0.003 compared to last week) which brings my assets value to 318.37 Hive (+15.2 compared to last week)
The progress of Pizza assets over the weeks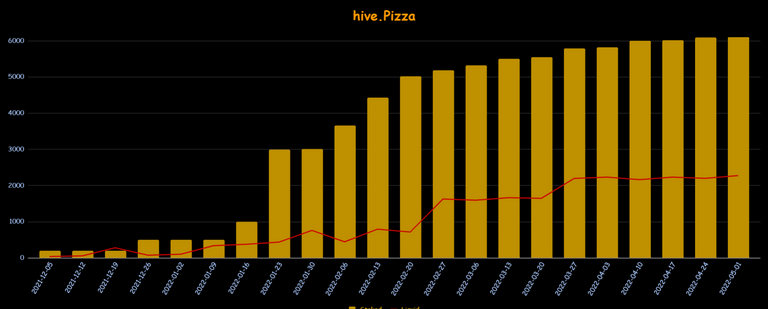 ---
Gains

Considering all above market activities for Pizza🍕 token my current gain stands at 224.35 Hive (-20.35 compared to last week) or 28.32% of all my expenses related to the Pizza🍕, with decrease mostly related to slight decrease in the pizza price.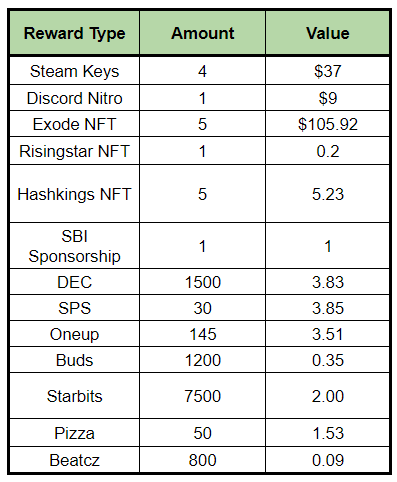 Continuing tracking of gains from prizes on official giveaways in 🍕PIZZA Discord🍕, I won in 3 of these in last week
2x #Hashkings avatar and got 1 rare Captain Jainer Strainer and 1 common Bucketbot with combine worth of 1.22 hive as per market listings
100 BEATCZ worth 0.013 Hive
25 Oneup tokens worth 0.21 Hive
Considering current HIVE to USD rate of that comes to total of $176 worth of prizes from those giveaways
Pizza🍕 community is all about sharing so still keeping the below table about how much Pizza I have received from or shared with the Pizza🍕 and Hive community

📚 Stake2Earn 📚
In this week 79.34 🍕 were added to my stake (including the reward received below)
Current Staking Balance : 6102.83🍕
| Daily | Weekly | Monthly | In a year |
| --- | --- | --- | --- |
| 2.01🍕➡️ | 14.06🍕➡️ | 60.48🍕➡️ | 777.96🍕 |
So my current stake level is now going to get me almost 778 free Pizza🍕 in a year🙂
If you are wondering what is the above table it is the pizza rewards I receive for my current staked balance, you can check my previous posts on details of the reward calculations.
If you want to earn this staking rewards too all you have to do is have more than 30.5 Pizza🍕 staked in your account and you will automatically start receiving 12% annual returns daily (12%/365) staked to your account.
💬 Engage2Earn 💬
Want to get more Pizza, just engage with the community on 🍕PIZZA Discord🍕
!PIZZA tips
If you have minimum 20 Pizza staked you can use !PIZZA🍕 command on hive block chain to tip 🍕0.1 Pizza🍕 to the authors or commenters on your post. All the comments to this post will receive a Pizza tip from me
---
on Twitch
@hivetrending has added some features for Twitch which help keep track of community members who check in during Twitch streams. Some of the streamers like @thebeardflex are using it to distribute Pizza tokens to folks who engage in Twitch chat during his streaming sessions
---
🍕Pizza Giveaways 🎊
Last week I won🙂 in 3🎉 giveaways on the 🍕PIZZA Discord🍕 with prizes 2x Hashking Avatars, 100 BEATCZ tokens and 25 Oneup tokens sponsored by Oneup-Cartel



The giveaways for this week were already up and lot of chances to win various prizes
Wooh so many giveaways, check out 🍕PIZZA Discord🍕 for participation
---
Events 🎫📢
Another way to get more Pizza🍕 is by participating in the events on the discord, below is list of few upcoming events
🎉🎉Giveaway 18🎉🎉
For this giveaway lets do multi tier prizes
🥇 1 random winner will get 20 PIZZA 🍕 tokens
🥈 1 random winner will get 10 PIZZA 🍕 tokens
🥉 1 random winner will get 5 PIZZA 🍕 tokens
---
Giveaway Participation
💬Comment: 💬Comment is must for participation and prizes will be sent to same username only (I will be checking for alt accounts and those will be ignored, rule is simple 1 person 1 entry only)
📢Reblogs and 💙Upvotes, tips like !PIZZA🍕, !LUV❤️, !LOLz😆, !Beer🍻 and other , Sharing the post on social networks are appreciated (and may help increase the participation pool prize) but not must for participation
Ping list is generated semi-auto with all active participants from last 3 giveaways do let me know incase if you do not like to be pinged 😁
Winner for giveaways will be drawn after 7 to 10 days normally and participation will be valid until I close the giveaway
---
🚷Rules to claim prize🚷
To avoid sending the prizes to Non-Human (bots), Winners will need to acknowledge the winning within 48 hours of results by either commenting on winner announcement post or messaging me on Discord or twitter.
In case of non response from your side, it will be assumed you are not interested in receiving the prize
🏆Winners of Giveaway #17 🏆
🏅 10 PIZZA 🍕 tokens goes to @tinyputerboy, @jakkal, @stdd, @lobaobh, @lightcaptured Congrats!!! 🎉🎉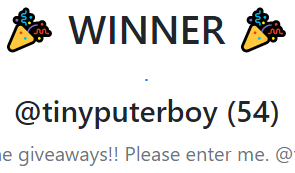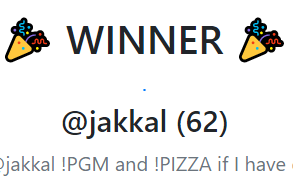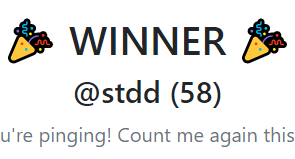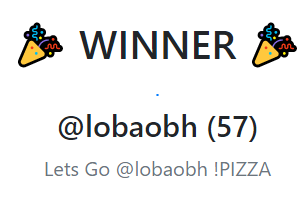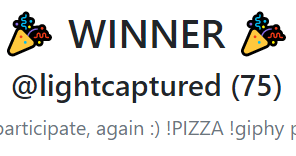 As mentioned in rules winners please acknowledge your winnings by posting a comment below or by contacting me on Discord or Twitter within next 48 hours.
Will also appreciate if winners and participation can spread the word of these giveaways and their winnings on their social network, discord, etc.

Self Promotion
Follow me on Twitter or here to keep up to date on my giveaway posts
For a chance to win Chance to win from 5 rare splinterlands cards check out my Splinterlands Giveaway #29

Notices:

Images/logos used in this post used are from hivepizza or screenshots or images created by me based on assets from hivepizza assets on website or discord
The content in here should not be taken as financial advice, please do your own diligence before investing
---
---