Splinterlands Weekly game progress, investment tracking and Giveaway #29
Olá 👋 fellow Splinterlands Player,
This weeks "Hello" is in Portuguese, 70% of the Portuguese speaking people in world are from Brazil as per Wikipedia and it is also the 6th most spoken language in the world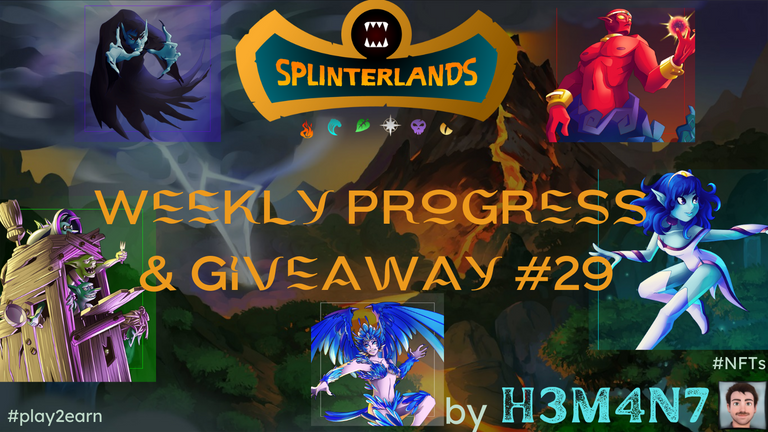 Financials

Continuing to track my finances in the game, the below data is as per today's (22nd April) Snapshot
Expenses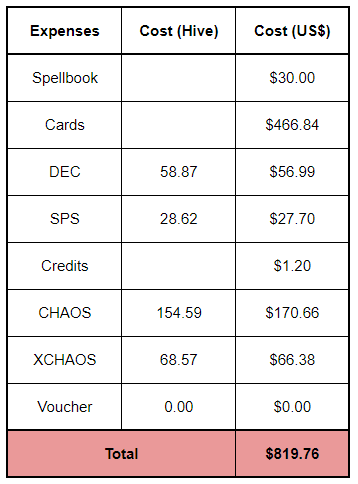 Updates since last week
Cards : Last week I bought cards worth around $38 taking my total spend on cards to $466.84 will be buying more cards in coming weeks to increase the CP and may be upgrade couple of splinters to improve the results
DEC,SPS : Converted around 6.28 hive worth of SPS to DEC to add to DEC:SPS Liquidity pool
Chaos : Bought around 10 packs in last week
No Changes in Spellbook, Credits, Voucher, SPS and XCHAOS
Taking my total Splinterlands expenses to $819.76 increasing my spent on the game by $90.84 in the last week 😲
---
Revenues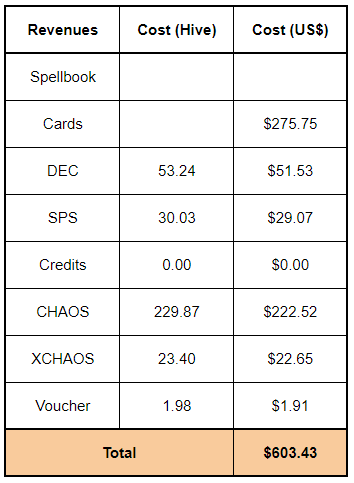 Updates in this week
Cards : Sold 1 card in this week, taking my total revenue from card sales to $275.75
SPS,DEC : Sold/Converted worth 6.28 Hive worth to DEC to add to DEC:SPS Liquidity pool
Chaos : Sale revenue of 47.92 Hive in last week
No Changes in Spellbook, Voucher, and XCHAOS
Current Revenue stands at $603.43 an increase of $69.27 compared to last week, so on net spent around $30 on the game this week
---
Assets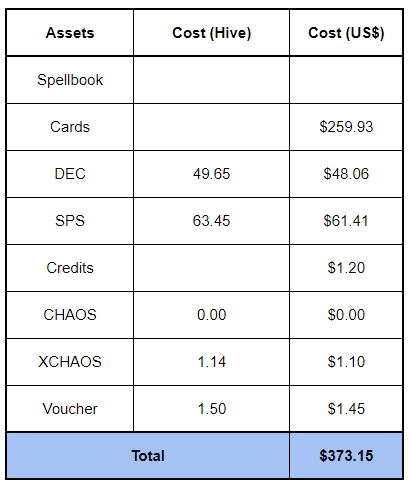 Assets held in game or in wallet as of 4/22
Cards : Current card values in account as per @peakmonsters stands at $259.93 around $5 less than last week due to fluctuation in card prices
DEC : Held in game and liquidity pools mostly increase by 10 hive worth
SPS : Mostly Staked in game (staked) and some in liquidity pools
Credits : Held in game
Chaos : None held
XChaos : Couple held in wallet
Voucher : Held in game (airdropped) or wallet
Total Current Assets value is $373.15 (+24.66) including the fluctuation in all the prices
---
Gains

Usual calculation for Gains = (Revenues + Asset value) - Expenses
and currently it stands at $156.82 or 19.13% of my expense of around $820 related to the game, decrease of $15.26 or 6.41% compared to last update, expected as this time I spent more than what came in.

Liquidity Pools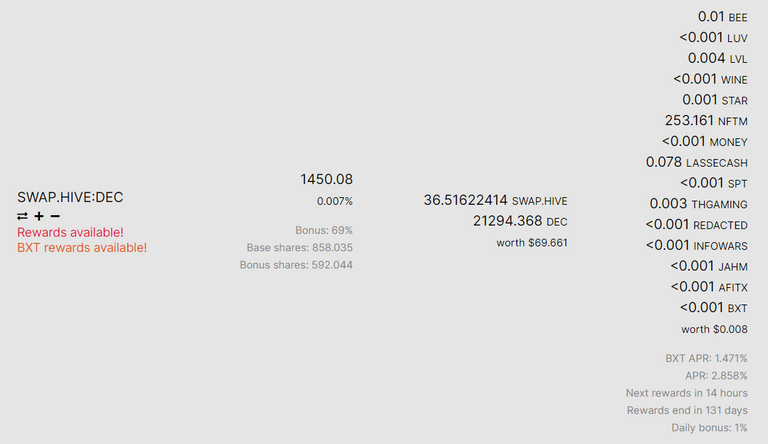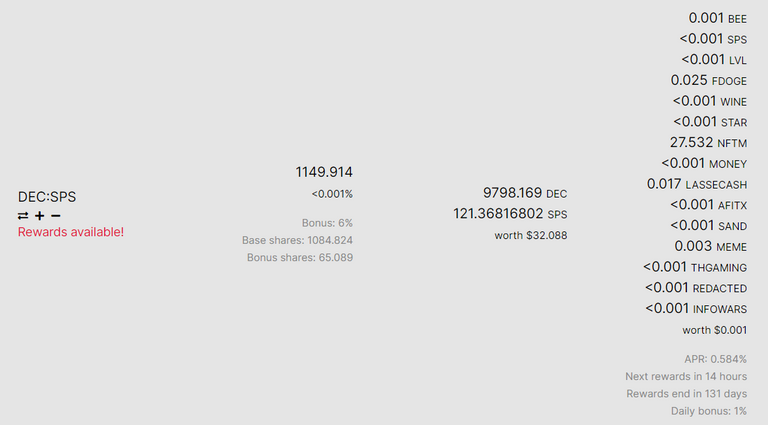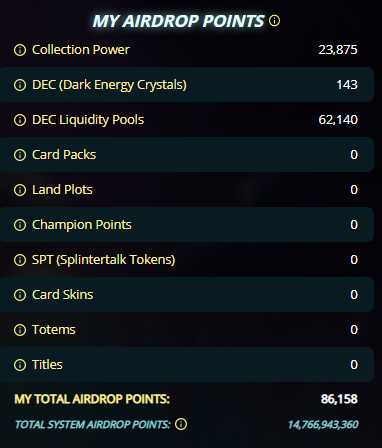 SWAP.HIVE:DEC : Shares increased by +60 due to daily 1% bonus received
DEC:SPS : As stated last week goal is to keep increasing position in this pool and more than tripled the position in this pool compare to last week
PKM:SPS : Whatever daily rewards from LP or card purchases I receive are added to this pool almost daily, shares have increased by +4.5
SPS:SPT : Exited to increase position in DEC:SPS
VOUCHER:SPS :No change and this one generated some fees of $0.004 worth 😄 in last week
SPS Airdrop points due to liquidity pool currently at 62140 (+15995 😲)
Not a Financial Advice please do your own diligence before investing

Game Progress

Did not had much luck with last #EOS rewards, got 2 rare cards, 4 Common cards, 26 DECs and 1 legendary potion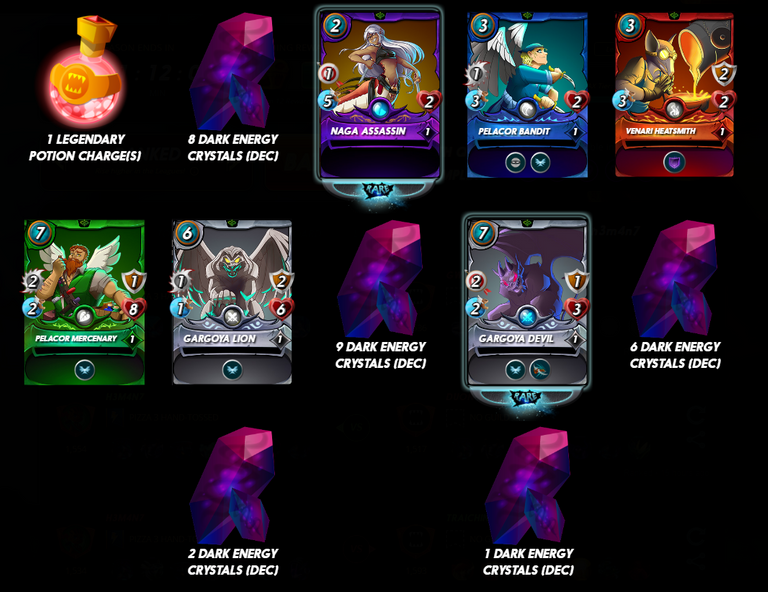 This season has been nothing short of disaster, don't know what has changed but the lineups which were wining in last few seasons have drastically started loosing and on top of that completing the daily quests have been really hard on one of the daily quest I went from 80% ECR rate down to 20% just to get the quest completed and had so many loosing streaks in between 😂 have been stuck in 🥉Bronze II and I stage due to this loosing streak, now will let the ECR recover and hopefully with next daily quests will be able to get into 🥈Silver 3 League, from 3 daily quests rewards chests have received 1 gold potion and 3+9 credits 😁
---
Gladius Pack Opening
At least had better luck with Gladius pack opening this time and pulled 🎉🎉3 Rares🎉🎉 Cutter Brieze, Captain Katie and Kotriphus Bayne along with 2 commons Katrelba Gobson and Hugo Strongsword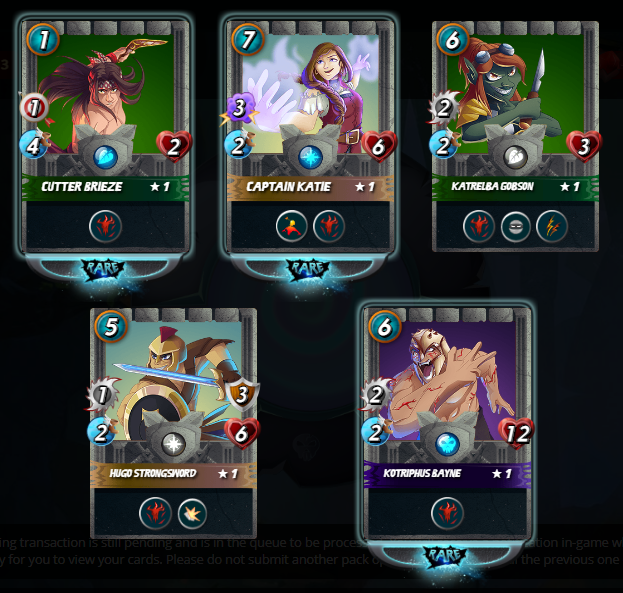 🍕PIZZA 3 Hand-Tossed Guild
Our #HivePizza 3 Guild took 🥉3rd Place in last brawl and won 19 crowns. For my Novice Chaos legion only fray I had 5 Battles out of which won 4👍 and lost 1👎 got 877 merits (just little short of purchasing next pack)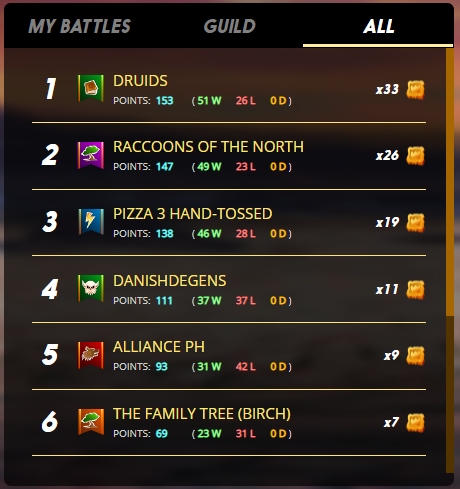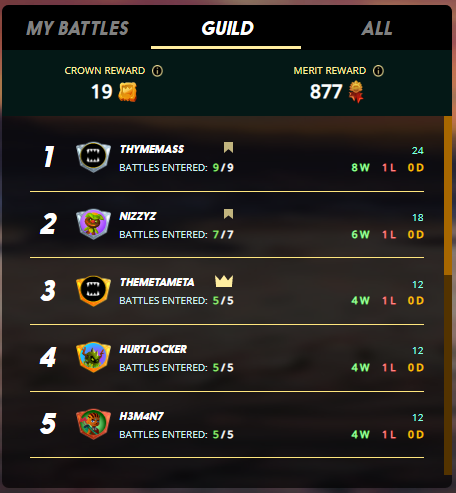 ---
Brawls Report
Battle #1
| Link | vs | Ruleset | Results |
| --- | --- | --- | --- |
| Link | Astroboycarmona (Raccoons of the north) | | Won👍 |
Even though it was Weak Magic ruleset, out of the available splinters

and

, I felt more comfortable with

which will mean mostly Magic attack, opponent also chose the

and had similar cards although Gold ones in the lineup, the major advantage for me was Queen Mycelia with her Protect ability providing +2 armor to each monster and with Weak Magic ruleset it meant that opponent's magic attack will need to do more work, it ended up being quite an easy battle with my lineup just loosing 1 card.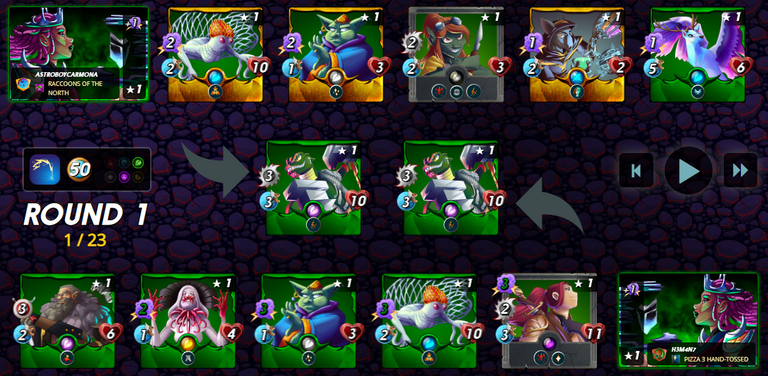 ---
Battle #2
| Link | vs | Ruleset | Results |
| --- | --- | --- | --- |
| Link | Moraband (Druids) | | Lost👎 |
Lost Legendary ruleset, oh common I have rented so many legendaries for the Brawl 😕 Well anyways it also had Aim True ruleset so went with

Tarsa but ended up choosing not so good lineup and lost disastrously 😞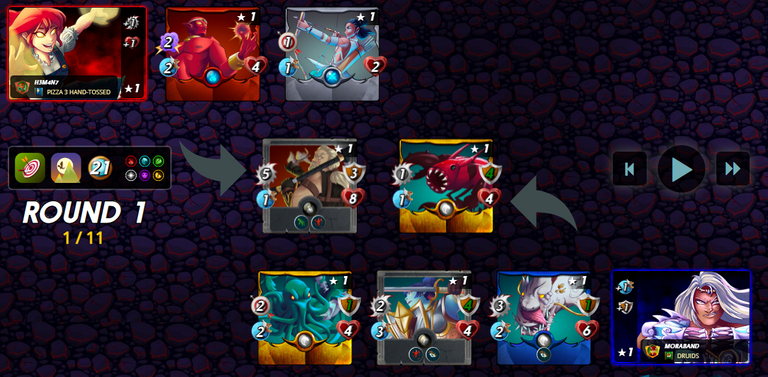 ---
Battle #3
| Link | vs | Ruleset | Results |
| --- | --- | --- | --- |
| Link | Mavinata (The family tree birch) | | Won👍 |
Are you kidding me, Lost Legendaries again 😂 should not have rented anything for this Brawl, anyway another ruleset was Super Sneak so by default chose

Tarsa again and put Tusk the Wide as back of line tank in case if opponent went with Magic attack, and Forgotten One in front as tank and main attacker, opponent's choice of Grund as attacker with Double strike ability and Goblin Physic providing Tank heal ability was good but since it was super sneak back line attackers taking out Goblin Physic in first couple of round worked in my favor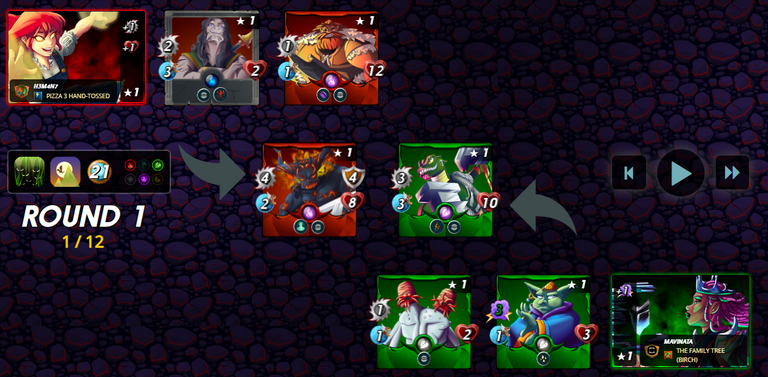 ---
Battle #4
| Link | vs | Ruleset | Results |
| --- | --- | --- | --- |
| Link | Themajon (Danishdegens) | | Won👍 |
This one had weird ruleset too, one was Target Practice which means Ranged and Magic attack monsters have Snipe ability and Lost magic ruleset which mean no Magic attack monsters 😵
Anyways I chose

again with mostly Meele attackers and tanks in front and back of the lineup and Supply runner and Tatiana Blayde as range attackers and opponent somehow chose

with almost Meele attack well it was easy win for me
---
Battle #5
| Link | vs | Ruleset | Results |
| --- | --- | --- | --- |
| Link | Chicos (Alliance PH) | | Won👍 |
Reverse Speed ruleset and out of the available splinters, again

seemed like right choice and luckily even had Gladiator Chimney Wallstop perfect for this situation with heaviest Melee attack and slowest speed, overall it felt like quite quick finish for reverse speed 😝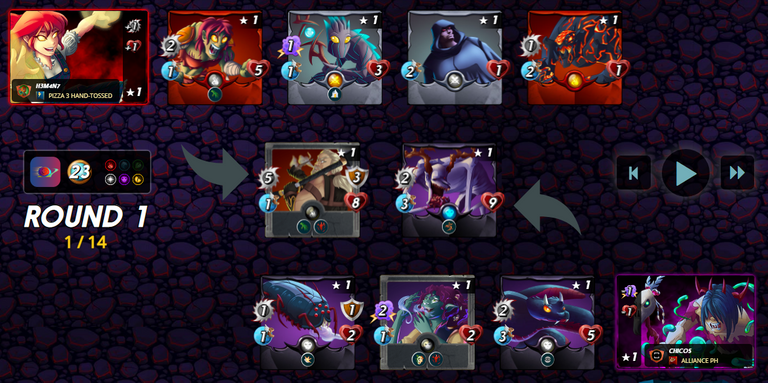 On a side note I am looking for guild to play with my alt accounts too, if your guild need 1 fray to be filled (preferably Novice chaos legion) let me know, do not have too much DECs to donate so will be looking for low requirement guilds which want to earn more Brawl points/merits

🎉🎉Giveaway #29🎉🎉


This week's I will be giving out 5 Rare Cards from Chaos Legion Series
Djinn Apprentice
River Nymph
Goblin Tower
Celestial Harpy
Soul Strangler

Giveaway Participation
💬Comment: 💬Comment is must for participation and should mention your ingame username if different. I will like to hear about your #battles, #story or #artwork about #splinterlands, #play2earn, #hive in the comments (All those shares will get a PIZZA tip from me)
📢Reblogs and 💙Upvotes, tips like !PIZZA🍕, !LUV❤️, !LOLz😆, !Beer🍻 and other , Sharing the post on social networks are appreciated but not must for participation
Multiple comments/accounts - Multiple comments from same account (or for same game account or for alt accounts of same person) will be not considered in the draw
Ping list will be announced in comments later on (and is kind of automatically generated from participants from last 3 giveaways)
Winner for giveaways will be picked up normally after 7 to 10 days and all entries before I close the giveaway will be valid.
---
🚷Rules to claim prize🚷
To avoid sending the prizes to Non-Human (bots), Winners will need to acknowledge the winning within 48 hours of results by either commenting on winner announcement post or messaging me on Discord or twitter.
In case of non response from your side, it will be assumed you are not interested in receiving the prize

🏆Winners of Giveaway #28🏆


🏅 🌟Gold🌟 Pelacor Deceiver goes to @irisworld Congrats!!! 🎉🎉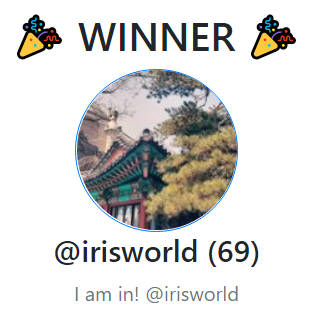 As mentioned in rules winner please acknowledge your winnings by posting a comment below or by contacting me on Discord or Twitter within next 48 hours.
Also will appreciate if you can share about your winnings on your social networks, blogs or discord, thanks!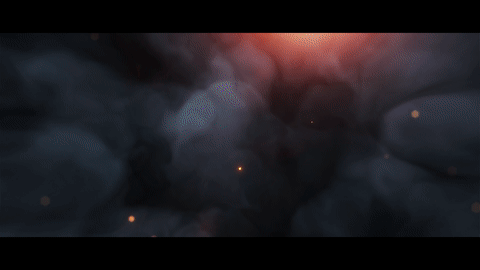 Promotion
In addition for the new players to Splinterlands if you sign up with my referral link and complete the spellbook purchase, I will send you 75 DEC in game which should help you get started by renting some cards and building up your teams
Follow me on Twitter or here to keep up to date on my giveaway posts

#HivePizza Guild
If you play Splinterlands and are looking for a Guild stop by at PIZZA Discord and check with the team there we have 3 guilds for hardcore to casual players
For a chance to win some Pizza🍕 Tokens check out my Pizza Giveaway #17

Notices:

Images/logos used in this post used are from splinterlands, hivepizza or screenshots or images created by me based on assets from splinterlands and hivepizza
The content in here should not be taken as financial advice, please do your own diligence before investing
---
---