My Splinterland Card Drawing #11.
Hello, so for the extra drawing that I will be doing here in a couple days I would like it if you would put a vote in the comment for which one it should be. Please enter V1 for gold foil or V2 for a legendary card thank you. For the people that enter extra punctuation commands that go thru I am going to give a point score to and when it reaches ten points, I will give out a card to for certain punctuation commands. I want to thank all of you for all the best wishes, support and for being understanding and positive with the comments. All of you are awesome and I could not have paid for a better community of people. THANK YOU ALL
I am now down to every 2 days, and I am sorry to say that I have decided it is going to stay at 2 days for a while. For each card that I put up for prizes, I have also added the lore of the card below them, read them if you are interested, together they kind of make a story. I also want to let you know that I will be doing an extra card giveaway at the end of May for either a LEGENDARY or a GOLD FOIL CARD, not quite sure which on yet. It will be more difficult than just entering your IGN, I will let you know that it is going to be a riddle and not an easy one. If you can do an upvote so the cards can get better everything these giveaways make, go to getting better cards it is not for me.
Congratulations on the to the winners of drawing #10 and to waynechuasy who got an extra Chaos Legion card for being follower.
The cards are sent.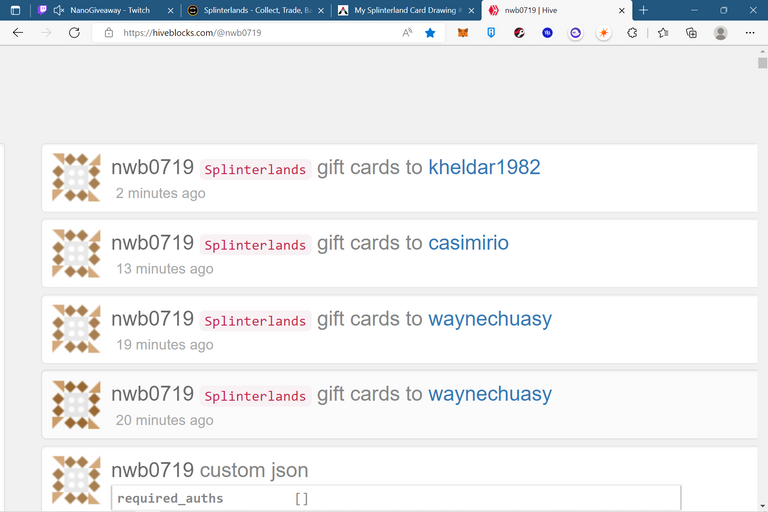 Now on to the drawing.
I have decided to start giving to the community by holding a card raffle every five days starting off,(Now down to every two days) then decreasing every two raffles, until it is every day. I have had to change it two every two days for a while do to family business.
It will consist of a first, second and third place, randomly selected. The hive that is earned will be used for future contests for more expensive cards. The more followers, upvotes and comments, the better the drawing gets. I have added where you can get extra entries into the drawing not required but very appreciated.
To be entered:
*Comment bellow and like.
*Add your in-game name in comment.
*Repost= extra entry(more than ten followers)
*Mining in the comment with !HBIT= extra entry
*Please follow=extra entry and it you take 1st, 2nd, or 3rd place you get an extra random card, not required but very appreciated.
*Check out TEERANDOM on TWITCH.TV, follow and get an extra entry into every drawing.
THE CARDS
                                         First Place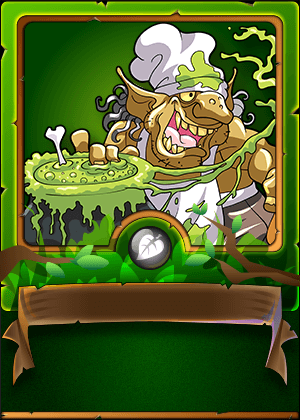 Goblin cuisine may look like rubbish, but it smells divine. Through generations of culinary focus entirely on odors, they have truly perfected the appetizing aroma. Unfortunately, their food can only be digested properly by Goblins, and Goblin Chefs find it amusing to feed their creations to creatures of all types.
                                         Second Place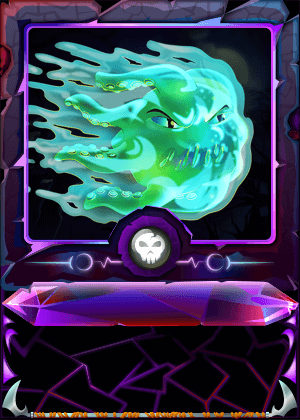 It's sticky, stinky and revolting. If any of this stuff gets on you, you'll be scrubbing for ages to no avail. The Slimeball flies throughout the Splinterlands seeking fresh linens to soil, stomachs to upset, and parties to putrefy. Much to the dismay of the Mount Mox audiences, the Cursed Slimeball can be easily summoned to tournament battle..
                                         Third Place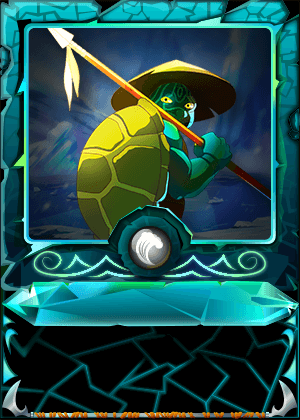 Tortisians are one of the newest civilized race to find their way into the Splinterlands from the other side of the world. They are naturally a seafaring people, and while they cannot breathe underwater, Tortisians can hold their breath for several minutes at a time. Their shells act as powerful floatation devices, never allowing one to be dragged under or to tire from swimming. In battle, the Tortisian Fighters make use of ancient martial arts forms handed down by their people. They carry spears, but seldom need to use them.
GOOD LUCK
Please let me know if you do not want to be on this list for my giveaway's.
@lorddiablo @monster.farmer @teerandom @mattlafourcade @walnutz
@blackfoot92 @aemaez @eirth @alexis666 @fire-born @yasky @Butops
@emitv @jakkal @drnoobpro @shawnmichael-gt @thegoliath @rtonline @eirik @sheikh27 @luizeba @tengolotodo @blitzzzz @dubble @relf87 @mr-house @seeweed @patomal666 @handtalk5 @mcrahman91 @dagz @lofone @jin-out @hatdogsensei @highhaschdi @spicywing @kheldar1982 @tertius @danideuder @circlebubble @lordflu @magalli @cynano @casimirio @kyo-gaming @stekene @bananofarmer @dtam @dewabra @jmehta @makhinoo @amaillo-m @jfang003 @irisworld @pix21 @technocrypton @elfino28 @candnpg @squishna @ghostlybg @gregory-f @taintedblood @screamheart @trashyomen @nex711 @myeong @mairapanelo @thaddeusprime @orebutb3 @tinyputerboy @nysster @instamental @stamato @kimikimi @curtis90 @jingo-submo @lordanquek @ianballantine @vaporent @donpapy @ecto1337 @diochen @deathstarer7 @henruc @scfather @submo @mxm0unite @brando28 @pero82 @pandachef @tub3r0.gaming @highfist @mcrahman91 @tedus @koodies @assasinos3 @derfabs @gondek @lordshah @flummi97 @karmaa13 @lovefallen @tub3r02
---
---