My Splinterland Card Drawing #28.
Hello, not much to say but I will be getti8ng up an extra post to give away a couple Legendary cards and Epics in the next two days. Don't forget to thank all the people that upvote these post they help keep it and going. THANK YOU FOR THE UPVOTES! Remember with the hbit command you can only do two other ! commands now with it in a reply. I want to thank all of you for all the best wishes, support and for being understanding and positive with the comments. All of you are awesome and I could not have paid for a better community of people. THANK YOU ALL for being understanding.
I am now down to every 2 days, and I am sorry to say that I have decided it is going to stay at 2 days for a while. For each card that I put up for prizes, I have also added the lore of the card below them, read them if you are interested, together they kind of make a story. If you can, do an upvote so the cards can get better everything these giveaways make go to getting better cards it is not for me.
HAVE A GOOD WEEKEND
Congratulations on the to the winners of drawing #26 who were butops, kalih and tertius all of them followers so they got an extra Chaos Legion card for being followers.
The cards are sent.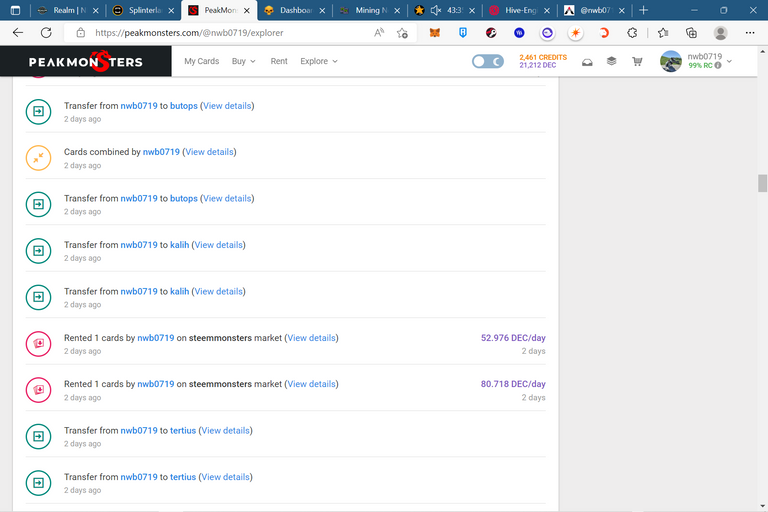 Now on to the drawing.
I have decided to start giving to the community by holding a card raffle every five days starting off, (Now down to every two days) then decreasing every two raffles, until it is every day. I have had to change it two every two days for a while due to family business.
It will consist of a first, second and third place, randomly selected. The hive that is earned will be used for future contests for more expensive cards. The more followers, upvotes and comments, the better the drawing gets. I have added where you can get extra entries into the drawing not required but very appreciated.
To be entered:
*Comment bellow and like.
*Add your in-game name in comment.
*Repost= extra entry (more than ten followers)
*Mining in the comment with !HBIT= extra entry
*Please follow=extra entry and if you take 1st, 2nd, or 3rd place you get an extra random card, not required but very appreciated.
*Check out TEERANDOM and GOLDMEMBER ARCADE on TWITCH.TV, follow and get an extra entry into every drawing.
THE CARDS
                                         First Place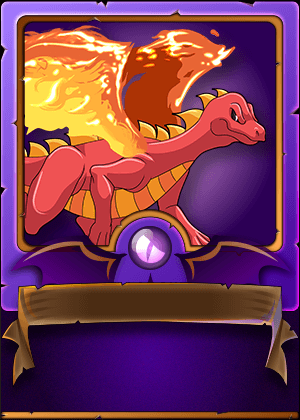 Small but mighty, the Fire Spitters have recently descended upon the Dragon Splinter of Draykh-Nahka, where they fit right in. They come from a faraway exotic place only known as the Pocket Dimension. The Pocket Dimension has many key differences to the Splinterlands, but lots of things in common as well. Most of the monsters there are smaller than those native to the Splinterlands, including the Fire Spitter. However, even the smallest Fire Spitters can produce a magnificent blaze, large enough to easily incinerate a cottage in a few minutes.
                                         Second Place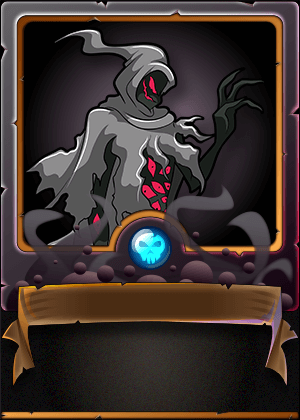 Little do the living of the Splinterlands know that Dark Energy is produced by fear, as well as destruction and death. Many Dark Eternal forms have been crafted not only for battle utility, but also to evoke fear from the living. The Boogeyman is an extremely specialized agent of fear. Boogeymen spend their time traveling through the living realms of the Splinterlands spreading danger and fright. The most skilled Boogeymen always go after children, for the fear of a child is the purest fear available.
                                          Third Place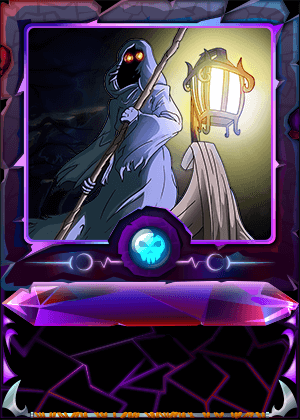 The Dark Ferrymen of Mortis are well-known throughout the Splinterlands, for they carry on their ferries not only Dark Eternals, but the living as well. Ships are not able to approach the rocky shores of Mortis except at the port of Galzur, so ferries must take all passengers from boat to shore, even those of the living who simply wish to visit Beluroc. Those who have made the trip many times always advise first-time travelers to not look into the soothing and hypnotic eyes of the Ferrymen. It is tempting to do so, and great secrets can be learned, but in this case, there is a fine line between knowledge and madness. It is also known that the Ferrymen do not answer to the Lord of Darkness, and that they have powerful and strange skills of combat that are put to excellent use when they are summoned to tournament battle.
GOOD LUCK
THE POINTS LIST
screamheart-111
candnpg-1card-111111111
jakkal-2card-
kheldar1982-111
instamental-card-1
curtis90-1card-
dub-c-1card-11111111
eijibar-1
drnoobpro-11
tinyputerboy-111
thaddeusprime-1card-1111111
shawnmichael-gt-1card-11
elfino28-1111
casimirio-1111
taintedblood-11
eustacekid-1111
gregory-f-1card-1111111
maakue-1
waynechuasy-111111
danideuder-111111
lorddiablo-1
arpuch-2card-11
mxm0unite-1
kimikimi-11
txracer-11
xheadhunterz-card-11
noonespecialz-11
ericburgoyne-111
sieghard1990-1111
jonimarqu-card-1111
lordshah-1
butops-11111
irisworld-1
brando28-1
johnripper-1
angelinafia22-1
dagz-11
amaari-11
nfteam0173-1
maurye23-1
tengolotodo-1
Please let me know if you do not want to be on this list below for my giveaway's.
@lorddiablo @monster.farmer @teerandom @mattlafourcade @walnutz
@blackfoot92 @aemaez @eirth @alexis666 @fire-born @yasky @Butops
@emitv @jakkal @drnoobpro @shawnmichael-gt @thegoliath @rtonline @eirik @sheikh27 @luizeba @tengolotodo @blitzzzz @dubble @relf87 @mr-house @seeweed @patomal666 @handtalk5 @mcrahman91 @dagz @kimikimi @hatdogsensei @highhaschdi @spicywing @kheldar1982 @tertius @danideuder @circlebubble @lordflu @magalli @cynano @casimirio @kyo-gaming @stekene @bananofarmer @dtam @dewabra @jmehta @makhinoo @amaillo-m @jfang003 @irisworld @pix21 @technocrypton @elfino28 @candnpg @squishna @ghostlybg @gregory-f @taintedblood @screamheart @trashyomen @nex711 @myeong @mairapanelo @thaddeusprime @orebutb3 @tinyputerboy @nysster @instamental @stamato @kimikimi @curtis90 @jingo-submo @lordanquek @ianballantine @vaporent @donpapy @ecto1337 @diochen @deathstarer7 @henruc @scfather @submo @mxm0unite @brando28 @pero82 @pandachef @tub3r0.gaming @highfist @mcrahman91 @tedus @koodies @assasinos3 @derfabs @gondek @lordshah @flummi97 @karmaa13 @lovefallen @tub3r02 @dub-c @jonimarqu @maurye23 @nfteam0173 @angelinafia22 @kalih
---
---