Rising Star Weekly Giveaway No.1 - Win 10,000 STARBITS + Tips for BEGINNERS + My account progress - by @pero82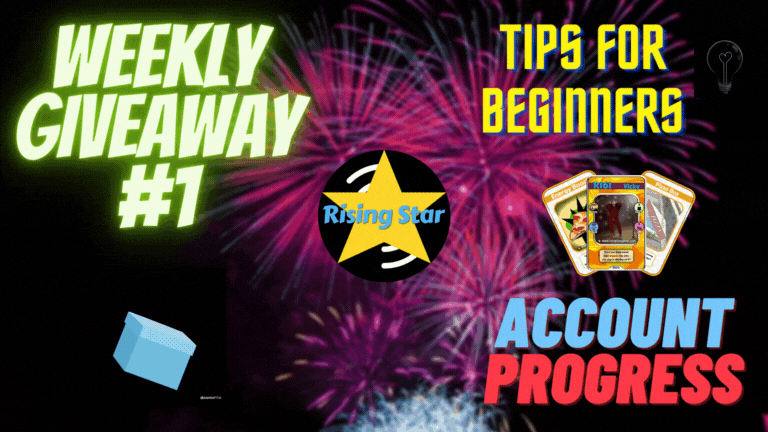 Hello everyone! Pozdrav svima!
Welcome to the 1st edition of Rising Star Weekly Giveaway! This week (and weeks to come) I will organize a Rising Star Giveaway in which you can win amazing 10,000 STARBITS. Yes, you read it right - 10k STARBITS! 🎁
---

---

~~ ⭐️ MY RISE TO STARDOM ⭐️ ~~
First let me say a thing or two about my voyage through the world of Rising Star Game.
I started playing about 6 months ago after I saw a post on hive blog about what cards to buy first and when.
I started slowly, trying to learn how to play this amazing game. Did some missions until I could buy my very first card - R161 Vicky!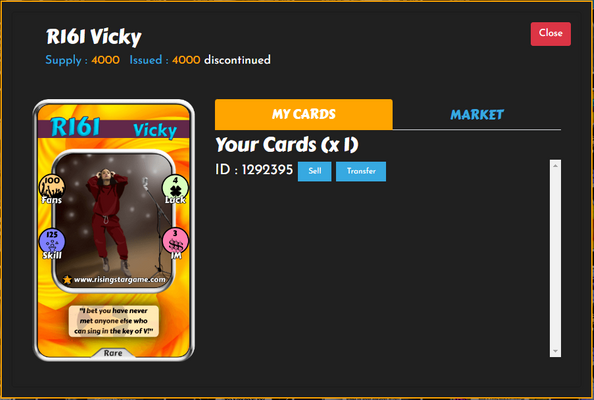 After that things went a bit faster, started earning more STARBITS per mission and before I knew it, week after Vicky I bought my first Pizza Box and soon after that I bought Energy Boost.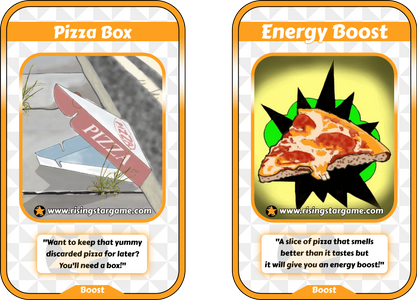 Now things really took off and I was able to do a lot more missions daily, thus improving my account at a rapid pace.

~~ ⚡️ ACCOUNT STATUS ⚡️ ~~
Six months later, this is what my account looks like.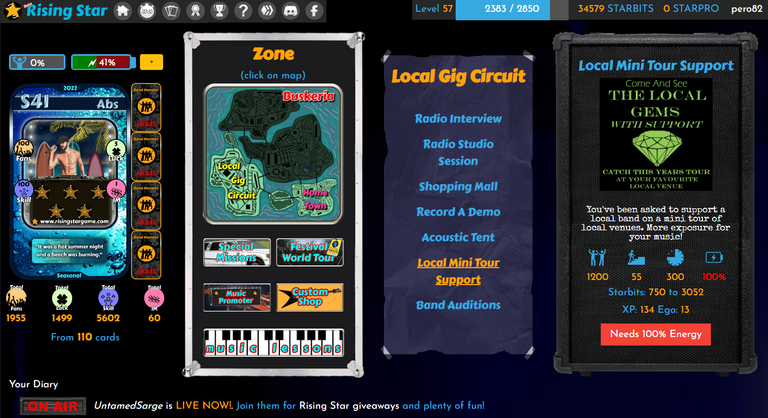 As you can see I'm at level 57 and I have 1955 Fans (that's without any Temporary Drunks), 1499 Luck (most comes from instrument cards), 5602 Skill (2606 from cards and 2997 from lessons) with Income Modifier of 60.
Currently I own 110 cards of which are:
People Cards x17
Instrument cards x85
Energy Boost cards x3
Transport cards x5
Among others I've bought the S41 Abs seasonal card in order to be eligible for Summer Breeze special mission. I've done the mission 16 times so far, but I didn't have any luck so far, didn't win a single Limited Edition Seasonal Card.

I hope my luck improves and I manage to win some cards before the event finishes on 4th of August.

~~ 🏆 ACHIEVEMENTS 🏆 ~~
Up to this day I've done 1416 Missions, distributed more or less evenly as you can see in the table below.
| Mission name | Number of completions | Change from last week |
| --- | --- | --- |
| Illegal Busking | 213 | - |
| Open Mic Night | 217 | - |
| Mid Week Support | 132 | - |
| Licensed Busking | 46 | - |
| Midweek Headline Slot | 20 | - |
| Saturday Support | 25 | - |
| Saturday Headline | 46 | - |
| Radio Interview | 292 | - |
| Radio Studio Session | 34 | - |
| Shopping Mall Performance | 88 | - |
| Record A Demo | 44 | - |
| Local Festival Acoustic Tent | 69 | - |
| Local Mini Tour Support | 28 | - |
| Band Auditions | 0 | - |
| ---------------------------- | | |
| Summer Breeze | 16 | - |
| ---------------------------- | | |
| Basic Singing Lesson | 40 | - |
| Guitar Lesson | 66 | - |
| Piano Lesson | 40 | - |
| ---------------------------- | | |
| Total Missions | 1416 | - |

~~ 💡 IMPORTANT TIPS 💡 ~~
Buy the Energy Boost and Pizza Box card first (I made a mistake to buy a Person card first). Make your primary goal to save enough STARBITS to buy Energy Boost (currently sold on the market for 10k STARBITS) and after that Pizza Box (currently sold on the market for 7,5k STARBITS). They will allow you to do more missions daily and grow your account faster. (If you win in this giveaways you will have enough STARBITS to buy one right away 😎)
Try to organize your mission schedule in that way that you do the longest (most energy expensive) missions when you know you will be away from your PC/Mobile or before you go to sleep. So your energy recovers while you're doing those long missions and by the time you get back not only you have a mission done but you have enough energy for a new one. If your energy is full and you're not doing anything with it - its wasting this precious resource.
Energy recover rate is about 1% per 5 mins (it can be shorter with Coffee, but that boost lasts only 1 hour), so to get from 0% to 100% it will take you about 8 hours and 20 mins.
Before you use your Energy Boost or Pizza Box try to spend all your energy so it doesn't go to waste. What I like to do is after I do a long mission, after it finishes for example I'm on 30% energy. I would do 2 runs of Illegal Busking and then use the boost. Often it happens that by doing that I find discarded pizza and my energy fills up automatically, so I save my energy boost and get full energy for long missions.
Try to do different missions daily. Don't spam just one mission whole day because it will start yielding less and less STARBITS.

~~ 🎁 GIVEAWAY 🎁 ~~
Now, lets get to our weekly giveaway, where you have a chance to win 10,000 STARBITS!
There will be one (1) lucky winner who will be decided by a raffle with Wheel of names. The raffle will be done after the post deadline (aprox. 7 days), and the winner will be announced in next week's giveaways post.
In order to participate:
You need to comment your in-game username.
Upvotes or follows are optional, but are much appreciated.
🍀 Good luck to all the participants and see you next week. 🍀

~~ 📝 NOTIFICATION LIST 📝 ~~
I will make a notification list of all the participants, so you get notified when the results come. If you do not wish to be on the list, please let me know in your comment.

Please support this proposal to help bring new users to Hive via Rising Star Game.

Rising Star - The Play2Earn NFT virtual music career game built on Hive.
---
---