TOURNAMENT GUIDE : WILD SILVER TIPS (450 SPS REWARD) AND GIVEAWAY #60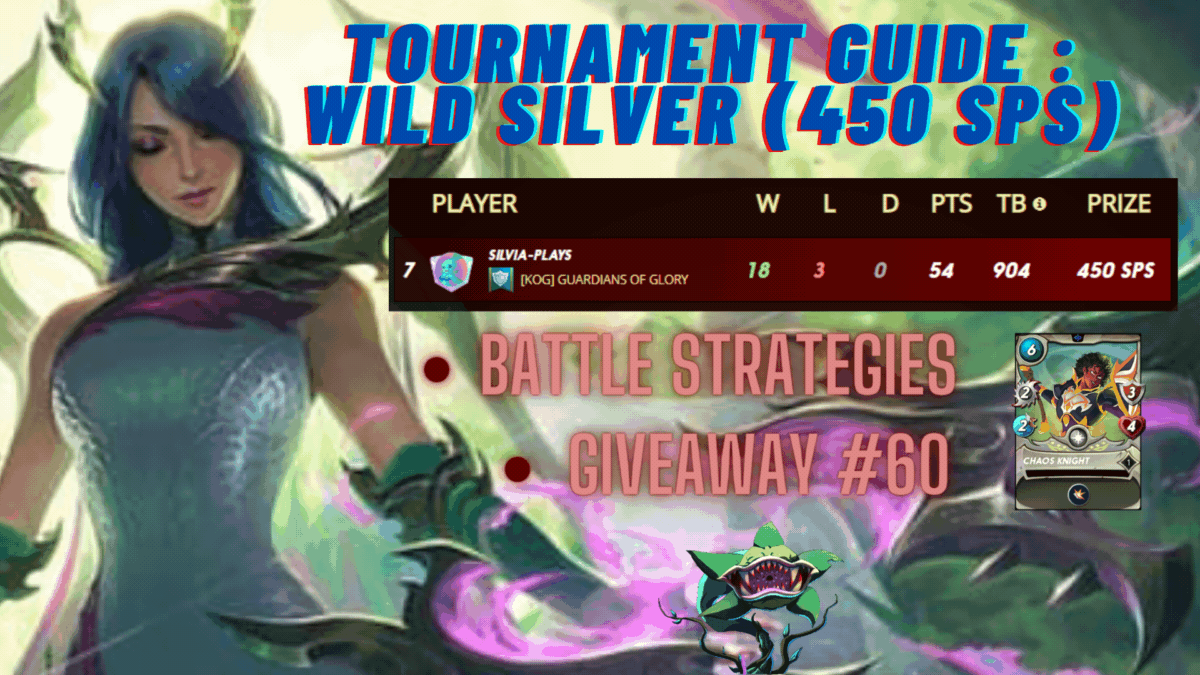 Source of Picture
~ 😘 Hello My Splinterlands family around the world 😘 ~

Alright, The top Wild Silver Tournament strategies that we are going to discuss in depth are :
Camouflage is a good choice in Opportunity ruleset
Pull all the enemies attack to the last position at high mana battle
Owster Rotwell is the best summoner at Wands Out ruleset
Llama - Hydra is the best combo at "Up Close and Personal" ruleset
Ilthain works well at briar Patch ruleset
At the beginning of this article, I will share the result of the first and final round of the tournament and... at the end, there will be a giveaway #60 to grab so Let's get started !

- TOURNAMENT RESULT -
Here is the result of Round 1 tournament :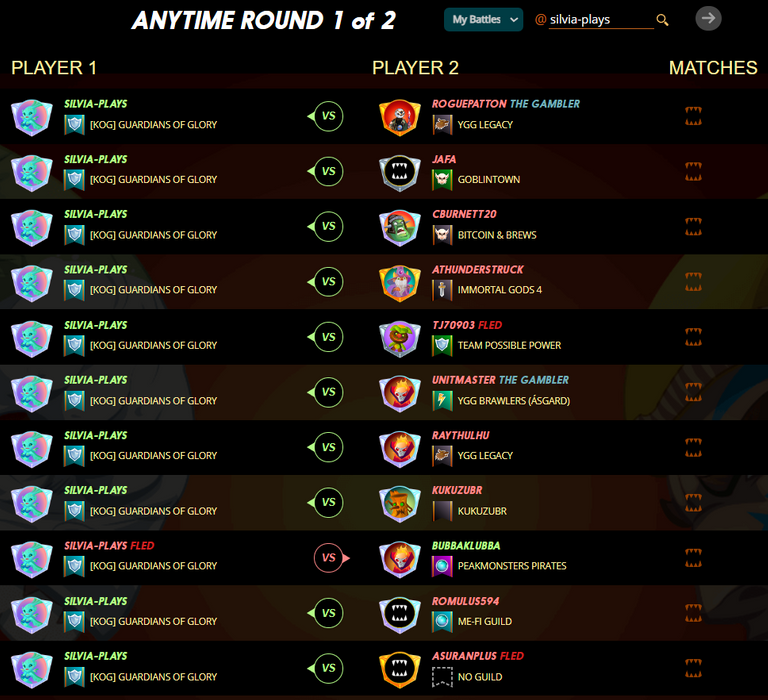 And here is the result of final round :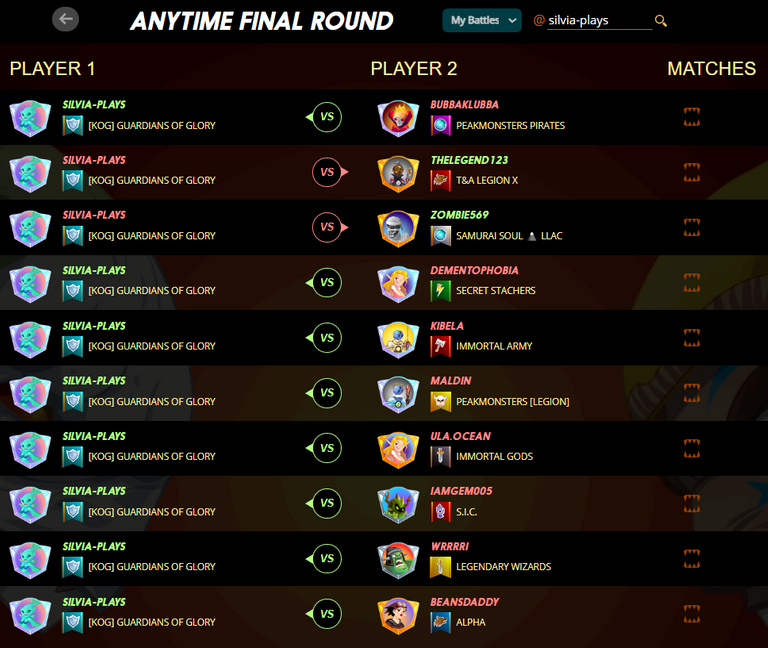 ---
In the next chapter, I am going to share the top 5 battle strategies throughout the tournament guys, I hope it could be useful, enjoy :

- CAMOUFLAGE IS A GOOD CHOICE IN OPPORTUNITY RULESET -
| Ruleset | Mana | Element |
| --- | --- | --- |
| Holy Protection, Wands Out, Equal Opportunity | 21 | Fire, Water |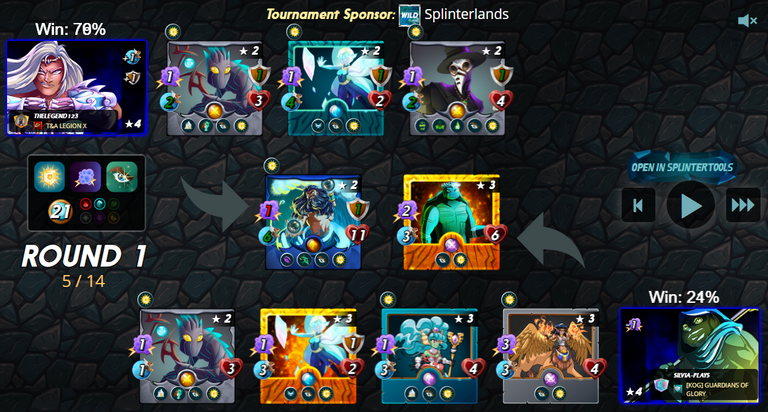 My opponent strategy is cool because he put Djinn Oshannus as a tank monster who have void ability to reduce magic attack by -1. Another good strategy is the way he put Dr. Blight in the last position as he has camouflage ability, the opponent would not be able to see him unless he is in the first position. It gives Dr. Blight much time to inflict poison to all of the opponents. Next time, If I get the Wands Out ruleset and water splinter is available, I'll consider to use the following monsters in my team : Bortus - Djinn Oshannus - monsters with silence ability and Dr. Blight in the last position.

- PULL ALL THE ENEMIES ATTACK TO THE LAST POSITION IN HIGH MANA BATTLE -
| Ruleset | Mana | Element |
| --- | --- | --- |
| Close Range, Explosive Weaponry, Equal Opportunity | 50 | Earth, Dragon |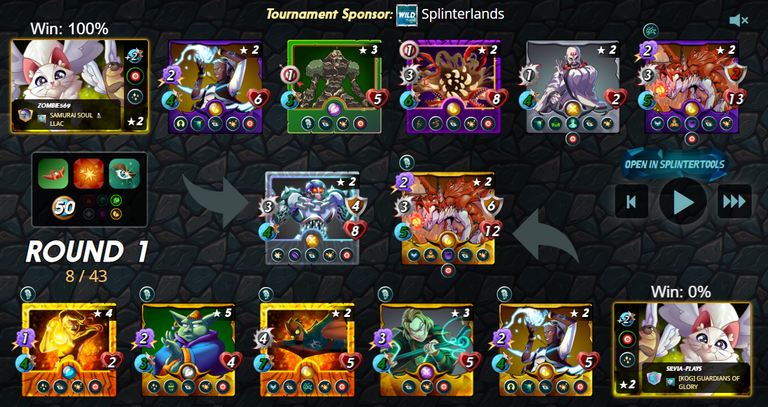 - OWSTER ROTWELL IS ONE OF THE BEST SUMMONER AT WANDS OUT RULESET -
| Ruleset | Mana | Element |
| --- | --- | --- |
| Reverse Speed, Wands Out, Ferocity | 48 | Fire, Water, Death, Dragon |
This is another epic battle in Wands Out Ruleset. I think the main reason why I won the match is because I set 3 monsters with very high health points who can hold and reflect all of the magic attack from the opponent. Another reason is I was using Cabalist who has amplify ability to increase the magic reflected. In this ruleset, both players are using 2 monsters who have silence ability. This is very important as we know that only magic monsters can be used in the battle. The most common summoners to be used in this ruleset are Grand Master Rathe, Mimosa Nightshade, Owster Rotwell, Immortalis and Bortus.

- LLAMA - HYDRA IS THE BEST COMBO AT "UP CLOSE & PERSONAL" RULESET -
| Ruleset | Mana | Element |
| --- | --- | --- |
| What Doesn't Kill You, Ferocity, Up Close and Personal | 24 | Water, Earth, Life, Death |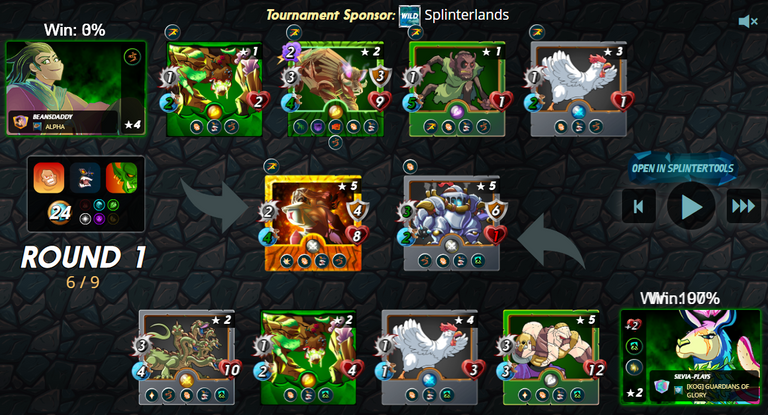 In "Up Close and Personal" ruleset, only melee monsters can be used in the battle so it's very important to use the summoner who can give Thorn ability like Mylor Crowling or use monsters who have Thorn ability such as Hydra or Enchanted defender. Another thing which is very important to remember is the monster should have ultimate defence, and in the battle above, the combination between heal + last stand is making Hydra an immortal monsters with super strong defence. That's the key to win the battle.

- ILTHAIN WORKS WELL AT BRIAR PATCH RULESET -
| Ruleset | Mana | Element |
| --- | --- | --- |
| Briar Patch | 42 | Life, Death, Dragon |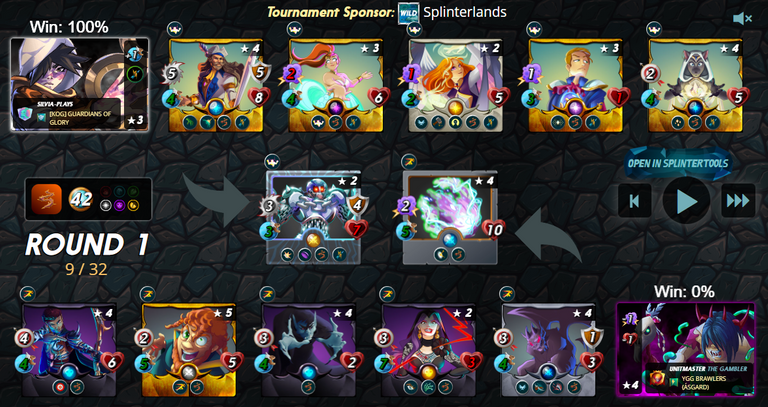 In the Briar Patch ruleset, There are only two kind of attacks, either magic or ranged attack. In the above match, I was guessing that my opponent will use ranged type attack and I glad that my guessing was right. He set 5 ranged attack monsters and with the help of Ilthain who gives all the friendly monsters return fire ability and Dax Paragon who has amplify ability, all the ranged attack from my opponent got reflected with the same damage as their attack so that I could win the battle very easily.

- FINAL RESULT -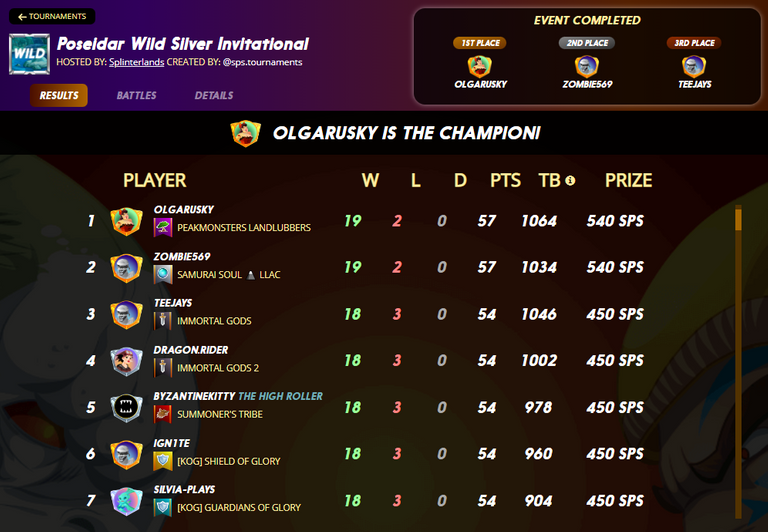 - ANNOUNCEMENT OF GIVEAWAY #58 WINNER -
Alright guys, now it's time for the giveaway. We have 26 participants for the Giveaway #56. I'd like to say Thank you very much for visiting my blog and joined the giveaway. Here are the list of participants :
@bechibenner, @amaari, @willendorfia, @syel25, @stonemountain69, @pirulito.zoado, @emeraldtiger, @treefrognada, @ladymisa, @rayius, @pulubengdugs, @henruc, @monsterbuster, @olaf.gui, @blitzzzz, @jdike, @ianballantine, @candnpg, @pero82, @flummi97, @vaynard86, @amaari, @ianballantine, @pero82, @pulubengdugs, @treefrognada
(Amaari, Pero82, Ianballantine, Treefrognada and Pulubengdugs got 2 tickets as they re-blogged the post)
I hope I don't miss out any names there. Regardless you win or not, I hope you guys keep supporting me by participating in my upcoming giveaways because sharing to the community is fun. Here is the snapshot of the winner :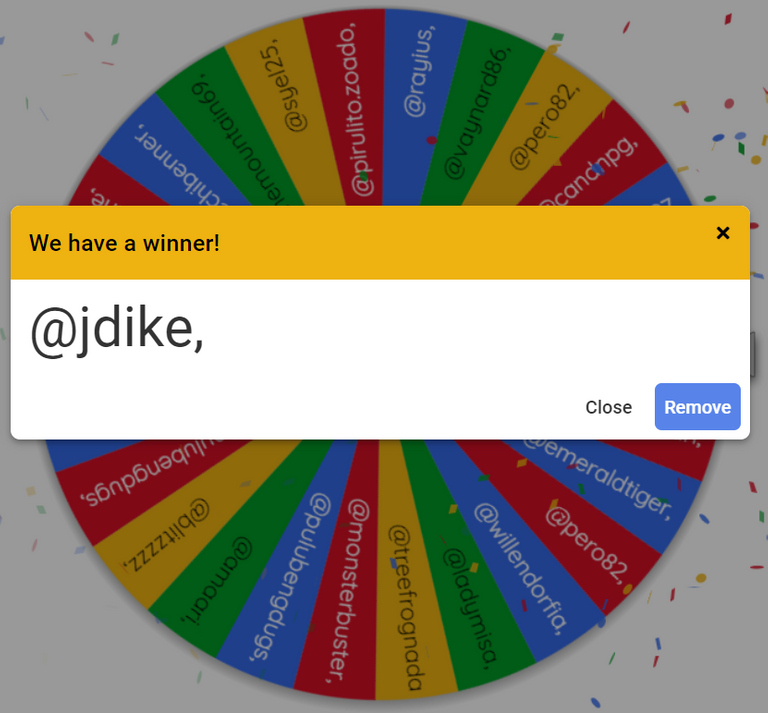 - GIVEAWAY #60 -
Alright, in the previous post we had a Chaos Legion card for the giveaway. In this giveaway post, there will be 1 Chaos Legion card that you could possibly win, Here is the card :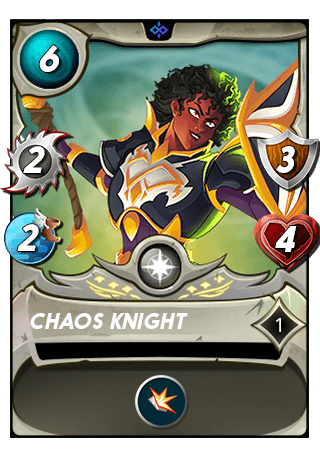 Chaos Knight
I will use Wheel of Names for the drawing and the name picked out will be given the card prize.
How to participate :
Please put your IGN (In-Game Name) in the comment section.
If you feel like the post is useful feel free to follow me for more battle tips and tricks and 2 weekly giveaways continuously. I'll make sure we will be good friends :)
Upvote is not a requirement but it will be greatly appreciated to increase the quality and the quantity of the next giveaway.
Re-blogging this post will give you 2 tickets, higher tickets, higher chance to win the rewards 😉

Notes :
The cut off time is the pay-out of this post (7 days). I will put a comment "TIME'S UP" when the time is up.
The winner will be announced in the next giveaways.
If you want to give feedback or critics, feel free to leave any comments. As long they are constructive and not offensive, they will be appreciated.
Started from now, I will tag all of the participants who have joined (in the previous giveaway) in case you want to join the giveaway again, if you want me to stop tagging your IGN, feel free to comment STOP in the comment section.
Every time I posted blogs whether Battle Challenge or Social Media Challenge, there will be 1 card be rewarded for the giveaway winner.
If you haven't got any Splinterlands account, you can get it here

Alright, that's the end of this article guys, Thank you for visiting my blog. See you in the next article and giveaway. Take care~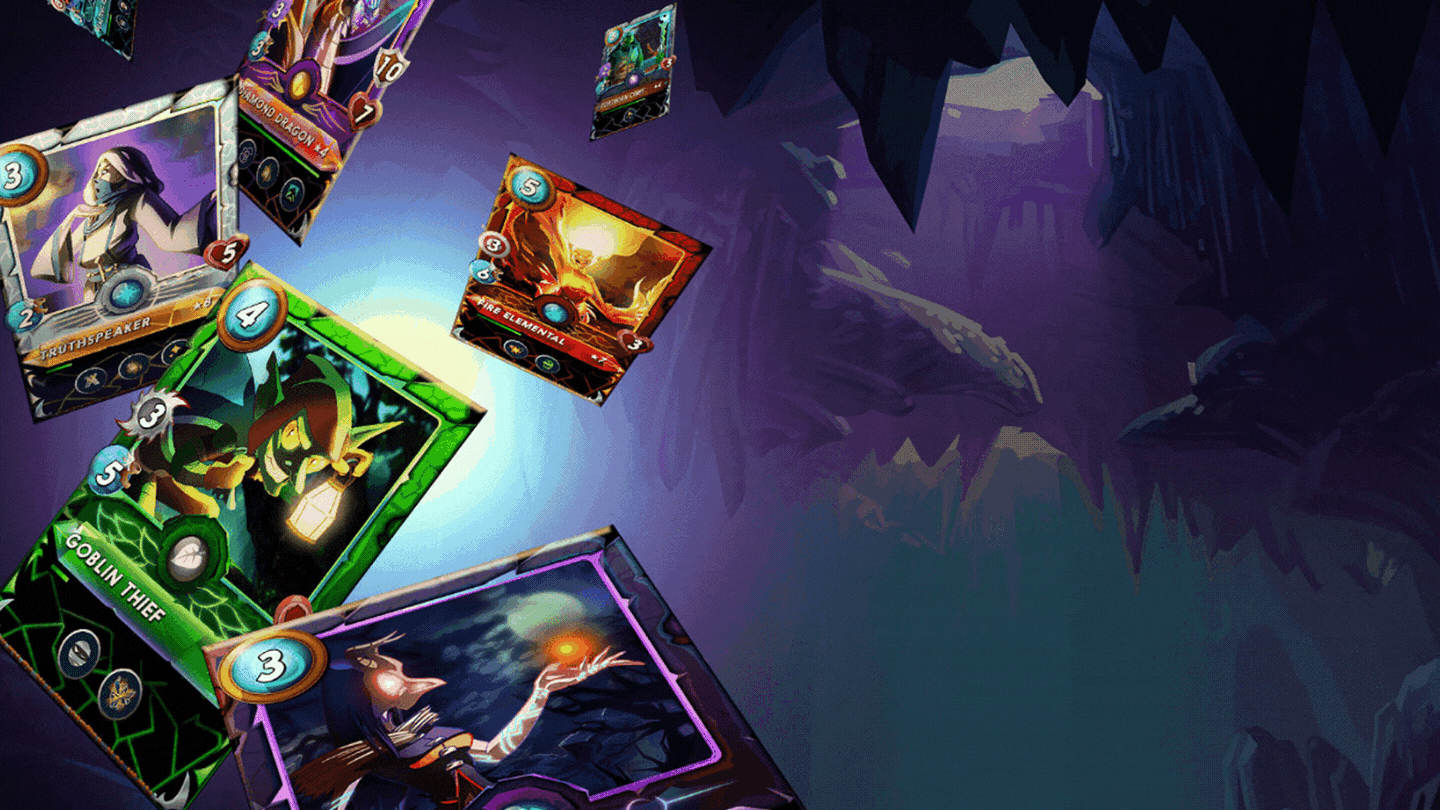 ---
---