PGM SPLINTERLANDS TOURNAMENT!

Hi everyone friends , how are you ? I hope well , well it had been a while since PGM did an event for the HIVE community and we decided to do something right away also you PGM community users who we know how much you love playing all blokchain video games and also the most played blokchain video game on the planet during the whole bull run just ended , of course I'm talking about @splinterlands , in fact yesterday on the official PGM profile I had released a poll where I asked if you were interested in a splinterlands tournament with several prizes up for grabs .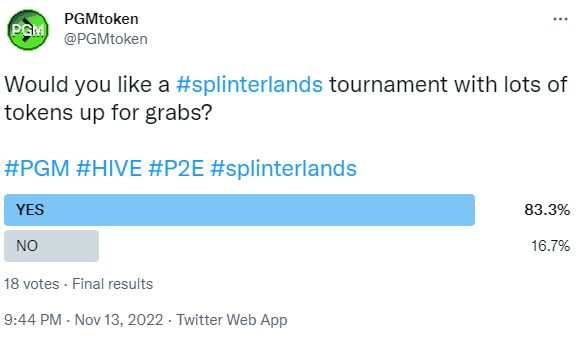 Needed 50% + 1 to make the decision to create the tournament , well out of 18 votes 83.3% decided to vote for yes while the remaining 16.7% decided to vote for no , well my dears but now you all have to go and participate in the tournament:
https://splinterlands.com/?p=tournament&id=7c6953eea159faac21a24914126fc1dc91a84811
In fact this link will take you directly to the toreno page whose entry cost is only 10 DEC , that is less than $0.01 which will allow you to win , if you are good , super prizes in PGM which you will all go to stake.

As you can see we have put quite a lot of prizes and we decided to give back the DECs they used to enter the tournament from 6 to 10 position , while for those who will arrive between 11-15 position will take 5 DECs , so half of what they put in to participate , in sum a totally non profit tournament to which we only aim for the community to have fun in this period of DUPM of cryptos!
---
---
---

Ciao a tutti amici , come state ? Spero bene , beh era da un pò che PGM non faceva un evento per la community di HIVE e abbiamo deciso di fare subito qualcosa anche voi utenti della community di PGM che sappiamo quanto voi amiate giocare a tutti i videogiochi blokchain e anche al videogioco blokchain più giocato sul pianete durante tutta la bull run appena terminata , ovviamente sto parlando di @splinterlands , infatti ieri sul profilo ufficiale di PGM avevo rilasciato un sondaggio dove chiedevo se eravate interessati a un torneo di splinterlands con in palio parecchi premi.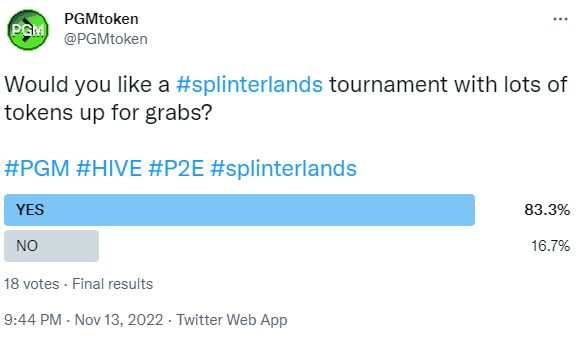 Serviva il 50% + 1 per prendere la decisione di creare il torneo , beh su 18 voti l'83,3% ha deciso di votare per il si mentre il restante 16.7% ha deciso di votare per il no , beh miei cari ma ora dovete tutti andare a partecipare al torneo:
https://splinterlands.com/?p=tournament&id=7c6953eea159faac21a24914126fc1dc91a84811
Infatti questo link vi porterà direttamente alla pagina del toreno il quale costo di ingresso è di soli 10 DEC , ovvero meno di $ 0.01 che vi permetteranno di vincere , se siete bravi , super premi in PGM che andrete tutti a mettere in stake.

Come potete vedere abbiamo messo un bel pò di premi e abbiamo deciso di ridare i DEC che hanno usato per entrare al torneo dalla 6 alla 10 posizione , mentre per chi arriverà tra la 11-15 posizione prenderà 5 DEC , quindi la metà di quello che ha messo per partecipare , in somma un torneo totalmente no profit alla quale noi puntiamo solo che la community si diverta in questo periodo di DUPM delle crypto!
---
---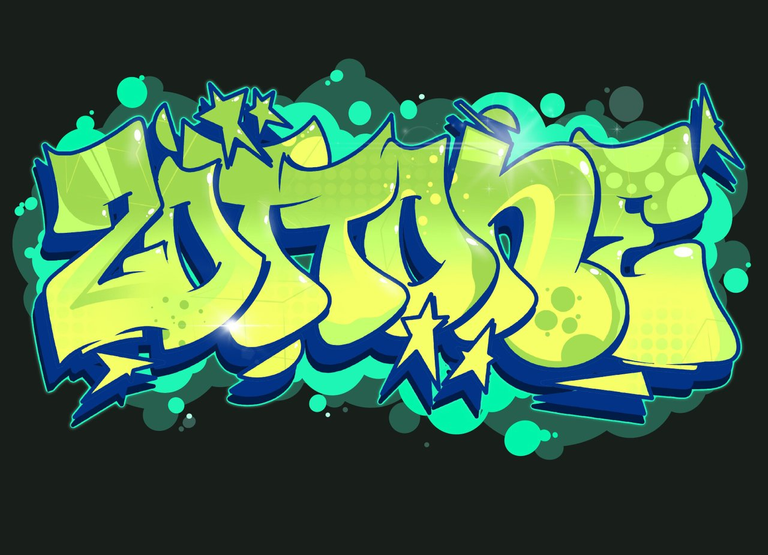 Follow me on
TWITTER ---> https://twitter.com/zottone444
TORUM ---> https://www.torum.com/u/zottone444
HYPPER ---> https://hyprr.com/profile/zottone444
NOISECASH ---> https://noise.cash/u/Zottone444
READCASH ---> https://read.cash/@Zottone444
BLURT ---> https://blurt.world/@zottone444
JOIN ON TELEGRAM ITALIAN GROUP ---> https://t.me/hiveitaly
FOLLOW HIVE ITALIA ON ---> Twitter -- Instagram -- Fecebook
photo by me / @thgaming
---
If you want to buy/sell Dcity cards with the PGM token from the NFTM.art shop click here
---
My private socials
Instagram---> ale_zotta_
Twitch ---> zottone
---
Links that may be useful to you for the PGM token
Buy it here
If you don't know how to buy the PGM token click here
If you want to know what projects we collaborate with, click here and here
If you want to become a sponsor of the project click here
joins the PGM discord server
FOLLOWE PGM ON TWITTER
Buy games by paying with hive-HDB-Pizza Token here @thebeardflex
To buy my microphone click here
To join my fortnite community click here
@stdd
@urri2020
@lozio71
@urkanon
@cpol
@crazyphantombr
@mad-runner
@beeminer
@ydaiznfts
@shiftrox
@ruralio
@chapelle
@mypathtofire
@femcy-willcy
@tobywalter
@rachaeldwatson
@edgerik
@adysscheryl
@myjob
@flaxz
@hafiz34
@dracozauberer
@servelle
@vaynard86
@hoosie
@hurtlocker
@candnpg
@operahoser
@misterc
@serhotest
@isnochys
@gestion.alive
@mizuosemla
@ismaelgranados
@chacald.dcym
@jetta.amaya
@tere.alv
@thinkrdotexe
@gabrielrr17
@bearmol
@elikast
@ibc
@backinblackdevil
@aljif7
@alenox
@libertycrypto27
@sinistry
@rocinanteprimo
@mad-runner
@irisworld
@rachaeldwatson
@elevator09
@davidthompson57
@coccodema
@dynamicrypto
@hurtlocker
@garlet
@mirafun
@bencwarmer
@lozio71
@starmasayume
@imfarhad
@drunksamurai
@flaxz
@taintedblood
@smolalit
@ganjafarmer
@circlebubble
@stewie.wieno
@beststart
@zottino123
@amico.sports
@bokica80
@kojiri
@mikezillo
@tampilyne
@japex1226
@nyinyiwin
@koshwe
@young-boss-karin
@scoutroc
@owlyfarm
@arpuch
@miketr
@chaosmagic23
@noctury
@pousinha
@dirego1
@mimismartypants
@bilpcoinbpc
@semarekha
@assassyn
@iamalivechalleng
@lotto-de
@rayius
@aliveandsocial
@c3r34lk1ll3r
@bananofarmer
@yeckingo1
@chuiiiiiiii
@nelthari
@javielys
@valdiva
@jam728
@high8125theta
@jakkal
@oscargarcia14
@chichi76
@furburger
@iamjabez
@uggya
@keisslermt
@smallboost
@johnripper
@mervinthepogi
@arkasz
@darmst5339
@newsposter
@dawnoner
@marshmellowman
@chubb149
@shawnmichael-gt
@aliveprojects
@siramadeus
@littlebee4
@kam5iz
@inam-999
@curtis90
@chaosmagic23
@emaxisonline
@isiksenpalvoja
@amaillo
@itharagaian
@arpuch
@steem82868
@guurry123
@points-fr
@crazyphantombr
@hhayweaver
@koussbar
@ydaiznfts
@bokica80
@heruvim1978
@captainquack22
@beeminer
@servelle
@mizuosemla
@adie44
@mypathtofire
@c3r34lk1ll3r
@florenceboens
@agog
@solymi
@davidxxl
@dubble
@kryptodenno
@bencwarmer
@gestion.alive
@genming
@pirulito.zoado
@hafiz34
@mad-runner
@mario89
@princekham
@noctury
@ganjafarmer
@myothuzar
@kojiri
@bilidrg
@ternizator
@daniarc
@thaddeusprime
@dewabrata
@darmst5339
@forykw
@thgaming
@jim-crypto
@eijibr
@new.things
@dksart
@xheadhunterz
@dracozauberer
@rachaeldwatson
@thisisawesome
@cryptoalvirin
@pinkhub
@forsakensushi
@flaxz
@operahoser
@suhlaing
@maurojd
@edgerik
@libertycrypto27
@heartbeatonhive
@digitalspace
@salamera
@lozio71
@matons
@elikast
@danideuder
@bitcoinflood
@reiseamateur
@aweee
@jdike
@freed99
@davot
@miketr
@mein-senf-dazu
@nahueldare3627
@ana-maria
@chubb149
@timehacker
@lofone
@vaynard86
@koshwe
@benthomaswwd
@imno
@bananasfallers
@nyimwa
@szmobacsi
@acgalarza
@chapelle
@nyinyiwin
@badpupper
@pousinha
@elfino28
@from-mars
@alicia2022
@tokutaro22
@uthantzin
@shiftrox
@ivanslait
@yeckingo1
@shawnmichael-gt
@serhotest
@candnpg
@lotto-de
@blitzzzz
@ladymisa
@rzc24-nftbbg
@zonadigital21
@tinyputerboy
@luizeba
@trading-tokens
@r1s2g3
@krueger053
@jjprac
@hutorou
@lordshah
@tengolotodo
@michupa
@alex2alex
@underlock
@solairitas
@criptosectadepit
@siphon
@atma.love
@entrepidus
@lipe100dedos
@web-gnar
@splinter100dedos
@urkanon
@mervinthepogi
@krakonos
@cpol
@eustace-kidd
@hurtlocker
@thecuriousfool @brianhuang
@ruralio @amaari
@nietokilll @beeber
@eddwood @dontcare89
@stdd @iamjabez
@mauriciolimax @mehmetfix
@condeas @lobaobh
@skgcrypto @xykorlz
@torran @cryptounicorn420
@mann0000 @astrocreator
@allonyx.ngs @valerianis
@hoosie @jimmy.adames
@andy-vibes @utopia-hope
@uggya @andy4475
@captainloken @valdiva
@felixgarciap @savvytester
@kaniz @kraaaaa
@dailygiveaways @metronet
@olympicdragon @misterc
@curator50 @bananofarmer
@gr33nm4ster @phoenixwren
@mvl2304 @caracol32
@pablodare @manuvert
@thedoc07 @urri2020
@paul20 @hive-143869
@moeenali @gwajnberg
@quekery @pgmcuration
@dstampede @johnripper
@noblebright @javivisan
@okluvmee @lxsxl
@dadspardan @challenge-fr
@elkingplayer @wazock
@cantfoldaces @arkasz
@pregosauce @fallen.angels
@hatke @cervantes420
@nilarwin @femcy-willcy
@assassyn @chuiiiiiiii
@chaosbug @dynamicrypto
@linlove @celf.support
@atnazo @draco2412
@rentaw03 @zakludick
@s3rg4 @indiebandguru
@mairapanelo @jonimarqu
@sissim72 @luba555
@kvinna @morenow
@lolxsbudoy @tawadak24
[mention for PGM users , if you no longer want to be mentioned tell me now I will take you off the lists! ]
---
---