Enter To Win This Splinterlands Card 3x Winners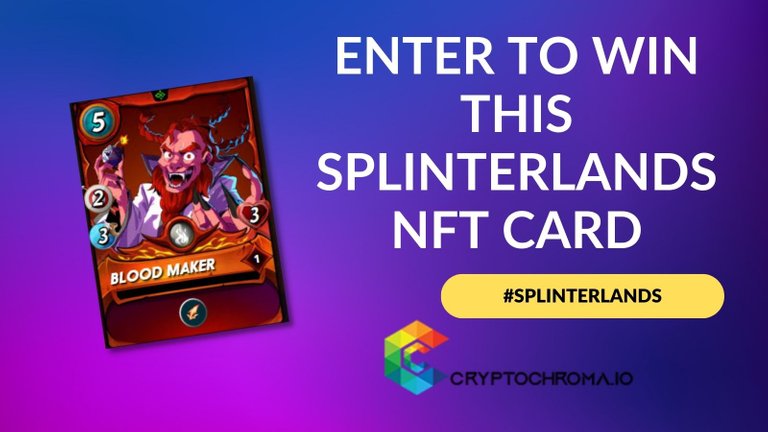 Well, we took a bit of a price hit on this card but I was figuring as much since a lot of new information on Land was just released. IDK about you but I'm pretty pumped about it and these cards have just seen their values skyrocket because of it.
This week we are going to change it up a bit. While it's not a gold foil card this time we will instead have three yes 3 total winners that will get the card instead of just one! We want to get more cards in more hands and get people involved with the game and this seems like a solid way of doing so.
Tips in comments(🍕 PIZZA , 🍺 BEER, 🎮 PGM, ❤️ LUV , 🍷 WINE, 😆 LOLZ, 👫 ENGAGE, ❤️ ALIVE, NEW🤴KING etc.) and upvotes greatly help as well to be able to run bigger giveaways in the future.

What's Up For Grabs
3X Winners of one card each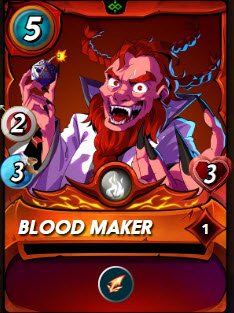 This is one of the best reward cards in my opinion. It has good health and MAJOR damage at le

Proof Of Last Weeks Winner



Tagging all previous entries. If you wish not to be tagged again simply don't comment on this post as we pull a fresh list each time to prevent unwanted spam tags.
@imfarhad
@outwars
@dragon-ti
@noctury
@dk1trade
@hatdogsensei
@stamato
@nomaddreamer
@thebighigg
@bitandi
@poplar-22
@syel25
@ladymisa
@cryptopaddy801
@engilhramn
@dewabrata
@dtam
@ash420
@vaynard86
@ericburgoyne
@lisamgentile1961
@javeson
@henruc
@rtonline
@thedoc07
@blitzzzz
@hoosie
@gs1
@jdike
@pero82
@txrose
@tirizard
@tydynrain
@virtualgowth
@scfather
@ifarmgirl-leo
@dubble
@mirroredspork
@tinyputerboy
@beststart
@yasky
@circlebubble
@epearson
@jfang003
@sheikh27
@olaf.gui
@monsterbuster
@ianballantine
@flummi97
@adacardano
@drunksamurai
---
---