Splinterlands Giveaway #15

👋Hello All
Welcome to another giveaway, as I wrote on my Pizza giveaway that I am still newbie in this Hive Blockchain and also in Splinterlands game, from this giveaway I will write a little bit about my experience here specifically to Splinterlands game.
---
Splinterlands Updates
This week the game end was not much exciting the daily rewards for quests included 3x legendary potions, 2x Gold potions and 7 full Credit Coins :D in the whole week, not much concerned about that this week I have been playing around with lot of Liquidity pools specifically for Splinterlands.
Please remember this is not a financial advice
Liquidity Pools
SWAP.HIVE:DEC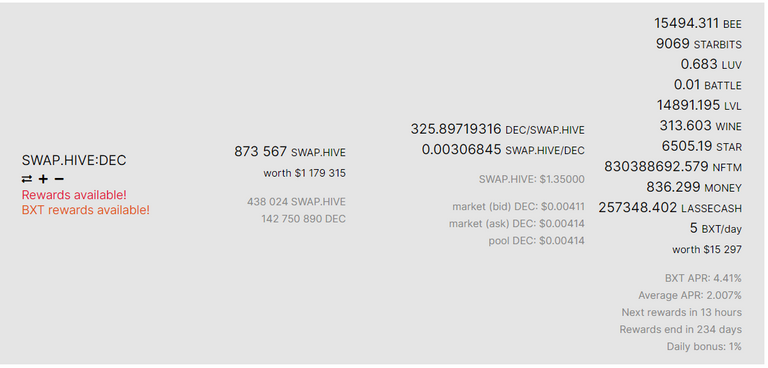 I initially invested in SWAP.HIVE:DEC pool around 45 days before, the reward for this pool is not super exciting nor is the APR of 2% and most prominent reward I get for my little share is NFTM tokens (I am not sure yet what those are for as have not have time to research about those)
DEC:SPS
Another one I started adding to in this week is DEC:SPS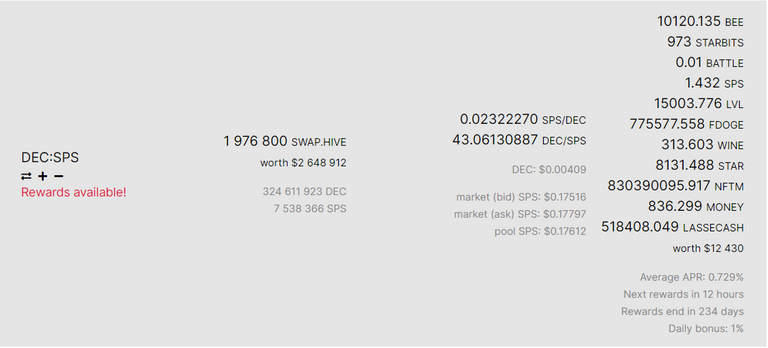 Again rewards APR is even below 1% for this pool but my DEC Value in both the above pools is counted as double points for my SPS airdrops in the game (the highlighted part in below screen shot)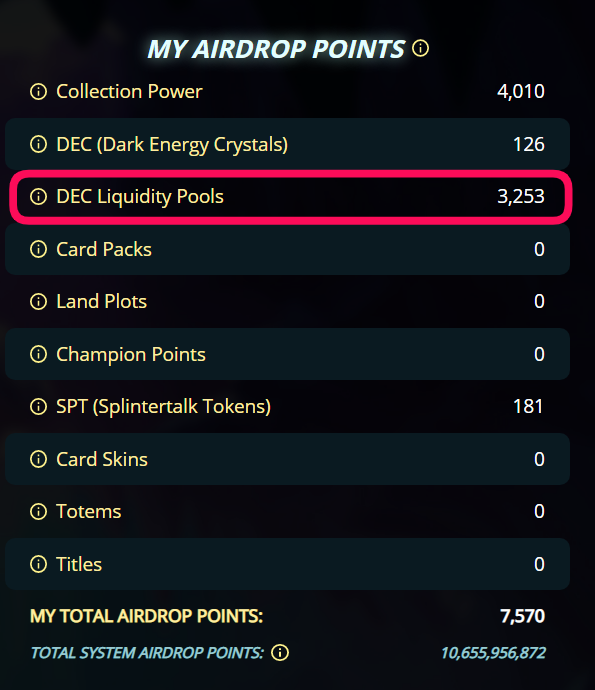 SPS:SWAP.STATE
Another one I have started experimenting with is SPS:SWAP.STATE and only reason for trying this pool is that its Average APR is around 100% and also it gives out SPS and DEC as reward too

I will keep you guys updated on progress of the same in future posts, Feel free to discuss about this in comments below
Please remember this is not a financial advice
---
Poll for Future giveaways
For Future giveaway which option will you like
More cards meaning more winners more chances (card will be Common or so rarity)
Less cards Higher rarity (Rare or up) also meaning less number of winners so less chances
Your answer to poll will be appreciated along with your participation comments
Also if I have !PIZZA🍕 tips left I will randomly give to people who answer the poll (hopefully to all who answers)
---
🎉🎉Giveaway #15🎉🎉
🏅5 random winners will get 1x Rare card from list below
☠️Venari Bonesmith
🐀Exploding Rats
🐉Twilight Baslisk
👿Gargoya Devil
🐍Naga Assassin

---
Giveaway Participation
💬Comment: 💬Comment is must for participation and should mention your ingame username if different

📢Reblogs and 💙Upvotes, tips like !PIZZA🍕, !LUV❤️, !LOLz😆, !Beer🍻 and other , Sharing the post on social networks are appreciated but not must for participation

Multiple comments - Multiple comments from same account (or for same game account) will be not considered in the draw

Participants will be automatically added to the ping list for next giveaway comment (see first comment below) if you do not want to be pinged please specify the same in your comment
Winner for giveaways will be picked up over the weekend and all entries before I close the giveaway will be valid.
---
🚷Rules to claim prize🚷
To avoid sending the prizes to Non-Human (bots), Winners will need to acknowledge the winning within 48 hours of results by either commenting on winner announcement post or messaging me on Discord or twitter.
In case of non response from your side, it will be assumed you are not interested in receiving the prize
---
🏆Winners of Giveaway #14🏆
🏅Gargoya Scrapper goes to @myothuzar , Congrats!!! 👏🎉

As mentioned in rules winners please acknowledge your winnings by posting a comment below or by contacting me on Discord or Twitter within next 48 hours.
---
Promotion
In addition for the new players to Splinterlands if you sign up with my referral link and complete the spellbook purchase, I will send you 75 DEC in game which should help you get started by renting some cards and building up your teams
Follow me on Twitter or here to keep up to date on my giveaway posts
---
---
---