20 CL Packs Opening + Giveaway #77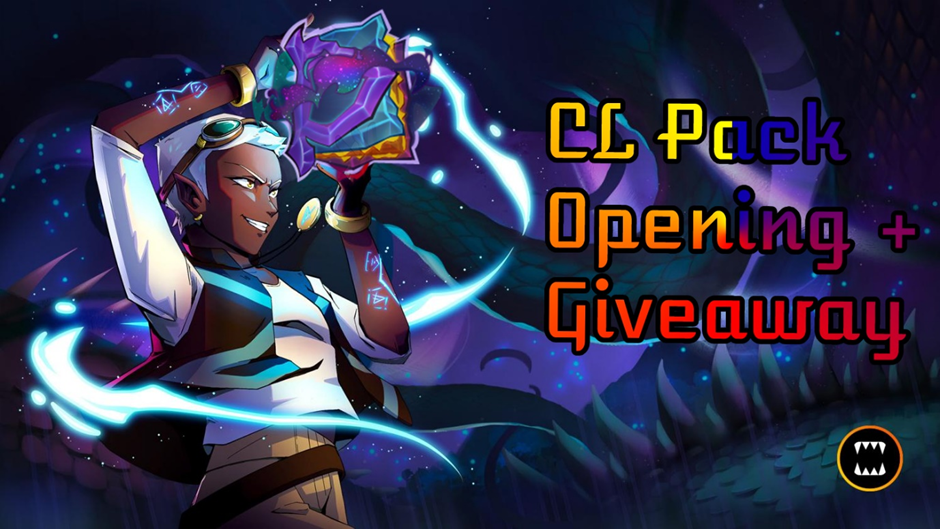 Greetings my fellow Splinterlandians. O man, I was so messed up the last opening that I forgot to change the title of my post and I just realized I had two #75 pack openings…... How is everyone enjoying the new Promo card Vruz? I managed to buy a few, but not enough to merge into anything significant, so I haven't used it yet. But lots of people are raving about how it's a great 2 mana card. I am holding on to mine, with the plan to maybe buy enough to max it should it get cheapish, or just sell them since they are going for $0.50 per BCX.
Also just happened was the new Energy system coming into effect. I previously mentioned that I burned through my ECR previously and was planning to wait a day or two to let the Energy build up before turning on my Archmage again. Well, I got curious how much Rshares I could earn, so I left AM off and started playing manually. And boy was it a rush man. I haven't played ranked in quite a while, especially with high level CL cards and my experience at Diamond/Champs league was with UT/Beta cards before CL came out. So many cards and so many abilities to look at. Every battle selection pushed me to the last second and winning was around 50% or less, so poorer than AM. But the Rshares were so high that I got almost a daily chest after every win. Of course as I earned more daily chests, it took more wins and that's when the degen in me came out….again. Always chasing the next daily chest and it was quite stressful. Too old for all this, so I am going to switch AM back on after a day. Good automation is a godsend for SPL.
I was a little distracted playing Marvel Snap while waiting for my pack opening timing and I totally missed it. I was a few minutes late and I was resigned to it being a pretty poor opening. So when I saw there were 2 Legendaries to flip, I was maybe this won't be that bad. There were a lot of cards to flip, meaning less duplicates and more chances for GF I thought. It started well with a GF Chaos Agent! And also end pretty well with a GF Scavo Hireling. 2 high value GF common Neutrals! This is a good start. Lots of Rares to flip too and I did get 4 Rare Summoners and 2 GF Rares with one of them being a nice GF Thaddius Brood. Looking really good now. Got 4 Epics which is decent and I still need the Magi Necrosi to max. Might I chance upon a GF Legendary!! Sadly that was not the case, but still two good ones with River Hellondale and Spirit Hoarder. So definitely no complains here.




There were actually 2 cards that got duplicated 5 times. So there were decent amount of duplicates. Although I also got quite a few 1 BCX commons. Lava Spider and Disintegrator, both fairly popular choices as I have seen them floating around. And the card goes to @pulubengdugs for guessing the Lava Spider! Congrats man, I am pretty sure you have won a few Lava Spiders for your consistency. Good work!
Hope everyone is enjoying the new Energy system as I think it might be able to earn you the same rewards or even more with less games. Till next time.
Instructions
In the comments below, guess which card would have the most duplicates.
Include your Splinterlands username (If different to your name here).
If there are no correct guesses, the card will go into a pool and the Hive Random Winner Picker will decide who gets it once there are 5 cards in the pool.
Tags
@olaf.gui, @bitandi, @morzhan, @seeweed, @noctury, @dstampede, @blitzzzz, @sheikh27, @akiraymd, @queen-silvia, @thaddeusprime, @alexis666, @darthsauron, @eijibr, @senyong, @gs1, @iamronny, @candnpg, @crazyphantombr, @rimurutempest, @jats-0, @hatdogsensei, @ieronimus, @pero82, @gagegida, @jdike, @rtonline, @circlebubble, @dafusa, @arieruzzzz, @acidosis, @bandada, @syel25, @treefrognada, @jonimarqu, @stevienics, @stekene, @holdeck, @darwinjj, @pulubengdugs, @steemmonstah, @daethical, @kryptofire, @imfarhad, @jmehta, @arniboi, @monsterbuster, @iamhewho, @scfather, @ebastion, @powermeat, @dtam, @subidu, @pandachef, @txrose, @leonchikov, @xykorlz, @dewabrata, @thedoc07, @dagz, @zonadigital21, @kramaric.goat, @bechibenner, @memess, @h4rr1s, @thetimetravelerz, @karwol, @ebastion, @reiell1, @fredkese, @shawnnft, @saydie, @the-ascendant
Posted using Splintertalk
---
---