Splinterlands and the Chaos Legion. Part #9 - GOLDFOIL LAGENDARY Soul Fiend
The chance of a flipped card becoming a GOLDFOIL is 2%. The chance of a legendary card is only 0.8%. It is even more unlikely to draw a LEGENDARY GOLDFOIL, also called GFL. Following Murphy's Law, I say, "Everything that is potentially possible will eventually occur." Today on January 9, the ninth pack that I opened this year, the time had come, a long-awaited GFL was in it.
The contents of my booster pack on January 9th, 2022.
My first LEGENDARY GOLDFOIL of the Chaos Legion Edition! The fact that the others were only four commons doesn't matter for this jackpot.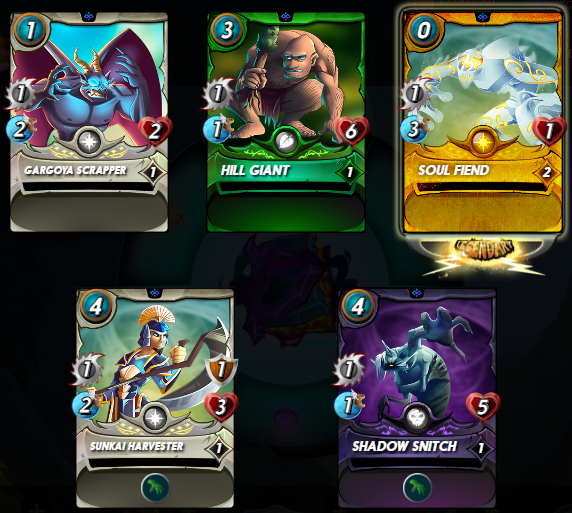 | Card Name | Rarity / Splinter / Type | DEC | Market Price |
| --- | --- | --- | --- |
| Gargoya Scrapper | Common Life Unit | 5 | $ 0.04 |
| Hill Giant | Common Earth Unit | 5 | $ 0.06 |
| Soul Fiend | GOLDFOIL LEGENDARY Life Unit | 12500 | $ 179.99 |
| Sunkai Harvester | Common Life Unit | 5 | $ 0.05 |
| Shadow Snitch | Common Death Unit | 5 | $ 0.05 |
| Total: | | 12520 | $ 180.19 |
The above prices are market prices per BCX at the time of opening. Market prices can change at any time.
Soul Fiend
Soul Fiend will find its place especially in low mana games. Its biggest strength here is that it needs ZERO mana. In the old series, Furious Chicken was the only zero mana card. Soul Fiend also has other strengths: He can fight. Soul Fiend starts as Gold Foil in level 2 already with a speed of 3. In level 3 he gets another health point. Fully leveled up, in level 4 he makes sure that all his allies get an increase in speed. In my opinion, Soul Fiend is also excellent in the "Equalizer" and "Equal Opportunity" rulesets. I am looking forward to using my Soul Fiend.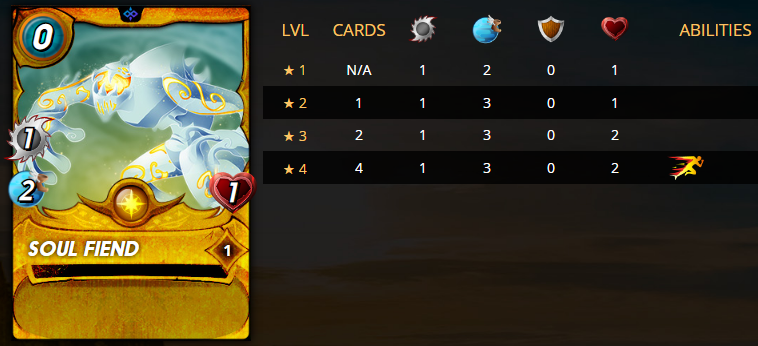 Gold foil cards are generally more expensive, but especially in the case of legendary gold foil cards, you need to fuse much less of them to reach higher levels. For details, see the overview above.
Thanks for reading and have fun and success in the game wishes you your @germansailor.
---
Acknowledgements
All Screenshots: https://splinterlands.com
Photomontage: own work based on screenshots from https://splinterlands.com
Translated with www.DeepL.com/Translator (free version)
---
Already published in this series
Part #1 Mycelic Slipspawn
Part #2 Molten Ash Golem
Part #3 Soul Strangler
Part #4 Scavo Hireling
Part #5 Angelic Mandarin
Part #6 General Sloan
Part #7 Xenith Monk
Part #8 GOLDEN Obsidian
---
---