Splinterlands Giveaway #16
👋Hello All
Another weekend time for another giveaway but before that some updates on game and progress.
---
Poll Results
Starting with the poll results which was held with the last giveaway. The poll asked about participant opinions on whether the giveaways should have
More cards (common or so rarity) so there will be more winners
Higher rarity cards but lesser cards which will also mean less winners
Out of around 90 people participating in the giveaway 35 people answered the poll and 20 (57%) opted for option 2 less number of cards with higher rarity and 15 (43%) opted for option 1 of more cards.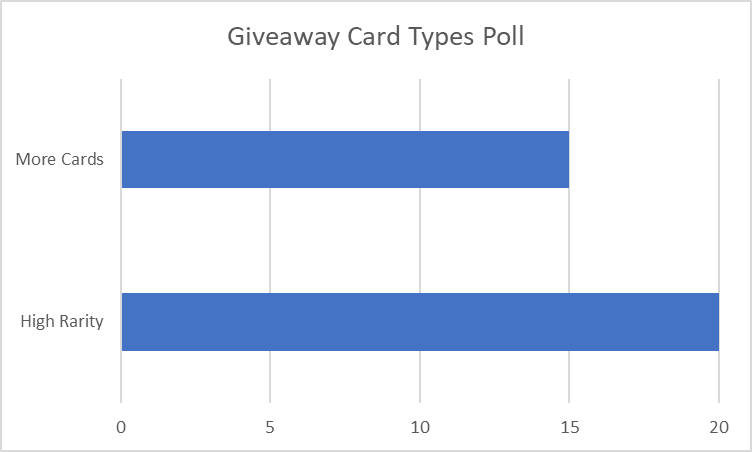 I think I will keep a mix match of giveaways.
---
Splinterlands Update
This time as the overall DEC rewards and 🎁chest rewards have not been so great so I decided to spend less on my rentals and end the season with Bronze I only.
The quest 🎁rewards in the week included 2 Cards 🃏 (Pelacor Mercenary and Gargoya Lion), 1 Gold potion and 30 (23, 1 (yes 1 🎃), 6) Credits💰
🎁Season Rewards of 9 Chest for Bronze 1 gave me 1 Rare🎉 Card, 2 Common Cards, 38 Credits💰 and 2 Alchemy potions.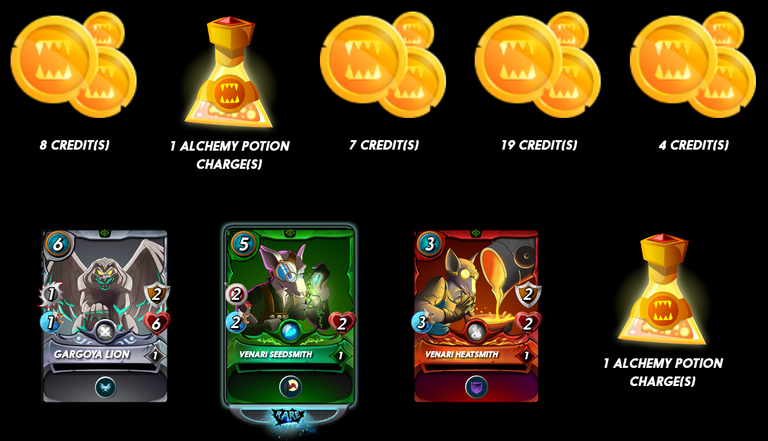 I would say actually I like this rewards more than what I got for being in Silver III league last time (for which I needed to spend quite a lot on the rentals)
---
Splinterlands Pizza Guild
I have been a member of
Pizza 3 Hand Tossed
Guild since last season and I like it because it is perfect for casual gamer like me.
This week I participated in Silver Untamed Fray and the end of season rentals were so high ended up playing with only starter cards. Luckily this time opponents also had same issue I guess and I won 3 of my 4 Brawls, great results compared to last time when I ended up spending 100s of DECs on rental and still loosing all my brawls.


And the guild finishing our all in Second Place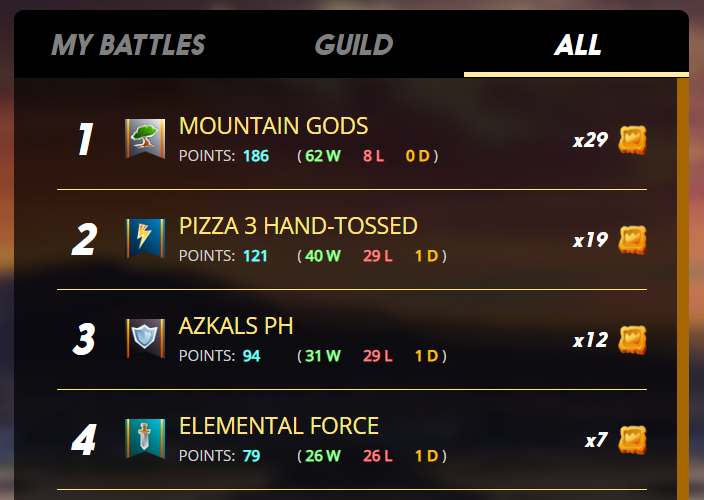 Let's Hope this season rewards will improve and hopefully my Card collection and will be able to keep the Silver league
Let me know in the comments if you want me to touch on any specific topics about the game and I will try to get information on those topics in next giveaways.
---
🎉🎉Giveaway #16🎉🎉
🏅6 random winners will get 1x Card from below list
EPIC Dragon Card 🐉Djinn Chwala
RARE Earth Card 🌱Venari Seedsmith
RARE Life Card 🔮Venari Crystalsmith
Common Fire Card 🔥Venari Heatsmith
Common Water Card 🌊Pelacor Bandit
Common Death Card ☠️Pelacor Deceiver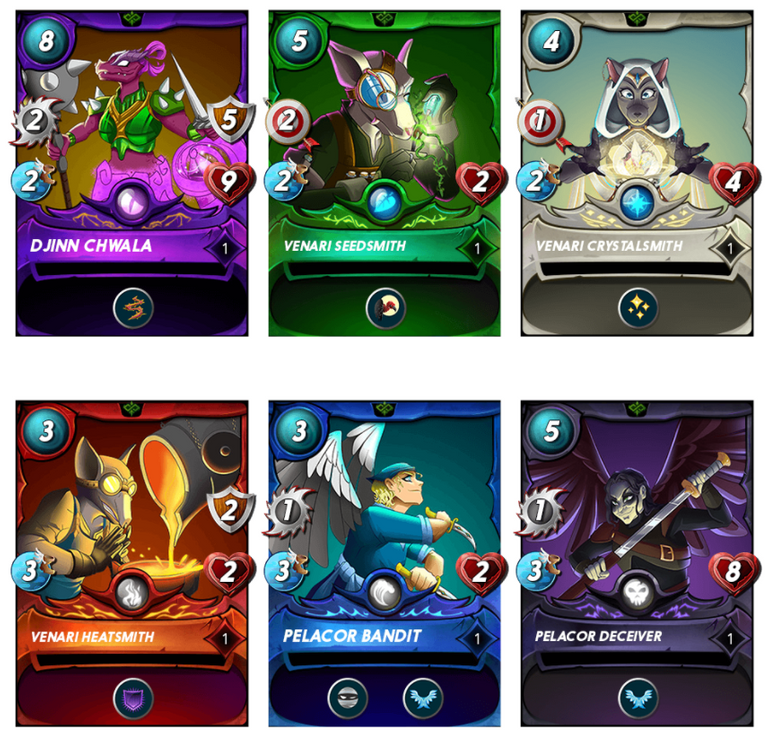 ---
Giveaway Participation
💬Comment: 💬Comment is must for participation and should mention your ingame username if different

📢Reblogs and 💙Upvotes, tips like !PIZZA🍕, !LUV❤️, !LOLz😆, !Beer🍻 and other , Sharing the post on social networks are appreciated but not must for participation

Multiple comments - Multiple comments from same account (or for same game account) will be not considered in the draw

Participants will be automatically added to the ping list for next giveaway comment (see first comment below) if you do not want to be pinged please specify the same in your comment
Winner for giveaways will be picked up over the weekend and all entries before I close the giveaway will be valid.
---
🚷Rules to claim prize🚷
To avoid sending the prizes to Non-Human (bots), Winners will need to acknowledge the winning within 48 hours of results by either commenting on winner announcement post or messaging me on Discord or twitter.
In case of non response from your side, it will be assumed you are not interested in receiving the prize
---
🏆Winners of Giveaway #15🏆
As mentioned in rules winners please acknowledge your winnings by posting a comment below or by contacting me on Discord or Twitter within next 48 hours.
---
Promotion
In addition for the new players to Splinterlands if you sign up with my referral link and complete the spellbook purchase, I will send you 75 DEC in game which should help you get started by renting some cards and building up your teams
Follow me on Twitter or here to keep up to date on my giveaway posts
---
---
---