Splinterlands, Chaos Legion Pack opening #10 - GOLDFOIL Scavo Chemist. In action!
Are there intelligent moles? During my research today, after opening my tenth Chaos Legion booster pack this year, I learned that they must exist in Splinterlands. And as luck would have it, there was even a golden specimen of this peculiar species in my booster pack today.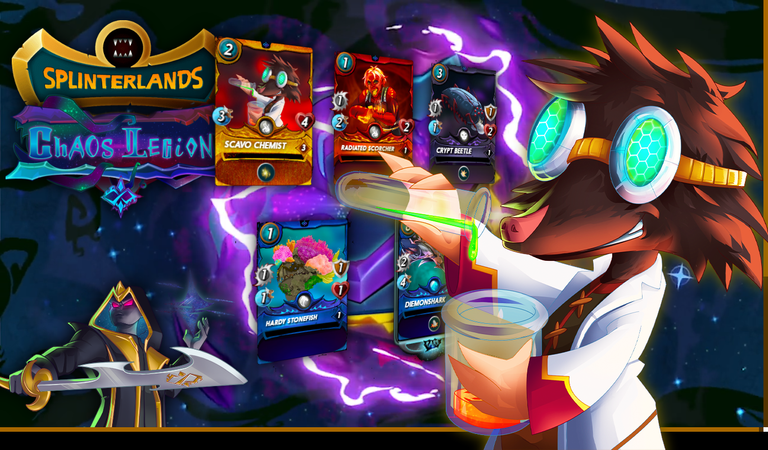 The contents of my booster pack on January 10th, 2022.
The very first of the five cards was again a golden one: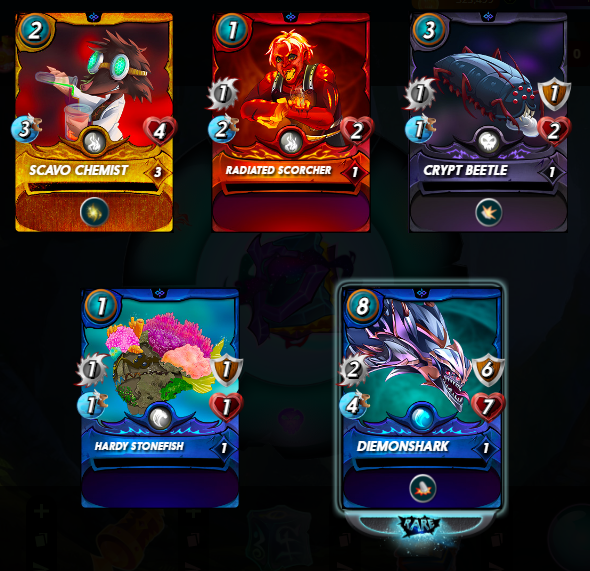 | Card Name | Rarity / Splinter / Type | DEC | Market Price |
| --- | --- | --- | --- |
| Scavo Chemist | GOLDFOIL Common Fire Unit | 125 | $ 1.41 |
| Radiated Scorcher | Common Fire Unit | 5 | $ 0.04 |
| Crypt Beetle | Common Death Unit | 5 | $ 0.05 |
| Hardy Stonefish | Common Water Unit | 5 | $ 0.05 |
| Diemonshark | Rare Water Unit | 20 | $ 0.69 |
| Total: | | 160 | $ 2.24 |
The above prices are market prices per BCX at the time of opening. Market prices can change at any time.
Scavo Chemist
According to the lore of the sages of Splinterland, caused by toxic volcanic gases, the moles of the fiery continent mutated. The mutation, strangely enough, led to a certain intelligence and a talent for chemistry. Scavo Chemist carries no weapons. But he is able to brew different drugs.
Already from level one he can heal the allied Font-fighters from all kinds of ailments. From level six he can weaken the life force of all opponents with his brew. Fully leveled up he creates a headwind on the chemical path, which weakens the ranged strength of his opponents. Details are shown in the following graphic.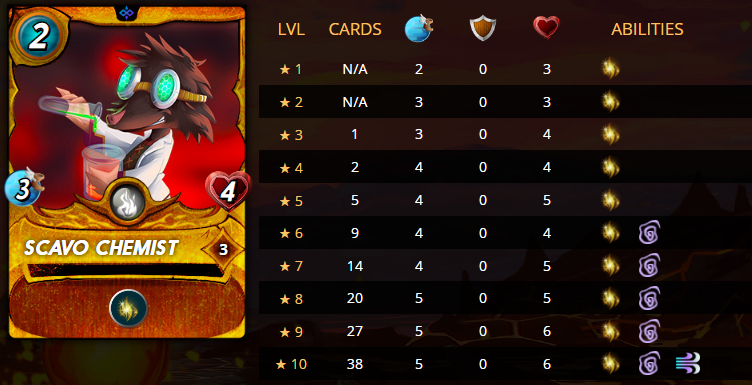 Full leveled Scavo Chemist in action
I don't know how it would have gone without him. But as you can see, Scavo Chemist makes itself quite useful.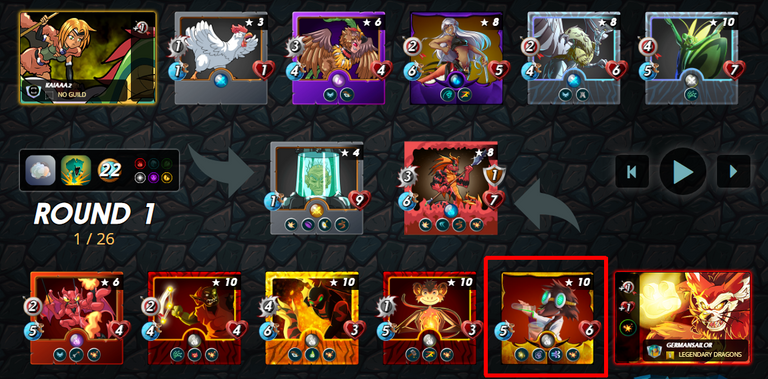 https://splinterlands.com?p=battle&id=sl_3c7f031638b7366afcd65c892eae3512
Thanks for reading and have fun and success in the game wishes you your @germansailor.
---
Acknowledgements
All Screenshots: https://splinterlands.com
Photomontage: own work based on screenshots from https://splinterlands.com
Translated with www.DeepL.com/Translator (free version)
---
Already published in this series
Part #1 Mycelic Slipspawn
Part #2 Molten Ash Golem
Part #3 Soul Strangler
Part #4 Scavo Hireling
Part #5 Angelic Mandarin
Part #6 General Sloan
Part #7 Xenith Monk
Part #8 GOLDEN Obsidian
Part #9 GOLDFOIL LAGENDARY Soul Fiend
---
---