Friday´s special Giveaway! Out of print Highland Archer . / Freitags´spezial Giveaway Highland Archer aus den alten Kartenrewards!
Hello there Splinterlands community!
Welcome to my Friday´s special giveaway!
You can win a Highland Archer card! Out of print already from the older reward cards.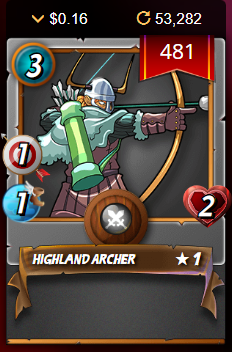 Rules:
Rules for this giveaway:
Comment on this post and if your Splinterlands username is not the same as here, put
it in the comment

If you Follow me or Reblog you get a Double Chance for winning
Your reputation level needs to be 25 or higher, and a single comment per Splinterlands account will be eligible

For choosing the winner i will be using https://filoz.info/picker/... and Yes the Winner will receive the chosen card in the following 24h!
Thanks for participating, good luck, stay well and stay healthy and see you all on the Splinterlands battlefield!


Nun für meine D-A-CH Community:
In diesem Spezial Giveaway gebe ich euch die Möglichkeit eine Highland Archer Karte aus den alten Reward Karten zu gewinnen!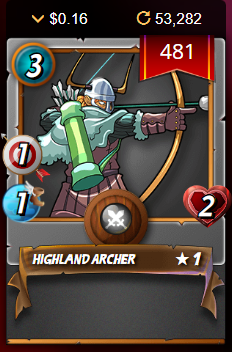 Wie es funktioniert:
Kommentieren reicht aus um teil zu nehmen.

Wenn du mir folgst oder diesen Beitrag rebloggst verdoppelt sich deine Chance zu
gewinnen.

Schreibe deinen Splinterlands Namen ebenfalls ins Kommentar, damit ich dir die Karte
schicken kann wenn du gewinnst.

Dein Reputationslevel muss mindestens 25 sein.

Du kannst nur eine Karte wählen und pro Splinterlands Account nur 1x Teilnehmen.
Der Gewinner wird per Zufall mittels https://filoz.info/picker/ gewählt und erhält seine Karte innerhalb 24 Stunden.
Vielen Dank fürs Teilnehmen und Viel Glück! 🍀🤞
Wir sehen uns auf dem Schlachtfeld! 🏹
Notification list:
@amaari, @beelmukjj, @birdblack, @cranee, @ctulhudesu, @curuca, @dedman19, @divinecore, @eman13088, @francorocco, @henruc, @jhuleader, @jsynnthagr8, @kairaldo, @mmunited,@mshankarak, @ozymnds, @polonor95, @powermeat, @quasarborn, @redeculous, @relf87, @technocrypton, @terganmarket, @the88n3, @theacks, @totsoftate, @ukyron, @vitoragnelli, @zenitsu12, @circlebubble, @diochen, @iamchuks, @jakkal, @salamera, @stewie.wieno, @ukyron2, @underlock, @eiji88, @harayatim, @hhustle920, @litrydow, @lordanquek, @migas, @special1st, @hgsss, @luizasfight, @mathfb, @pwnappletea, @uolace1982, @dubble.eth, @mxm0unite, @theduce, @wackenlord, @weekendmachinist, @daethical, @gfmadureira, @harzaq, @lokirokiroll, @malevoolento, @nysster, @pathfinderchris, @silver-edge, @socialmediaseo, @syel25, @themattstrat, @adulruna, @bakuoni, @bilidrg, @blitzzzz, @carlinhusss, @coffeedetective, @daniarc, @greengineer, @iceman23, @isaac7378, @kalinta, @kgsouza, @kiritzgaming, @kursen, @leijun987, @limxinhai, @mezume, @squishna, @ternizator, @jackyng, @nadares, @olimaltar, @parsunic, @pow123, @aiblaze, @ballster147, @davethegreat, @deimargd, @doctorthrob, @forsakensushi, @gregory-f, @jagger88, @wazza84, @ysgramor1982, @cryptoace33, @failingforward, @kramaric.goat, @liquid-miracle, @redolvo, @amaillo, @mario02, @patternroot, @evo69, @flowen, @no30dy, @zallin, @napakacuteko, @bigbarger, @angelinafia22, @jdike, @berti710, @blueberrr, @bordel, @jamesdidi, @odin-7, @toheadi, @yadood, @inuke, @lipe100dedos, @matt23797, @splinter100dedos, @splinterlbpf, @tacu16, @thestupidboy, @ysf21, @xykorlz, @sepone, @txracer, @bananofarmer, @thetyper, @andy-plays, @badpixie, @misterabaddon, @yeckingo1, @annoy-o-tron, @dubble, @moonthumb, @redantz, @rondonshneezy, @utama12, @zarwelius, @coldmantou, @hal123, @openit, @myeong, @stekene, @utama14, @hunx, @kererools, @shinodead, @utama11, @brojustaverage, @nab242, @vitaoo, @plints, @bl4ckd3vil, @fransisca11, @megaulti11, @shinpurple, @uchiha-gaming, @elminster, @godly-rich, @h0rus02, @petroni7, @myothuzar, @tebowlicious, @tigretimo, @agitator33, @driedbanana, @inyourwallet, @onnit777, @primoose, @imfarhad, @jmehta, @maverickinvictus, @filuris, @nezumiyarouya, @smurf3r, @squirrelacus, @wongbraling, @belhaven14, @grents, @hiddenoni, @ralts00, @signore, @toobeyislife, @zakludick, @entrepidus, @noctury, @rob23, @thedrizz, @umaboy, @mauriciolimax, @highhaschdi, @kn2115, @athanon, @beehold, @lukioooo, @kerrislravenhill, @mcgilli, @the-highlander, @greeneyedwitch, @tomatokun, @yellowducky, @bennybingbong, @caimanx, @cflclosers, @joelog2281, @nicosistemas5, @zacherybinx, @jaimenetsbr, @kid.miniatures, @koodies, @vaporent, @driedbanana14, @kotsol, @nploader, @theflashhhhh, @vaynard86, @yellowscotsman, @youloseagain, @grubder, @luffypaulo, @tjnanda, @irregular-n, @simsahas, @tampilyne, @epthal, @lovefallen, @marleyroots, @whitexdemon, @aceofspades999, @catotune, @dracozauberer, @ivarbjorn, @percay, @ghua, @kinqbowaz, @luizeba, @swearingradio, @vrezyy, @grijanklys, @hatke, @hoosie, @aj-yutuc, @smokrthou, @anabasis, @cryptohaytham, @indignantgerald, @reon22, @rigel3100, @tub3r0.gaming, @misofrosty, @monku, @shibayou, @chinzilla, @arpuch, @dryst, @skillzdal, @themajon, @luckbound, @sephiwolf, @mr-niftee, @vrezyy, @alycrypto94, @coffeemakr, @hoonlord, @kaanskryptos, @zero2hero1, @cryptomajika, @henster, @toheadi, @subidu, @urkanon, @artameil, @captainrobearie, @mrnestea, @nievs143637, @pinkprincess05, @tigerchae, @trebor895, @edsonmarinho, @samoth, @opoc85, @mr-house, @alexmag1988, @d-mac-zero, @droxx, @scarecow, @wallxack, @panthera68, @tokutaro22, @zerold, @dorian-lee, @tengolotodo, @danna23, @braaiboy, @nambowan-888, @trashyomen, @haizelanne, @mrbravo99, @eylz619, @jirycho, @hatdogsensei, @korines, @nilomck1, @sxirtla, @lumpiadobo, @d3lphinus, @gessy, @jfang003, @pasture, @animal-shelter, @heutorybr, @lorddiablo, @blason, @ch4wnthepr4wn, @memehida, @holdeck, @jingo-submo, @candnpg, @idmr500, @seeweed, @tanoshii, @winterseason, @flummi97, @johnripper, @ghostlybg, @wilmo, @xheadhunterz, @xxkontr0lxx, @ecto1337, @nex711, @yasky, @cjames-40, @ebastion, @irisworld, @madjimmy, @redco, @eddqq, @fsc69, @garzug, @loosestgoose, @sabosuke, @fingosluk, @makhinoo, @skymavis, @orebutb3, @thurawinkyaw, @jamesdidi, @teerandom, @magicodoz, @instamental, @asakasa, @gs1, @carlosaspin, @double-k, @pero82, @nativos, @hoffmeister84, @nemesis-10101, @evanr, @mattlafourcade, @blackfoot92, @rentaw03, @bjangles, @lord-m3robot, @weekendmachinis, @submo, @chaosbug, @dalaudid, @iamgem005, @wommi, @gehenna08, @sevticon, @burnthotpocket, @zedamna2022, @lordshah, @qoogohome, @broxigar, @mmykel, @osmw14, @deadleaf, @vuvuzelaking, @joshnaire, @shiftrox, @agog, @mryoung1979, @pero821, @pero82, @redfreaks, @drnoobpro, @michupa, @maggotmilk, @ninjatrading, @maggotmilk, @splinterob, @spt-shturm, @ghua, @garigarikun, @onw, @sudeginsiu, @felipejoys, @a1004, @aidefr, @arcange, @cryptounicorn420, @carlosro, @dosh, @dragibusss, @ivanov007, @stdd, @herman-german, @postapocgamer, @pesigolovec, @shortsegments, @yokiworld, @xurph, @drstealth, @csvoon, @mordikkio, @elokin, @crazyphantombr, @zatsuchan, @engilhramn, @akumaboy, @bokica80, @maakue, @kryptofire, @nietokilll, @packagedmilk, @cryptopsycho21, @nfteam0173, @vagabond42069, @alexis666, @raistling, @brianhuang, @thoth442, @assassyn, @ellis23, @joaoarc, @limo6688, @philipp87, @marcinxyz, @cutedawako, @reneebrown, @queenmem, @annabrown, @annawalker, @memoryk, @marleneo, @elliotc, @jessicabrown, @savannaholness, @ruralio, @loboguara, @pirulito.zoado, @middle-earthling, @ragk88, @criptosectadepit, @elcicarito88, @legalizabrazil, @arc-echo, @tunail, @rayius, @aldrahad, @bechibenner, @dragonballfan, @holovision.cash, @thaddeusprime, @dtam, @nozzy, @ash420, @jaybart, @pregosauce, @captainquack22, @asdfghjkiraaa, @reibar, @pennystockhelp, @emeraldtiger, @arieruzzzz, @akiraymd, @ricestrela, @rimurutempest, @ali3nspawn666, @kryptogeier, @bancomat, @txrose, @uveee, @jonimarqu, @steven-patrick, @outwars, @dk1trade, @dafusa, @alex2alex, @ericburgoyne, @luciengre, @monsterbuster, @poshtoken, @bitandi, @pytt21, @vanidike, @xabi, @truthtrader, @yorra, @viniciotricolor, @tresor, @reppilc, @phgnomo, @pedrocanella, @oadissin, @pardinus, @kalib, @s4b4t0n, @ianballantine, @senyong, @dietyendo, @soltecno, @ladymisa
If want to stop receiving special giveaway notifications, then comment * "please stop" * on this post
Wenn du keine Benachrichtigung mehr zu meinen Giveaway-Posts mehr bekommen möchtest, kommentiere * "Bitte Stopp" *
---
---